Between 1991 and 1999, we had developed a strong two-colour style for Contemporary Music Network's publicity materials. With around eight tours per year, they'd kept us busy producing leaflets, posters, programmes and press ads. You can read more about that work in a different entry in this journal.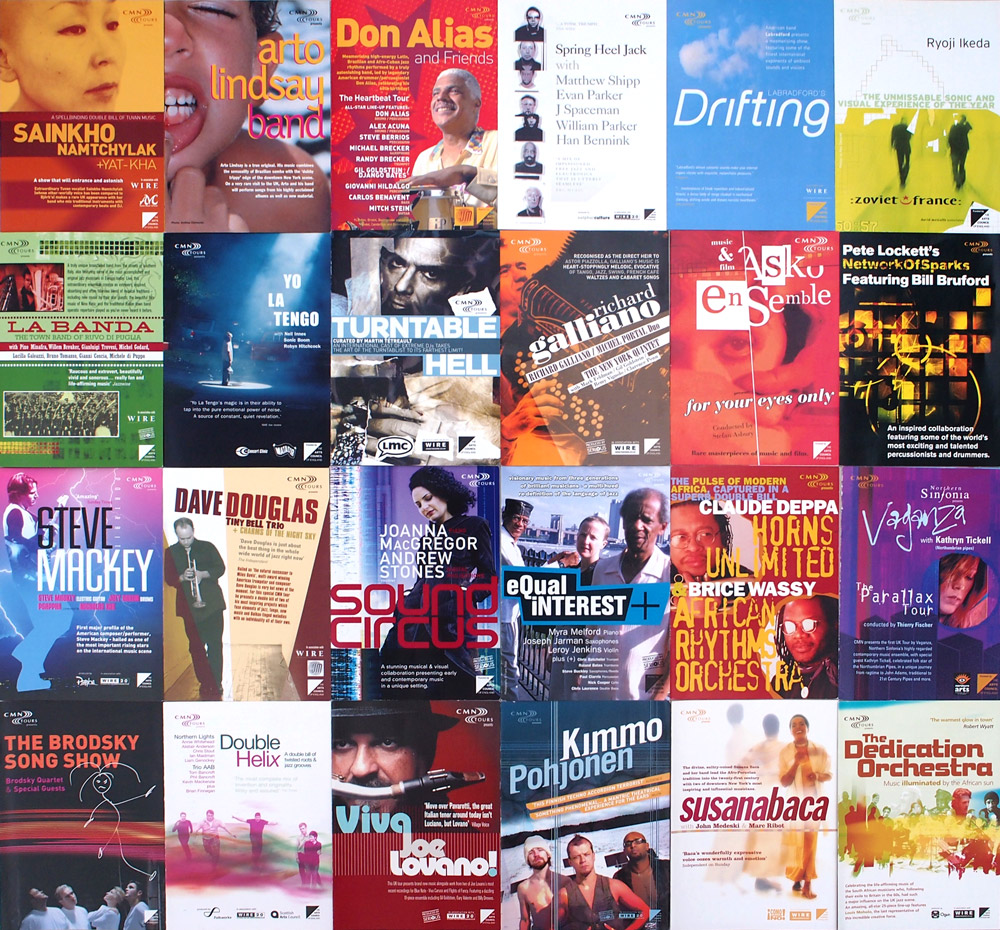 In 1999 we once again went through an official tender process for the CMN publicity design contract. We knew that the two-colour era was over; audiences expected full colour and perceived anything less as being of lower quality. The contract was for an increasing number of tours per year so we also had to squeeze the most out of fixed budgets. We won the tender with a proposal based on an A6 booklet format for leaflets, and dropped to a single colour for posters and programmes; it meant we could do a lot more, for the same budget, with a perceived improvement in quality.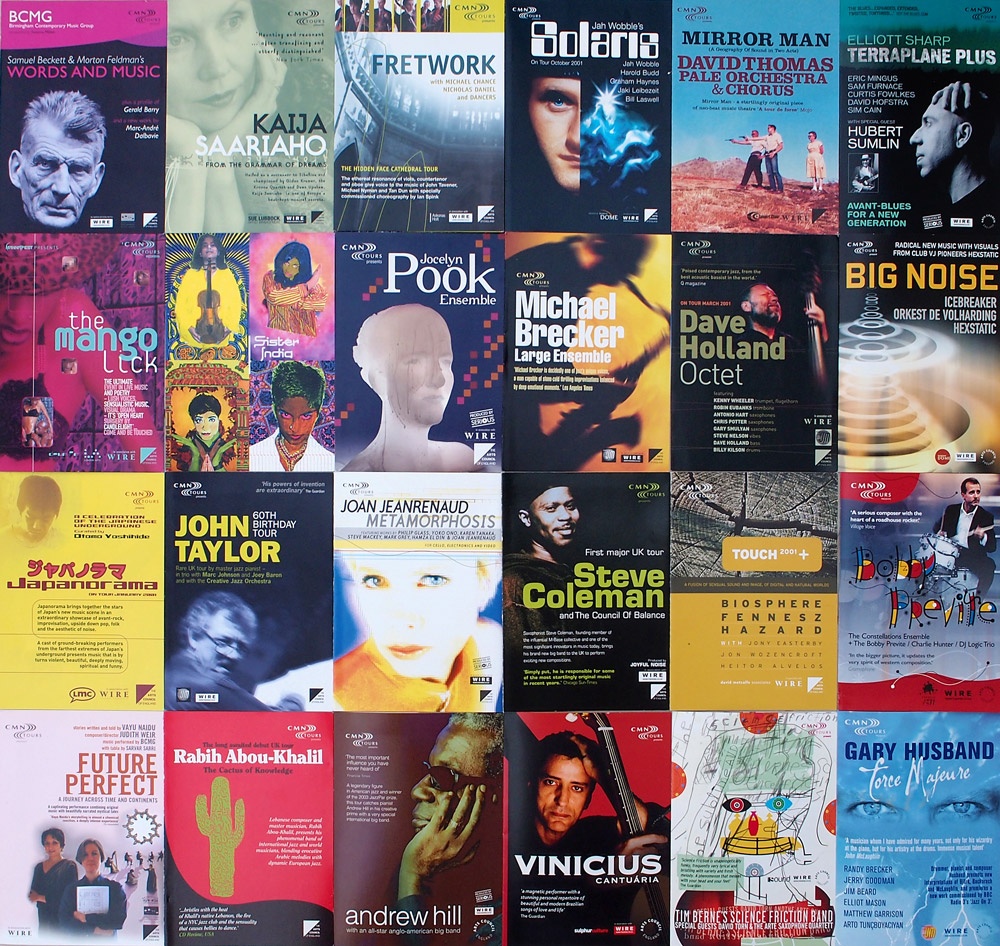 We always tried to push for interesting typographic styling and idea-led approaches to layout and image treatments. Results were varied with many artists (or, more accurately their producers), insisting that we just reproduced their current album artwork or latest publicity shot. And the small, A6 format did limit us in some ways.
But sometimes we were able to collaborate and experiment, and those occasions reaped the more interesting visual solutions.
Amongst my favourites is this leaflet for the sound sculptor, Scanner, working with graphic artist, Tonne; together they created a new aural landscape for each venue, based on their experience of visiting that town or city. Shown here is the front and back of their leaflet.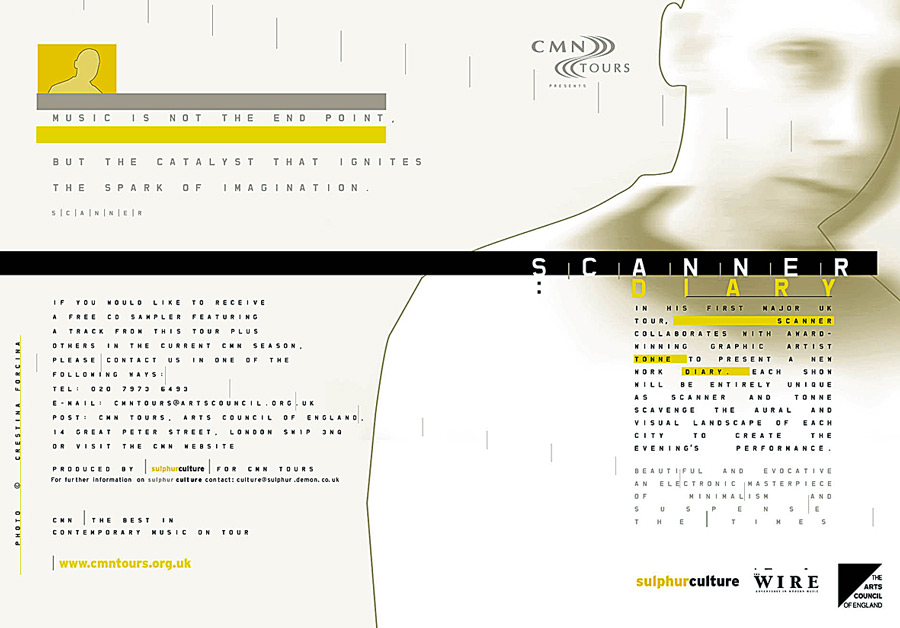 In 2004, our contract was coming to an end, Arts Council England had reinvented the way they worked, yet again, and funding for CMN was being reconsidered. The model of CMN as a commercial touring company was no longer appropriate, they needed to rethink and reposition themselves – exploring more experimental music and innovative collaborations. They needed a brand and an approach that would represent that new model.
We pitched a number of different ideas, settling on the solution that was referred to as 'the little man'. It was still a few years before the iPhone but our App shaped icon now seems entirely in-keeping with the move to a higher quality, more adaptive and playful brand.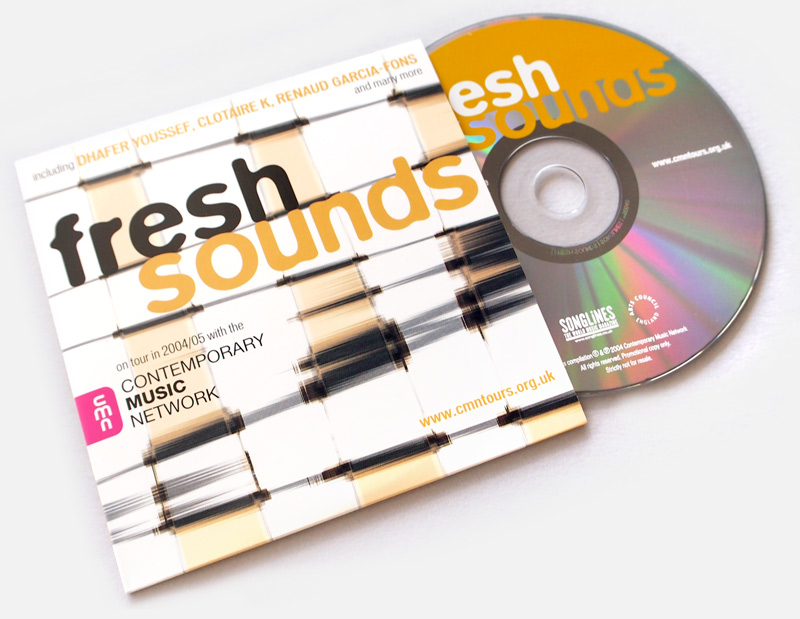 The first outing for the little man was a CD compilation of artists touring in the forthcoming season. The CD was cover-mounted on the music magazine, Songlines.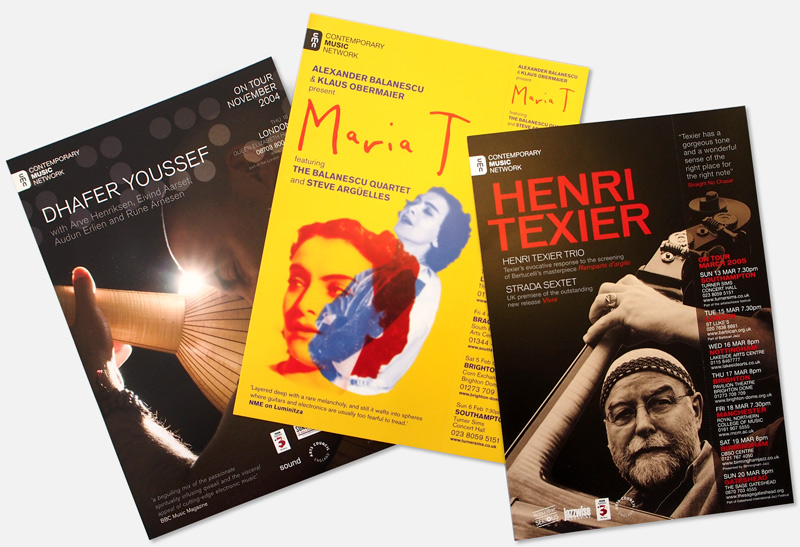 The new brand signalled a change in the way CMN worked. They were now funding fewer tours, often to fewer venues. That meant we had more budget to invest per tour so we rethought the way we produced printed publicity. We swapped back to an A5 format and increased the weight and quality of the printed materials.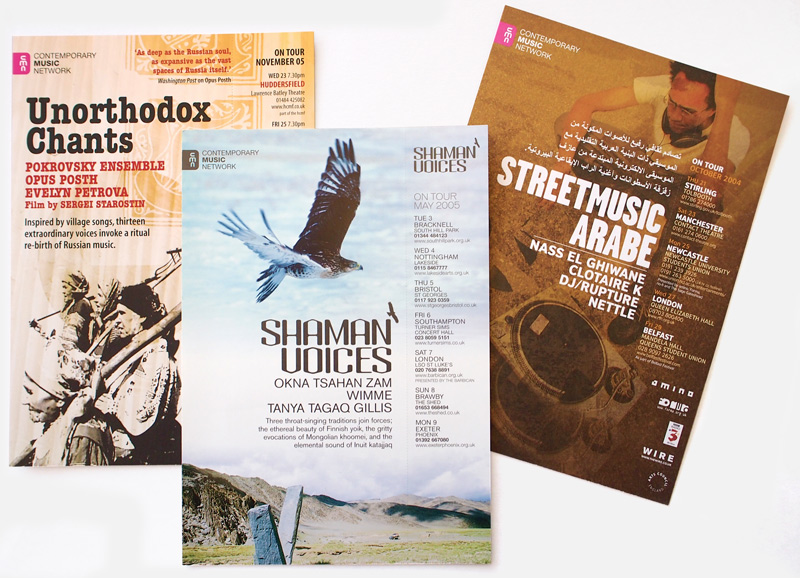 We were able to be more selective in our choice of paper stock, often using a rough, uncoated stock for more gritty, urban music. And we introduced a gimmick that stuck and became popular amongst audiences – a perforated, tear-off strip with all of the tour dates that could be slipped into a diary or shared with a friend.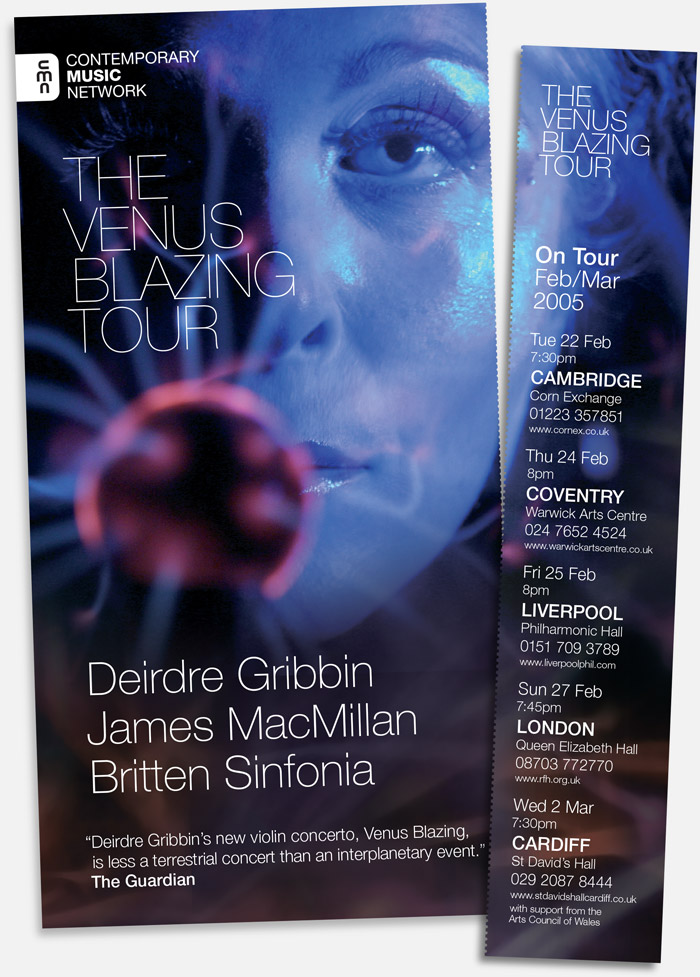 And we continued to have fun with the little man. My favourite of his appearances was on this compilation CD that was cover-mounted on Jazzwise magazine (a publication that we'd redesigned when it relaunched a few years before).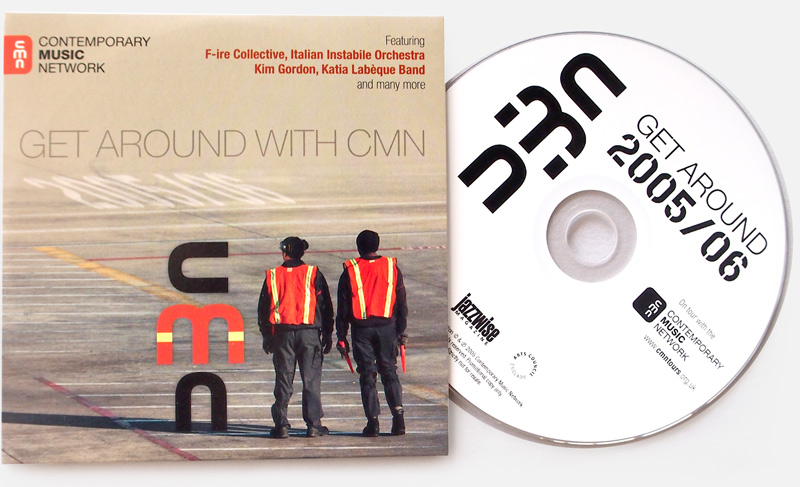 As time went on we started experimenting more to evoke the feeling of the musical experience. Sometimes we'd introduce metallic inks and heavily treated imagery…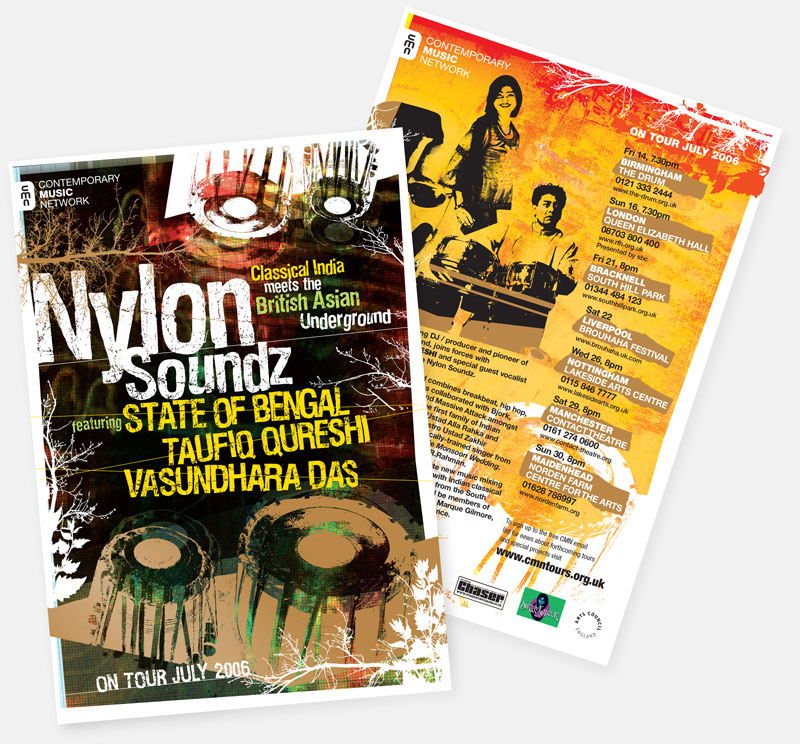 We experimented with unusual formats and adapted illustration, such as this A7 leaflet for the Icelandic collective, Kitchen Motors…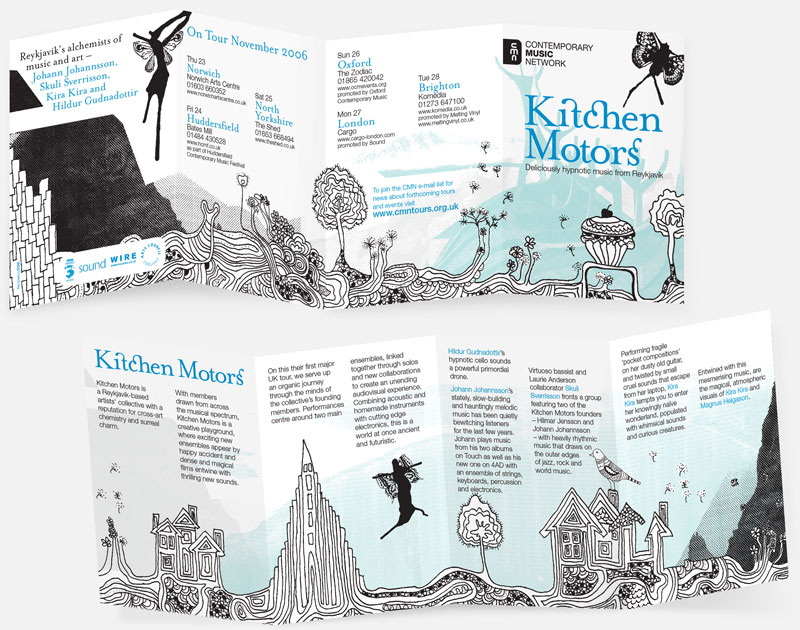 We often created our own imagery from scratch, such as this illustration of the tour's title – The Photophonic Experiment (using a sparkler and hand-cut stencil, photographed in our kitchen)…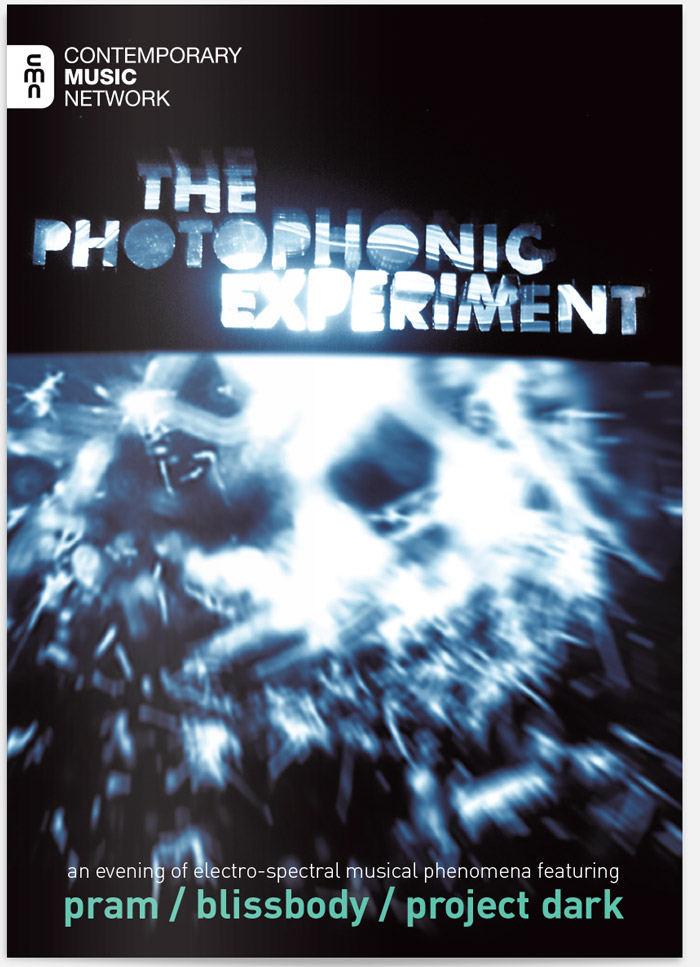 And we used found imagery and collage, as in these posters for the Clogs and The Books tour…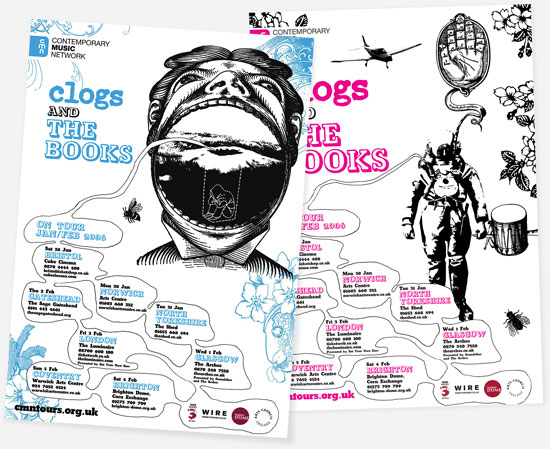 …together with a very quirky event programme.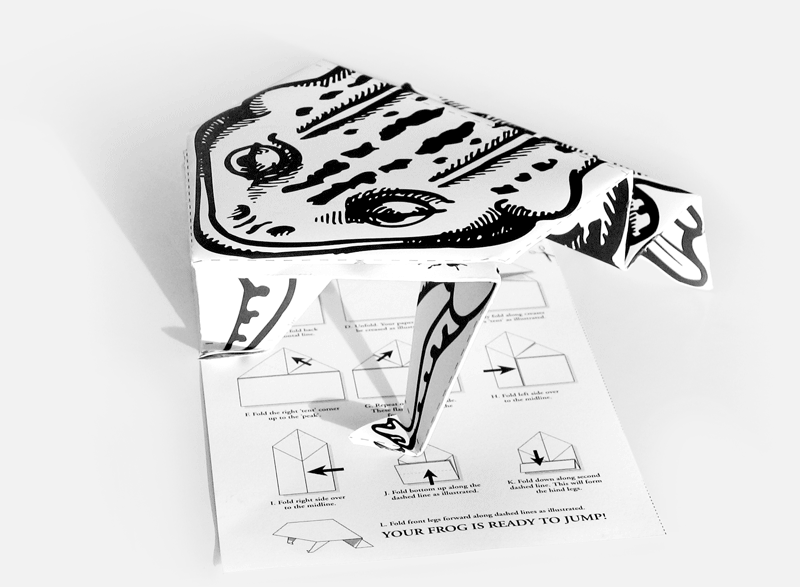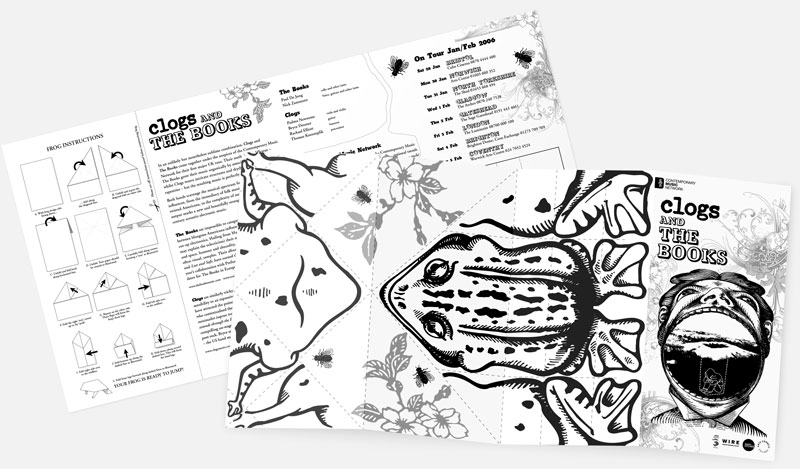 We were also producing digital publicity materials including specific e-flyers and micro-sites for every tour.
They allowed us to introduce music and to have a bit of fun experimenting with simple animation.
We particularly enjoyed it when CMN started to stretch into more urban and dance music. We used stencils and spray-paint for the Don Letts presented tour of rap, poetry and beatboxing…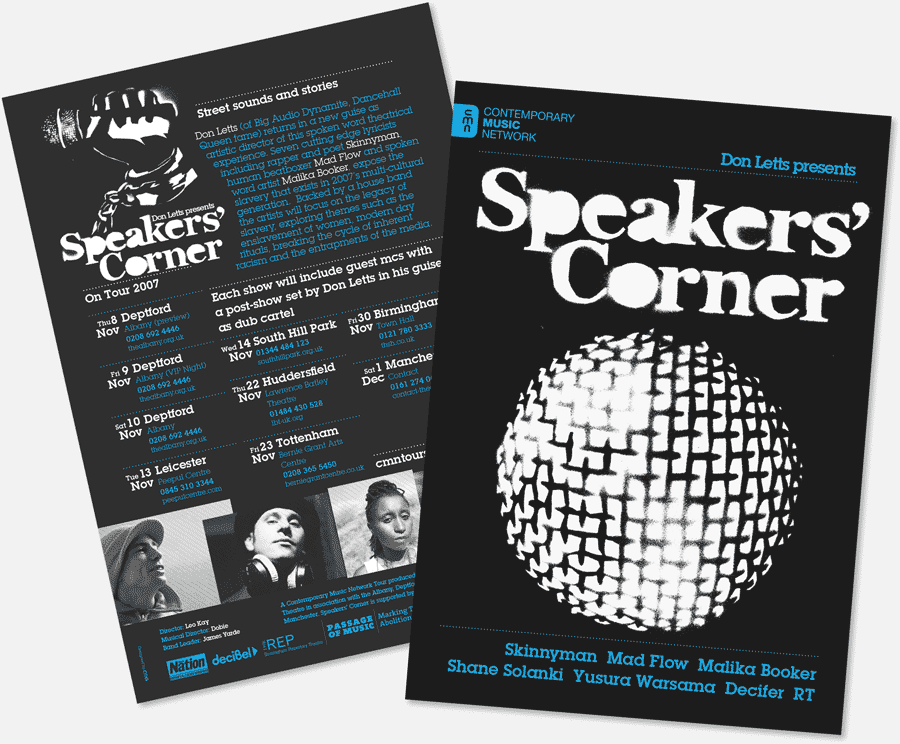 …and we used packaging cardboard and heavily printed inks to achieve a tactile quality to the materials for Charlie Dark's tour.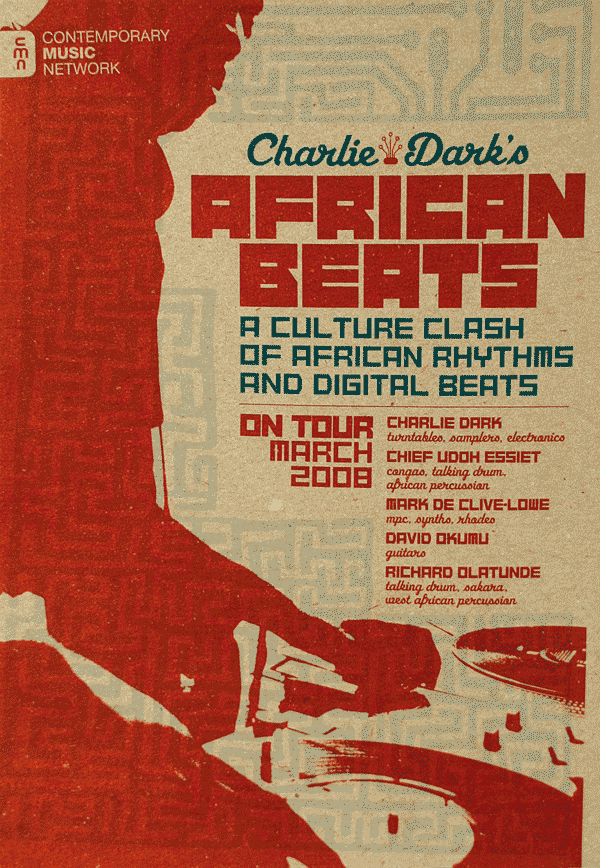 In 2009, CMN effectively ceased to exist; the team moved out of Arts Council England and formed a collective (with BMIC, Sonic Arts Network and spnm) to be known as Sound and Music.
Our final piece of work was this suitably experimental poster for the Kill Your Timid Notion tour. The image is of a light-bulb photographed by our designer, James Hurst (now Global Creative Director at Pinterest), through a cardboard tube; the type was all set, printed on rough paper, rescanned and put in place on a poster that folds down into an A5 leaflet.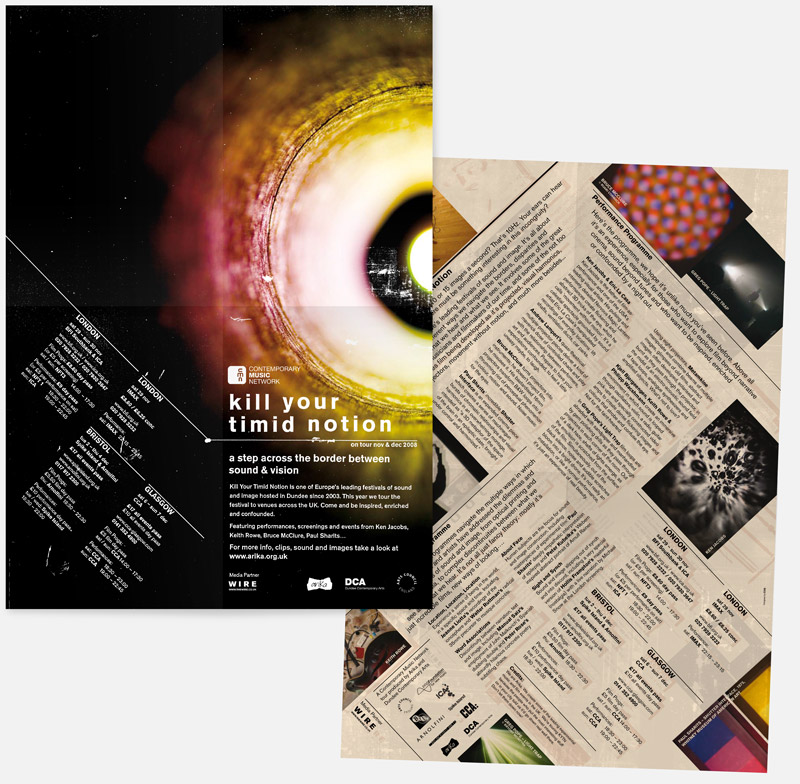 After 17 years of partnership, it felt like the end of an era. But it wasn't one era, we'd worked with them through numerous reinventions, restructures of staff, and rethinking of every aspect of CMN's work. Back in 1991 we had little access to technology so we were forced to do everything by hand, by 2008 we were forcing ourselves away from the computers to recreate a hand-crafted, quirky feel.
Thank you to all of the designers who worked so hard on so many designs, and thanks to the CMN teams who kept choosing us to be their design partners.