We need someone with the skills, technical knowledge and desire to deliver projects on time, on budget and beyond our clients' expectations.
You'll need to be the perfect mix of technical, creative, practical and personable.
You'll need the tact, tenacity, patience and stamina to steer complex, long-term projects through to completion. And you'll need to be flexible and adaptable enough pick up on multiple short-term tasks as they drop in.
You'll need to be a confident manager, a thoughtful negotiator, and a creative problem solver.
You'll be liaising between clients, designers and developers. You'll need to balance the (sometimes competing) needs of the project, our clients and our team.
This is a hands-on, studio based role with a smattering of external client meetings, presentations and workshops to run.
Download the full job description here.
We're re-advertising this role. We met some great people last time but didn't feel they were quite the right fit for us and the role.

Salary:
We're expecting to pay between £30K and £33K
If you can convince us that you'd bring more value to the role then we'd be happy to listen.

Essential qualities
Significant experience in project management
A desire to manage, not just implement
Highly organised and methodical with a meticulous eye for detail
Ability to manage and effectively prioritise multiple tasks
A problem solver who remains calm under pressure
Excellent numerical, written and verbal communication skills
Knowledge and experience in working with CMS platforms such as WordPress, Drupal and ExpressionEngine
Knowledge of the technical integration of third-party systems
Knowledge of technical areas such as hosting and DNS set-up
Self-starter with a desire to constantly improve and develop, and to help others do the same
Knowledge of Mailchimp, Dotmailer and Campaign Monitor email platforms
Enthusiastic interest in being part of our team
Desirable qualities
Experience in managing people
Experience of working in a design / digital agency
Knowledge and experience of working in the arts, cultural or heritage sectors
Knowledge of ticketing platforms such as Spektrix, Tessitura and Patronbase
A geeky understanding of the sorts of details that make our client base different to most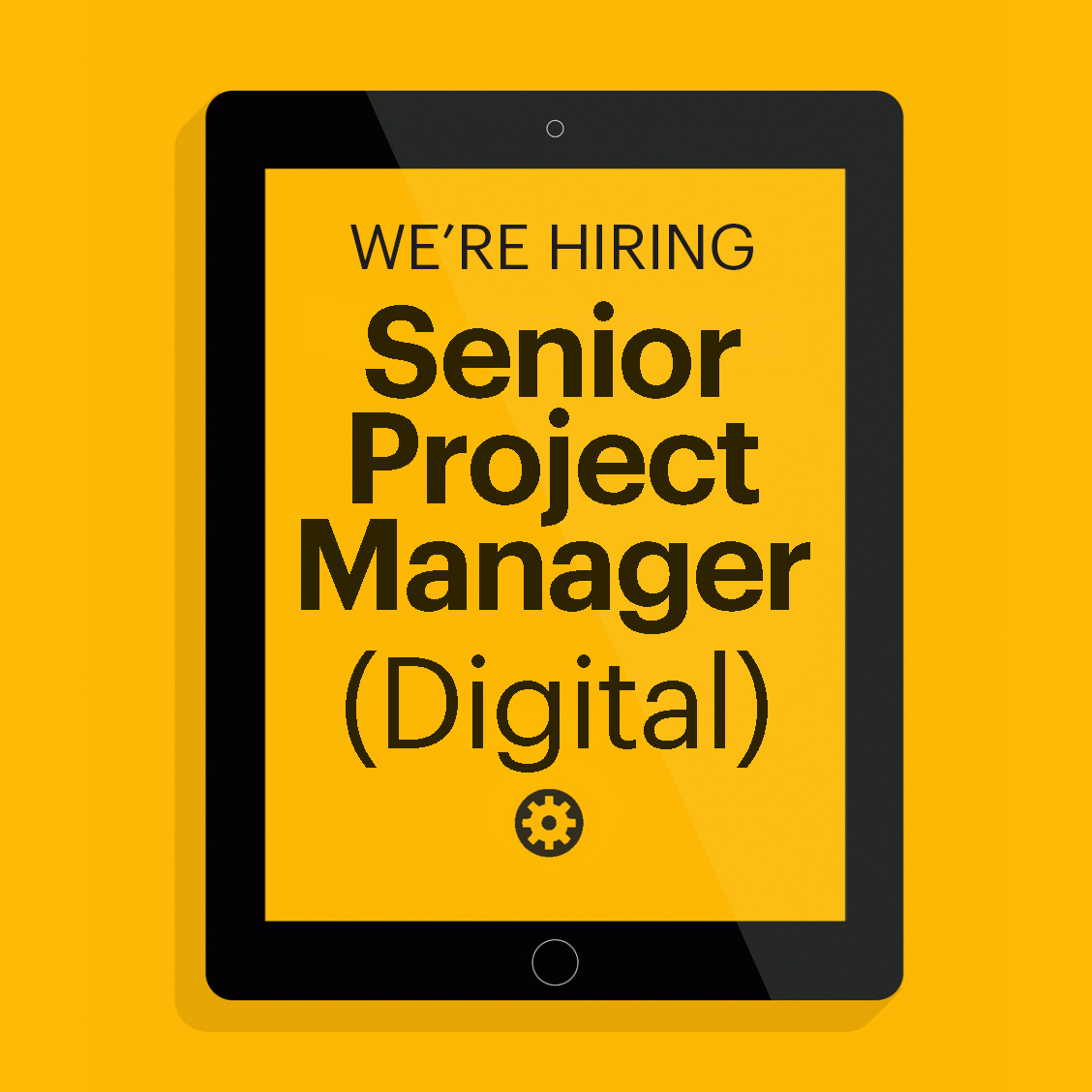 What's it like at Cog?
Cog Design is a great place to work. Our studio has all the things you might expect (including a pool table, a well-appointed kitchen and a cupboard full of fancy teas) and some things you might not (such as an indoor garden and fishpond).
You'll be working with an award-winning team of some of the most experienced and accomplished creative thinkers and designers in the UK.
You'll be working with an unparalleled portfolio of clients that includes many leading arts organisations, venues and museums; you'll be at the heart of the UK's cultural and heritage sector.
We are a team, not just a group of individuals who share a studio. Everyone plays their part.
You'll be given the freedom to make decisions and you'll be empowered to implement change. You'll also receive the support of an experienced team and the opportunity to learn from those around you.
Cog culture
We are a full-time team of ten plus a wide formal network of associates with specialist skills. We work exclusively with arts, heritage and education clients.
We are an agency obsessed with design and culture; that's how we fill our days (and nights). We fund a monthly team outing where we review one of the capital's cultural highlights for our website. And we publish a monthly cultural calendar via email.
We firmly believe in the power of culture to transform people's lives, and in the role of public funding for the arts. The only work we do for free is on campaigns to raise awareness and lobby for greater recognition in education.
Our clients
Happy clients and ongoing relationships are our most important indicator of success, and the cornerstone of our business.
Our clients include: Akram Khan Company / The Albany / Arts Council England / Art on the Underground / Artsadmin / Camden Arts Centre / Contact (Manchester) / English National Ballet / Film & Video Umbrella / Graeae / The Gulbenkian / Impact / Jerwood Charitable Foundation / The Incorporated Society of Musicians / King's College London / Lyric Hammersmith / Making Music / The Marlowe / Parasol unit / Royal College of Music / Society of London Theatre / Soho Theatre / South London Gallery / Theatre Hullabaloo / Turner Contemporary / Urdang Academy and many more

How to apply:
Apply to: opportunity@cogdesign.com
Download the job specification and poke around our site to make sure we're the right fit for you.
Write to Jack Bazeley-Harris by post or via opportunity@cogdesign.com. Include a covering note explaining why you'd be the perfect candidate, along with your salary expectations and your CV.
Get your application to us by Friday 1st June.
If you decide it's not right for you, please do still share the details…
We'll be assessing and responding as soon as practical.
We don't have a particular start date in mind, we're happy to wait for the perfect candidate.

No agencies, please. We don't use recruitment agencies so if you are a recruiter please don't waste time on us.
SaveSave