For Art on the Underground's largest ever commission, they installed Wallinger's artworks in every one of the Tube's 270 stations, inviting users to explore and experience the Underground as a whole.
Using a responsive design and customised Google maps and animation, the site invites user-generated content in a number of ways.
Inspired by the JavaScript animation which takes you on a journey around the whole tube network following the order of Guinness World Record 'Tube Challenge' 2009, the record for the fastest time taken to pass through every single station on the London Underground network, members of the public are invited to submit their own Tube journeys, uploading photography, reading and play lists to share with their fellow passengers.
The website also provided a platform for the submission of Labyrinth inspired posters which London pupils aged five to 18 were invited to enter into a competition. Additionally members of the public can share information about their particular station and its environs.
We also created a playful app, available on iPhone and iPad, with a labyrinth, the route of which can be traced with a finger – only if you correctly trace the path do you access further information about Wallinger and the project.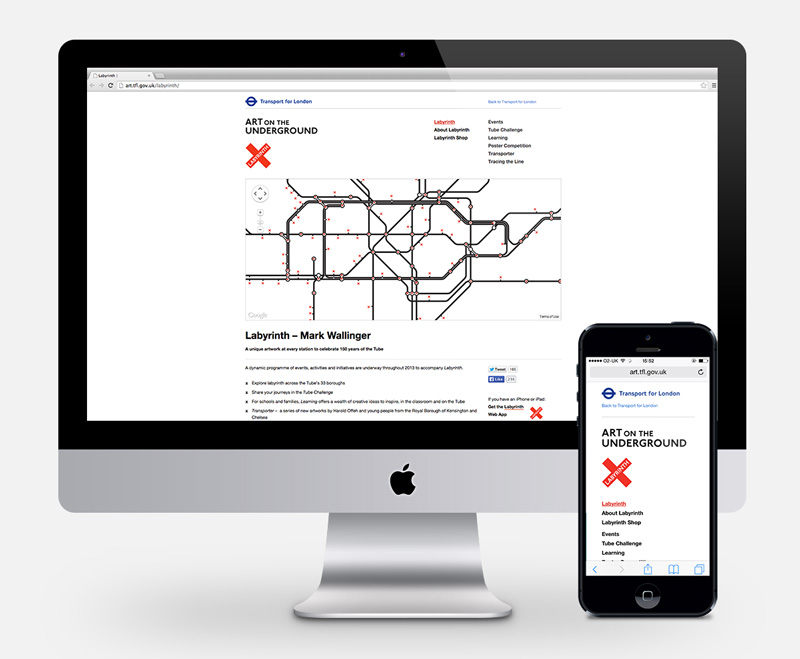 Visit: art.tfl.gov.uk/labyrinth