The Sultan's Elephant was, in every sense, the largest event we'd ever worked on so it seems appropriate that we probably produced more design concepts for it than any other project.
In the early summer of 2005, we were approached by the event producers, Artichoke about an incredible new show. It was difficult to describe the sheer scale and beauty of what would be involved so they played us a video. We watched highlights from a previous event by the French theatrical magicians Royal de Luxe – we were awestruck and a little overwhelmed by the task.
We set about designing the communications materials for what was then called The Time Travelling Elephant.



"You should be extremely proud of the campaign as a whole and we are certain that its eye-catching beauty played a big part in the overall success of the event. Your whole team worked ceaselessly and with good humour to ensure that we always felt that our campaign was the only thing you were working on (not that this was true, we know, but it was great to feel so cared for)! We are enormously grateful to you."
The design work wasn't without its challenges. The theatrical company wouldn't allow us to use any images of previous shows or of the giant puppets used in this show, and security imperatives meant we weren't allowed to tell anyone the route or the timings of the events. And, after the London bombings of 7th July 2005, the whole show (originally scheduled for September '05) was put back until May the following year.
The now expanded time-frame meant we were working on designs for months. Having worked on dozens of potential routes (a few of which are shown above) we knew we still hadn't nailed it and so did our clients. By now the show had changed title and we needed a design that could convey the majesty and magical quality of the experience, whilst clearly fixing it in a London setting.
As is so often the case, an impending deadline focused everyone's attention. We had a sense of how important this show would be and we knew we were running out of time to deliver the perfect solution.

Our final round of designs (shown above) felt very close. We really loved the graphical cleverness of the question mark but it wasn't right for this show. Illustration felt right and there was something about that trail of magical petals and confetti that felt very special. So we worked to expand and refine that theme until we had a solution that everyone was happy with. After months of work, we delivered this illustration (below) days before the first print deadline.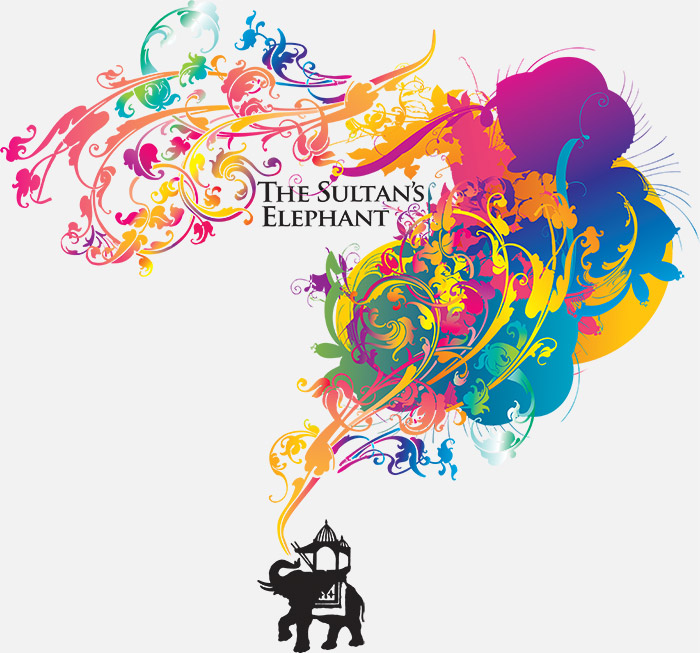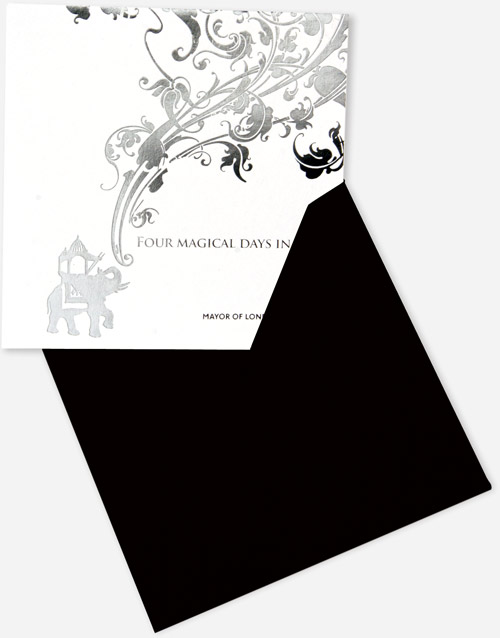 The first outing for the design was a foil-blocked, save-the-date card for industry insiders, funders and VIPs. The card was deliberately enigmatic with very few details, printed on a thick white board with silver foil and sent in plain black envelopes. The message was simple – something spectacular is coming to London on the weekend of 4th May; if you're not in the capital you'll forever regret it.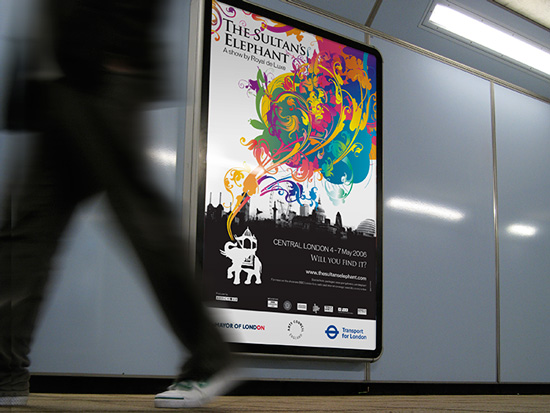 As the special date drew nearer, we produced a short run of transport posters which appeared across London in the two weeks before the event. Despite the relatively short-run of posters, it's amazing how many people now claim to have seen these across the tube network.
The posters were complemented by a leaflet (below) which was the first time we'd been allowed to use any production shots.
The print campaign was backed-up by an extensive email and online campaign which, at the time, was a relatively unusual communication method for a live event.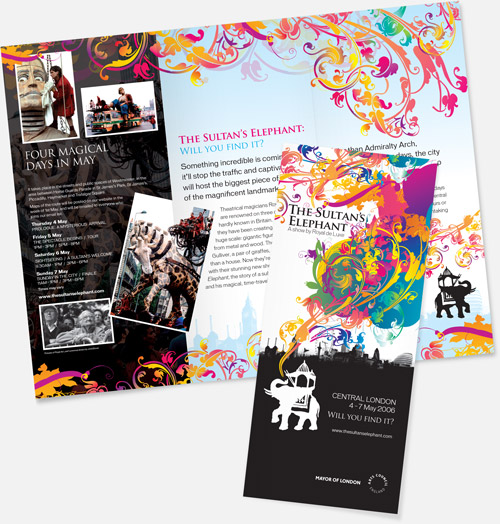 As the day approached we were all nervous. Would anyone turn up?
On Thursday 4th May, what looked like a smoking spacecraft had crashed into the pavement just off Pall Mall. As the evening drew in, a small crowd had gathered to see what was going on. The rocket-ship opened and a giant mannequin of a little girl, dressed in aviator goggles was lifted out.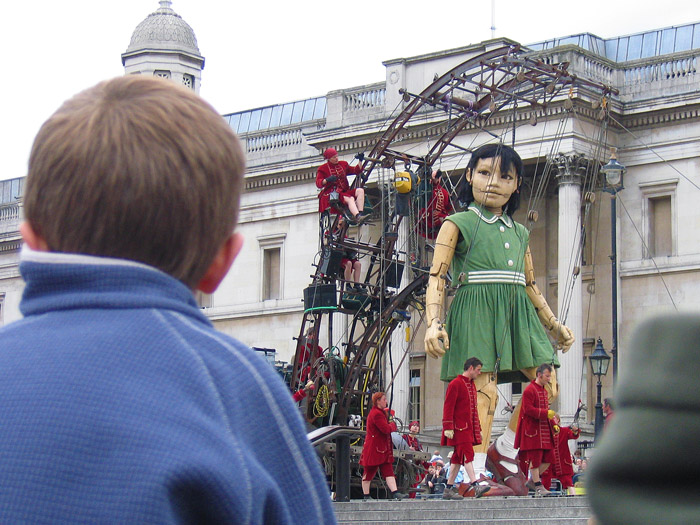 As she began her walk to find The Sultan's Elephant (who'd been sleeping in Horse Guards Parade) the crowds began to follow her. You could see hundreds of excited people taking photos and texting their friends (this was before Twitter or the grip of Facebook) as she walked down The Mall.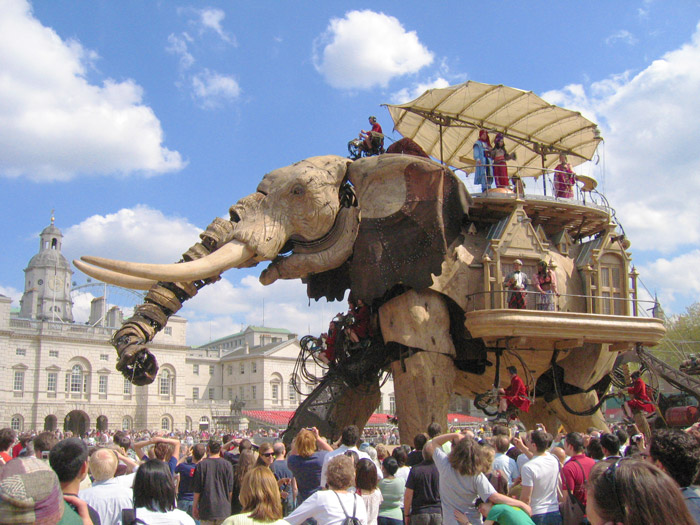 As the little girl approached, the elephant woke to greet her. By now thousands of people were enthralled.
The vast, time-travelling mechanical elephant, taller than Admiralty Arch and 42 tonnes in weight, was joined by the twenty-foot tall 'little' girl. By the time the two had settled down for a night's rest, London was buzzing with excited people. And by the next day hundreds of thousands of people packed Trafalgar Square and followed the adventures around the capital.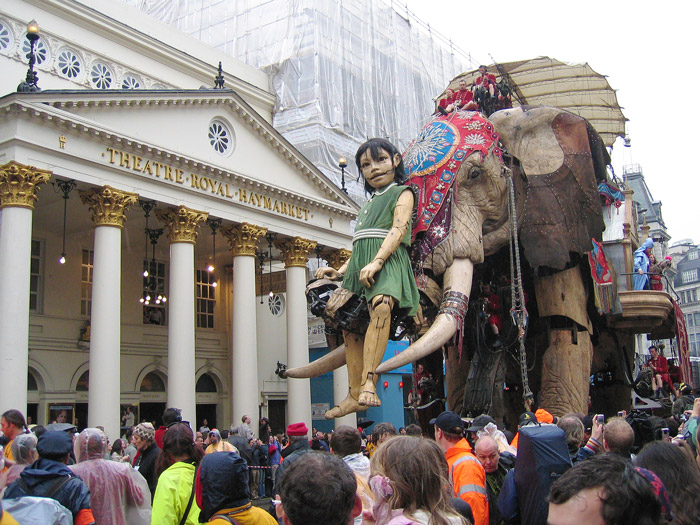 For four days they enthralled their audience with sprays of water, bus rides and by sewing cars to the ground. Then, on Sunday night when their time was up, they disappeared in a magical puff of smoke.
We are hugely proud to have played a small part in the success of this huge event; we even got to design the graphics on the routemaster bus. We subsequently worked with Artichoke on numerous other projects; they were always spectacular but the elephant will always hold a special place in our history. Thank you to Artichoke for that opportunity.