I recently completed a five year tenure and stepped down as the Executive Chair of the National Campaign for the Arts. It was a fascinating experience; maybe I'll write more about being a charity trustee another time.
My final project was to see through the publication of this latest edition of Arts Index – a statistical health check on the state of the arts in England and the UK. it brings together lots of statistical data and converts it into year on year analysis of 20 key indicators.
We'd planned to release it in 2019. But Brexit got in the way of everything, and then there was a general election, so we waited and postponed until early 2020.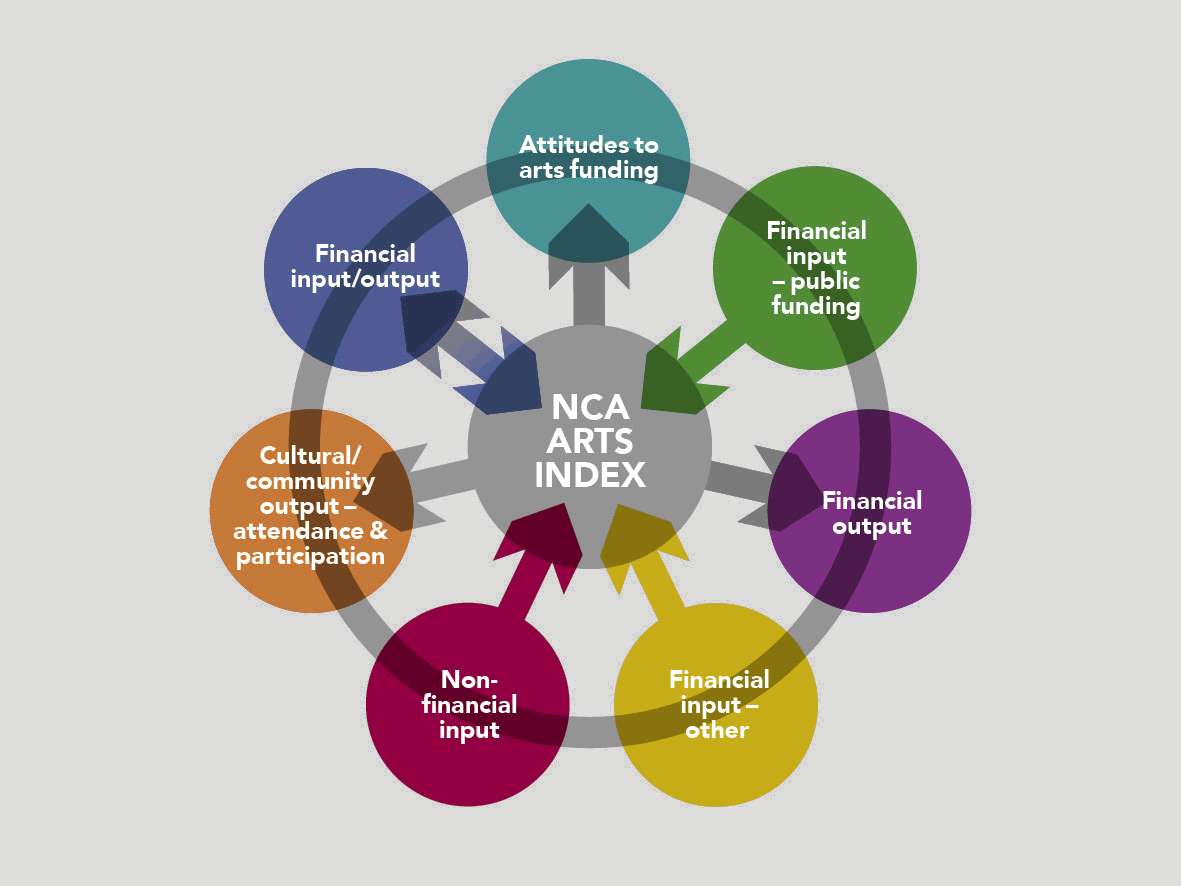 We knew the figures, we made the charts – the numbers were compelling. We wanted to share them as widely as possible. We planned sector-facing events and established partnerships to help us get the word out to a much wider audience.
The Cog team had designed the publication and created a whole suite of social media assets, including quotes from celebrity supporters. We were all set to go.
And then, of course, we had to cancel it all because of the global pandemic.
Ten weeks on and the team from the National Campaign for the Arts have found innovative new ways to share the publication with the world. So it's safe for me to share it here. Here's Chair, Samuel West, introducing it…
Looking back through this journal, I can see that I wrote about a previous edition, five years ago.
We now have ten years of data and the trends are even clearer to trace.
Sadly, the extra clarity simply shows that cuts are more severe (treasury funding has fallen by 41% and local government funding is down by 43% in a decade) and that even the great hope of the lottery has fallen away (arts investment is down by 25% after a rise in the Olympics' year).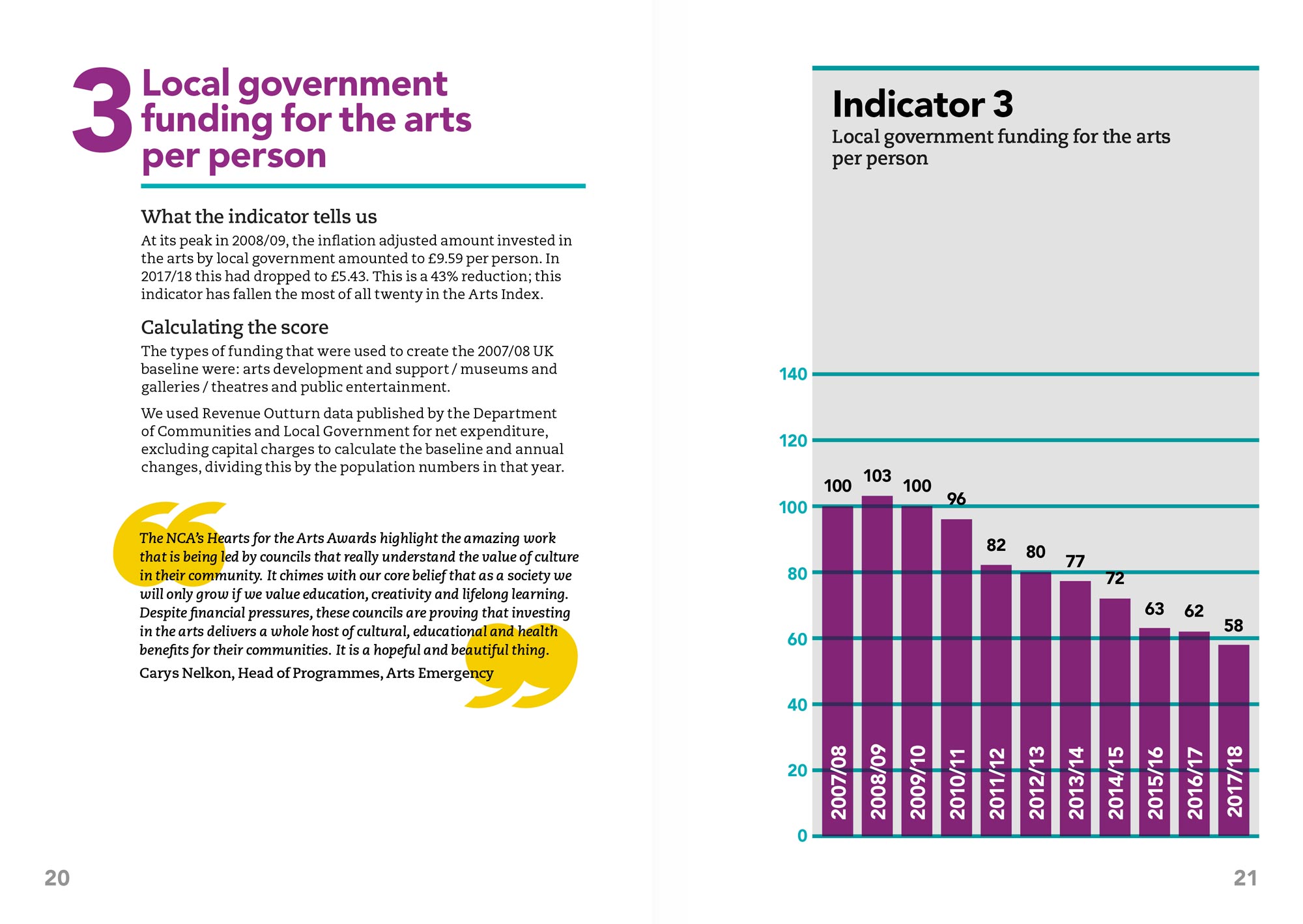 But earned income (ticket sales and bar sales, mainly) are up by 47%. Maybe that is good news but the flip-side is that these increases make the arts ever more exclusive and expensive.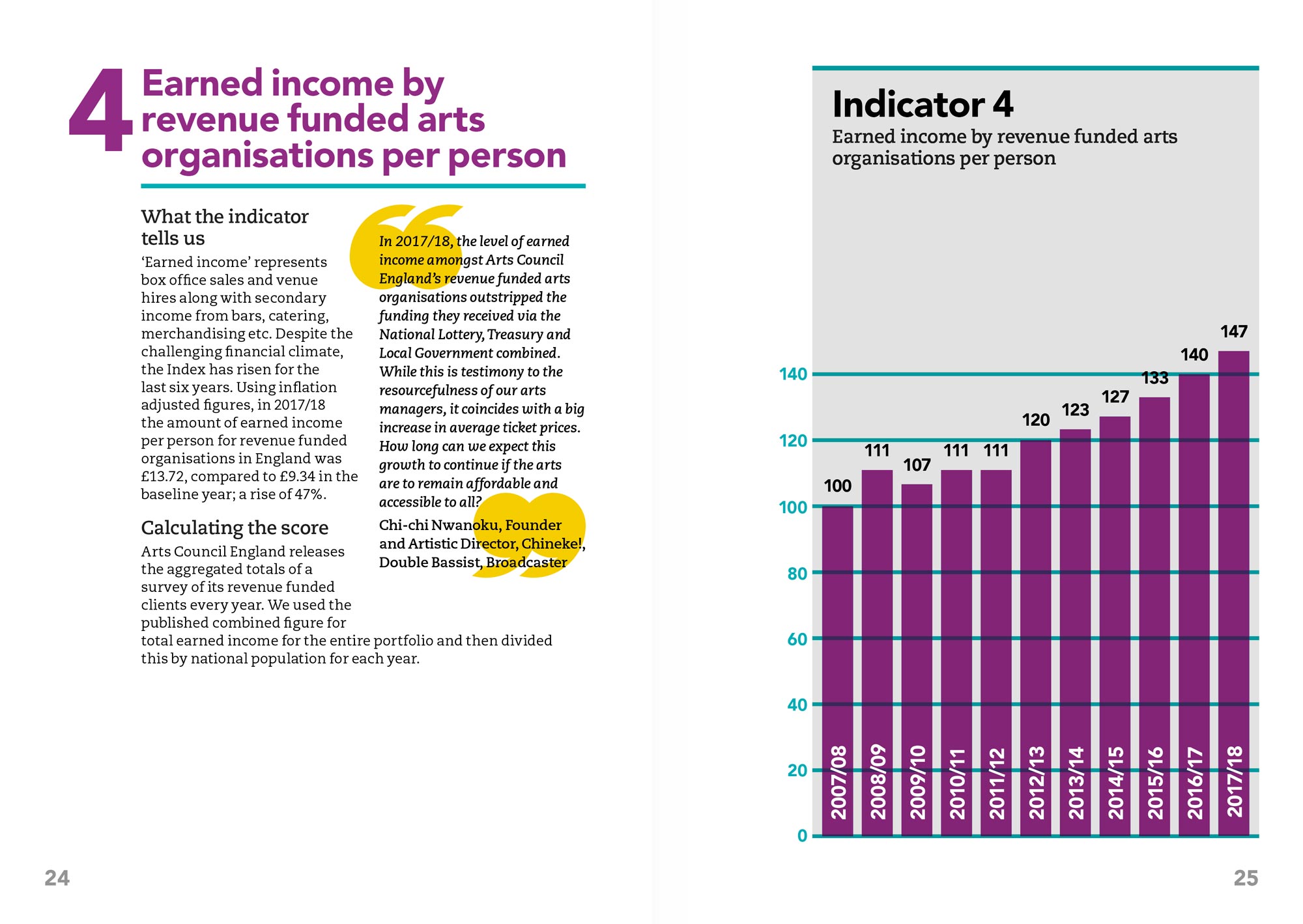 The government told us that business support would plug the gaps, that philanthropy would step in as government support faded. That has not happened. Business support is down by 39%. And with petrochemical companies pulling out of arts sponsorship (a very good thing in my opinion) those numbers will tumble further.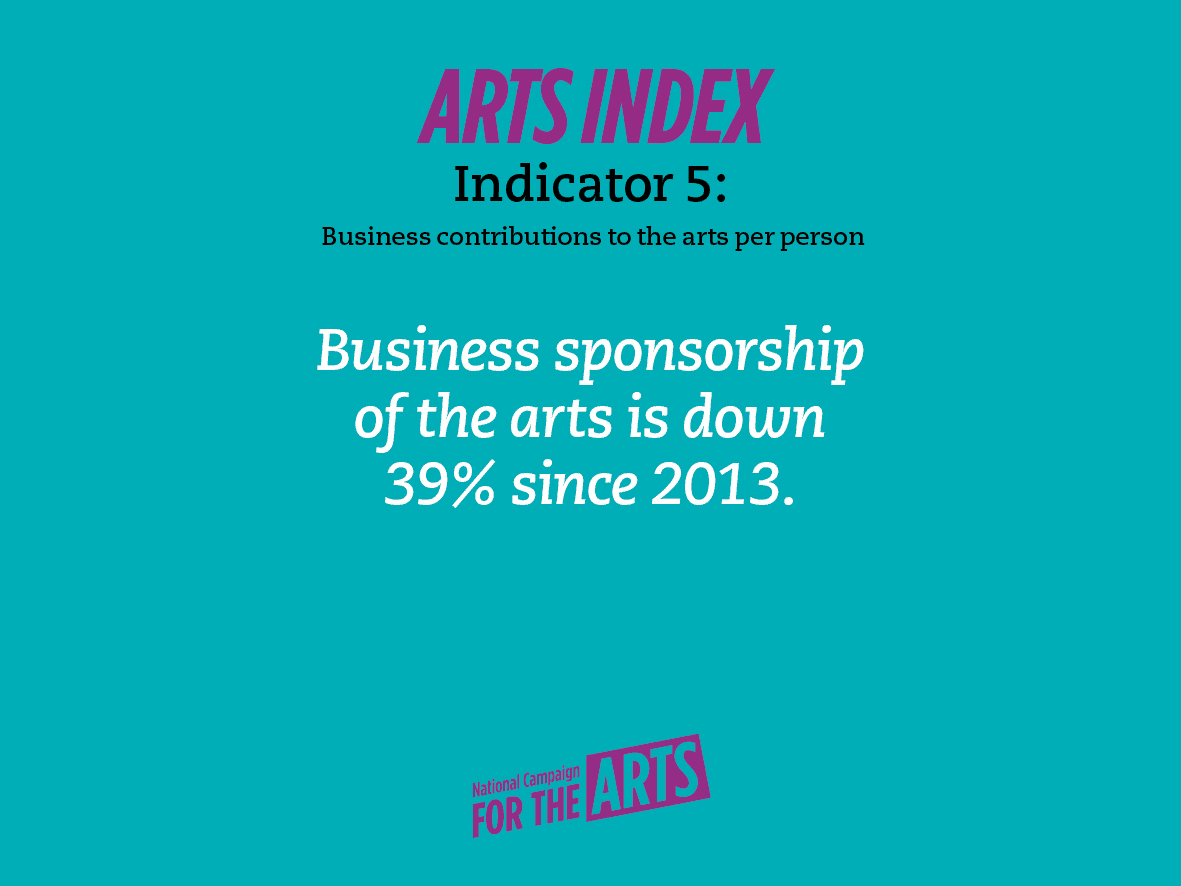 There is some good news. Trusts and Foundations have hugely upped their support (up 38% in four years). Is that the future (as it was the past); wealthy individuals securing their legacy through tax-efficient giving? Maybe it is.
I'd encourage you to read the report in full. There are some fascinating figures around engagement in, and support of, the arts. And the numbers are starting to show some alarming trends in poor take-up of creative subjects in schools.
My take is that arts organisations have done brilliantly – being creative and resourceful, and finding new ways to keep going and keep producing great art for diverse audiences.
We've seen increased professionalisation of the sector's leadership and that has created ever more robust organisations.
But we've also seen unsustainable cuts in funding that have devastated the less commercial areas of the sector. The rehearsal spaces, small venues, youth groups, the community groups and the 'free' festivals have all but disappeared.
For a decade we've seen the gradual hollowing out of the sector, leaving only the shiny-shell of high-profile performance arts such as West End theatre. And now the COVID-19 crisis threatens to shatter that shell. We are already seeing the cracks appear.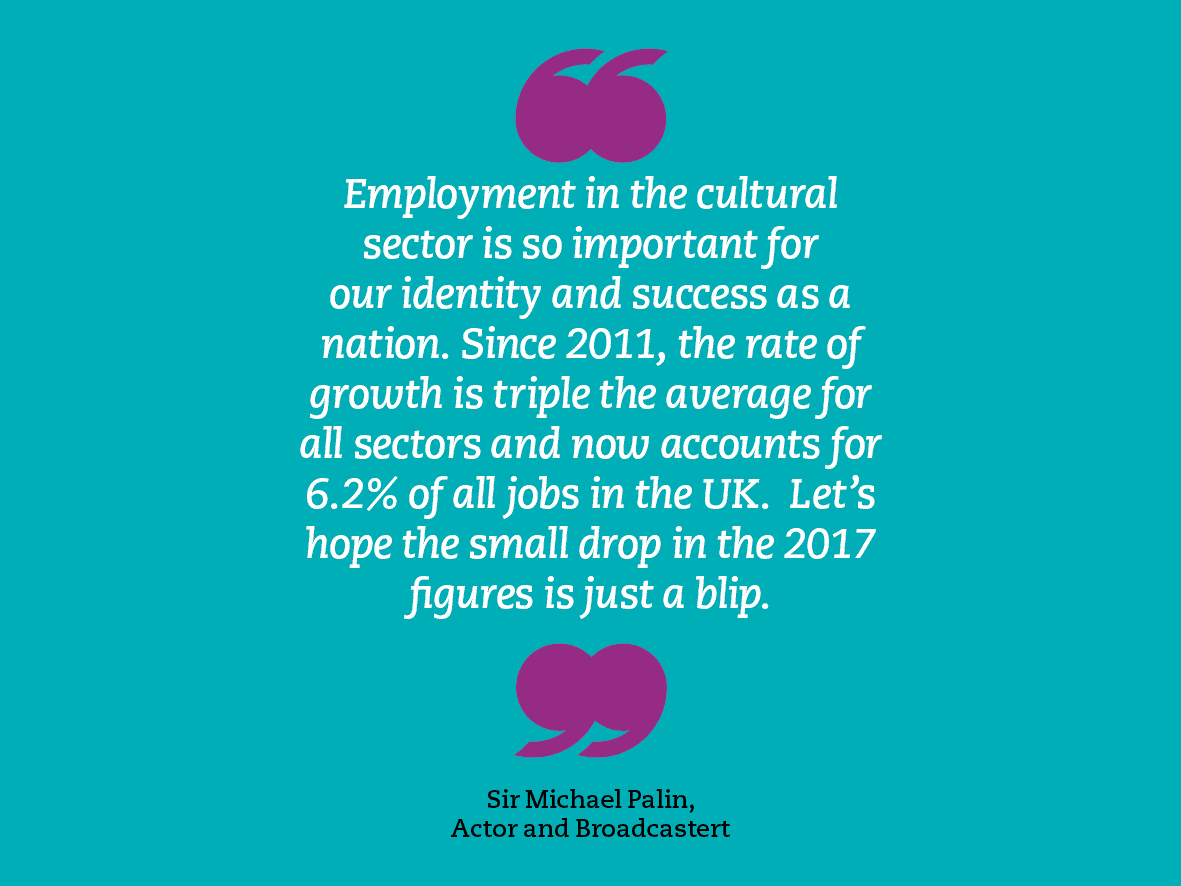 Of course the sector will find ways to rebuild and reinvent. But what will that future look like? And, in the meantime, how much will our society have missed out on the healing, inclusive, uplifting and economically vital power of the arts?