The Barbican Centre was opened in 1982. By the 1990s it had become a top-class classical music and theatre venue but it also had a reputation for being difficult to navigate and uninviting to a younger audience.
To begin to counter that reputation, around the turn of the century, they began extending their programming reach into jazz and contemporary music. We were in the right place at the right time and worked on many of their biggest events and festivals.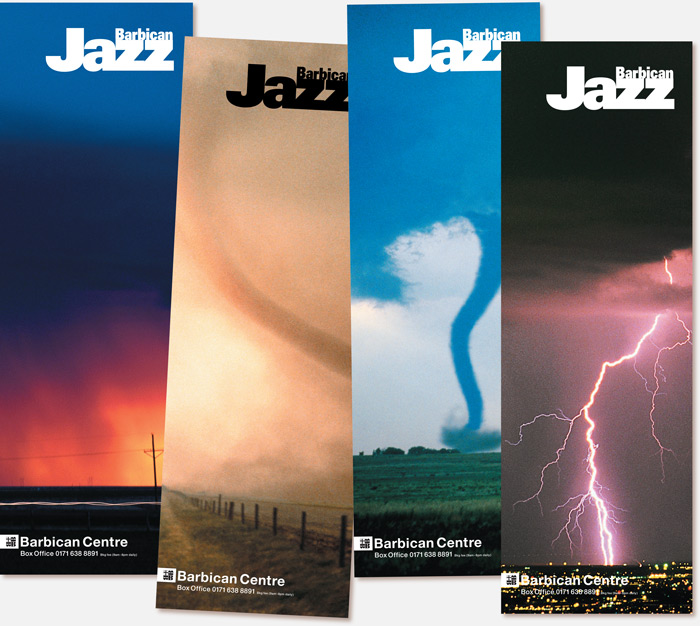 Through our work with producers, Serious we'd got to know the music programming team and together we worked on an annual series, Barbican Jazz. Making the most of their budgets we would design and print four postcards at the beginning of the year and we'd overprint the backs as each series of new artists were confirmed.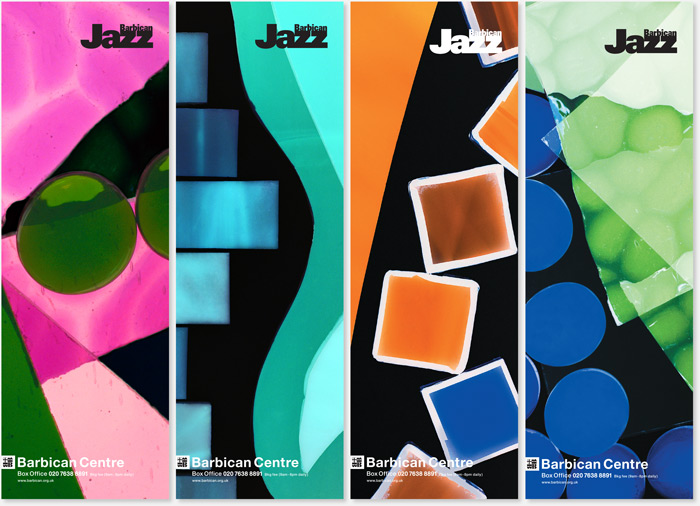 Rather than using artist images or clichéd jazz iconography, we used newly available stock images to convey the power, beauty and rhythms of the music. They were programming the biggest international artists so our work was more to do with cementing the venue's reputation than selling tickets.

Alongside the Barbican Jazz work we'd also started working on publicity materials for gigs and festivals, including: Colores de Colombia (1996), the Womad weekend, Global Spirit (1997), Bluegrass, Shades of Blues, and Ultimate Gumbo (1998) and Cuba Presente (1999).
By 2000 I'd founded a marketing agency, The Cogency, with ex-client Cathy Gallagher and Janice White. We'd been commissioned to work on the marketing of the Barbican's festivals and Cog were more involved than ever.
2000 was a really busy year with three huge festivals at Barbican Centre.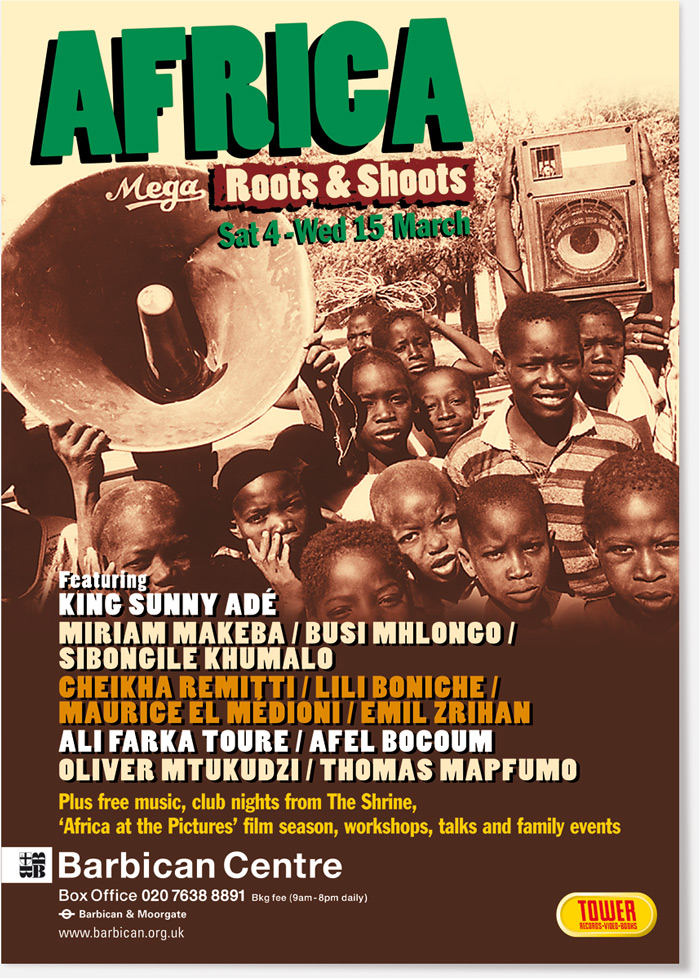 In March, Africa Roots & Shoots celebrated the old-guard and the rising stars of African music. We were able to pull some strings to get permission to use this amazing photo by Christien Jaspars, originally commissioned by World Circuit Records (also clients in the 1990s).
Alongside all of the festival publicity and marketing, we also commissioned and published the free festival programme and 'freesheets' for each concert, paid for through our ad sales and a deal with Fair Trade coffee.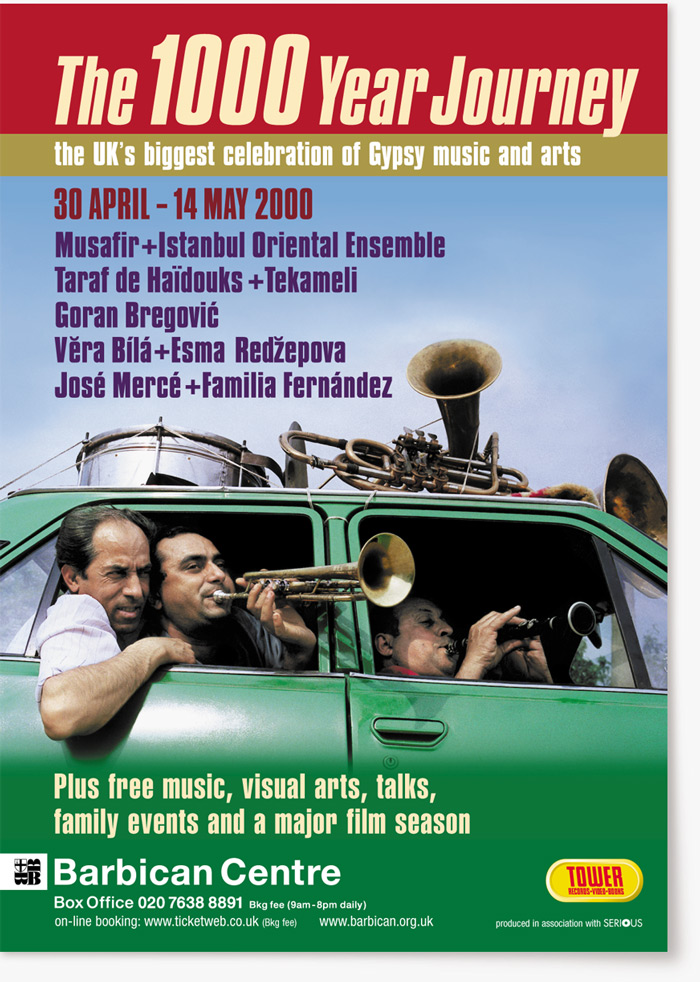 In April and May, the Barbican was filled with a riotous cacophony of Gypsy music, marking the Gypsy diaspora from India, across north Africa and throughout Europe: The 1000 Year Journey.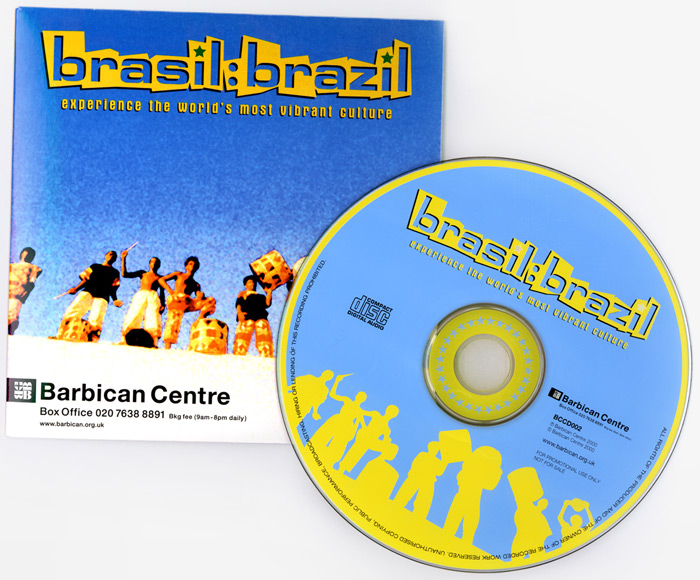 In July of the same year, Brasil:Brazil was an exuberant celebration of the 'world's most vibrant culture'.  Again, we were responsible for all of the publicity materials, marketing and programmes. I was also lucky enough to select the tracks and manage the production of a CD, distributed for free; and I wrote the main essay in the festival programme (which is featured elsewhere in this journal).

2001 picked up at a similar pace. We were working with Peter Saville's designs for a new series of events called Only Connect (programmed by Alex Poots who went on to run Manchester International Festival), we continued work on Barbican Jazz and we were still working on various one-off concerts.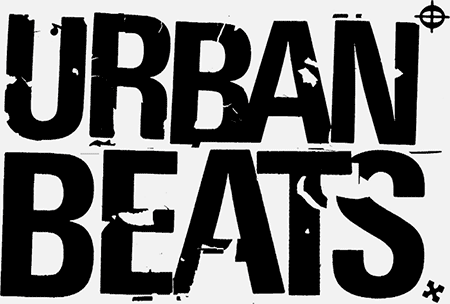 Amidst it all, the Barbican team were continuing to programme festivals. One of the most interesting and eclectic was Urban Beats which explored the relationship between five urban cities and the artists that live there.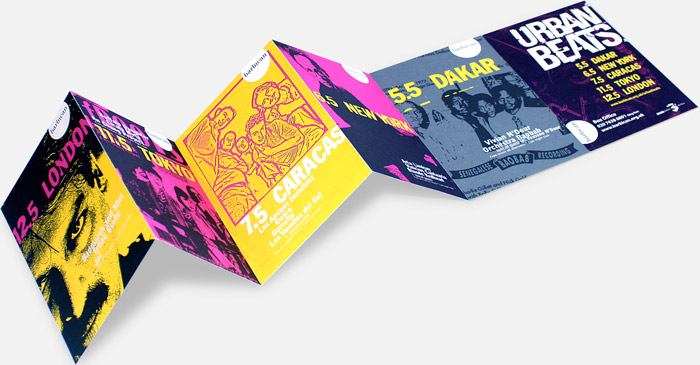 Rather than the conventional 'brochure', we designed a series of perforated A6 postcards that could be detached and shared amongst their disparate audiences. The type was created using deliberately distressed Letraset (rub-down transfer lettering), and we used uncoated paper, high-contrast bitmapped images and three colour printing to convey an urban feel. The design was also a great way to disguise the range in quality between the artists' photos.

And in total contrast, later that year we worked on electronic, a festival dedicated to the music of (and featuring) the avant-garde composer, Karlheinz Stockhausen.
The festival featured one of my favourite ever events at Barbican: a Brothers Quay film (in Absentia) with a Stockhausen soundtrack played through specialist sub-bass speakers that made your lungs vibrate and your heart ache.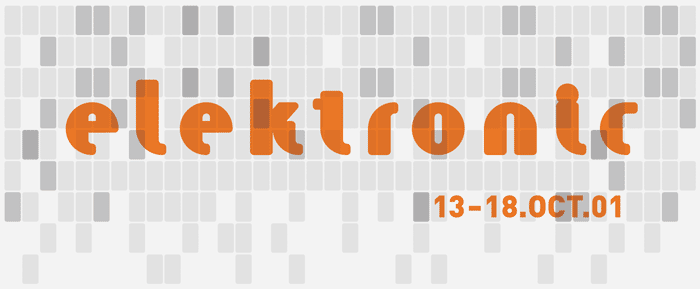 We continued our relationship with Barbican, although the work was never as intense as it had been at the turn of the century. By now they were putting on a much more regular programme of varied music events. The Cogency published their 'freesheet' programmes for many years; I would often write the notes for those as well as designing them. And Cog went on to design the listings brochures for all of their contemporary music events. I've written about that elsewhere in this journal.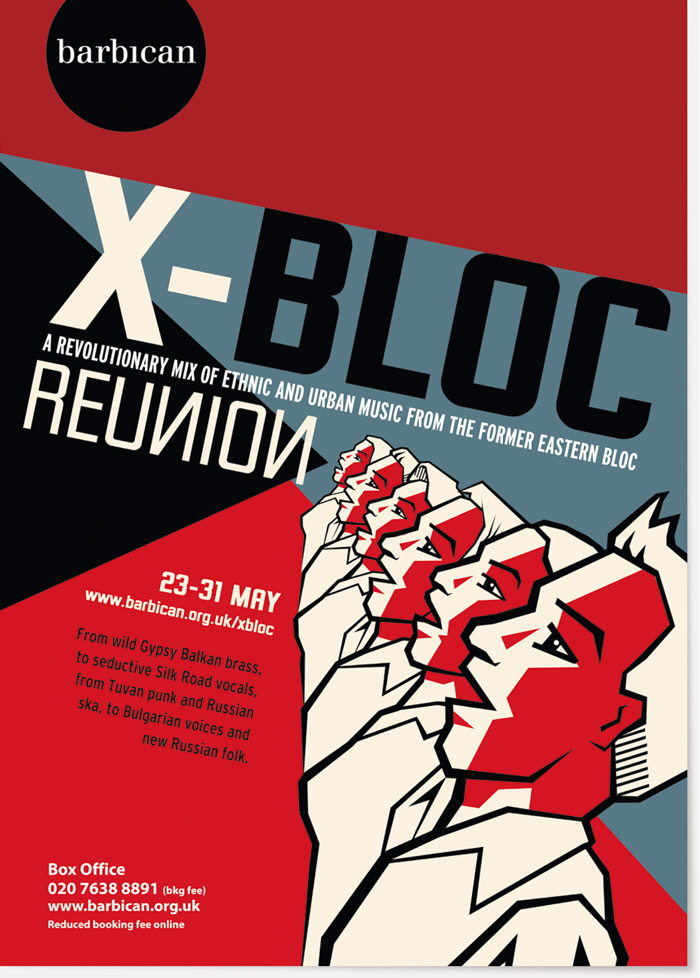 One of my highlights of our ongoing work was the 2003 X-Bloc Reunion festival, where music from ex-Soviet states was brought together under one roof for the first time in the UK.
Working with Barbican (as it is now know, or The Barbican Centre as it was when we started) was a real treat. It was great to be a part of their transformation into one of London's best venues for contemporary music. And, from a personal perspective it afforded me incredible opportunities to roll my sleeves up and get involved.