On the 11th of March I met my soon to be Cog colleagues for my first experience of our monthly Cog Night. We were going to see The White Plague at Greenwich Theatre, an intriguing-sounding show involving white-out goggles and a blindness pandemic. It seemed eerily apt given the news of a thing called Coronavirus that seemed to be getting more serious by the day.
In the end the show was an interesting premise that fell flat for many of us – you can read Michael's excellent review elsewhere in our Journal if you'd like to know more about that.
A week later and London was in lock-down. I can't ignore the irony that the last live piece of art I saw before being locked down was an immersive theatrical production about being in a pandemic.
So it was with some trepidation that I found myself walking up St.Martin's Lane, past shuttered pubs and theatres, towards The Donmar Warehouse for my second ever Cog Night. Coincidentally (or not) this show was based on the same novel that had been adapted for that previous Cog Night – Blindness by José Saramago.
The Donmar Warehouse's Blindness was billed as "A socially distanced sound installation". There were no live actors – instead the show consisted of a pre-recorded performance by Juliet Stevenson, accompanied by striking lighting and sound design. The usual seating was removed from the Donmar's black box auditorium, replaced with pairs of chairs positioned two metres apart. An oblique inscription on the wall above the stage read "if you can see look, if you can look observe".
The staff at the Donmar Warehouse were brilliant, clearly guiding us through the venue and apologising cheerfully that the hand sanitiser was "the Tequila-y one." Soon we were safely seated throughout the auditorium with our headphones on, admiring the gridded rig of glowing tubes above our heads.
The installation/show itself hinged on Juliet Stevenson's stunning and multifaceted performance. Her spellbinding delivery was enhanced by the subtle but ever present soundscapes created by Ben and Max Ringham. The binaural sound design became increasingly immersive as the lighting gradually dropped and we, like the characters Stevenson performed, were plunged into darkness. Occasionally this darkness was punctuated by flashes of dazzling white light. These flashes, shocking at first, were perhaps leant on a little too much as a narrative device as the show went on.
The story of Blindness is a harrowing tale, told from the centre of a 'blindness pandemic'. The early sections of the story felt familiar post-Covid, with government officials denying the gravity of the situation before scrambling at the last minute to implement a quarantine. But in Blindness society quickly falls apart completely.
Simon Stephens' carefully paced script led us through the dark and sometimes challenging elements of Saramago's original story with craft and tact. The comprehensive source material was broken down into a series of short fragments, punctuated by heightened moments of action, and the most haunting aspects of societal collapse were hinted at but left unsaid. As the darkness persisted our narrator built vivid imagery and characters in our imaginations. So much so that I was almost disappointed at the ever so slightly lit elements of the show – any kind of reality is no match for the power of the imagination.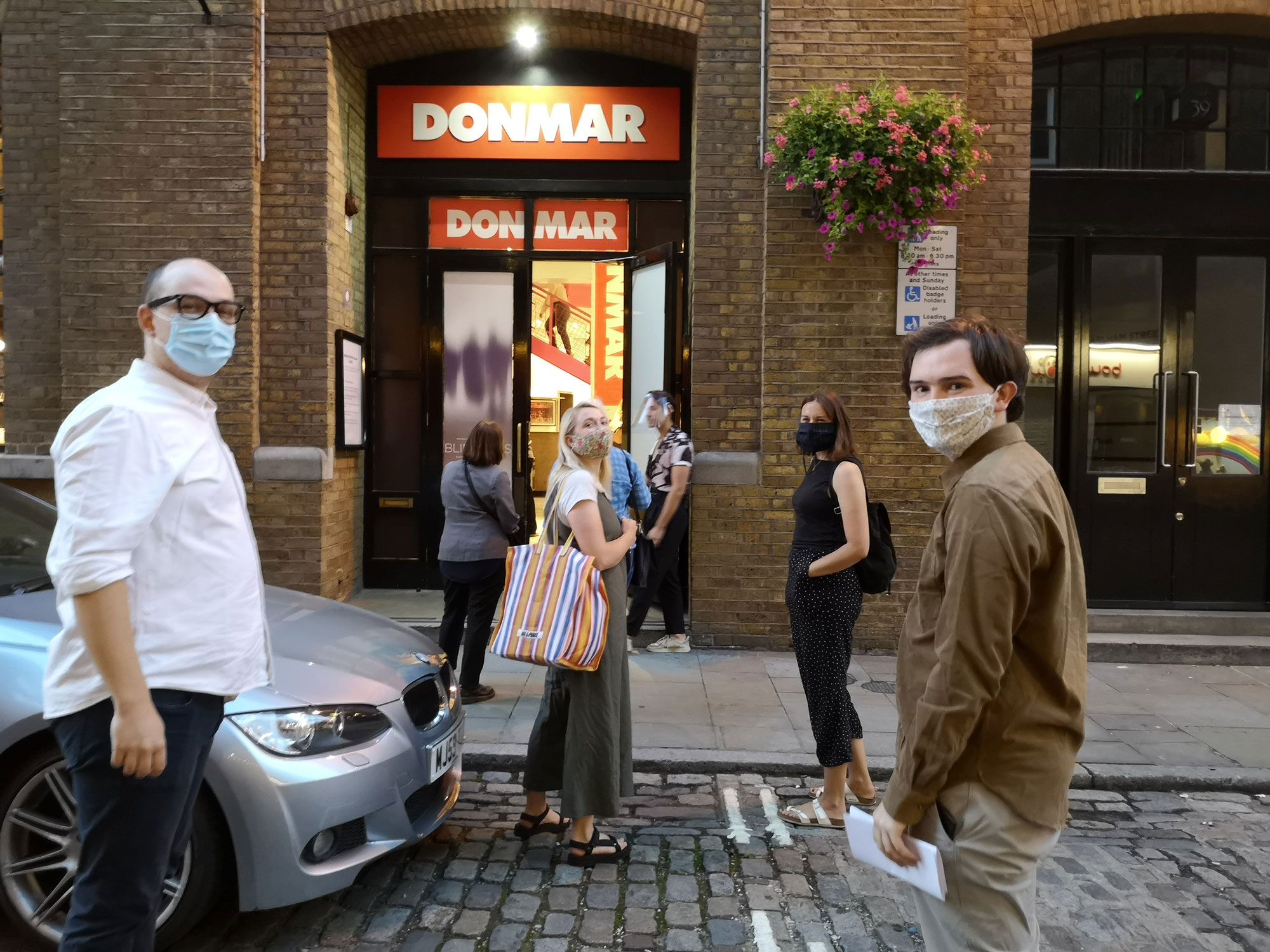 It felt simultaneously novel, incredibly familiar and totally refreshing to be sitting in a theatre again. And it was genuinely quite moving to applaud at the end with our fellow audience members – a moment of connection and solidarity that's impossible to recreate via a livestream.
I really hope it isn't five months until I get to experience that feeling again.
---
Illustration by Carly A-F for our Cultural Calendar.