You've been great to work with: a superb creative vision mixed with a relaxed style which has worked really well for us. We are delighted with the results.
Cambridge Corn Exchange was, in some ways, typical of many city centre venues across the UK – a medium-scale, multi-arts, flexible performance, owned, funded and managed by the City Council. But it was atypical in so many other ways – within an easy commute of central London, its size and geographic location (nestled in the heart of the city) meant it had a history of hosting some of the biggest names in rock and pop.
We gathered a core team of representatives from across the organisations for a workshops. Our task was to discover more about the varied experience of visiting the venue for different types of show.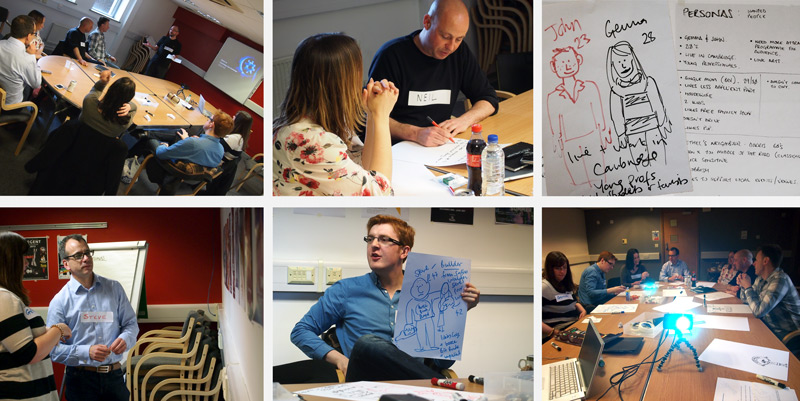 We created 'personas' of typical audience members who might attend different events, and we chatted about their experience – how they'd heard of the venue, why they might come, how they'd book tickets, how excited they'd feel before, during and after, what they'd tell their friends about the venue etc.
As well as an amazing history (The Who, Pink Floyd, David Bowie and Oasis have all played there), it was the atmosphere of attending a show in this huge venue, tucked into the meandering streets of Cambridge that really hit home.


Their existing visual identity (featuring a woodblock-style engraving of corn-sewing) felt wrong for two reasons – it evoked the spirit of the short-lived original purpose of the (stunning) brick-built architecture, and it was a badge that was 'plonked-on' posters and leaflets.
Into the process we also discovered that, as well as the Corn Exchange, the programming team were newly responsible for the Cambridge Guildhall (just over the road).
We needed a change: a modern visual system that could adapt to any event type but would always be recognisably a Cambridge Corn Exchange or Guildhall event.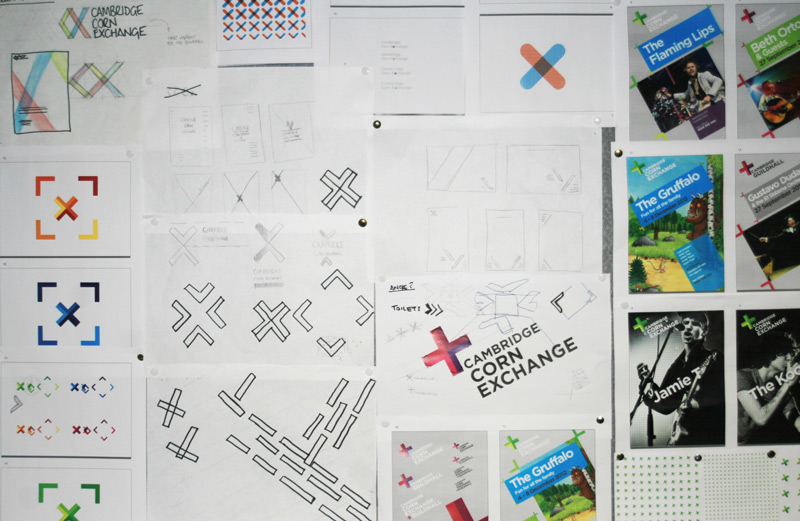 We returned to the studio and started sketching. Amongst many other routes, we hit on the idea of using the X (the distinct sound within the name) as a marker on a map, a meeting point of ideas, of overlapping performance genres, or of people meeting for a great night out.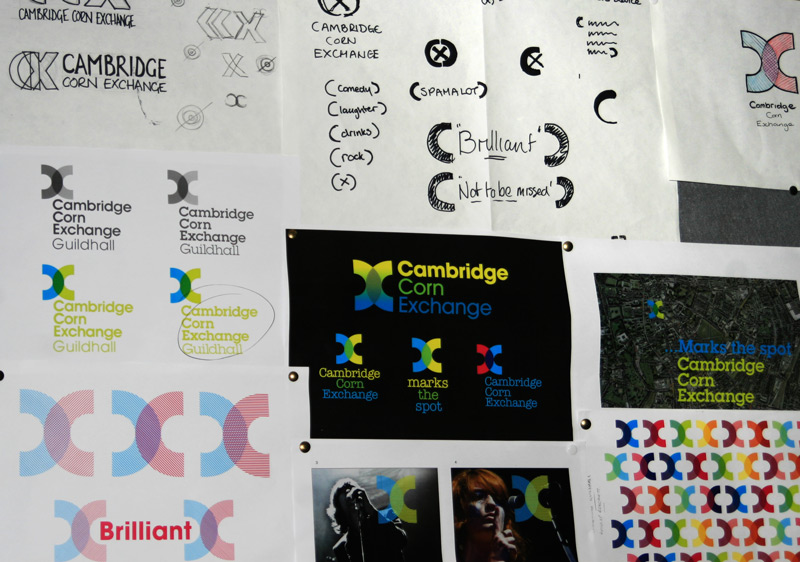 We invited our clients down to our studio and chatted through our initial thinking and visual approaches. They were particularly excited to see how we could bring the X idea to life, as a visual system.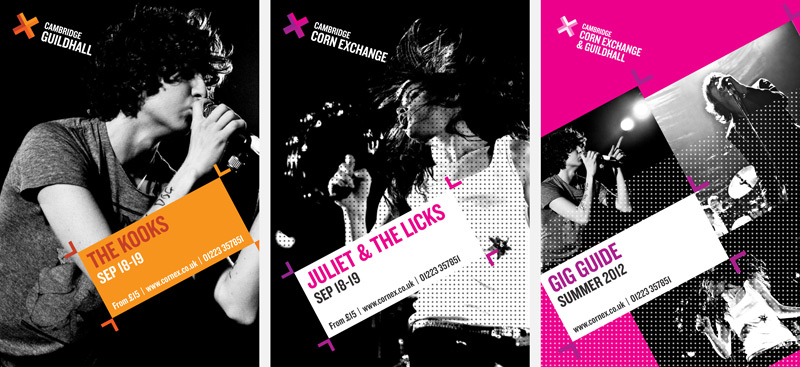 We worked-up a number of routes, looking at ways to break up the X into arrows that could point the way, be used as patterns or act as corners to hold information in place.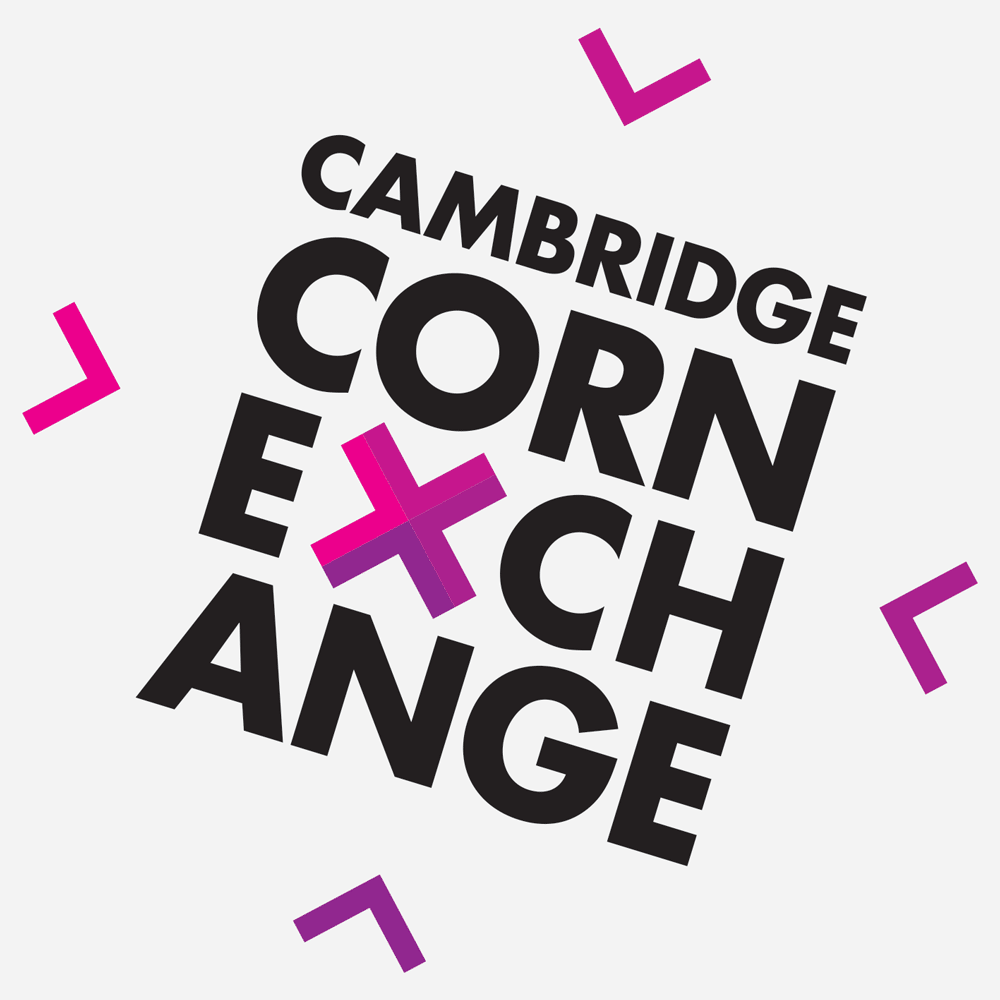 And we looked at simpler solutions: what if we placed the X at the exact angle of the building (in relation to a north/south axis) and used a big red X as the basis for all designs? How might that work; how might we then deal with the three possible 'billing' hierarchies for the two venues together, or the two venues apart?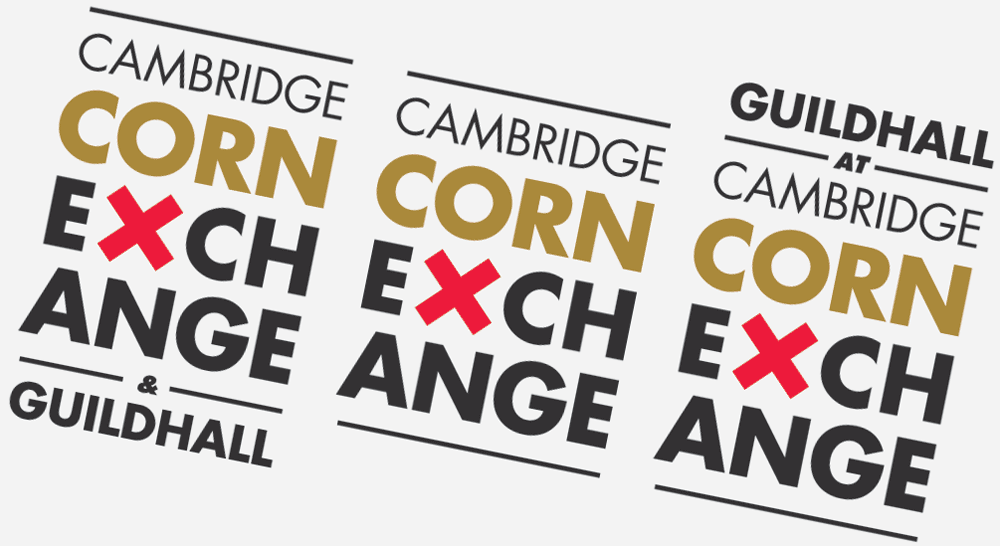 Through discussions with our clients, we settled on what is the simplest solution of all – the two Cs of Cambridge and Corn, overlapping to form the X of the Exchange.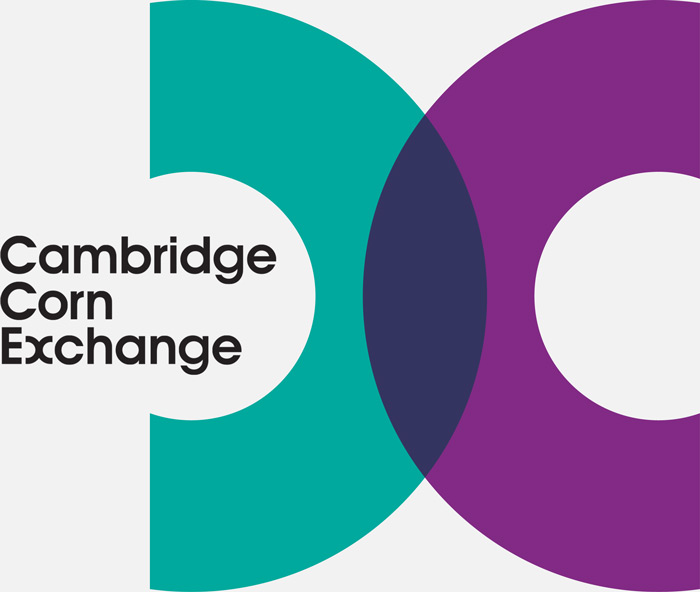 The simple type treatment can stand on its own and the crossing-Cs device can be scaled up or down and used in all sorts of creative ways whilst always being recognisable and distinct.

We crafted every detail, from the distance between the letters to a grid that formed the basis of all poster and leaflet layouts.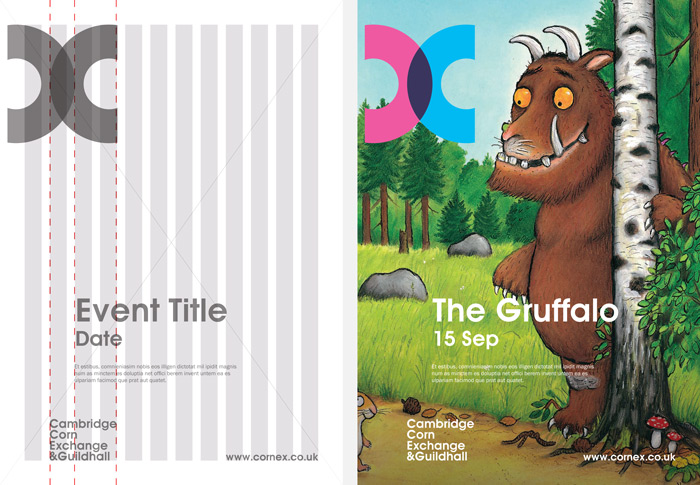 We provided numerous examples of how the design could be used. It helps that the brilliant music photographer, Stuart Leech, let us use his images for the mock-ups.
We looked at how to crop images and use bold colour…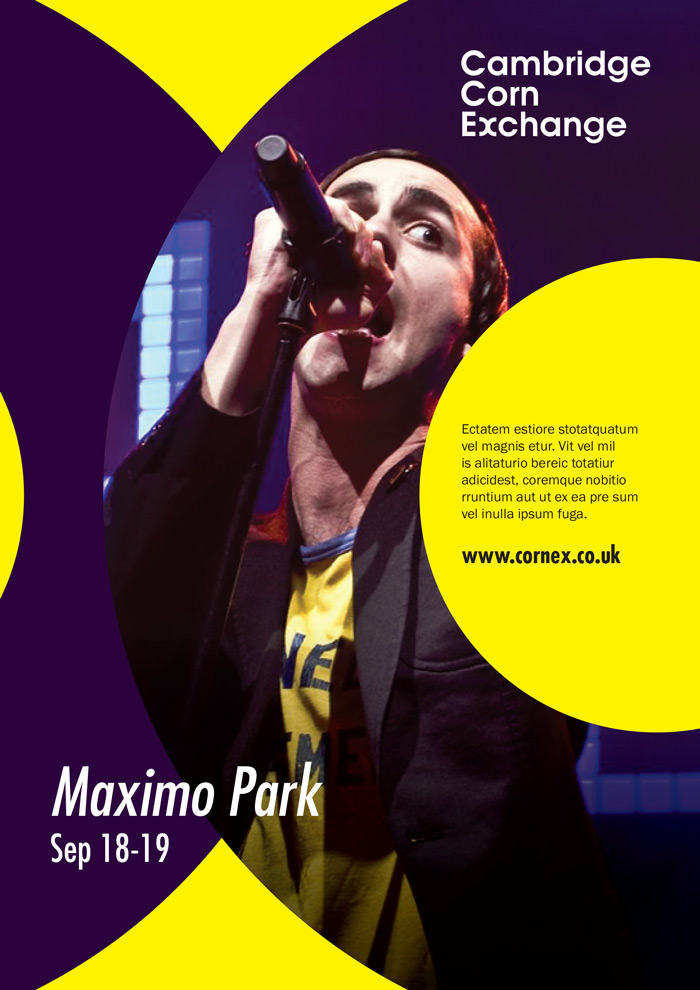 We looked at two-colour examples, using each shape to shift the image to provide a sense of movement….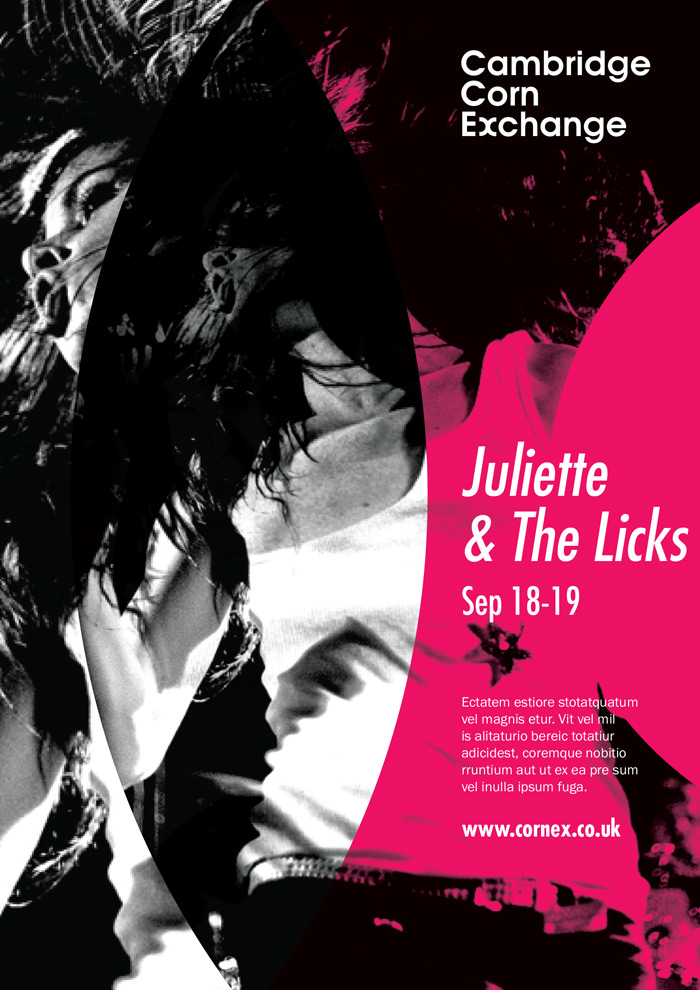 And we looked at examples where we led with a simple image crop and a large artist's name…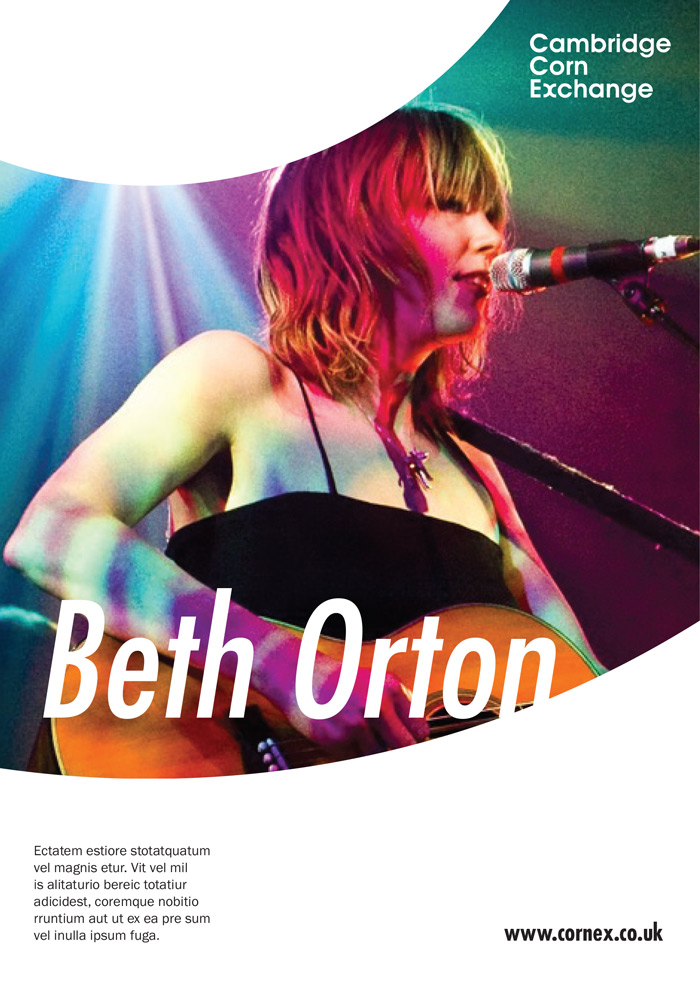 And, just to prove that the branding would work in smaller contexts with more text, we showed a series of press ad designs…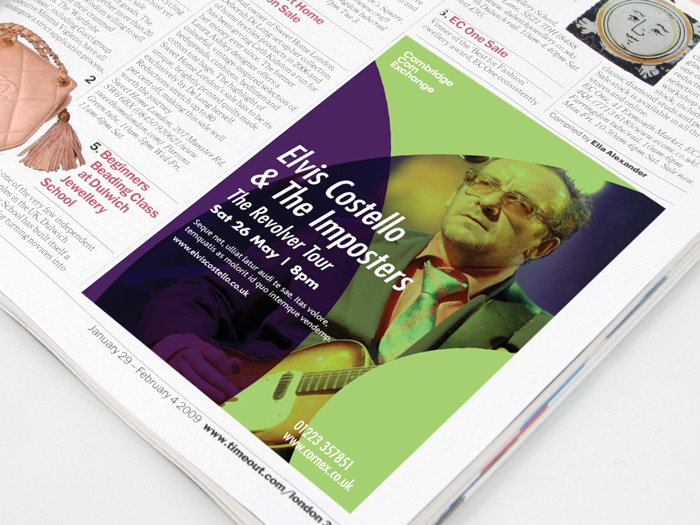 This is an exuberant, eclectic entertainment venue. The branding needed to reflect that; it needed to work on everything from a Wednesday afternoon kids show, to a Sunday evening with the London Philharmonic Orchestra, via a Saturday night with Professor Green. So we kept every aspect flexible, including the colour-palette.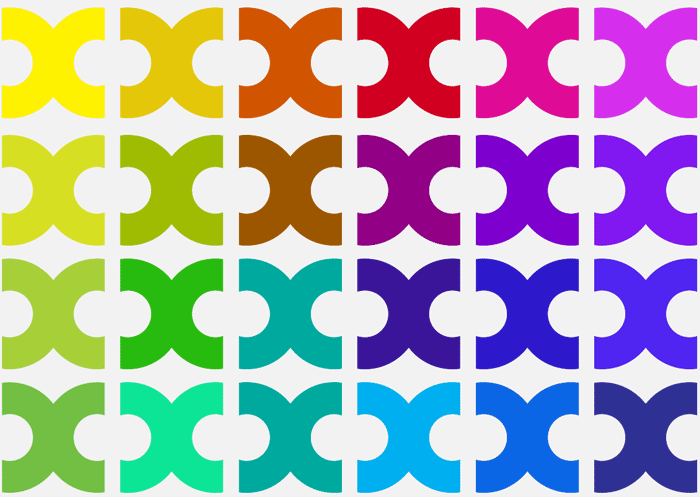 As well as the event-led designs, we were also keen to demonstrate how the branding could be pushed in unusual ways. We wanted to show that our clients needn't be precious about the branding – it is robust enough to be played with and adapted in many ways, without losing its distinctive visual appeal.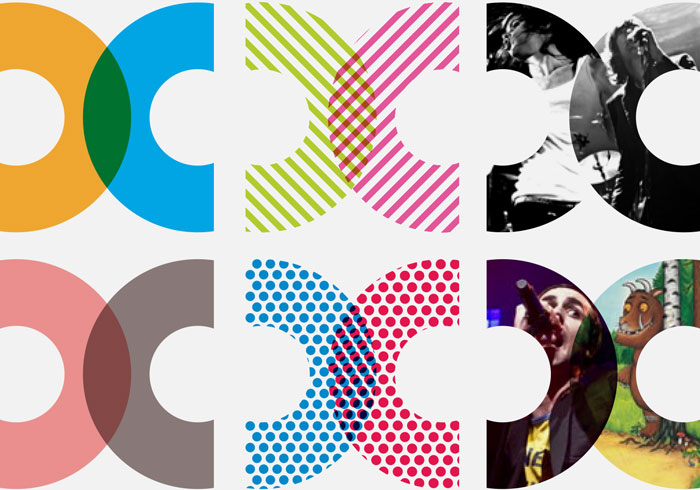 Alongside the abstract examples that designers usually put in their brand guidelines, we were also keen to give examples of how those alternate treatments might look in the context of real pieces of communication.
We even proposed a Christmas version.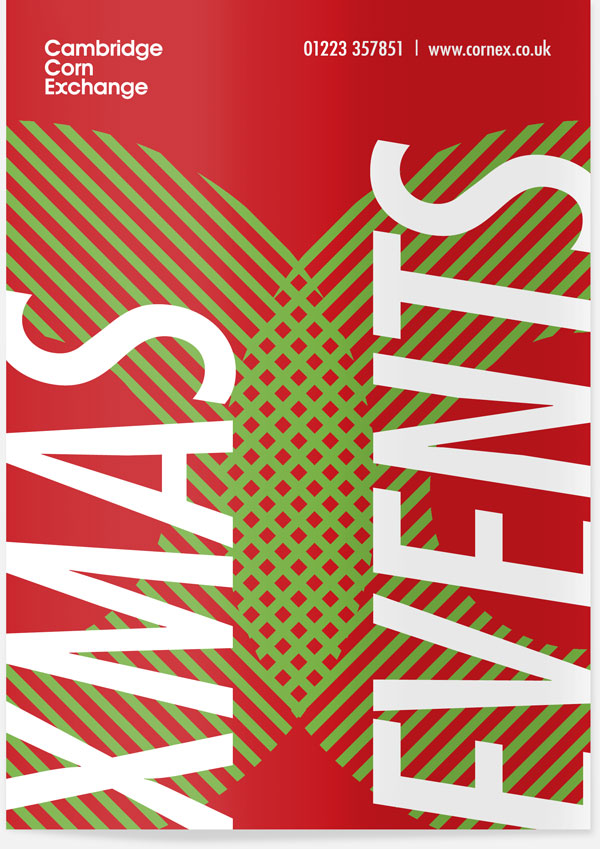 And, as it is still the mainstay of the City Council's marketing material, we produced specific guidelines for their season events brochure.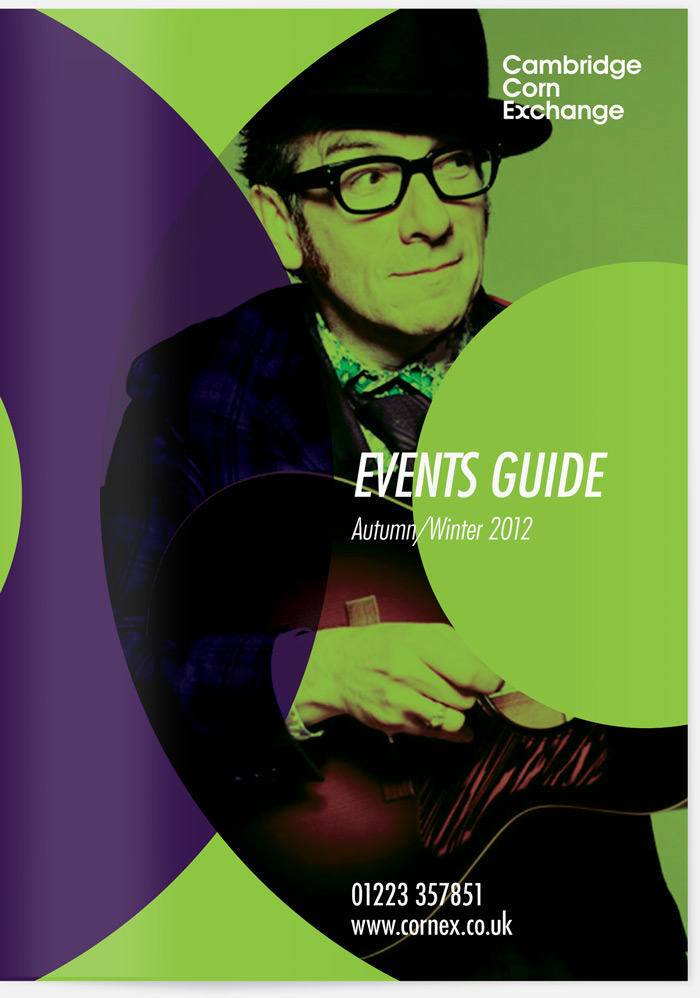 Working with text and images from a typical Cambridge Corn Exchange brochure, we devised a flexible page layout, using a strict grid of content.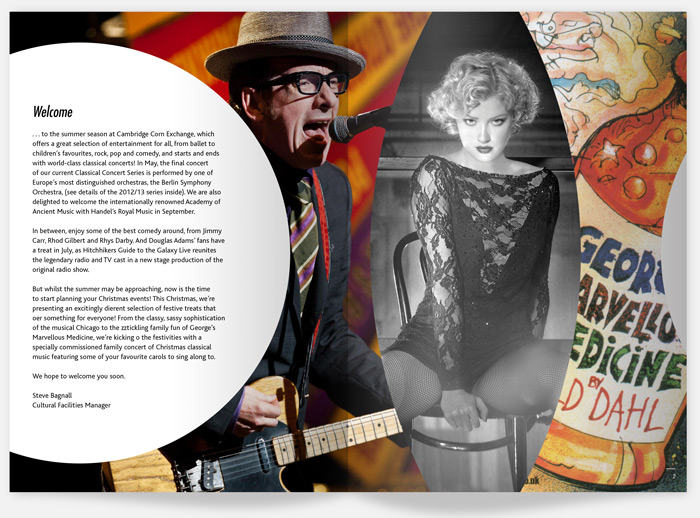 Headline events can be given prominence with large images, cropped using the overlapping C motif.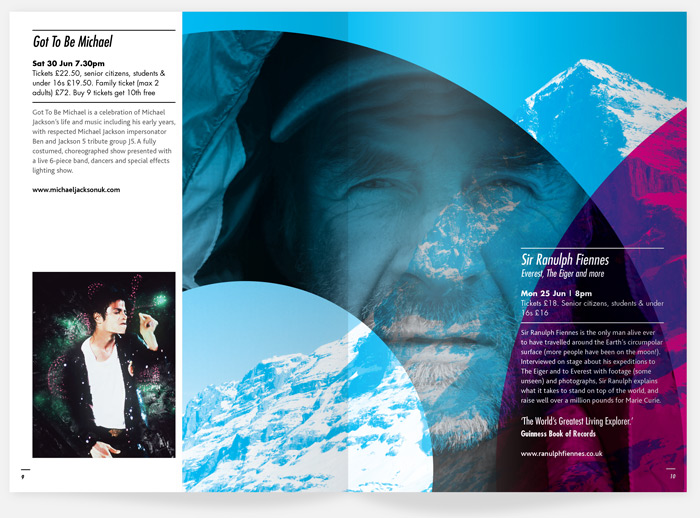 And pages can be subdivided into two or three columns of information, allowing for a range of pace of an hierarchy of details throughout.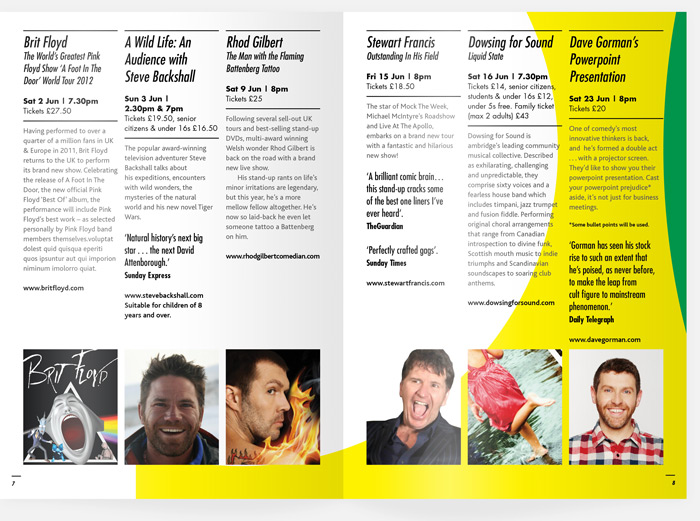 We delivered the branding in the form of a comprehensive set of guidelines, including text that capture the essence of the Cambridge Corn Exchange experience:
Snuggled into the centre of our city is one of the country's best music and entertainment venues. Steeped in history, Cambridge Corn Exchange has a national reach and an international reputation. It is a special place, a place of unrivalled atmosphere, where unforgettable live events become our cherished memories.
It was great working with the team at Cog, you made a complicated process seem effortless which we are very grateful for.
We were really proud of the work and it's gratifying to see it still looks when we go to visit.
The council and the venue team must have been pleased because, in 2014 when they moved ownership of the venue to a trust, they not only kept the venue's branding in place but also commissioned us to produce the branding for the trust – Cambridge Live. You can read more about that work elsewhere in this journal.