Housed within what was then The Arts Council of Great Britain, The Contemporary Music Network had been set up in 1971 to select and fund UK tours by some of the most innovative and interesting musical artists.
I didn't know at the time but they had recently ended a long relationship with the exceptional artist, illustrator and designer, Bob Linney (whose work is shown below); had I known that I think I'd have been too intimidated to return their call in the summer of 1991.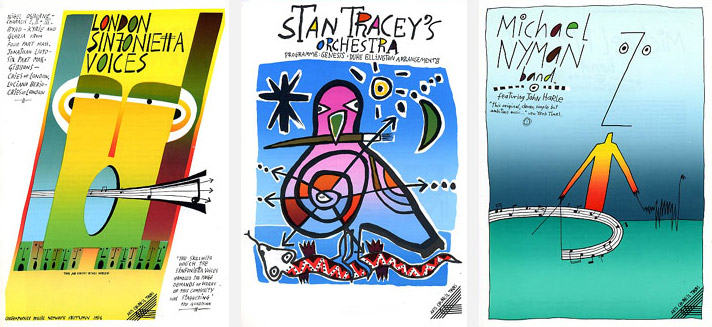 But I did call them back. Their Producer, Madelyn Cohen, asked me if I'd like to meet and talk about designing the publicity materials for future tours. I think she was talking to several people. It was a year or so after Bob Linney had left the team and their new designers weren't giving them the attention they needed. As a trial Madelyn asked me to work up a design for their next tour – a trio featuring Geri Allen, Charlie Haden and Paul Motian.
I had no computer so I worked on the designs using Pantone Paper and gouache paint (rendering all the type by hand). The CMN team weren't too put off; they commissioned me to work on publicity for four campaigns.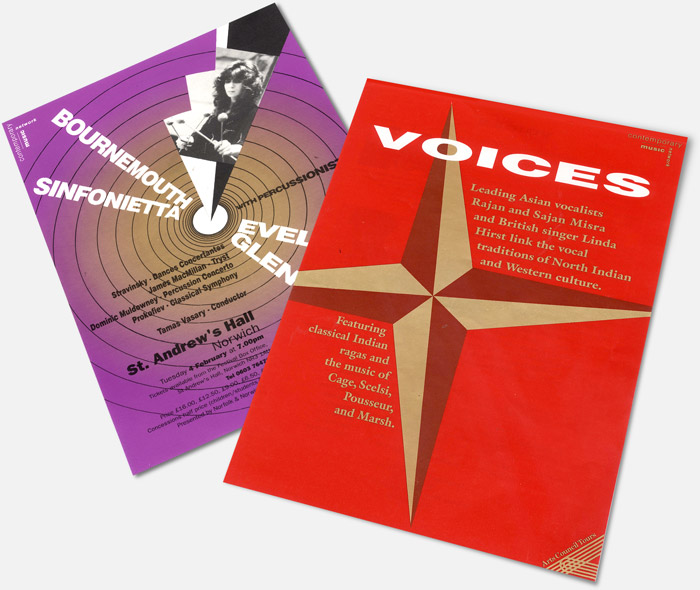 I still had no computer so all of the layout and drawing work was done by hand. Most of the type was produced with Letraset rub-down transfers although I was able to borrow a friend's Apple Macintosh Classic to typeset the overprinted touring information (I used to print it out at four times the sizes and used a photo-mechanical-transfer (PMT) camera to reduce it down and keep it crisp and sharp).
When those four tours were done, they commissioned me to work on the whole of the 1992/93 season, along with a new logo to mark the change to a new era.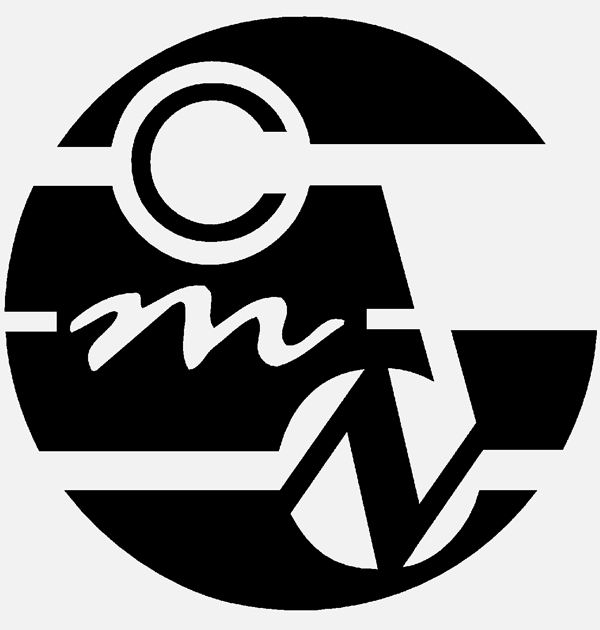 CMN gave me my first proper guarantee of ongoing work, and that gave me the confidence to invest in my first computer: an Apple LCII (upgraded to a massive 8Meg of RAM) with a 13″ monitor, costing upwards of £2K.
But that wonderful computer was still very slow and complex, and I couldn't afford the many thousands of pounds price tag for a colour printer. So most of the initial design work was still done by hand with white type painted onto colour paper, cut with scalpels. The CMN team had to trust that the designs they agreed to would be reproduced in print – they showed amazing confidence in me (or perhaps we were all a bit naive).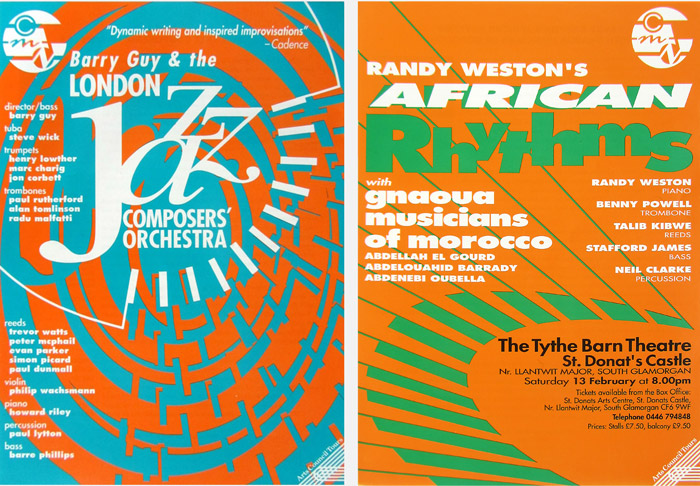 By now I'd employed a colleague, Rejash Bhela. Together we developed a strong graphic approach that made the most of two colour printing (which was significantly cheaper than full-colour, back then).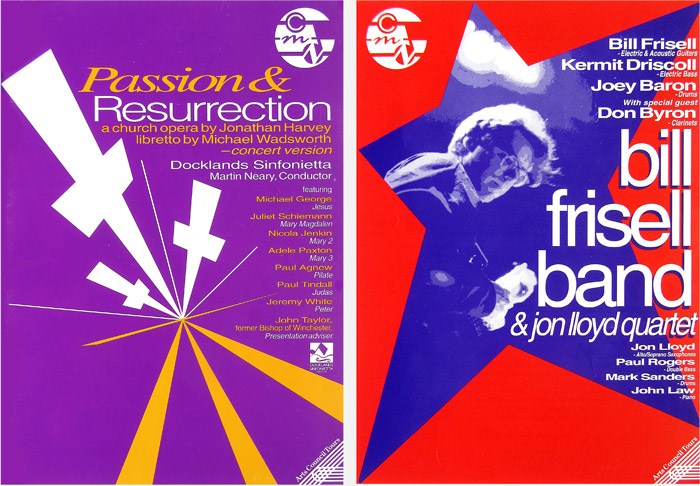 We worked directly with the printers, often pushing them to use techniques they were very uncomfortable with. For instance, the patterning of this design for the Finnish artist, Edward Vesala, was achieved by deliberately clashing the blue and red dot screens to achieve what's known as a moiré pattern. Again, it showed a real trust by our clients because we couldn't know how this would look until it was on the press.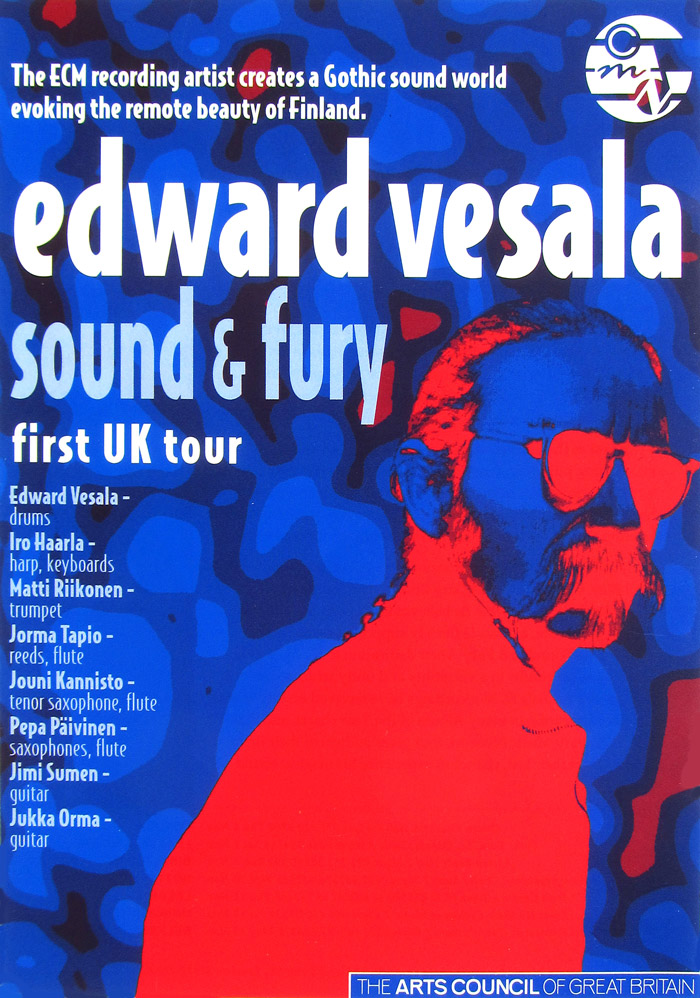 As you can see, The Arts Council of Great Britain had rebranded and then devolved into The Arts Council of England.
We continued to push the two colour palette as far as we could stretch it, attempting to evoke the spirit of the music through the designs of the publicity materials – A3 posters, A5 leaflets and programmes.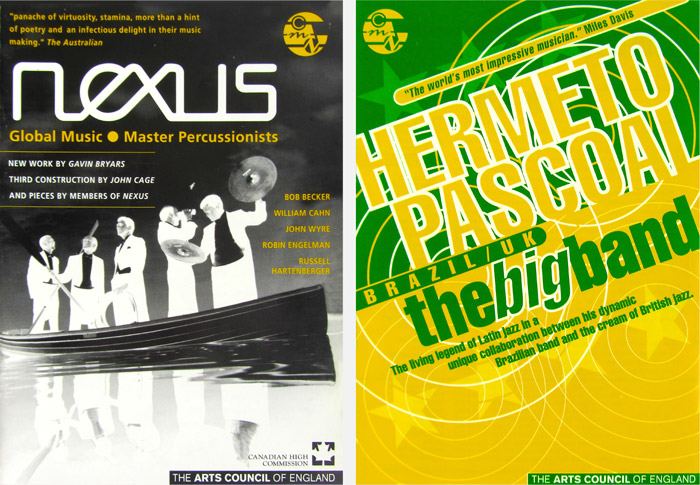 Our most challenging briefs were often at the experimental end of the jazz spectrum. At the time I can remember being disappointed by this poster for the Hemingway & Argüelles concerts. But two decades later it's a pretty successful way of dealing with a double bill featuring ten incredible musicians.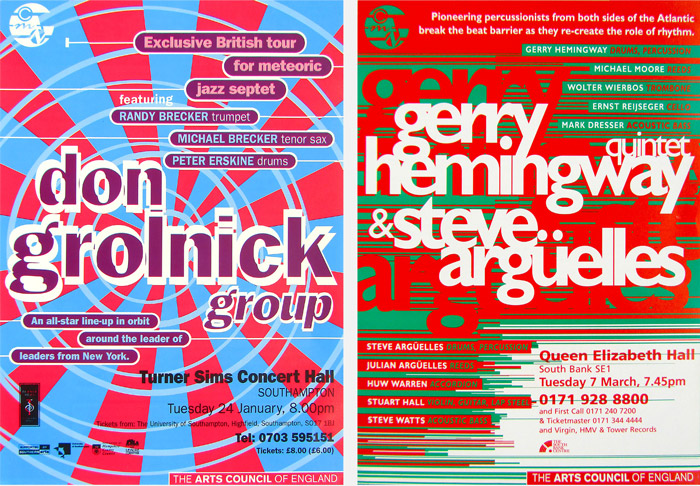 Our technique of showing hand-rendered designs before then working them up on the computer wasn't without its problems, especially around proofing. For instance, this poster for 'Fine Tuning' may be beautifully printed in silver ink but there's a typo in the text that snuck-in somewhere in the process. It seemed like the end of the world when someone pointed it out to me but I don't think many people noticed (and even fewer cared).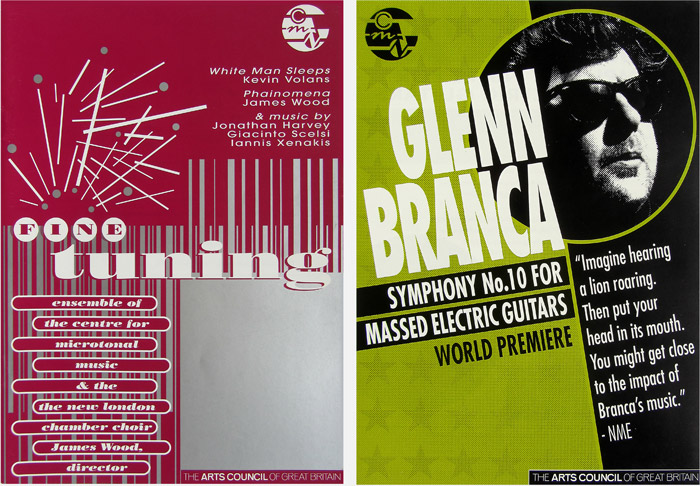 It's also pretty clear that we were working with some pretty crude image production tools. We usually tried to make the most of that by playing to the strengths of a low-resolution result. But it was the poor reproduction of this very young looking Django Bates that made me realise it was time to invest in a decent flat-bed scanner, a colour printer and a computer that could handle the processing power to design directly on the screen.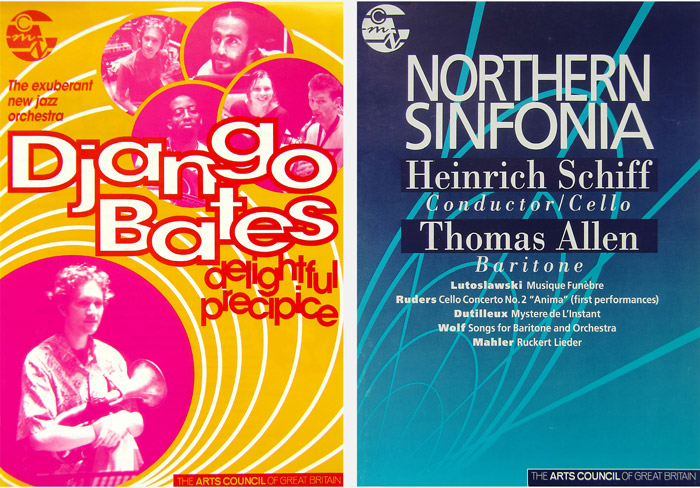 ---
With big changes at The Arts Council England (and another rebrand on the horizon), in 1995 CMN were asked to re-tender all of their design and print materials. We won the tender and moved into a different way of working…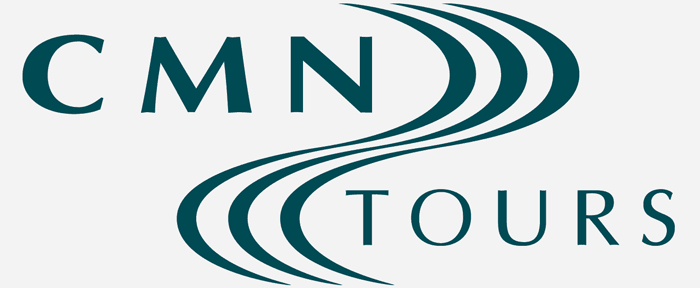 The first big change was a new logo. Adding the word 'Tours' and introducing a sense of movements into the marque we wanted to give CMN a more commercial face, competing alongside all the other tour producers in the UK.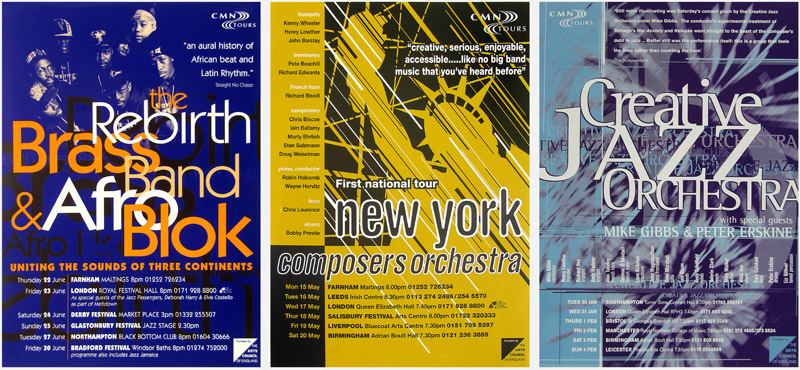 The second big change (and one of the most difficult to accommodate) was that we had to cut down on production costs. We switched from 'blank' posters and leaflets, overprinted with each venue's details, to listing all of the tour dates.
We continued to work in two-colours (although we no longer had the extra black ink for overprinted venue information), building on our experience and knowledge to make the most of overprinting and multiplying inks to maintain a rich colour palette.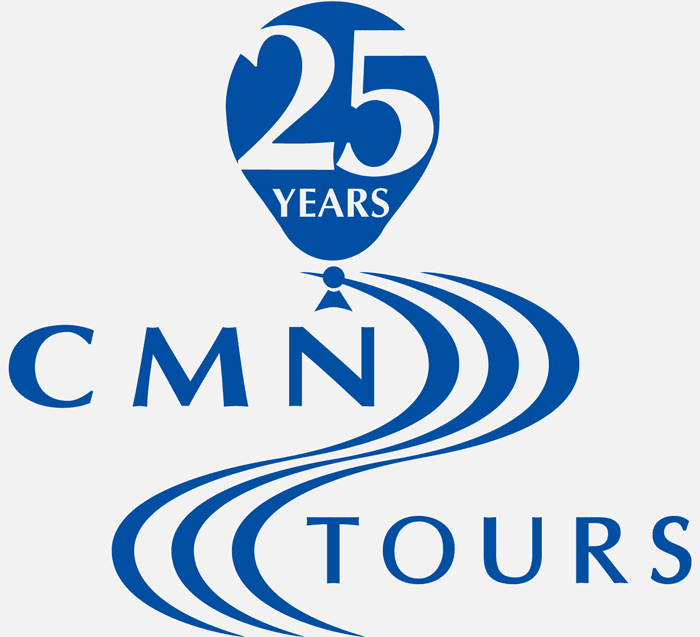 The 1996/97 season was CMN's 25th so we had a bit of fun with their logo.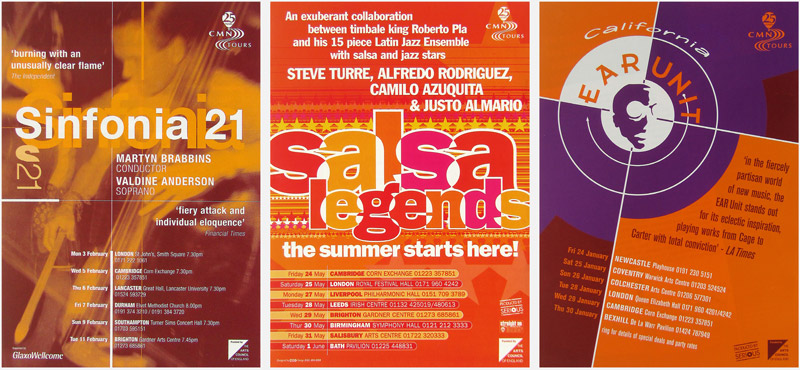 1997 also saw a change of staff at CMN. The wonderfully exuberant Beverley Crewe took over with a new energy and ambition for the team.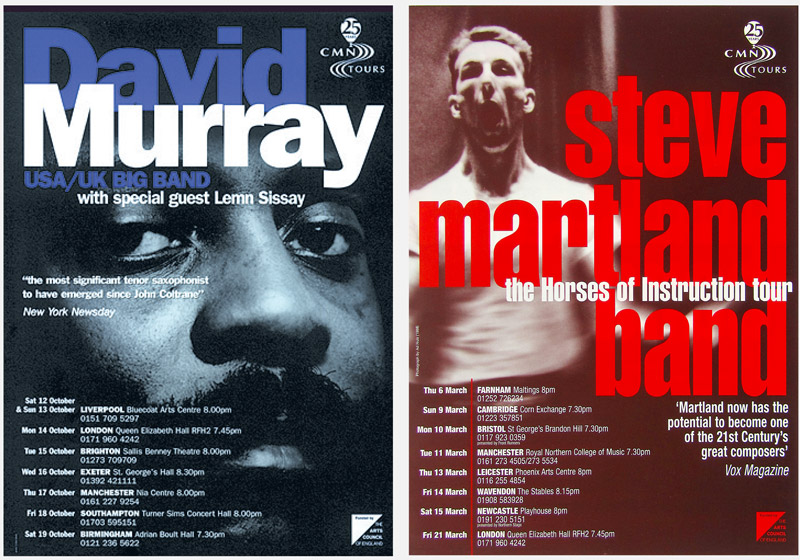 CMN had always worked with global artists but there were now more and more international artists and exciting collaborations.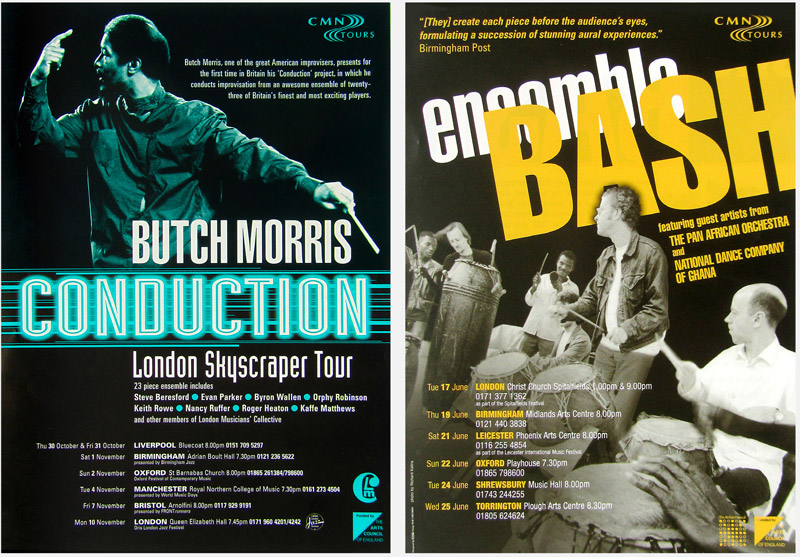 CMN was evolving into a much more collaborative body, bringing together producers and artists to form unusual working partnerships, or outing together musical genres in unexpected collaborations.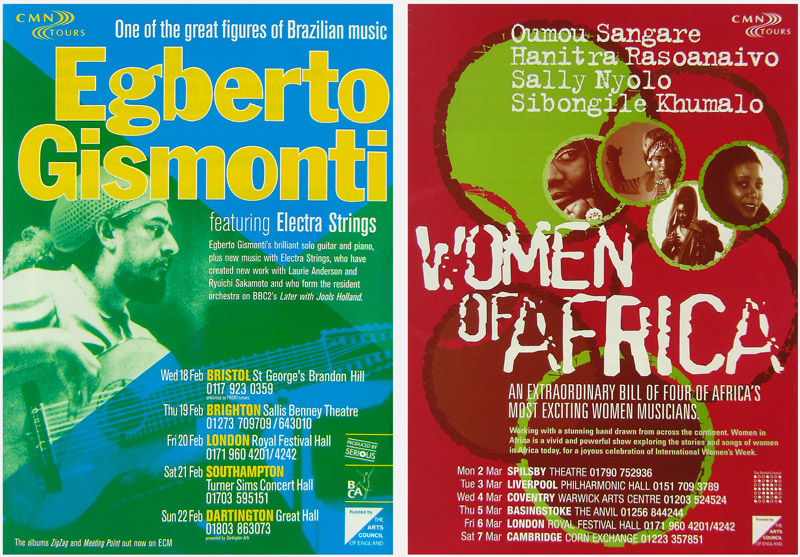 One of my favourites of our posters of the time was this simple execution for Mark-Anthony Turnage's Blood on the Floor. A really simple execution, taking a straight publicity image and giving it a twist – a pragmatic approach that we used to great effect throughout our time working with CMN.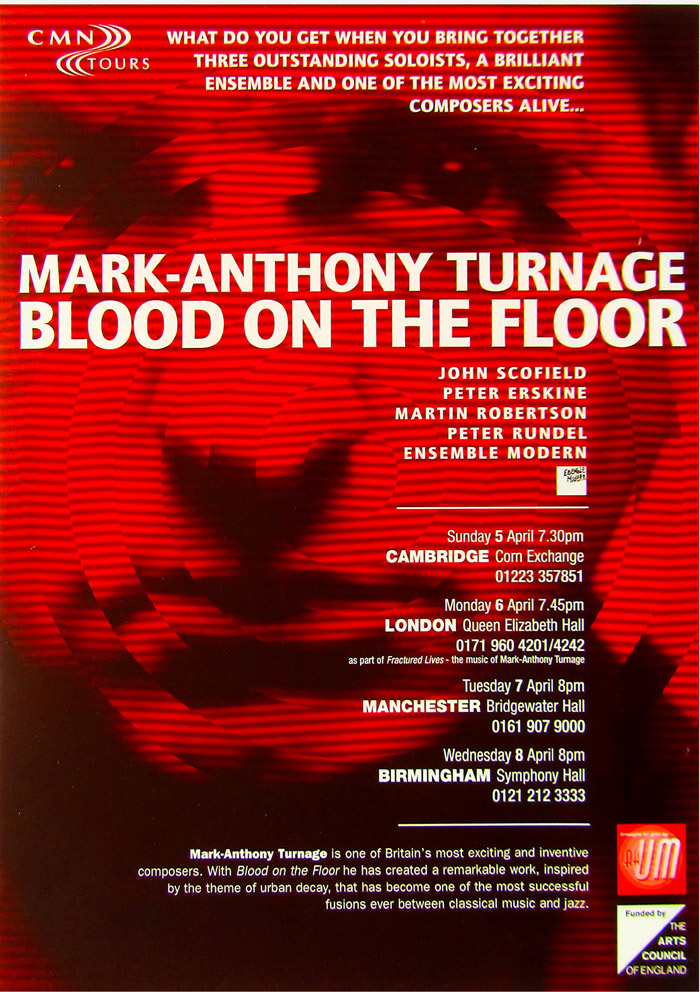 Evelyn Glennie had been one of the first artists we'd worked with for CMN. It was interesting to see how much difference there was between those simple early designs and what we were doing by 1998. Computers had given us a lot of freedom but also meant that we were expected to produce a range of design options and to squeeze more and more text onto every design.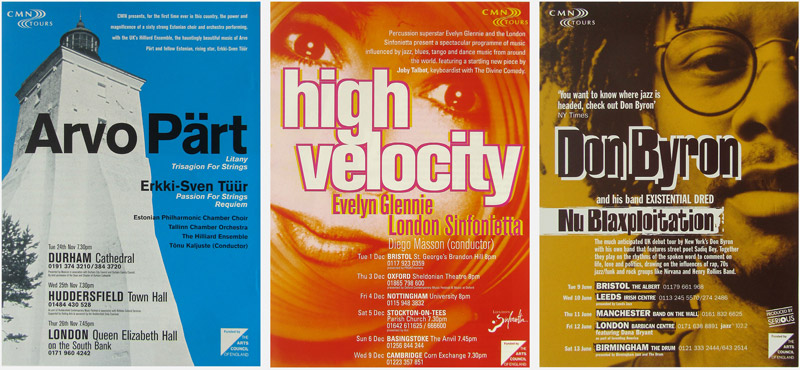 We were still having fun with typography and colour. But the two colour, A5 format had run its course.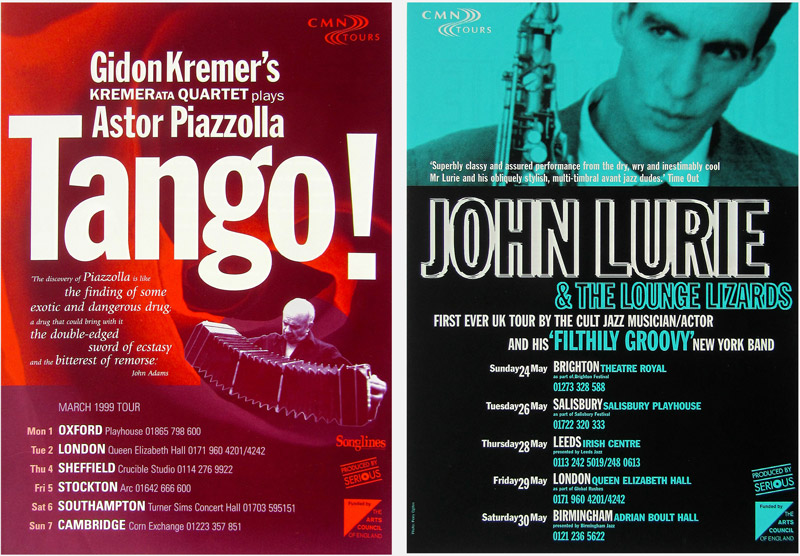 CMN had evolved significantly and they were looking to make changes to every aspect of their work, including their publicity materials. Once again they tendered for the work and once again we were able to secure that contract. It was an opportunity to reinvent how we worked together…
Read about our next era of work with CMN, elsewhere in this journal.