Collect 2014 was the first job we'd worked on with Crafts Council. It was a great success and has led to a really productive working relationship (including our work on the Crafts Manifesto, with Anthony Burrill). So we were delighted to be commissioned to work on Collect 2015.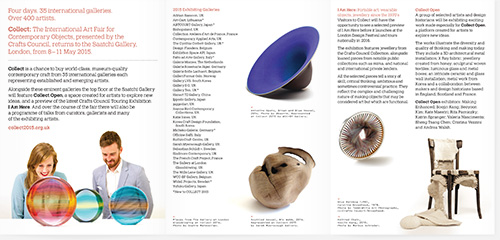 Communication materials for this international art fair have to strike a careful balance. This a ticketed event with world-class, museum-quality contemporary craft displays in the Saatchi Gallery so there is a large public audience who need to be intrigued and persuaded to come (and perhaps buy). For them we produced a six-page leaflet for mass distribution, with a deliberately quirky image (Martin Bodilsen Kaldahl's, Spatial Drawing 10, 2014; photo by Ole Akh).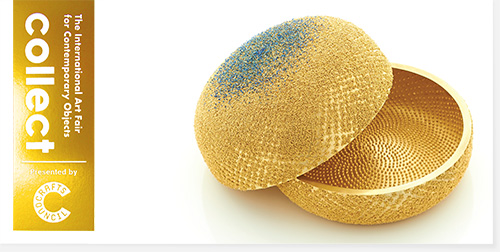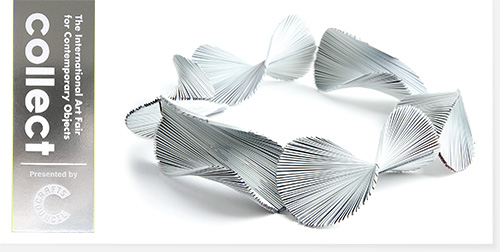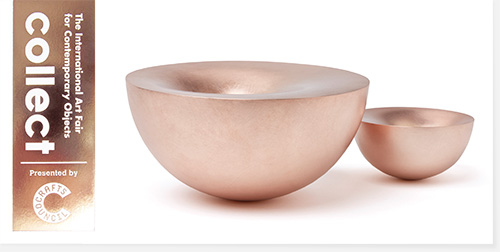 There is also a huge constituency of guests, VIPs and friends of the exhibitors with a range of different private views and events. To meet this communication need we produced three invitations (see above), featuring three different coloured foils that mirror the colours of the stunning exhibits. We worked with a printer that uses a waterless printing technique to make the colours zing on the uncoated stock. Each invitation is also individually numbered to allow for detailed tracking and data capture.
In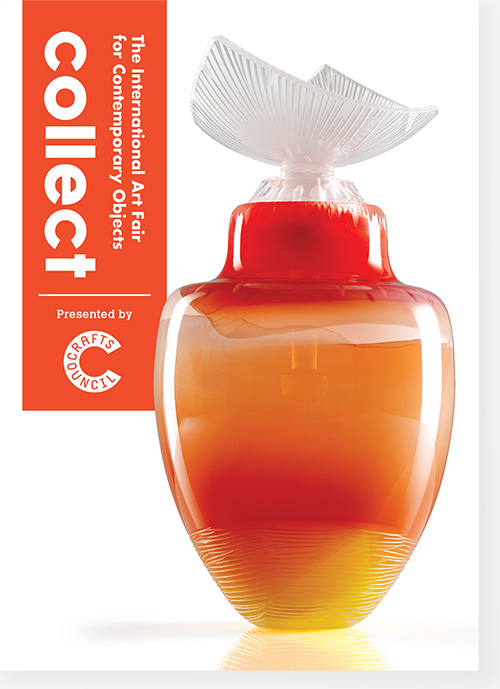 addition to the invites, we also produced a much higher-print-run of cheaper, complimentary ticket (shown here) that is distributed to interested organisations and stakeholders, and is particularly useful as a data capture tool (as a form needs to be filled out to gain access to the show).
The campaign is backed up with a range of carefully targeted print ads and a digital presence in all the major art and craft publications and sites.
There's even a bus side ad, to raise the profile of the show amongst the affluent local audience around Knightbridge and Sloane Square.