Founded in 1978, Dance Umbrella is still going strong. For three weeks each autumn they bring the best new names and international talent to stages across London.
From 1999 to 2004 they were one of our most important clients, they kept us fairly busy all year with newsletters and tour promotions and ratcheted up the workload each autumn in the run-up to the festival.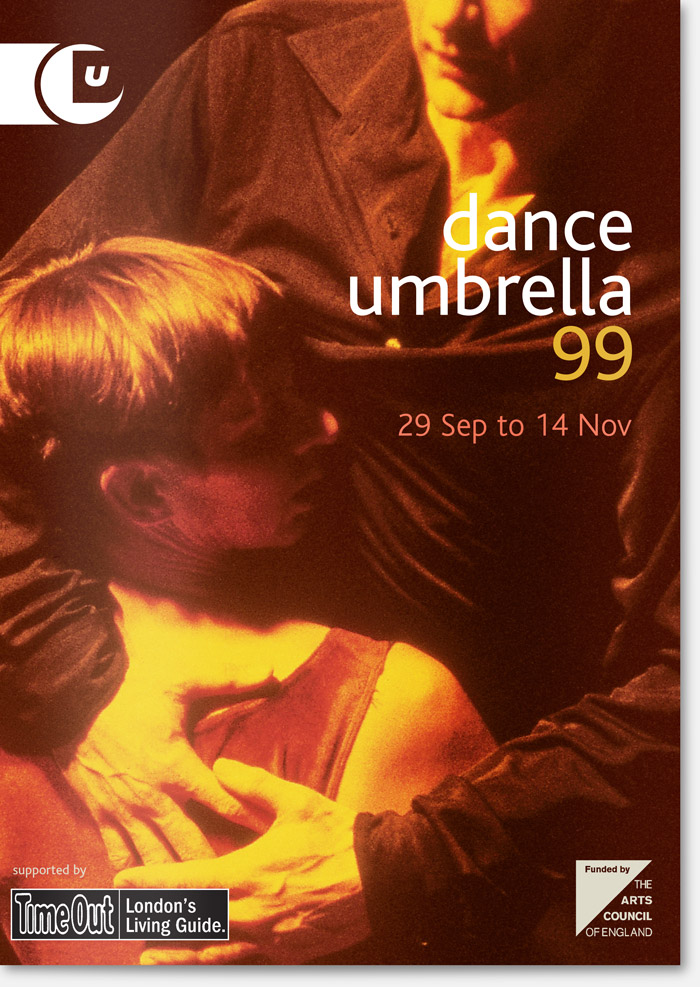 We were first approached by Dance Umbrella in early 1999, I can't remember how they came to us but I'm sure there was no pitching or complicated tender process [update from our lovely client, David Pratt – he contacted us to say that he commissioned us on the strength of our work for Red Shift Theatre]. Over a busy few weeks we designed a comprehensive event brochure, many press ads, event posters, programmes, invitations and newsletters. The timing of the festival meant that the studio was hugely busy, working back to back on two of London's most important cultural festivals, this and London Jazz Festival.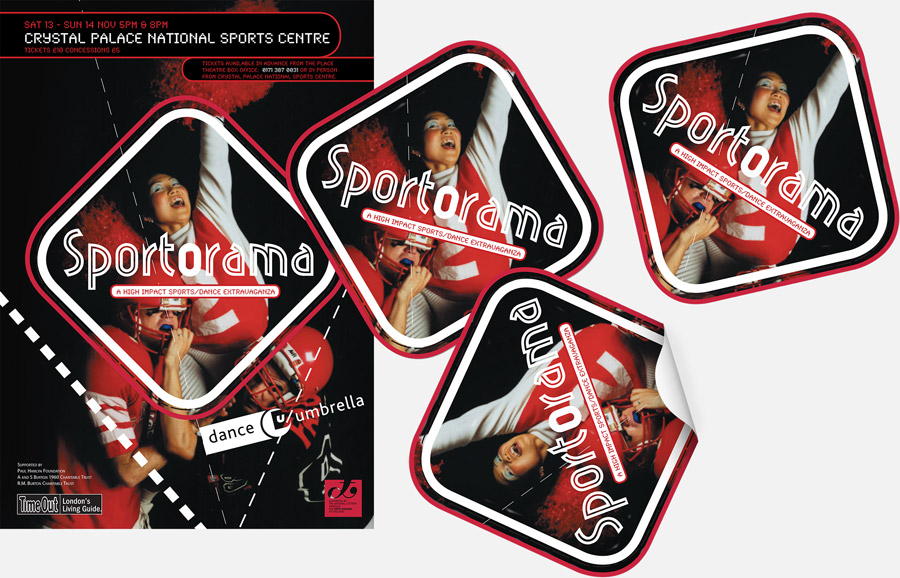 Amongst the innovative work presented that year was a performance at the Crystal Palace National Sports Centre. Sportorama was a high-impact, frenetic event, involving 100 athletes, 40 dance students and a full orchestra. To promote it we created this typographic treatment and a leaflet/sticker.
I'm not sure we admitted it at the time but we knew very little about dance so it didn't seem unusual to us that our new clients picked up an Olivier Award for Outstanding Achievement in Dance that year, we assumed that must happen all the time.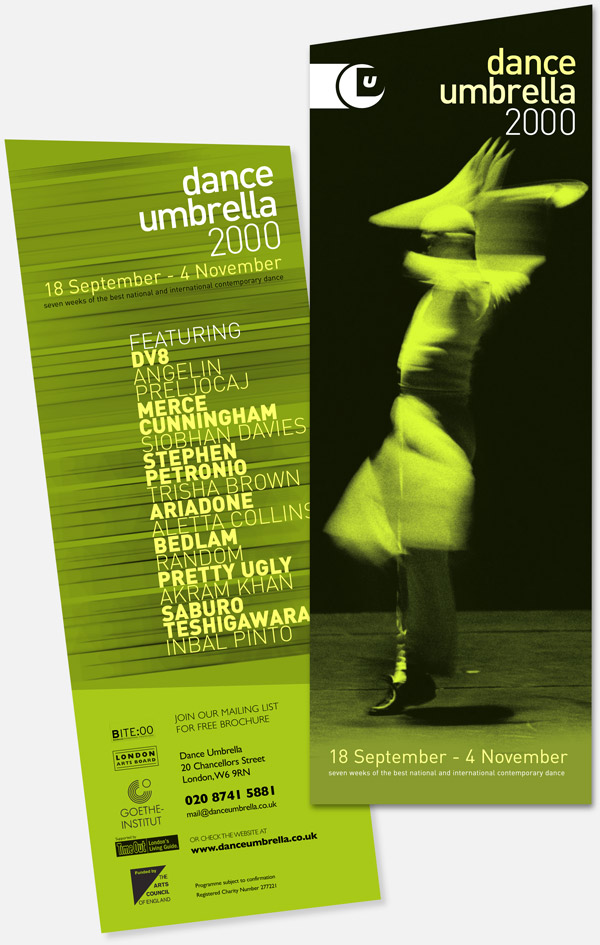 We continued working with Dance Umbrella throughout the year and in the early summer we began work on the 2000 festival.
Our first job was an announcement leaflet. We set about designing something that would cut through the visual noise and stand out on London's busy leaflets racks. We created a tall, half A4 format that would fit in standard leaflet rack widths but would be much taller than the usual 1/3 A4 format. We worked with a printer to create a bespoke cutting jig, allowing them to cut the tops at an angle (without the expense of die-cutting them).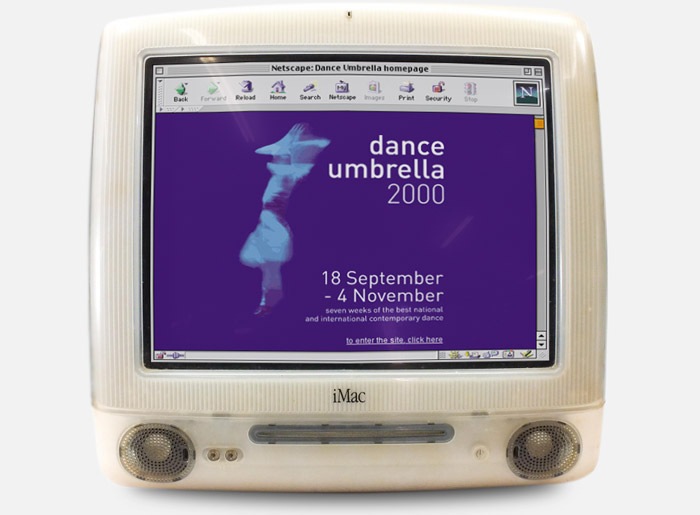 At the same time we were working on a website for the festival. It's hard to imagine now but back then websites were very unusual for arts events, this was one of the first of its kind and a real coup for the festival.  Sadly, we can't resurrect the site as it was built on a now outdated platform, but I am pleased to have found this screenshot (displayed in the then leading web browser, Netscape Navigator).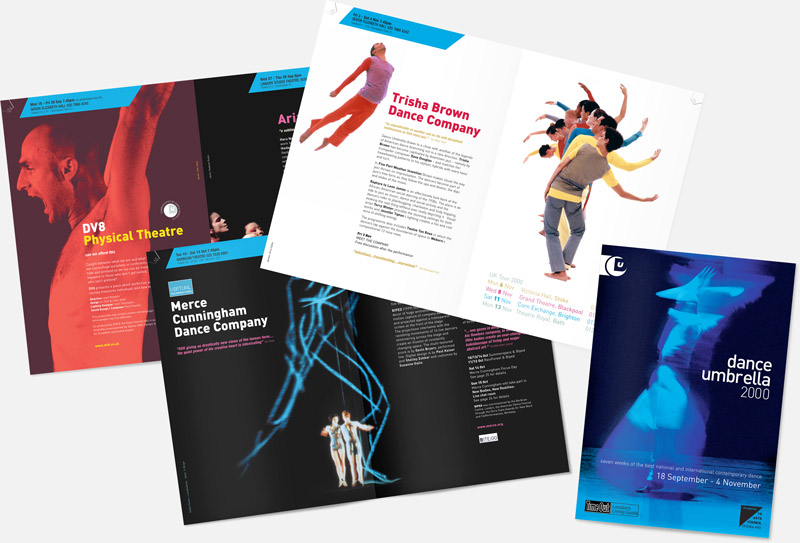 As with all subsequent years, we picked a lead image that showed movement and beauty, rather than the biggest name choreographers. We added colour and heavily retouched the images with our own aesthetic treatment. In 2000 the cover featured Saburo Teshigawara's beautifully calm piece, Absolute Zero. 
The main festival brochure featured headline shows from some exceptional dance companies, including DV8 Physical Theatre's Can we afford this: the cost of living at Queen Elizabeth Hall, Merce Cunningham Dance Company at the Barbican and Trisha Brown Company (whose show subsequently toured the UK with our promotional designs).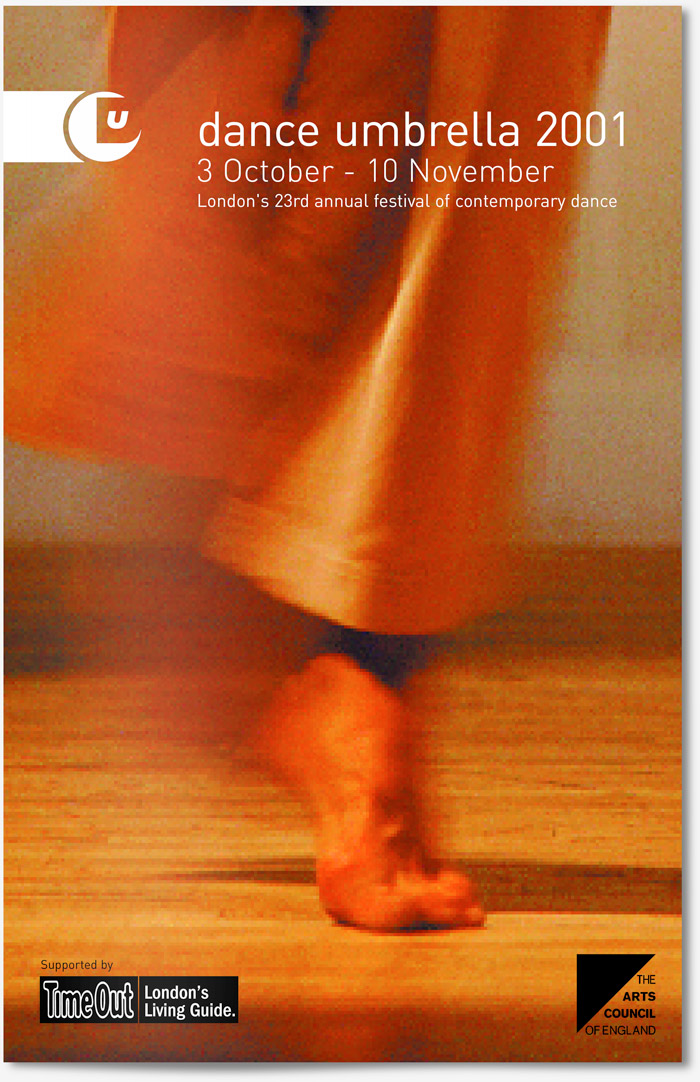 By 2001 we were firmly into the rhythm of the festival – another taster leaflet and website and a large events brochure.
That year saw the introduction of Stand Up for Dance. The first of five annual '£5 Proms' at Sadler's Wells, featuring pieces by leading choreographers; in 2001 that was Mark Morris Dance Group and Michael Clark Company.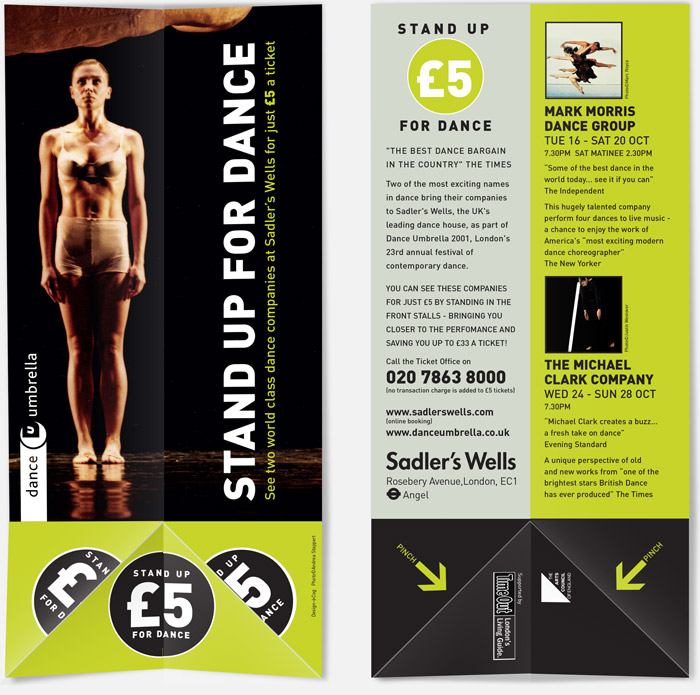 Continuing to push for unusual print formats, we produced these small leaflets that can be folded to literally stand-up. Time Out distributed tens of thousands of flat copies as part of their sponsorship deal, and many venues took pre-folded copies to place on their bars and tables. More than 35,000 people attended the festival that year, their largest audience to date.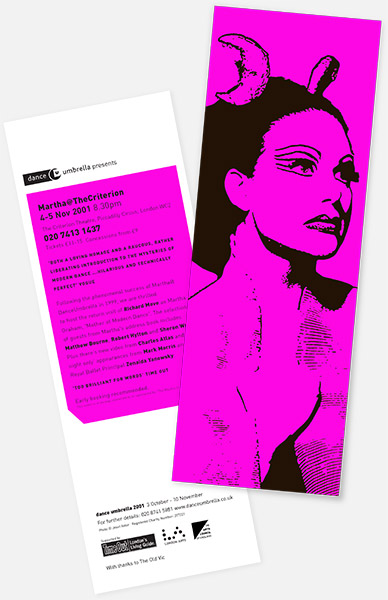 But the most fun thing for us to work on was this leaflet for the cult show 'Martha@TheCriterion'. In it, performance artist Richard Move, embodied the persona of the mother of modern dance, Martha Graham, in a 'raucous and technically perfect introduction to the mysteries of modern dance'.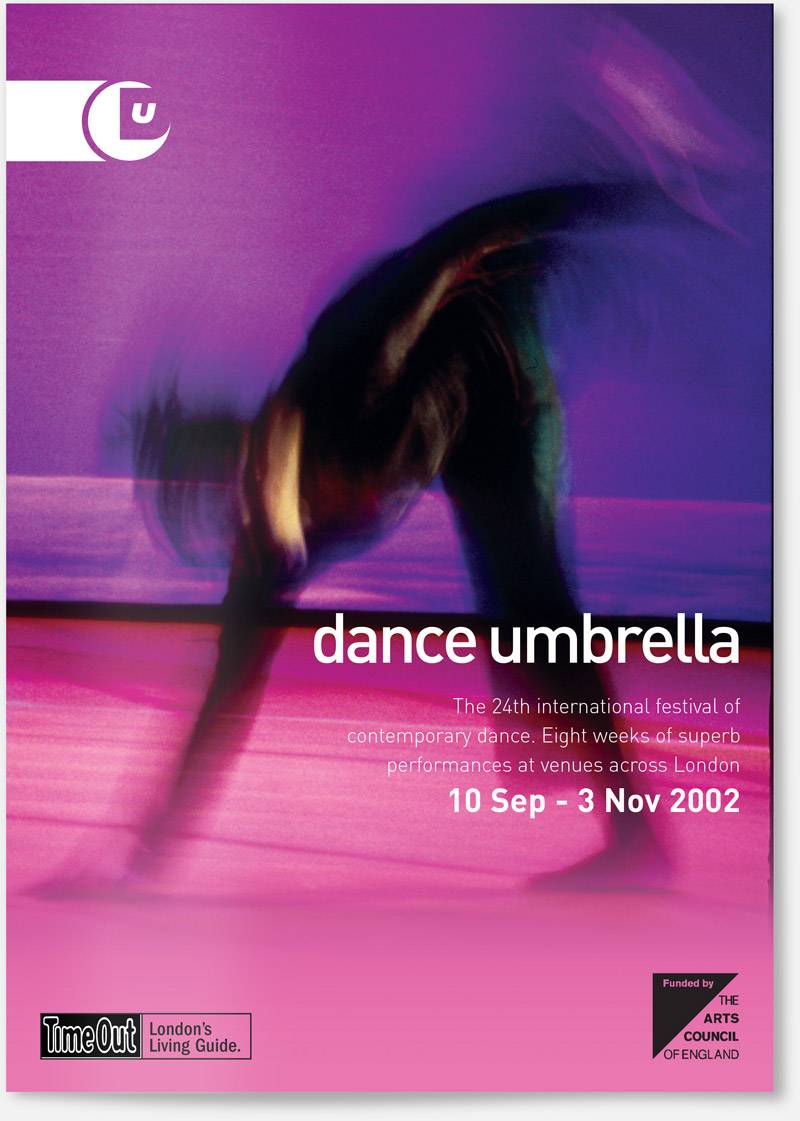 2002 saw perhaps the most ambitious festival to date, with shows from Siobahn Davies Dance Company, Richard Alston Dance Company, Inbal Pinto Dance Company, Akram Khan Company, Walker Dance, Baryshnikov's White Oak Dance Project and the first ever London residency from Merce Cunningham Dance Company.
One of the most experimental shows of the season was Shobana Jeyasingh's [h]Interland, the first live dance webcast between UK and India. We went to see it at Greenwich Dance Agency as one of our first regular Cog Nights.
In the same season, Anne Teresa De Keersmaeker performed with her Rosas company. They then took the Drumming show (featuring music from Steve Reich) on tour around the UK with our publicity designs.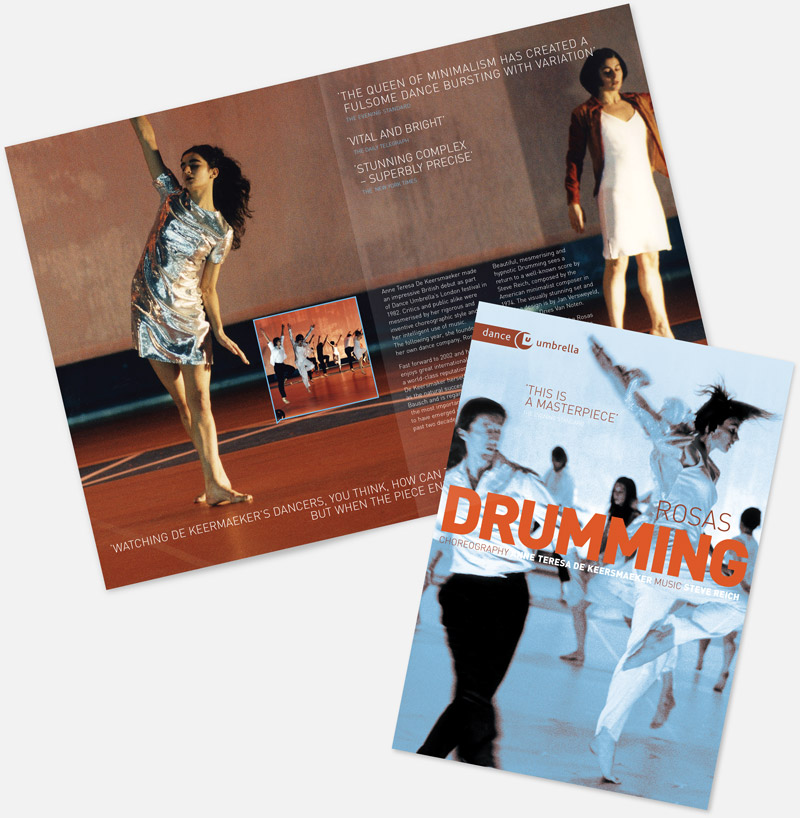 2003 was the festival's 25th anniversary. The opening night was a huge fundraising gala at Sadler's Wells with tickets at £100 a head. The event featured many of the artists whose careers have been helped through association with the festival: Mark Morris, Siobhan Davies, Richard Alston, Shobana Jeyasingh, WayneMcGregor, Bill T. Jones, Trisha Brown and Mark Morris, Matthew Bourne and others.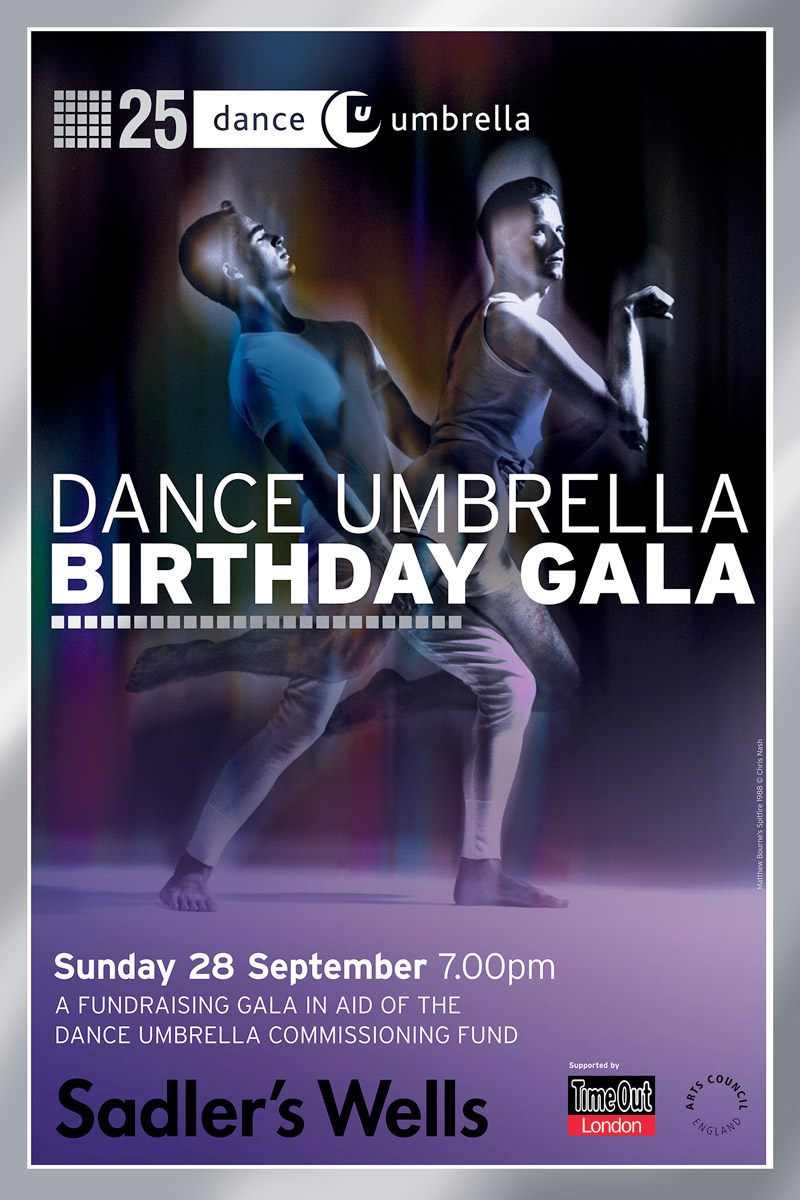 Our brochure cover featured a stunning image of Stephen Petronio Company (who premiered work at Queen Elizabeth Hall and toured the UK) by fashion photographer Sarah Silver. We continued our tradition of unusual sizes, with a B5 brochure that came with its own distribution pods.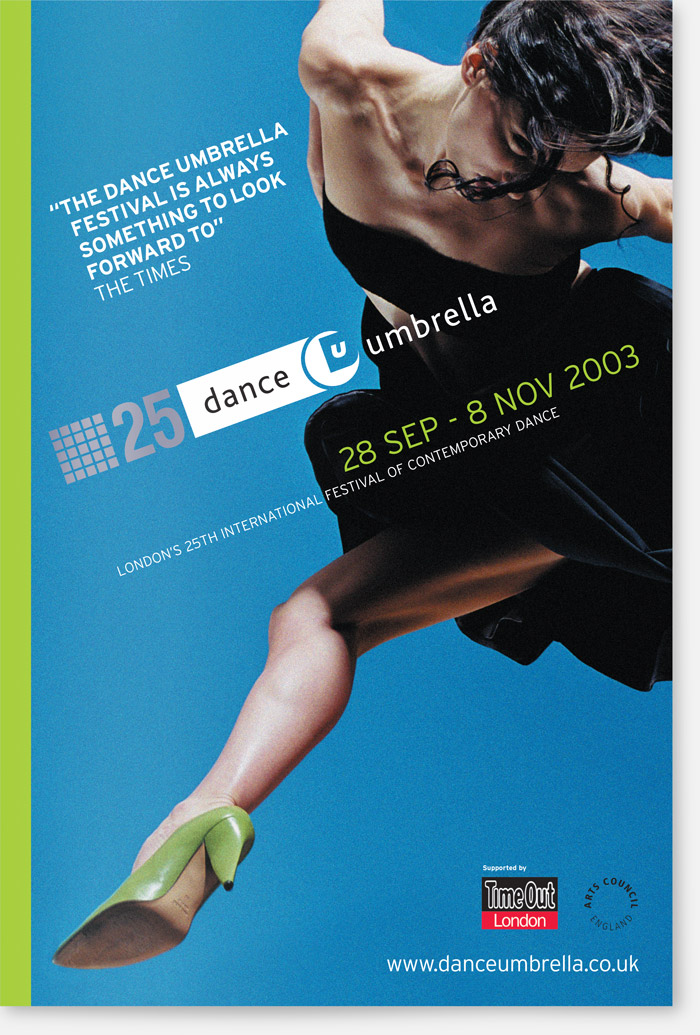 Highlights of the festival included Israel's Inbal Pinto Dance Company performing their dark fairytale, Boobies at Barbican Theatre, before taking it on tour, and the legendary Merce Cunningham Dance Company back for a second year, this time for a week of anniversary events at Tate Modern's Turbine Hall that closed the festival.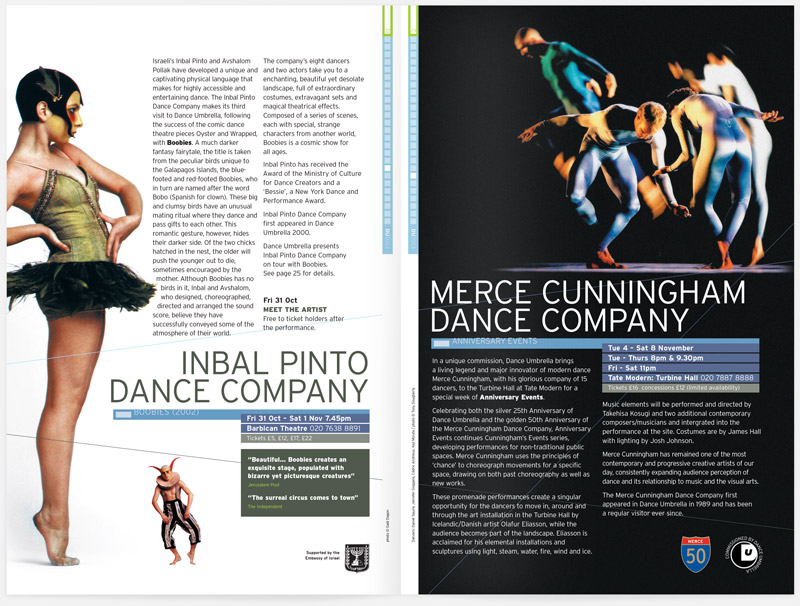 2004 was our last Dance Umbrella festival. We adopted another unusual print format, this time a tall, 1/3 A3 brochure. We used a photo (by Bruce R Feeley) of Shen Wei Dance Arts's performance of Rite of Spring.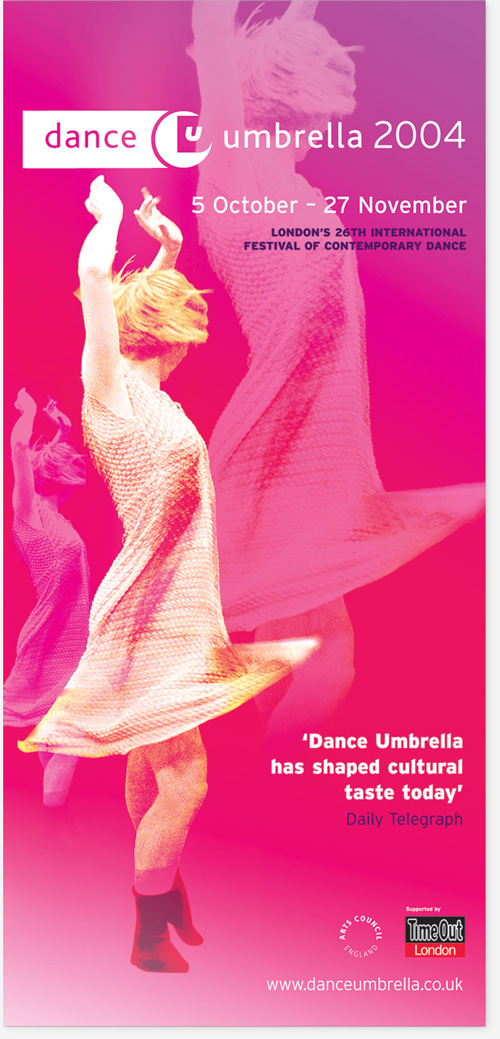 Merce Cunningham Dance Company continued to be one of the festival's biggest draws. They opened the 2004 events with the UK premiere of Split Sides, a collaboration with Radiohead and Sigur Ros.
And the Stand Up For Dance initiative continued, now reinvented as Jerwood Proms, with performances from Shen Wei Dance Arts and Canada's Foundation Jean-Pierre Perreault.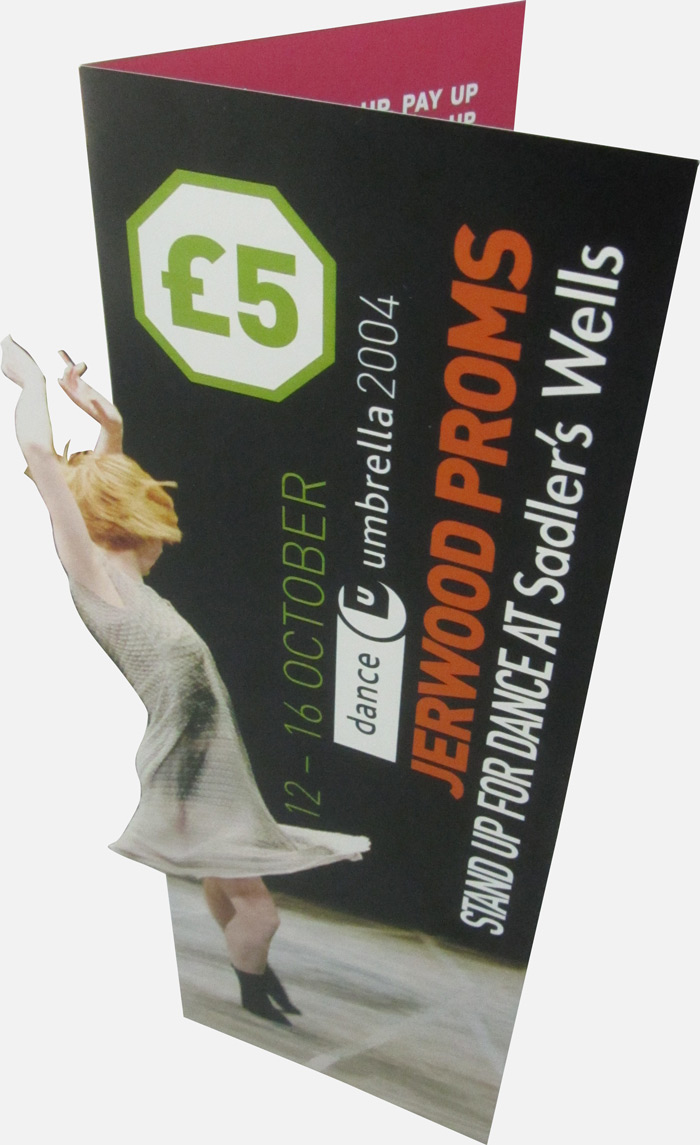 We really enjoyed our tenure as designers to Dance Umbrella. It exposed us to some incredible artists and opened many doors to new client collaborations. Thank you to them for the opportunity.