Tuesday was time for our annual Cog discussion day, it coincided with our 28th anniversary. We started with an interesting morning talking over the past year and our plans for the future, with a very hearty breakfast. It was the first discussion day for a few new team members and Michael talked us through the last year at Cog and we had a look at a some of the exciting projects we had worked on. There was then time for us all to chat through our thoughts about what was coming up, and share some ideas.
In the afternoon, it was the return of the scavenger hunt after last year's success, and time once again to split into teams and take to the streets of London.
Team One was me, Razvan, Claire T and Thom. Alex, Anna, Laxmi and Lucy formed Team Two, and Team Three saw Emily, Claire H, Jack and Emi joining forces. With a list of items to collect, photos to take and £50 spending money to aid our hunt we had a big mission ahead of us.
Items varied from the relatively easy (a pair of chopsticks) to the somewhat more obscure – no team managed to track down a mannequin's arms despite several interesting conversations with some shopkeepers!
With a deadline of 5.30pm there wasn't time to hang about, and all the teams headed off pretty quickly. Some items were very local to us in Greenwich, and others needed a trip into central London with postcards from the Tate and a menu from a Southbank restaurant on the list.
In Team One we decided on not splitting up, and would stick together as the four of us and focus our attention around Greenwich and Deptford. A risky strategy potentially, but we were willing to take the risk. Other teams decided to send some members into central, whilst others tackled the local items.
We headed into Greenwich, quickly ticking off some low value items – Thom popped into his favourite chippy for a tomato sauce sachet whilst Claire and Razvan jumped into a phone box for a quick snap.
After nipping into the Painted Hall to grab a ticket (and sadly not having time to enjoy the Hall itself, but we were taking the time limit seriously!), and a team selfie with the O2 in the background, we jumped into a black cab over to Deptford, grabbing a photo inside at the same time to send back to Michael in the studio.
A takeaway coffee cup from Caf A at The Albany was a quick win, and a big thank you to the ever helpful box office team who also helped us secure a theatre ticket whilst we were there.
I couldn't write this blog without a mention to Team One's honorary team member, the world's most helpful charity shop employee who scoured her backroom for several items on the list and gave us some pointers for a few photos we needed. A real hero of the day.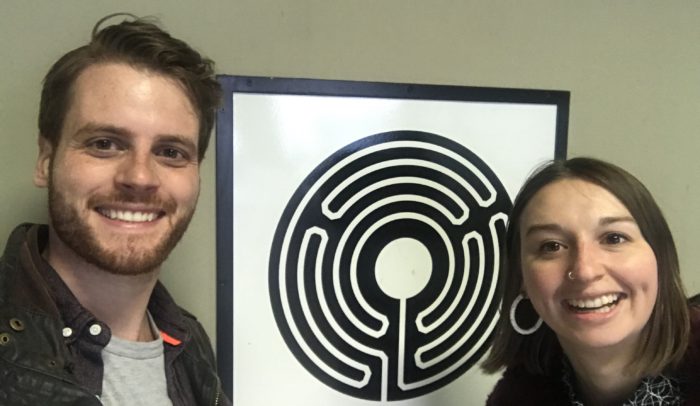 After a couple of hours jogging around, we headed to Greenwich market for a last ditch attempt to grab a few items, namely a dessert fork or a Betamax tape. Imagine our delight then when we stumbled across a signed photo of a professional footballer, one of the trickier items on the list that we'd given up on finding, and worth a game-changing 50 points. For just a couple of quid we couldn't believe our luck, made our purchase and headed back to the studio in the nick of time.
As the three teams arrived back and laid out our bounty it was clear we had all done well, and it was going to be a close call. After some friendly competitive debate about some creative interpretations of the items it was time to tot up the scores.
Team Three came a valiant third place despite Jack's impressive last minute sprint from Deptford to Greenwich against the clock, Team Two scored an excellent 464 points but Team One (me, Razvan, Claire T and Thom) brought home the victory by a whisker with a score of 467. With this being Razvan's second win in a row, he's already looking very popular for next year's discussion day.
We graciously accepted our winnings of £50 each, a certificate and, most importantly, bragging rights for the next year and we all headed off for a well-earned dinner at The Hill to share stories of our scavenger adventures.