The University of Essex came to us in May 2015 with a brief for a new website design for East 15 Acting School. The previous site was increasingly outdated, wasn't mobile-friendly, and with no content management system it required staff to edit html code to make any updates. The brief came with a tight timescale; the site needed to go live before the end of July.
The school wanted a site that would attract prospective students (and their parents), as well as promoting the showcases and student shows that take place throughout the year. They also wanted to be able to feature recent graduates and some of their more notable alumni as well as their staff. At the same time we needed to build a website that was easy to manage; we didn't want to create more work for the very small administrative team.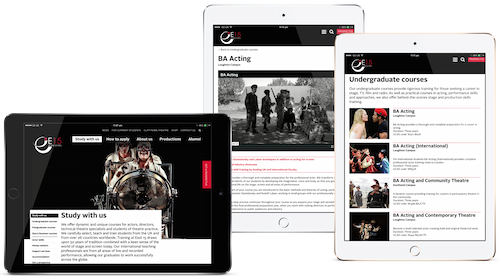 Using the existing logo and colour palette as a starting point, we created a design which reflects the school's aesthetic but is much more visual than the previous website, making use of their many performance images as large, background images on the main site areas, as well as using video in slideshows on any page. Using this new functionality, the school have been able to include video course introductions for the first time.
Structuring the course information was a particular focus as there is a significant amount of content on each course – we didn't want to overwhelm users and needed to make sure these pages especially worked equally well on mobile and tablet devices, without becoming too long. We used tabs and drop-downs to break up information as well as pulling out key messages and stories from existing students as highlights.
We also created a fixed 'Get a Prospectus' tab, which sits on the right hand side of the (desktop) screen, offering easy access to download or request a prospectus.
It's been a huge success for the school so far, with over 25,000 page views in the first two weeks and visit lengths averaging at well over 3 minutes. We're delighted with the great response we've had from the school, but perhaps the best feedback has been from the students themselves.
My school finally has a good website! With a professional intro video for every course. Well done East 15 http://t.co/0C6d7duqnO

— James Bailey (@BamesJailey) July 28, 2015
Launched: July 2015
CMS: WordPress
Visit: www.east15.ac.uk