Jerwood Charitable Foundation came to us to reassess their online presence. They had two unconnected sites, one for their work in funding and supporting artists and organisations (supporting more than 500 artists and 80 organisations each year), the second was for the huge Jerwood Visual Arts programme. Each site had become outdated, complex and difficult to manage; their team were keen to find a way to create a more coherent online presence.
Our starting point was to think about who used the sites. We looked at site visit data, did some simple peer research and worked with their team to build a clear picture of who their audiences are and what they wanted from the website(s). We knew there was crossover between audiences, but how much?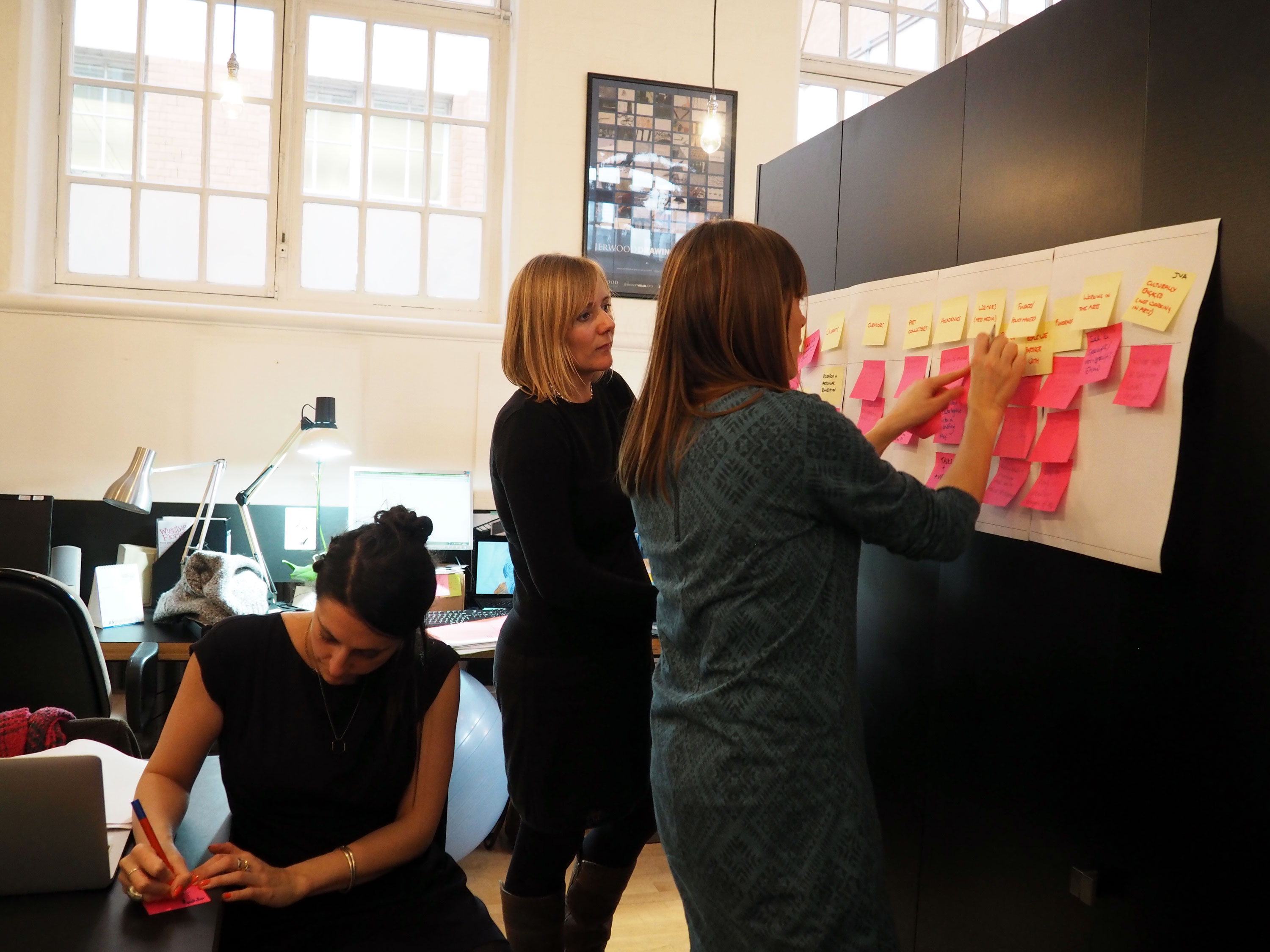 We spent a great morning with the team thinking and talking about user needs and journeys, and using up a whole bunch of sticky notes.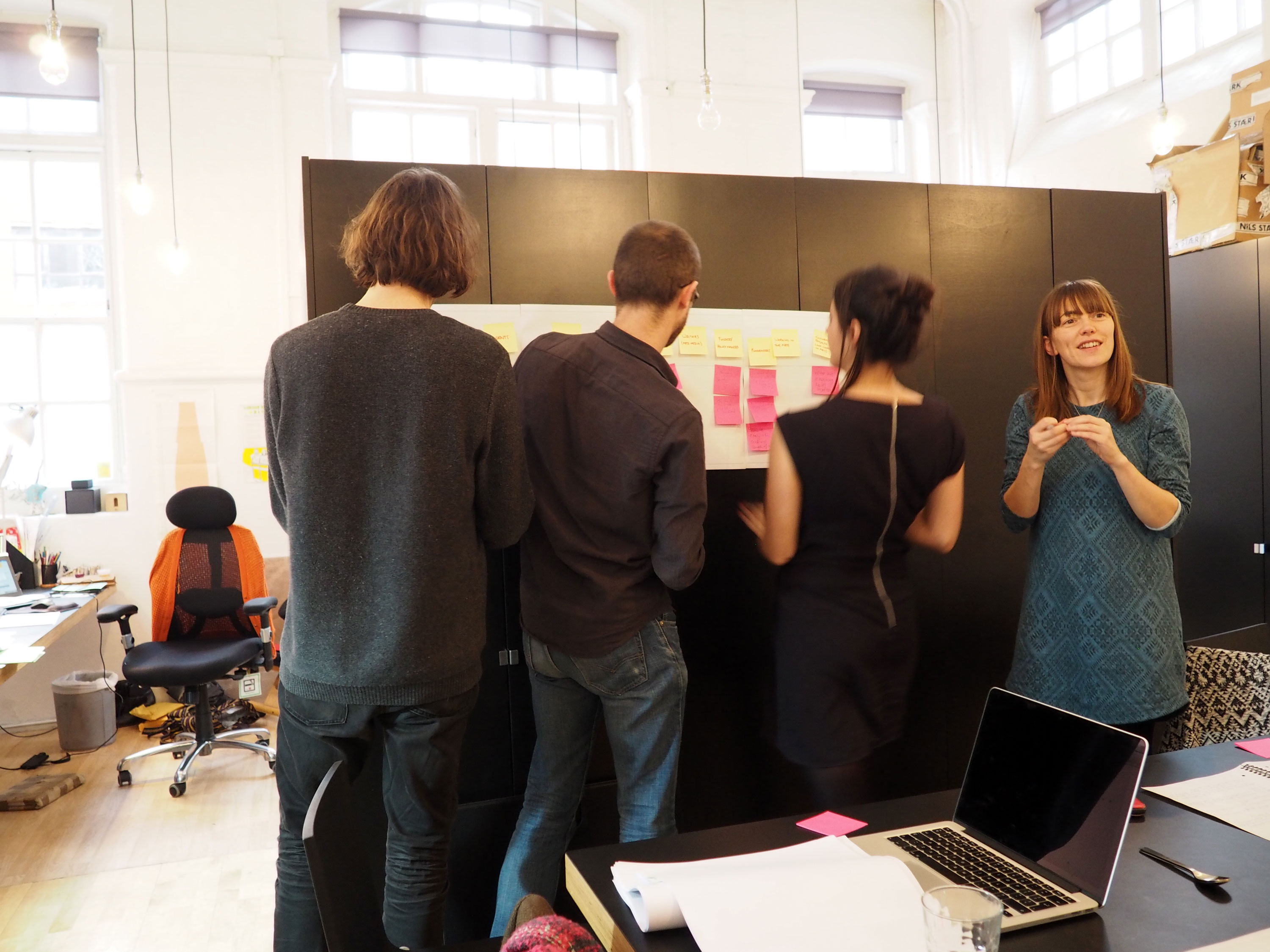 By segmenting users and looking at user motivations, we found that different groups had distinct reasons for visiting each site. This was backed up by the analytic data. Everything we learnt showed that the sites were used quite differently by different users. With the data to back it up our decision was easy, we should build two distinct sites to cater for the two different audiences.
We published a detailed report, outlining our reasons and conclusions, that our clients could use to make their case to stakeholders and their wider team.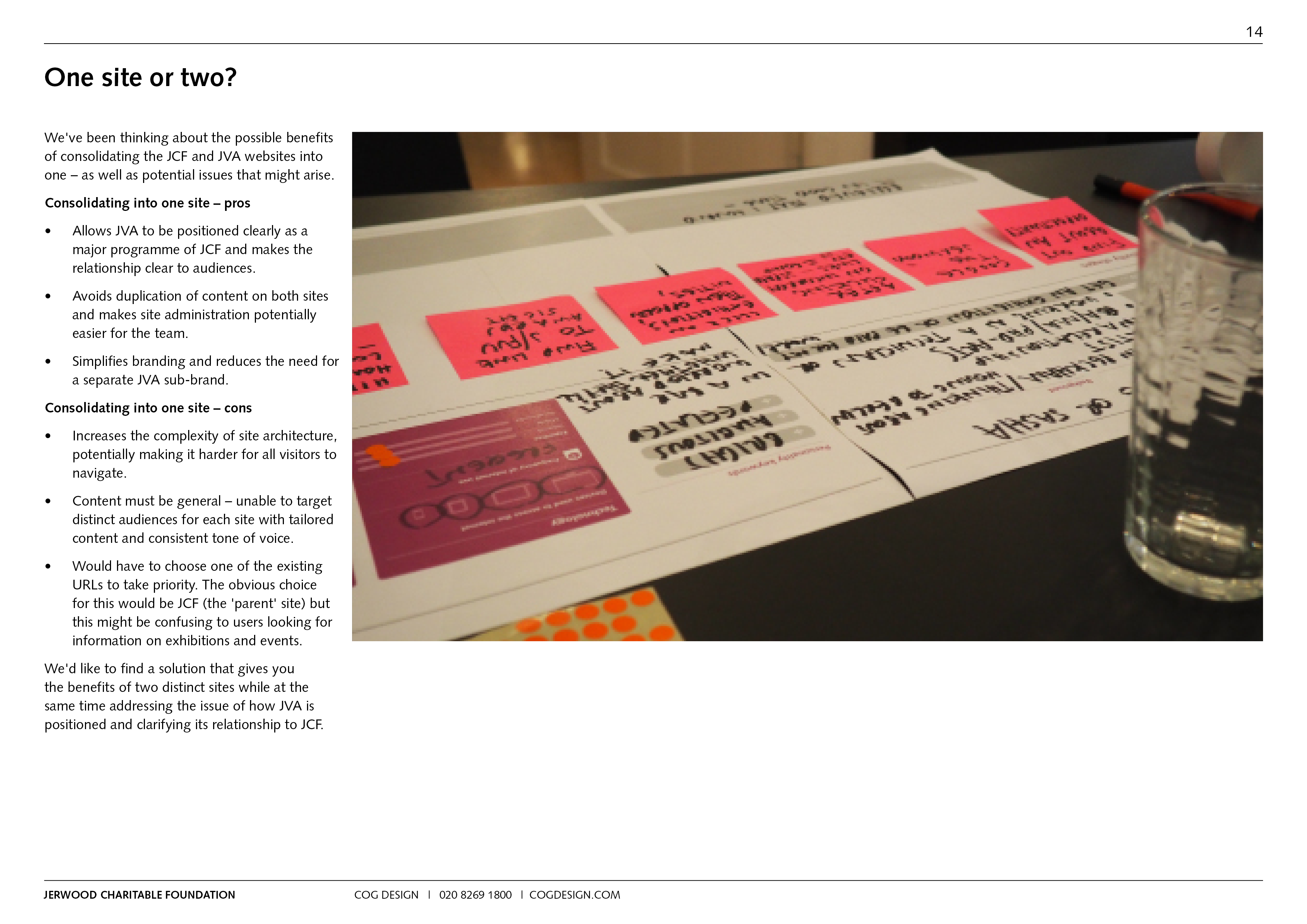 Despite the differences (for audiences), we knew that our clients had to maintain both sites so we were keen to make that process as simple as possible. Both sites needed a simple and consistent content management system (CMS) that would make it easy to regularly update and maintain content across the websites.
And, although we knew that most audiences needed each site to have a clearly distinct presence, we were also mindful that there would always be a significant crossover between the sites. We wanted there to be both a visual and physical connection between them. For casual browsers (or people who hadn't understood the distinction between the 'Foundation' and the Visual Arts programme) we made it easy to flick between the two sites via secondary menus on either site. Those menus allow users to jump directly to content on the other site (or to just switch between home pages).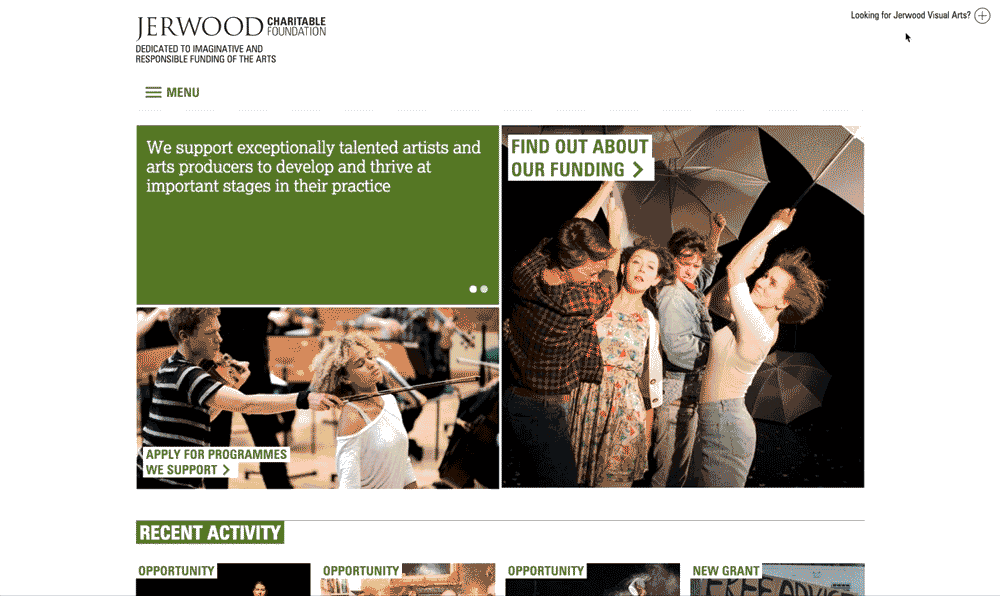 ---
Despite the visual similarities and the physical connection between the sites, each had to achieve a different emphasis. Jerwood Visual Arts needed to feature the artists' works as well as provide information about the programme and how to engage with it, both as an artist and as an art enthusiast. Whereas the Jerwood Charitable Foundation site needed to convey information about the organisation and its projects, with ample details about their funding schemes.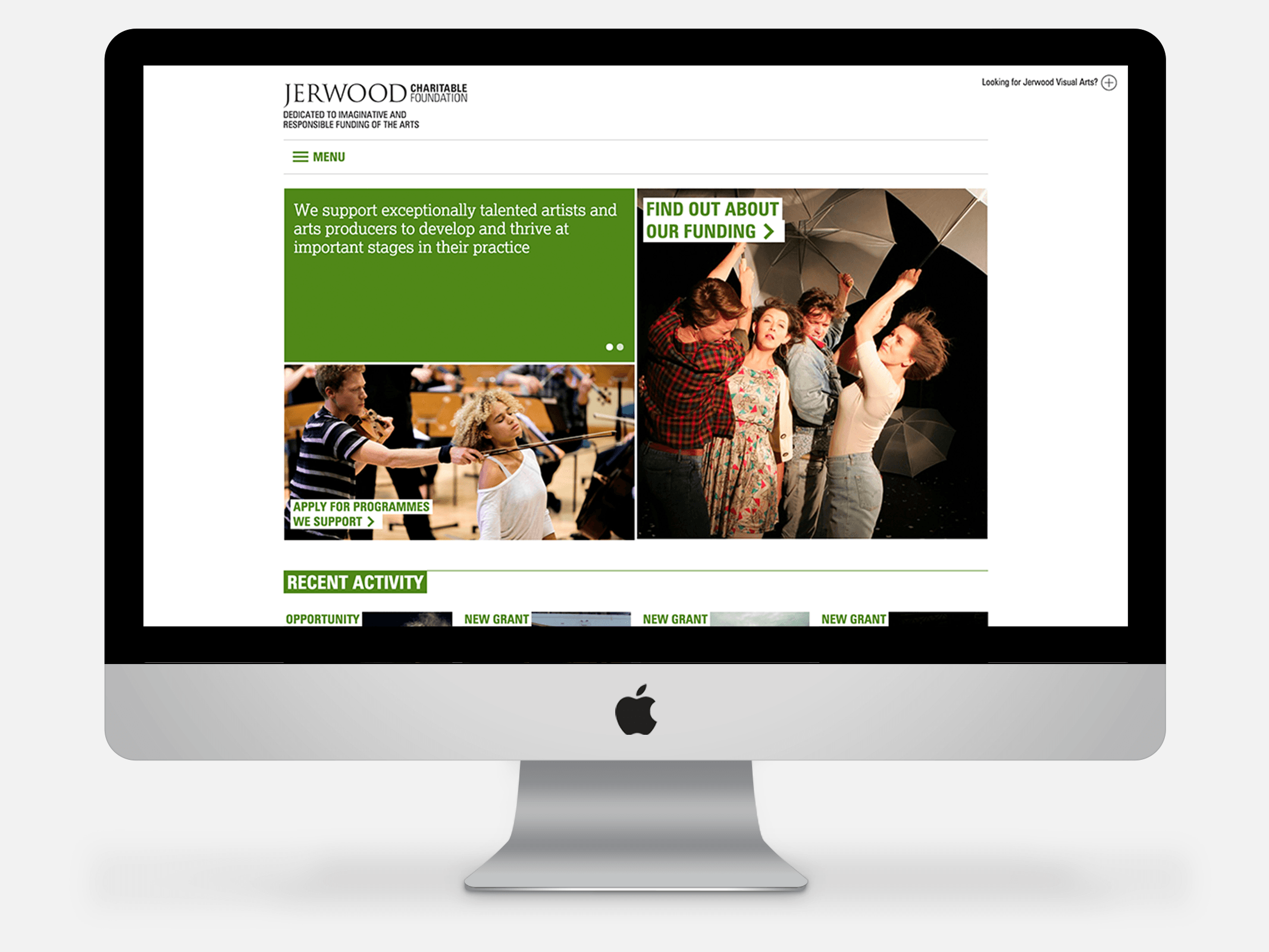 Jerwood Charitable Foundation offers funding to artists and producers across the nation as well as running a number of strategic projects. We needed to create a visually engaging, well structured site to best represent all the good work they do while still providing detailed information, specifically tailored to suit applicants and people looking for partnerships and funding opportunities.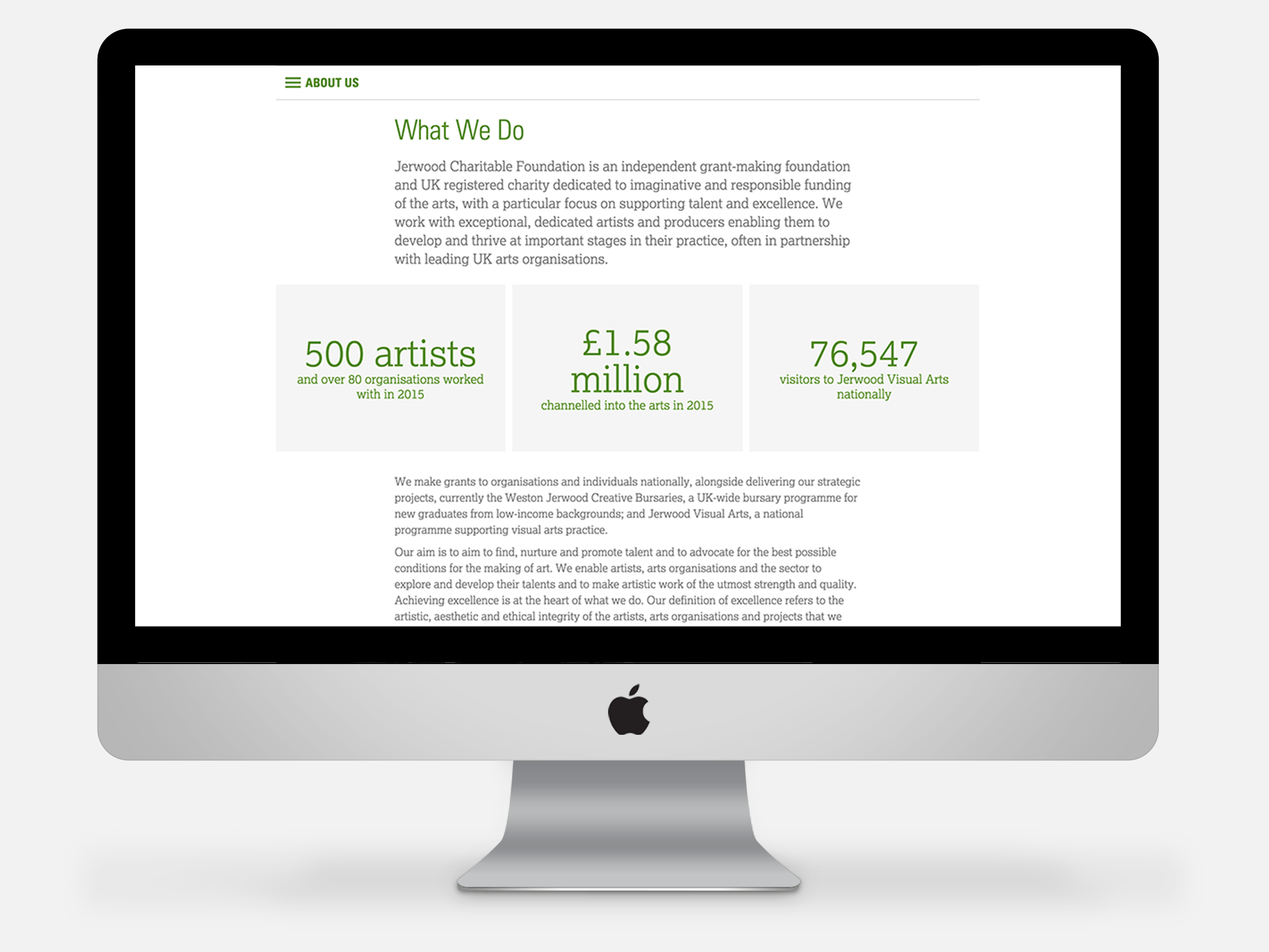 We featured key information about the Foundation on the homepage and signposted visitors to more detailed further information about funding and opportunities. In addition, the most recent activity across their vast range of projects are featured on the homepage alongside Foundation-wide news. A simple menu expands to show all main sections of the site allowing the user to quickly navigate to the section that they're looking for, and if the user can't find something then there is a prominent search bar positioned at the bottom of the menu, on all devices.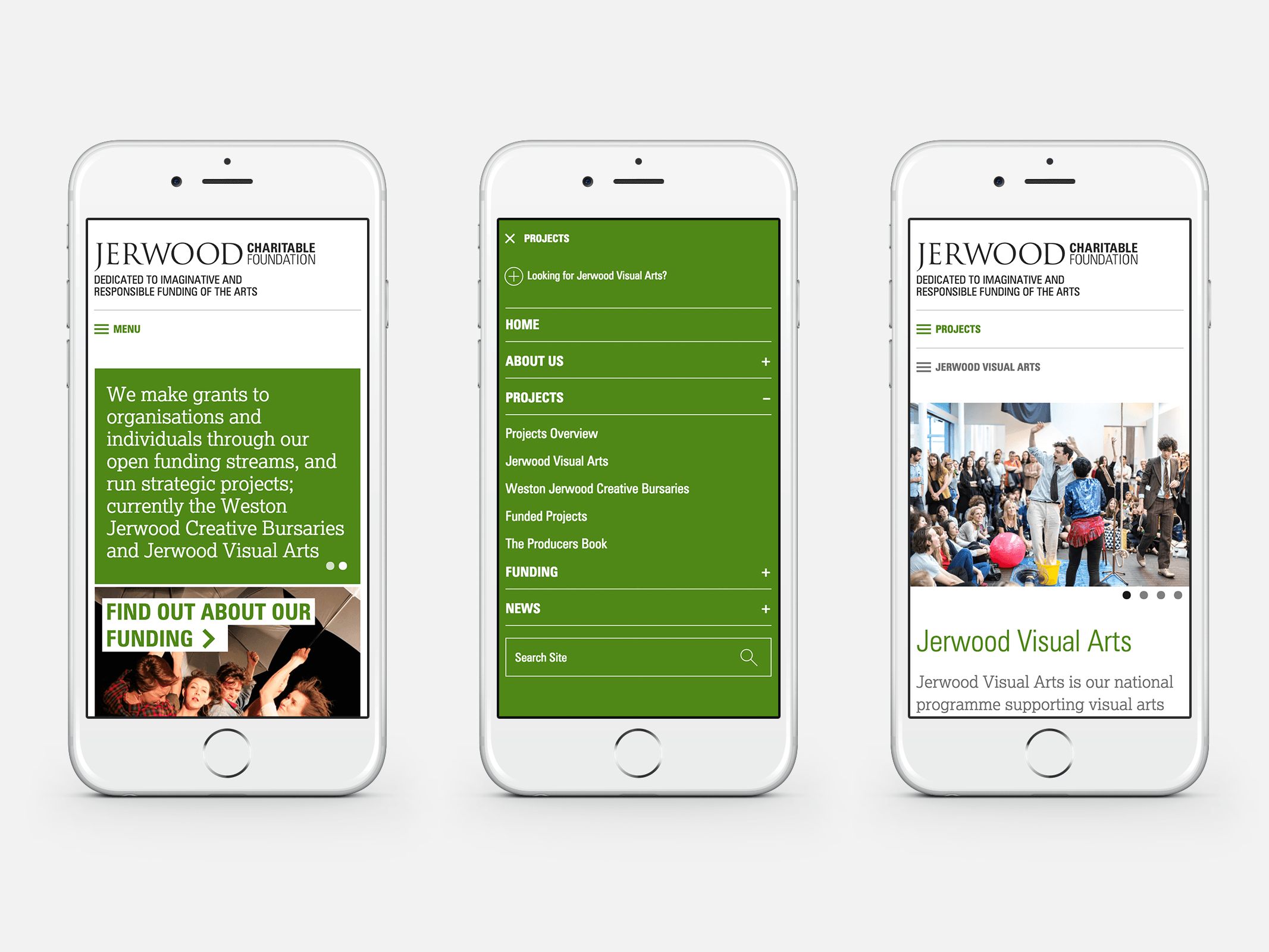 Jerwood Visual Arts is a national programme that commissions early career artists and writers to present their work. The programme runs a number of exhibitions and events, both nationwide and online. They have loads of visually stunning imagery of commissioned works as well as an archive of commissioned writing, audio recordings and visual media. We needed to create a website to showcase all of that work, and to provide details of how to engage with it (as well as clearly explaining who they are and what they do).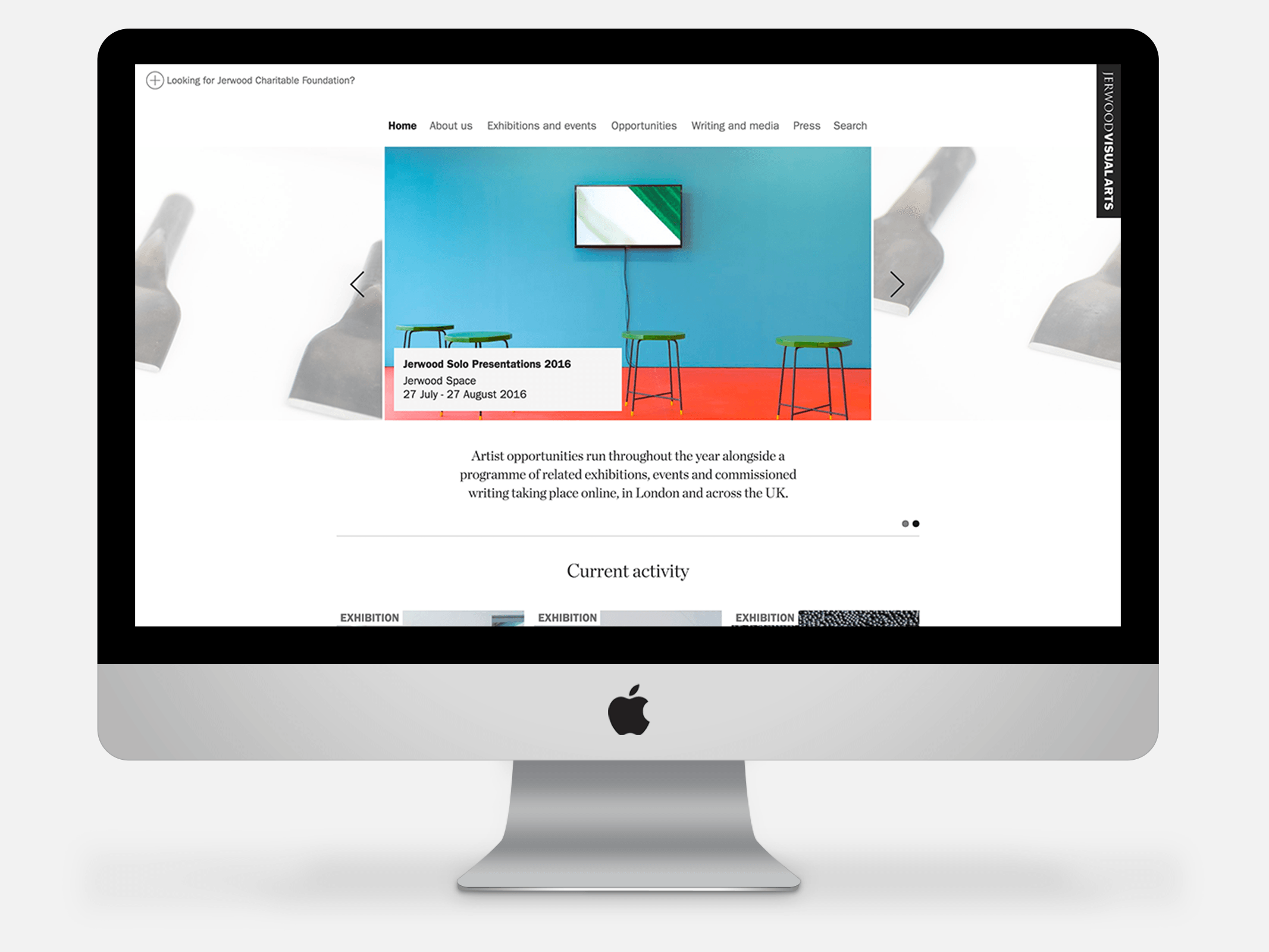 The homepage sets the visual tone for the site, featuring current exhibitions as well as any special events and open opportunities so that visitors can quickly navigate to where they are going. The work is uncluttered, giving it plenty of space to 'breath' and speak for itself within a stripped-back design with lots of white space.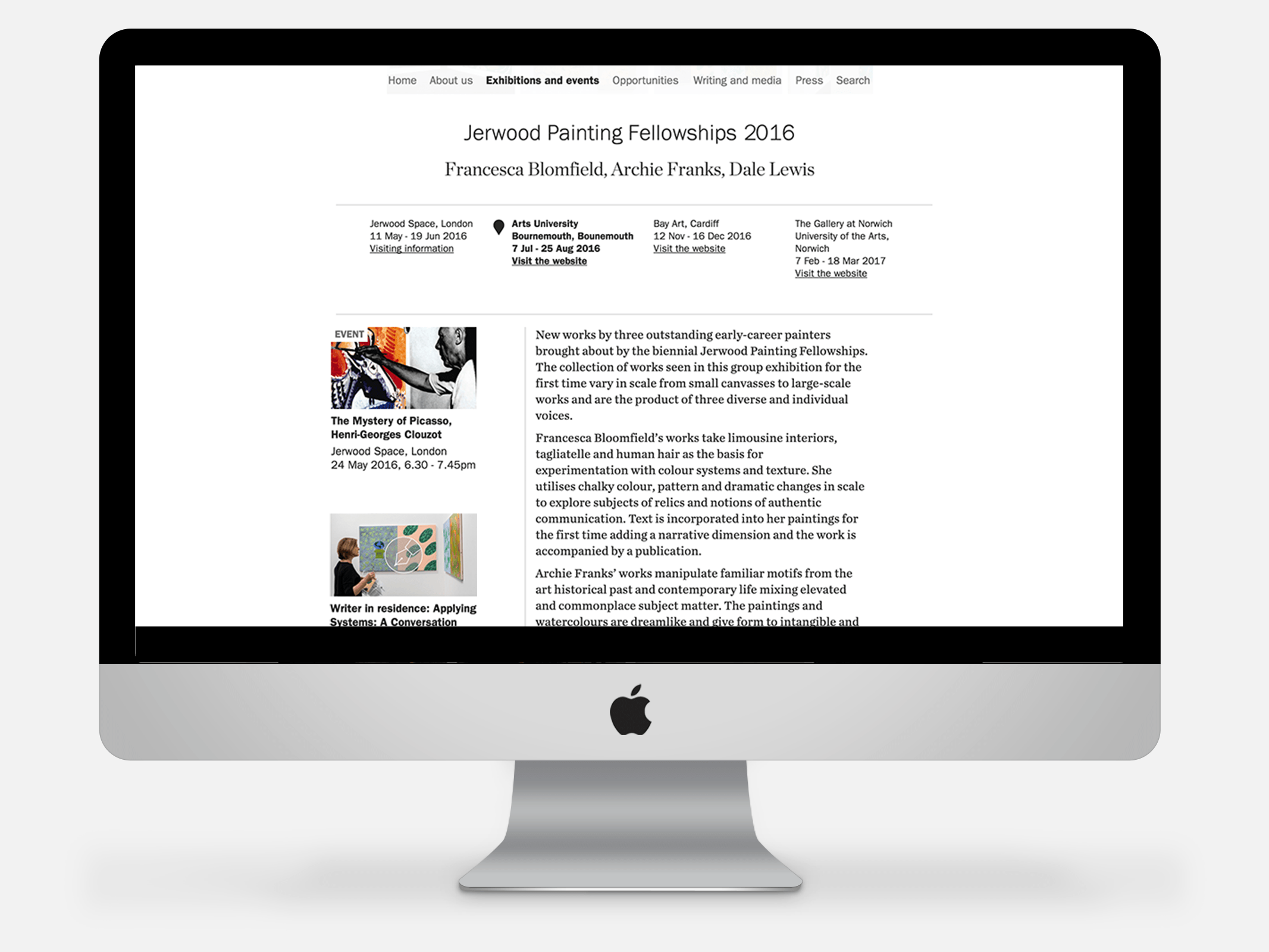 The Cog team worked closely with us throughout the design and development process, asking great questions and making adjustments to their designs to fit what we needed every time.

Alexis Stevens, Jerwood Charitable Foundation
One of the challenges was to display the connections between the exhibited work, commissioned writing and the stand-alone events, all associated with a single project.
We created a series of  'project hub' pages which show both past and future exhibitions for each, marking current ones with a little map marker, and a side panel showing any related special events as well as writing and media publications about the project.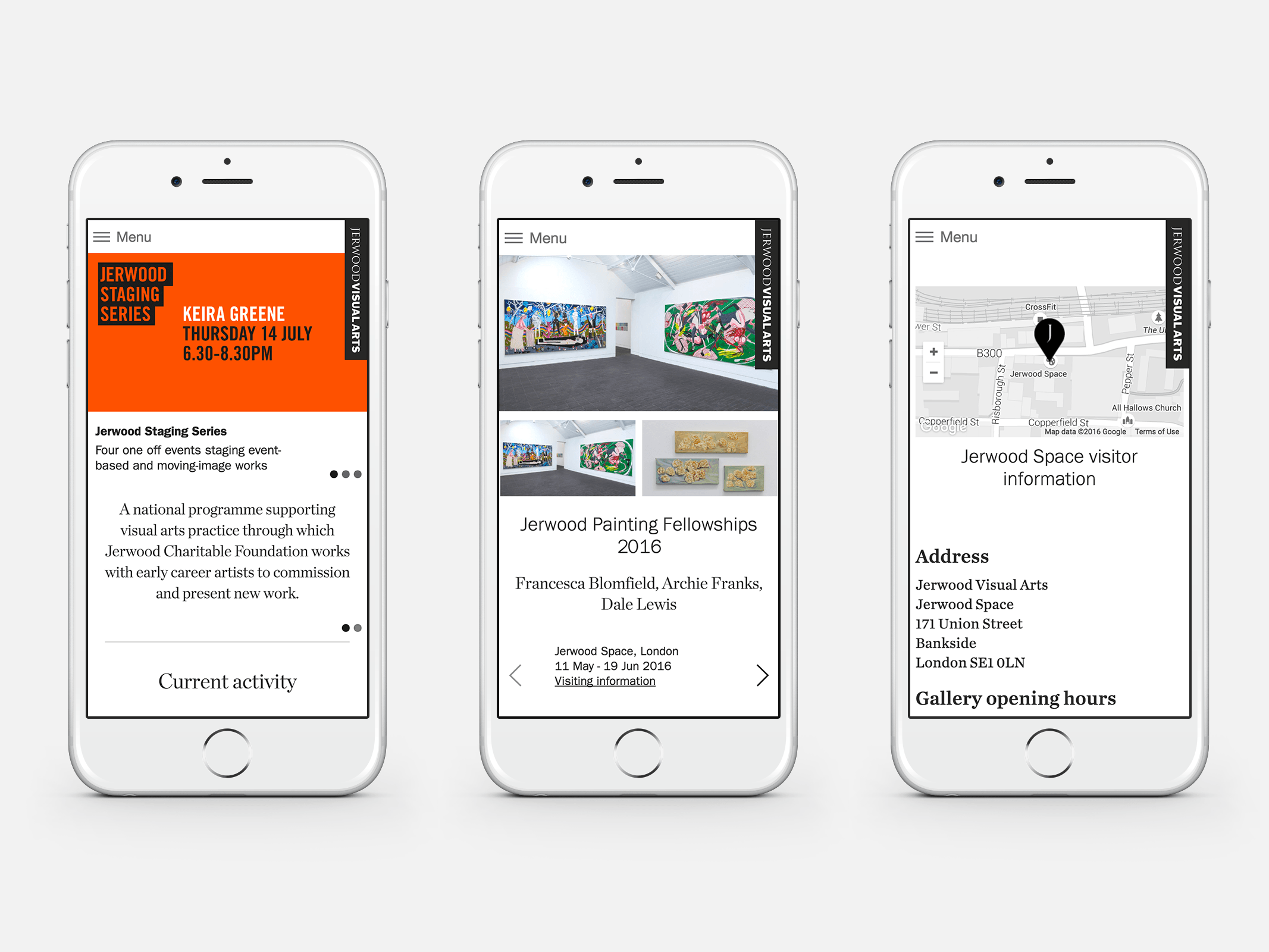 We were delighted with the results. Two websites, each with their own personality but both providing clear navigation throughout and a chance to showcase the excellent work of the Jerwood Charitable Foundation.
Launched: May 2016
CMS: WordPress
Visit: jerwoodcharitablefoundation.org / jerwoodvisualarts.org