I'm delighted with the work you've produced on this campaign: great concept insights, fantastic creativity and outstanding client management. Really, my opinion of your work on this project couldn't be higher.
A history lesson at the Royal Botanic Gardens is a potentially earnest topic. We worked with their team to turn their ideas of a history trail into a 'quest' to discover the secrets of their favourite confectionery.
Our task was to distil the messages of historical exploration into an arresting image that appeals directly to the parents. We didn't want to be sensationalist or unrealistic; the imagery had to strike the balance between being informative and entertaining, promising a worthwhile day-out in Kew Gardens (during a season when there aren't many other attractions in the gardens).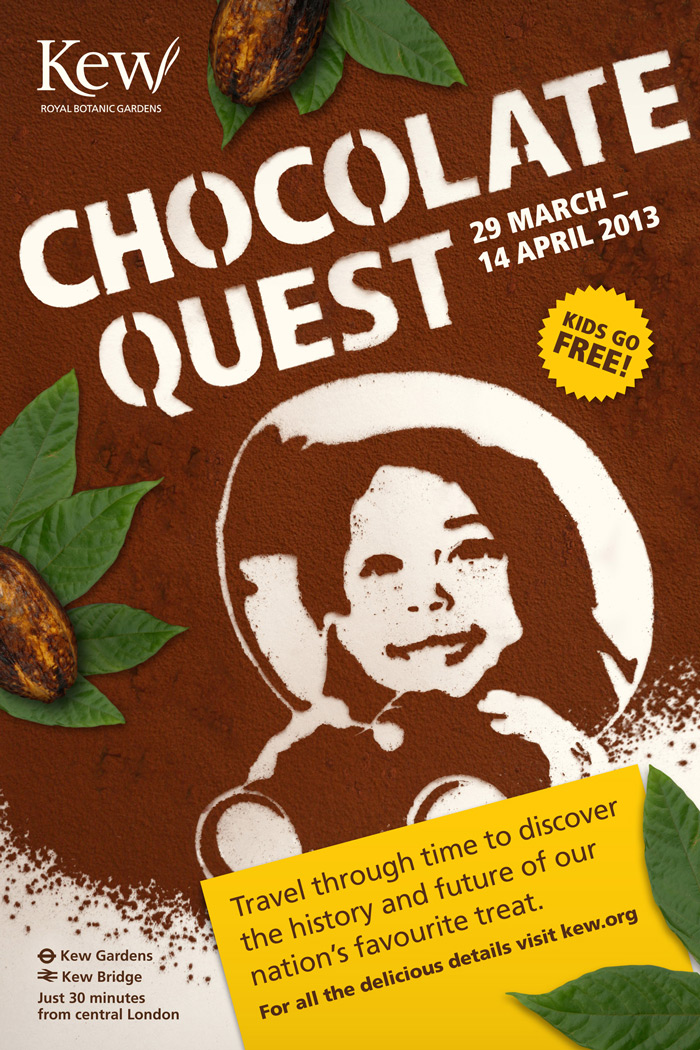 Our solution involved using chocolate itself to create the main elements of the campaign. We painstakingly crafted stencils of people and letters so we could sieve chocolate powder over them, and then with very steady hands remove the stencil to reveal the image (see slideshow of how we did it above).
The imagery had to be bold and immediate enough to work on banners and posters, a transport-based poster campaign and digital media, and it had to be flexible enough to be used on interpretation materials (used to tell the story within the exhibition).
Our key messages were fun, adventure and discovery.
We delivered all of the different elements (and examples for their use) to their in-house design team. They rolled-out the campaign onto banners, flags, a brochure and all of signage and interpretation materials.
We were particularly pleased to see how well the posters worked, across the London transport network – bold, clear and appealing to the target audience. And it's always wonderful to get such positive feedback from a happy client.
And after all the time-consuming effort of crafting the chocolate alphabet, within Kew's corporate typeface – Frutiger, it was particularly satisfying to rub it all out.