In late 2014 we were delighted to announce our appointment to the design roster at King's College London.
Our first brief was to produce a long-term engagement campaign with prospective postgraduate students. The communication was to be aimed specifically at existing King's students and others with knowledge of the university and its important role in pioneering research and scientific advancement.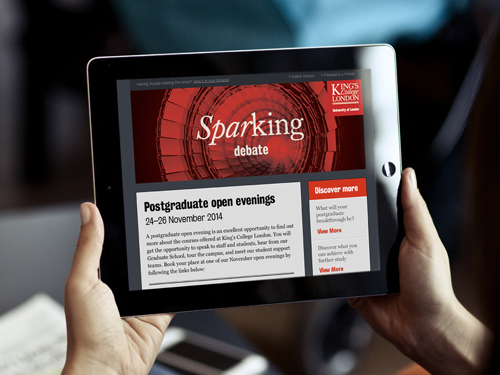 With an immediate deadline to promote an imminent open evenings event, we had to work fast. But we also had to be mindful that the campaign would be used through the year-long recruitment cycle; the imagery needed to have longevity.
Our aim was to intrigue students throughout the academic year
Our clients, in the marketing department, pointed out that numerous 'breakthroughs' at King's had led to many amazing and important discoveries. They wanted to communicate how prospective postgraduates could also have their 'breakthrough' moment, by studying at King's.

Our campaign utilises intriguing, almost abstract, images such as a DNA strand and a section from a particle accelerator. We chose these deliberately as they are already within the visual landscape of King's students – they would recognise the images (within a new and unusual context) and feel an affinity with the research and associations with King's.

Each image represents a story, such as how Rosalind Franklin and Raymond Gosling took the first photograph of DNA at King's in 1952, or how Peter Higgs, King's alumnus, and John Ellis, Professor at King's, played fundamental roles in the research behind the Large Hadron Collider.

The campaign was designed to build across the academic year, with additional research breakthroughs being used to expand the story. With this in mind, we carefully crafted a style that could accommodate future variations and would work consistently for at least a year.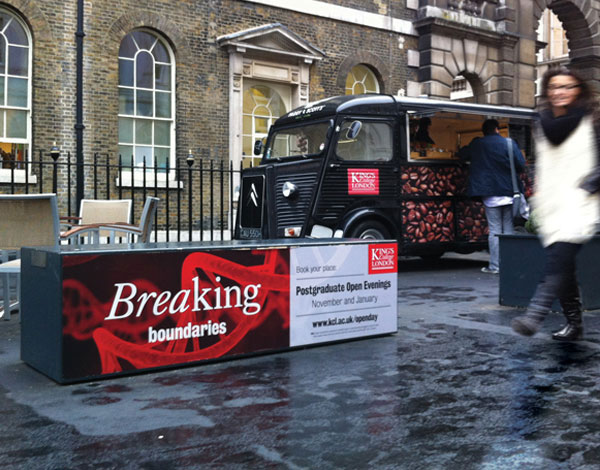 Each iteration used a coupling of words to create a consistent and recognisable campaign across all communication channels.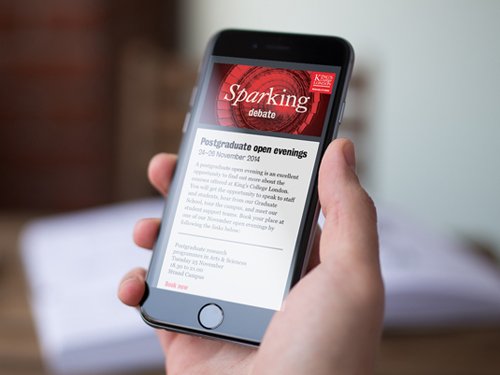 We rolled-out the campaign across printed materials, digital platforms, press ads and large-scale signage.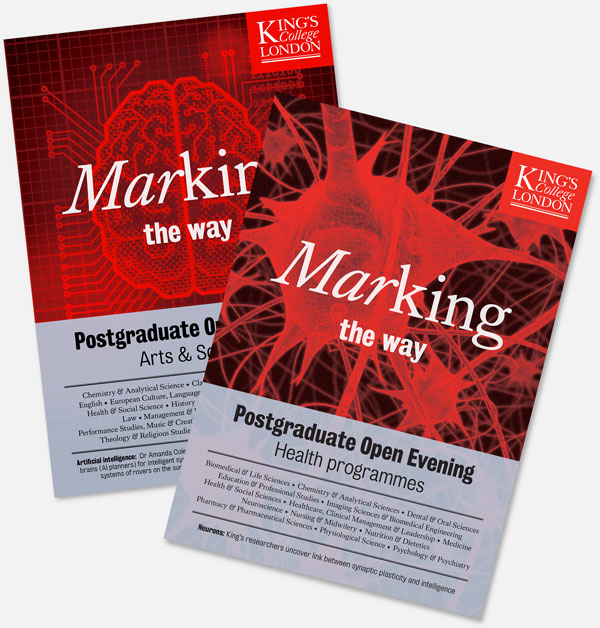 Once the campaign was underway we were able to adapt it to suit the specific needs of each open evening's event, adjusting the choice of imagery to best suit the audience for each event.