The London Jazz Festival was in its infancy (emerging from the Jazz Week of the Camden Festival) when we first started working with them. They came to us with an existing logo and a brief to emphasise their capital-wide credentials. We hit upon the idea of implementing that logo on a black cab.
These were the early days of using computers so all of the design was achieved through a mixture of digital typesetting and manual image creation.
Back then, we used to send the typesetting, on disks, to be run-out at an overnight bureau. Then it would be couriered back to us in the morning and we'd spend the day pasting the different elements together to create the artwork.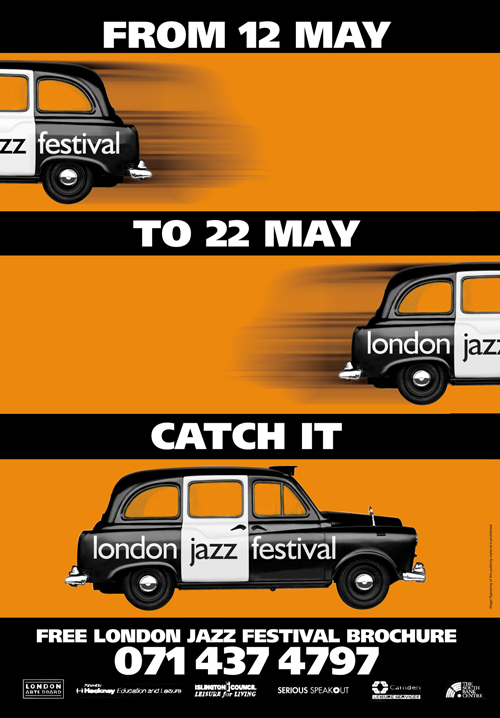 We also had a very tiny budget so we needed to be creative in how we produced things. In this case, the taxi was a Matchbox model bought from Hamleys and made in our studio. We laid it, on its side, on a flat-bed scanner, held in place with a strip of masking-tape. All pretty low-tech stuff.
To further help with minimising costs, all materials were printed in two colours. That had the added advantage of allowing us to utilise this bright orange, giving a real stand out against the multitude of flyposters that used to be one of the major marketing outlets back then.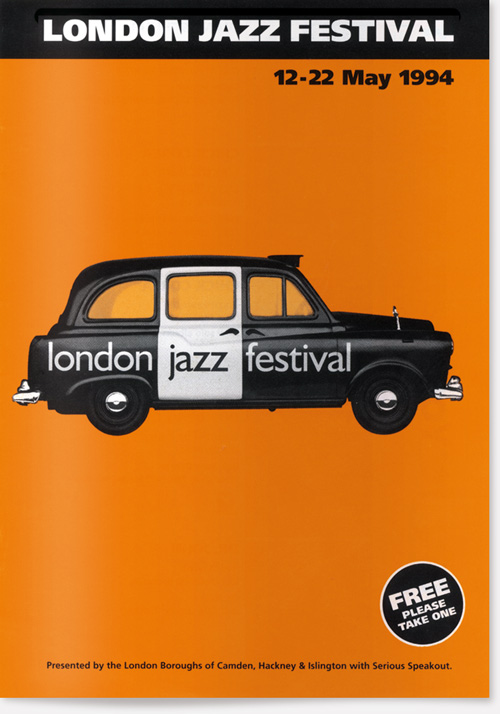 Through the next decade or so, we helped to reinvent and reposition the festival as it adopted different name-sponsors (the Oris London Jazz Festival, the Racing Green London Jazz Festival and others).
The festival had always had a firm connection with BBC Radio 3 and in 2003 that connection was formalised in an ongoing partnership, turning it into the Radio 3 London Jazz Festival. That year we worked with their marketing team who commissioned a stunning neon sign from our designs. That sign featured as a backdrop to many of the key events.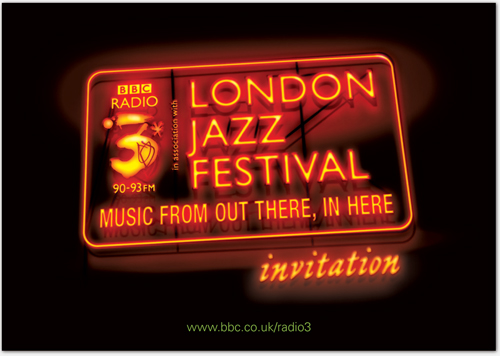 In 2007, the BBC channels went through a major rebrand and we needed to rethink the London Jazz Festival materials. We needed a new logo and a fresh approach. We created this type lock-up, taking inspiration from the circular symbols of the new BBC Radio marques.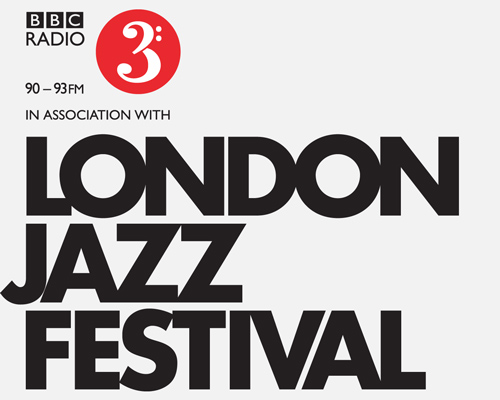 We also continued to create the campaign materials for the festival itself, working to an ever-evolving brief.
Of all of the years we worked with the festival, this was our favourite campaign. Although the festival encompasses a huge range of different music types, the word 'jazz' can be a turn-off for potential audiences who associate it with 'saxophones and old men' (or may not feel they have the expert knowledge to appreciate it at all).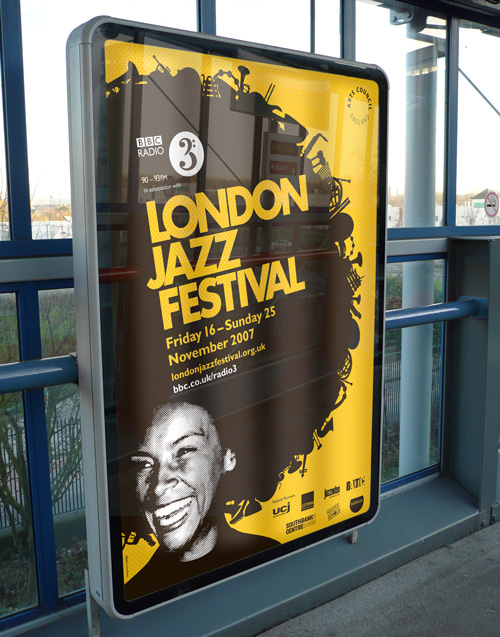 We countered this by leading with an image of a young woman, and using a minimal colour palette, no longer a cost-cutting exercise (as full colour printing is now just as cheap as two-colour) but to keep the feel fresh and contemporary. The inclusion of dozens of different instruments hinted at the breadth of the music on offer.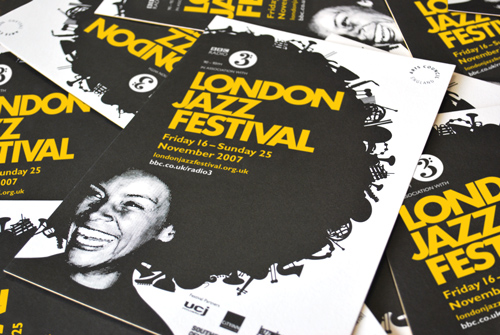 Well in advance of the festival, the designs were rolled out to posters, brochures and invitations, helping to contribute to record ticket sales for the year.
As it had been in every other year, the festival brochure was a key project in our studio. We worked closely with our clients for many weeks. As events were added and dropped out, as venues were confirmed we edited, reflowed and reworked the designs right up to the print deadline day.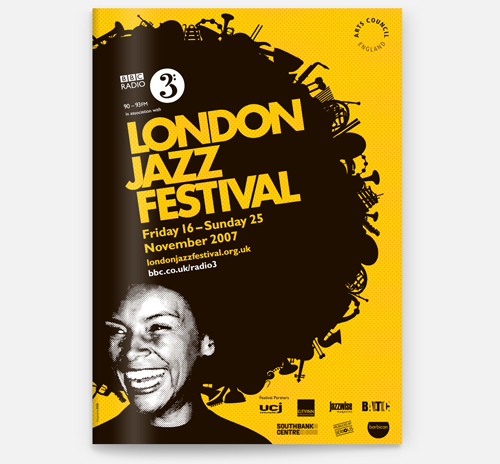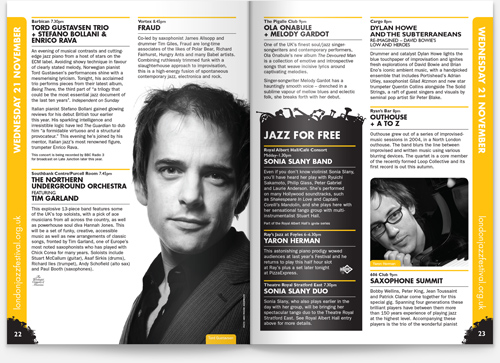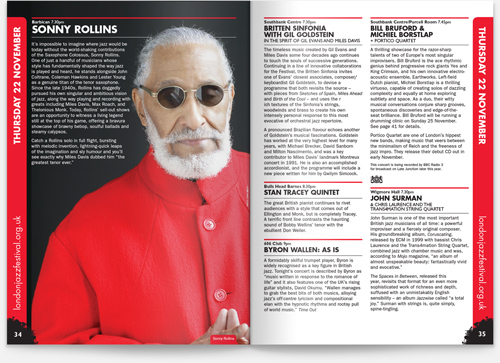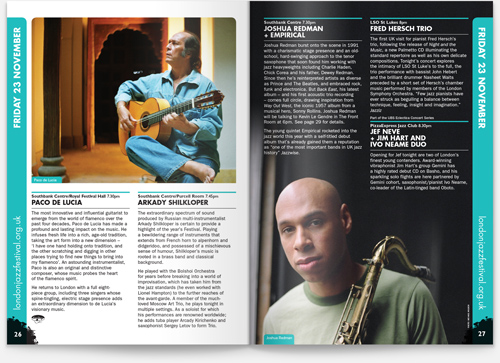 And, as the festival dates drew nearer, we produced these comprehensive programmes, covering all of the events at the festivals' two major venues, spanning dozens of concerts and events,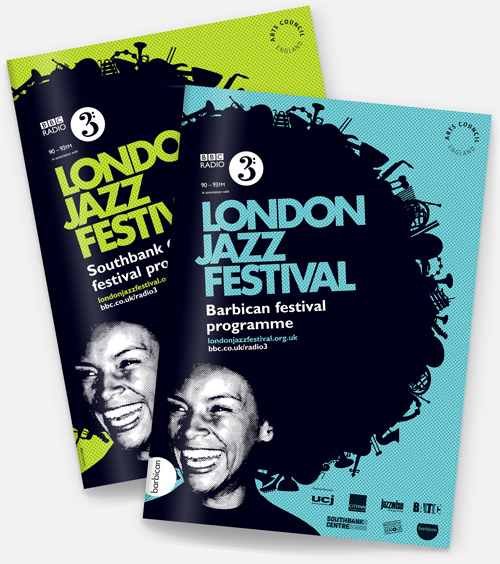 2008 was our last year working with the festival. But we were very pleased when the work was taken on by the wonderful studio, iWant, run by our friend and former colleague, John Gilsenan (who'd worked on several London Jazz Festivals in his time at Cog Design).