London's New Year Fireworks have grown into a major event. Up to half a million people gathered to watch the spectacle at the end of 2013, making it a cramped uncomfortable, and unpleasant experience, with growing safety concerns. For New Year 2014/15, the Mayor's office took the controversial decision to make it a ticketed event, limiting numbers and generating revenue to be invested in proper marshalling and infrastructure.
Our brief was to produce a campaign that could be rolled out in three stages: to sell tickets, to inform that tickets had sold out, and then to remind people not to come to central London if they didn't have a ticket. The designs needed to strike the delicate balance of being both exciting and promotional and being sober and informative (for that latter stages), and all within the brand guidelines for the Greater London Authority.
With an imminent announcement due to be made in the press, the campaign (from initial ideas to approved route and some implementation) had to be produced in a tight timeframe.
Working closely with the marketing team at the GLA, we proposed a number of possible routes. The preferred idea (an abstracted rocket burst) was felt to work particularly well as it could be adapted across a wide range of materials (including animated screens and banners), and importantly would be easy for us to hand over to the GLA design team to implement internally.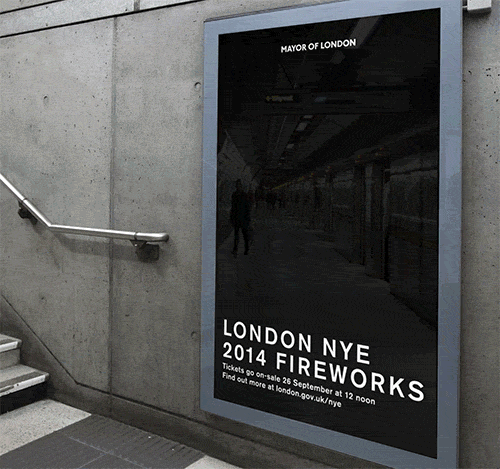 The campaign was implemented in planned stages. We produced announcement and information posters, digital advertising and printed tickets. We also handed over the campaign materials so the -in-house design team at the GLA could adapt the designs to suit any eventuality.