As well as organising the Brit Awards and Mercury Music Prize, The BPI (British Phonographic Industry) is the body that awards the UK's Silver, Gold and Platinum disks.
We had a great experience with Cog. The team came up with some really striking, attractive design proposals for our book and gave the finished article a real coherence and clarity.
They are the definitive source of data about the UK music industry (by far the biggest and most influential in the world) and this is their key annual publication. Our job was to take their huge amounts of complex and dense data and make it clear and accessible to everyone – from a journalist looking for headlines, to a retail analyst looking for forensic detail.
Ninety pages of detailed data might not be everyone's idea of a fun design brief but we loved working on it. It was such a great opportunity to bring clarity and meaning to the complex subject matter. The BPI team did an amazing job proofreading and supplying the data to us and, of course, we really enjoyed working with (the surprisingly varied quality of) images of pop stars.
As always we started the process with research and discussions; it was pretty exciting to be in the BPI offices as they prepared for the Brit Awards. One of the things we enjoyed most about the project was the freedom that that our clients afforded us. Even though this is the 38th edition of the publication, they were really open to new ideas and interpretations, we even got to rename it from the uninspiring 'BPI Yearbook 2017'.
Together we focused on four key objectives for the designs:
Consistent styling despite a wide range of imagery and data sets.
Aesthetics that reflect the creativity and vibrancy of the sector behind the (rather dry) data.
A hierarchy of communication so readers can grasp the headlines by dipping in and out, without removing or dumbing down the data.
Clear navigation to provide a pace and interest in what is necessarily a long and consistently detailed publication.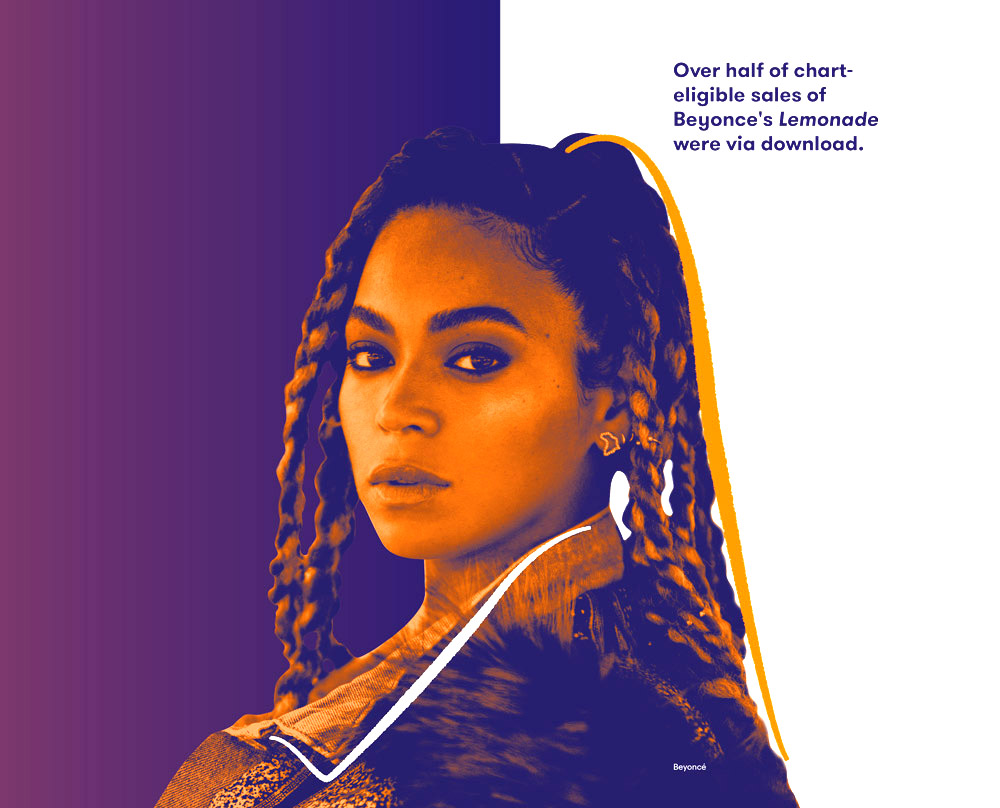 Our first step was to create the visual styling that would be carried through the designs. We developed an image treatment, using bold use of colour with graduated tints. This allowed us to visually tie together all of the varying imagery, sent to us via the different record companies.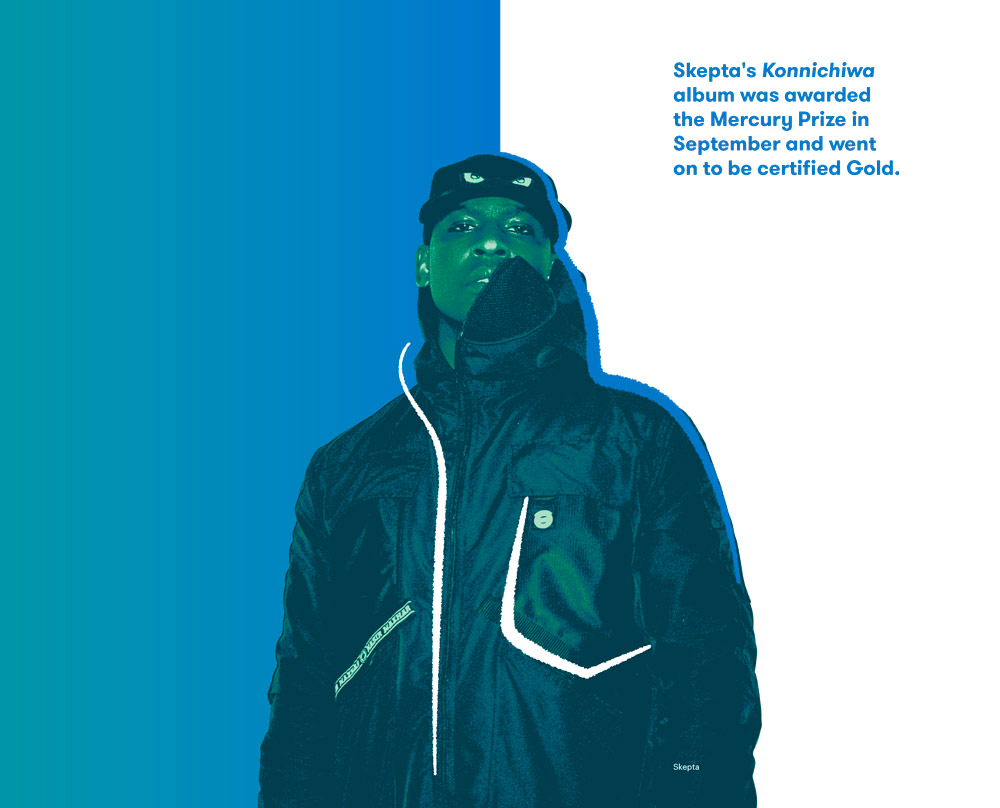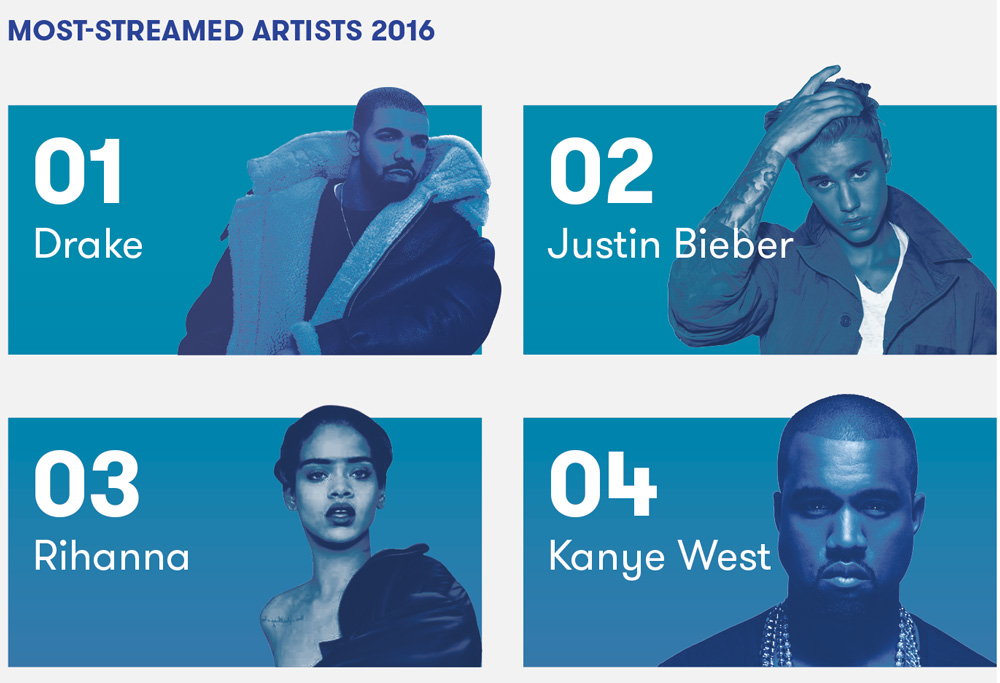 With a basic visual palette in place we were able to tackle some of the data visualisation. We couldn't be too 'fancy' because there was so much data to include and it was important the readers could easily compare different data-sets across pages and sections of the publication. But we did want to make the data more easy to interpret by taking it out of the conventional tables and illustrating it in meaningful ways.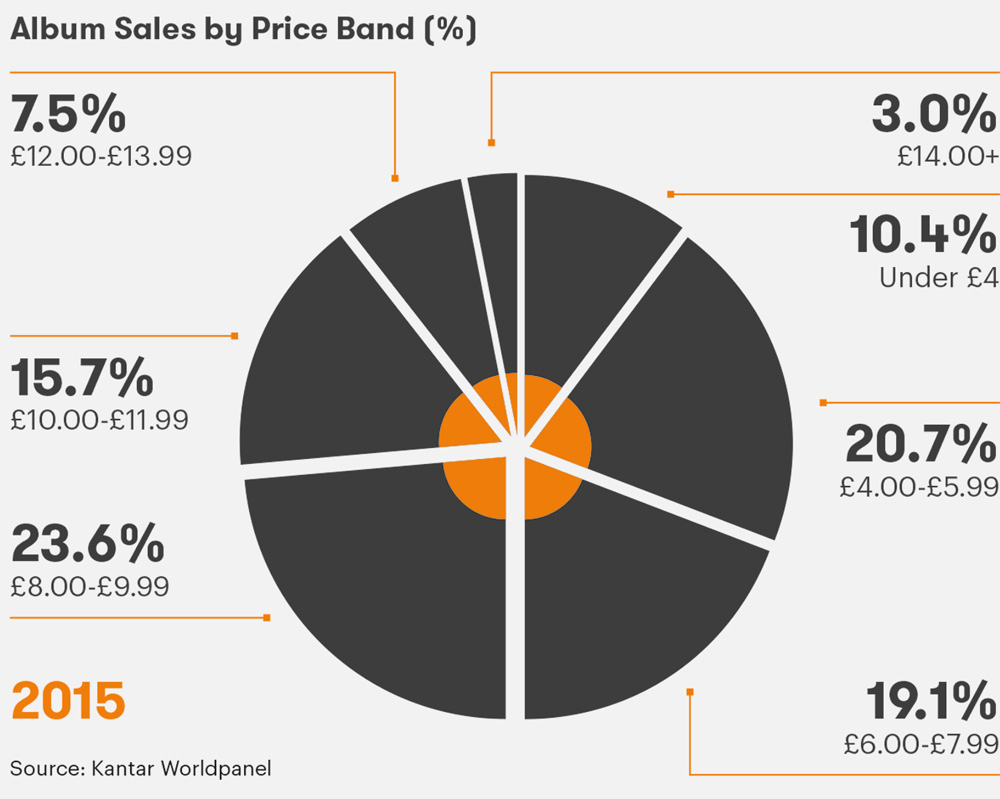 Of course, lots of data still had to be displayed in more conventional tables and bar charts. For those pages we usually included artist imagery, and pulled out key figures, to maintain visual interest on every page.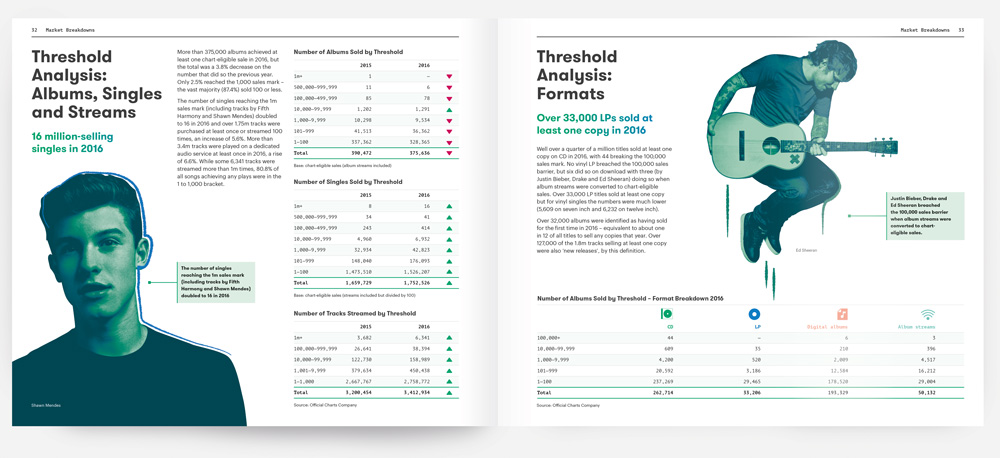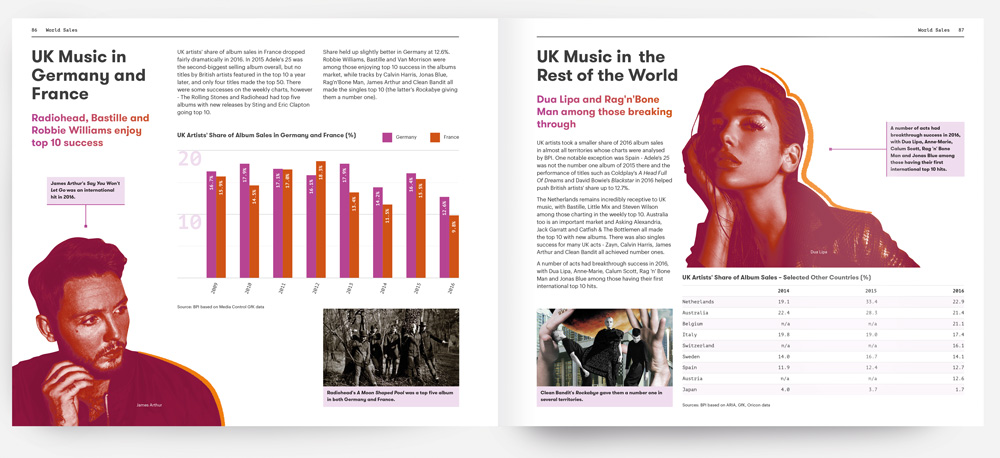 Sometimes (to avoid the document being single-paced) we gave the charts more room to show broader patterns and movement across time.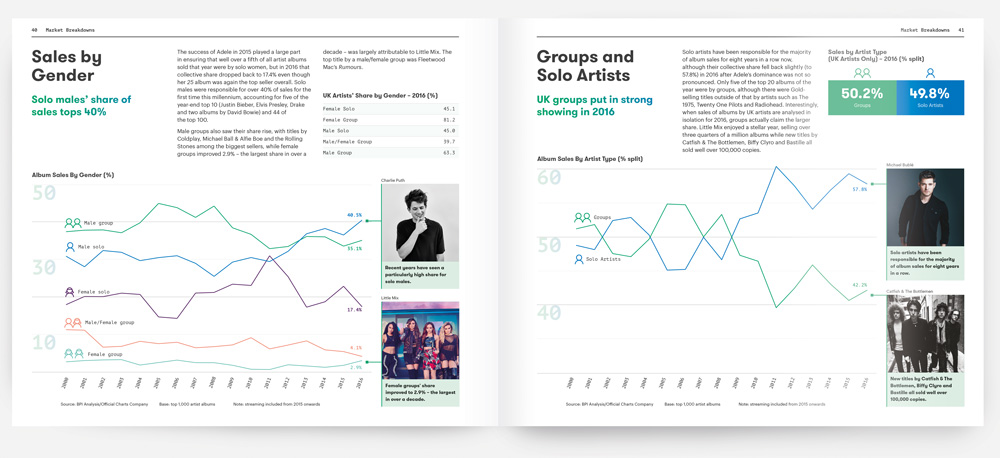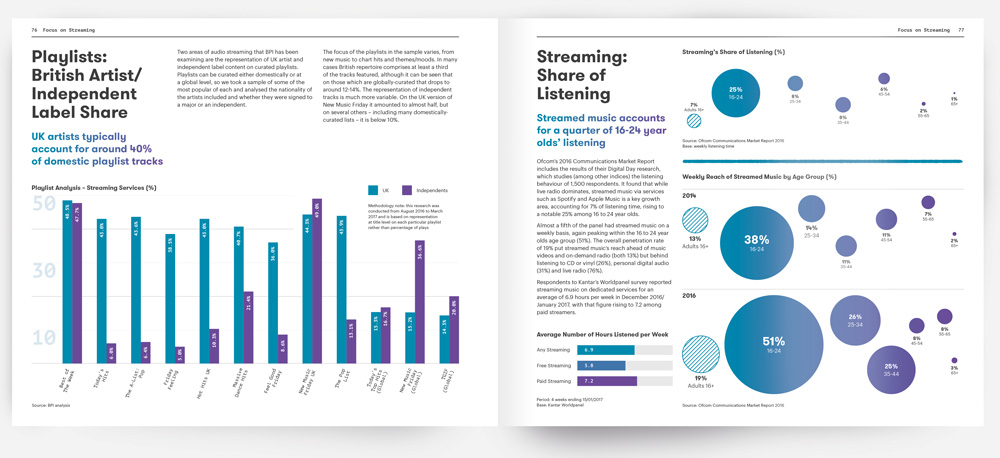 To mark out each chapter we designed an introductory double page spread for each. These provided a visual pause of the reader and allowed us to introduce colour-coding for each section.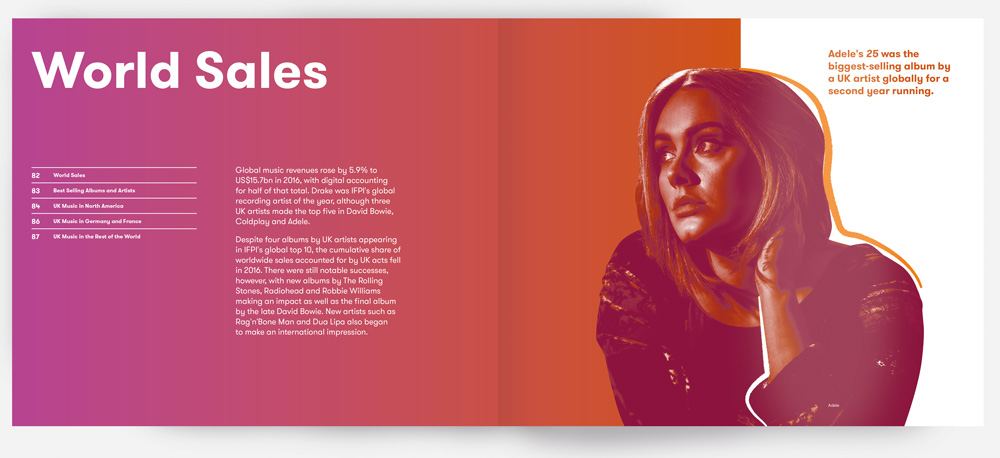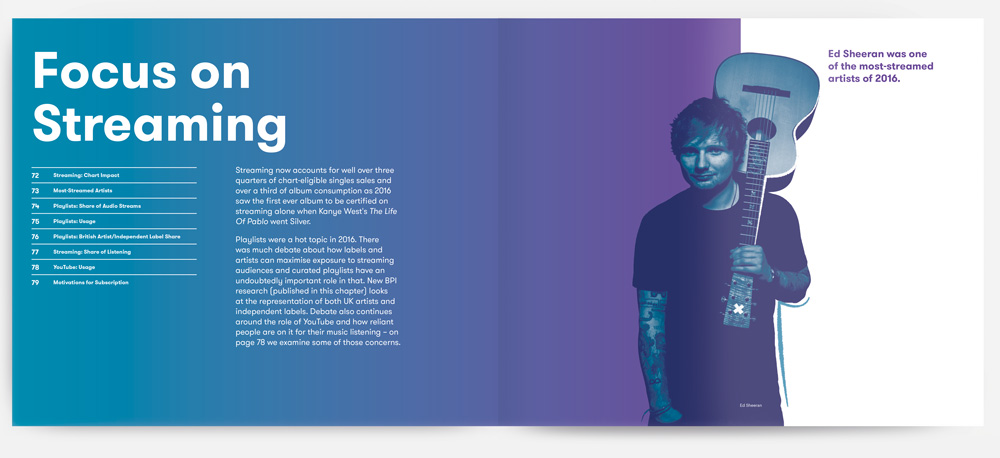 You might struggle to get hold of a copy for yourself as the publication is only for BPI members. But you can buy a copy from their website – it's £90 +shipping. Or you could pop to the Cog studio, we have a couple of copies, and we'll let you have a peak at the pages.