In late 2002 we began a long-standing relationship with the Drama and Dance Department of the British Council. Amongst other projects we designed their flagship magazine, On Tour.
The publication had begun life as a 12-page newsletter (in 1996) and had been turned into a proper magazine format a few years later by Ian 'Swifty' Swift (perhaps best known as the designer of the music magazine Straight No Chaser). We picked up the mantle with issue 21, published in early 2003.
We completely overhauled the design, moving to a squared-off A4 format, printed in two colours throughout. We created a simple 6-column underlying grid but broke away from it as often as the content would allow.
On Tour was a spotlight on British performance. With articles commissioned from some of the nation's best known journalists and cultural commentators, the magazine was hugely influential in the industry. And with significant worldwide distribution it became an important showcase for British talent.
Issue 21 concentrated on articles about diversity in the arts. Georgina Langdale wrote about the Arts Council's new 'decibel' scheme to amplify cultural diversity in the arts, whilst Michael Billington was commissioned to explore the subject further in his piece, Life in a Box. It's been fascinating to read back through those articles for this piece and reflect on how little has changed – this week, there's been more high-profile controversy about the lack of diversity in British theatre and film.
It was also particularly interesting to read back through articles about the groundbreaking Live Culture symposium at Tate Modern, featuring artist Tim Etchells; and a piece on the influence of touring live dance abroad, featuring a young Akram Khan. We've produced new websites for both of them in the past few months.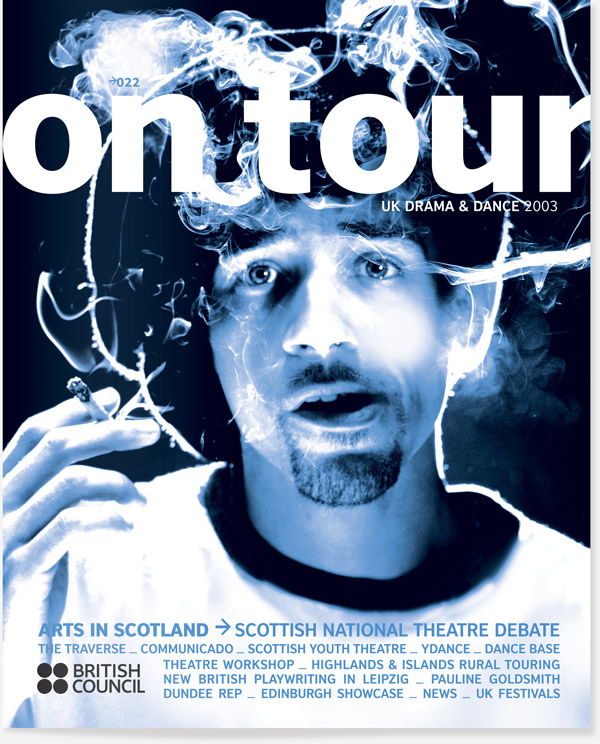 Issue 22 had a particularly Scottish flavour with a lead article weighing up the pros and cons of a National Theatre of Scotland.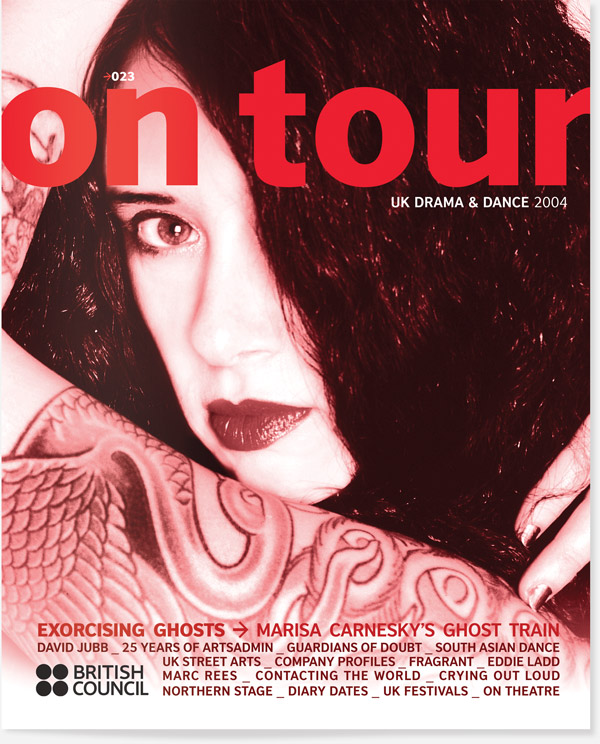 Issue 23 was more diverse with articles about David Jubb taking over at Battersea Arts Centre, and spreads on Artsadmin (who are now Cog clients) and Crying Out Loud (whose branding and launch brochure we worked on then, and for whom we launched a new website in 2015).
By Issue 24 we'd established a strong design style using the limited, two-colour palette to our advantage to create a really coherent aesthetic. For this issue we pushed the printers' skills further by picking a metallic ink and mixing it with black to create duo-tone images throughout.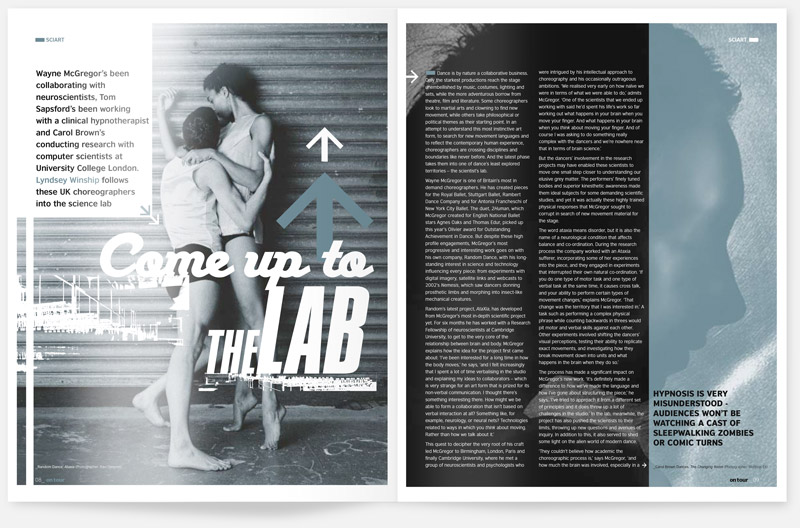 We also started to bring in unique headline fonts so that each issue had its own typographic feel.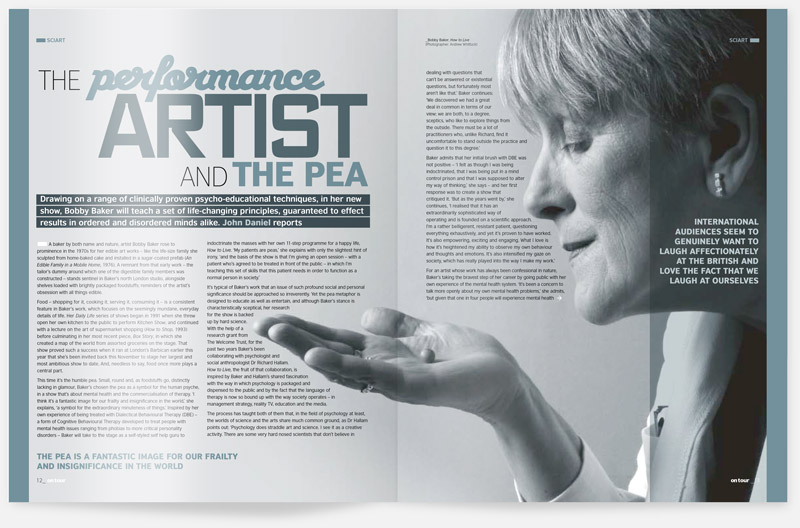 Issue 25 was particularly theatre based with articles on Paines Plough, Shunt, Traverse, Forced Entertainment and a celebration of Complicite's 21st anniversary.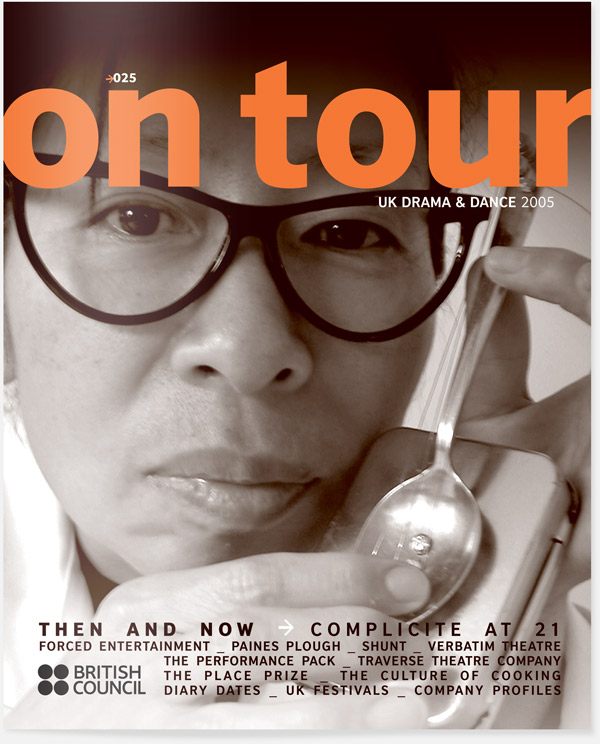 Issue 26 was more dance focused, with Akram Khan popping up again, this time to become our cover star.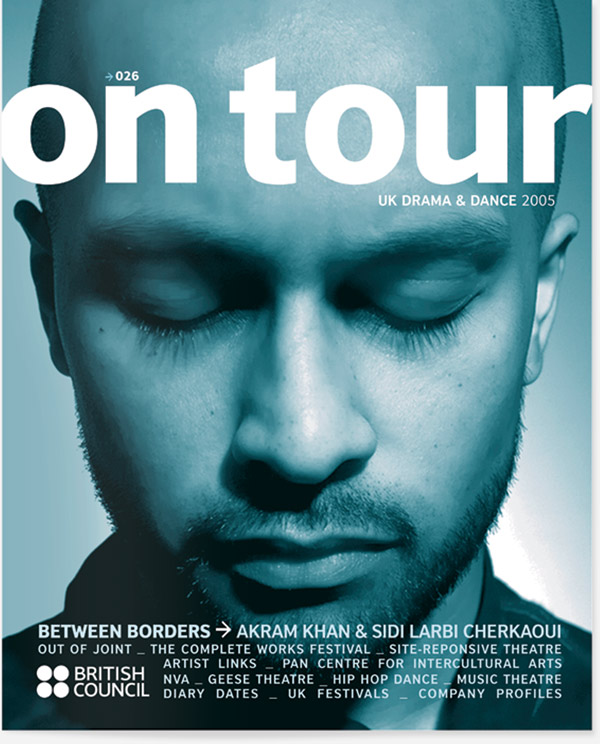 The issue led with an article about Khan's collaborative work, zero degrees, with Belgian choreographer Sidi Larbi Cherkaoui (featuring music from Nitin Sawhney and designs by Antony Gormley).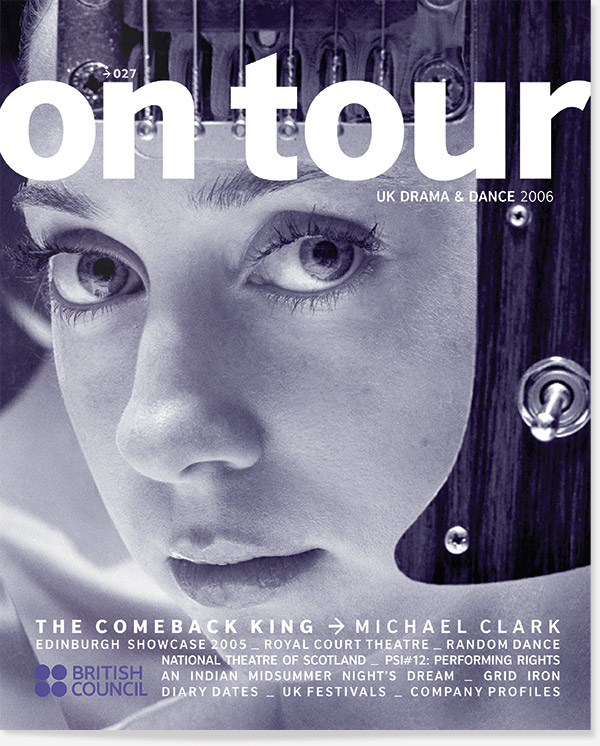 Issue 27 took us into 2006 and was perhaps our most ambitious, in terms of layering of content. The issue led with articles by Donald Hutera. The first explored the extraordinary career of Michael Clark, as his dance company were about to enter a three year partnership with the Barbican.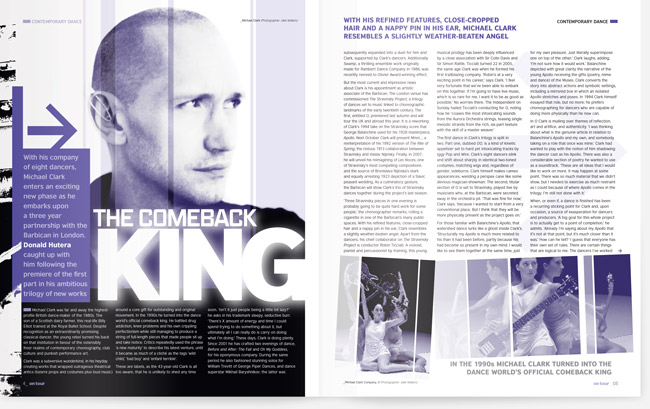 The second looked at an ambitious new piece by Wayne McGregor for Random Dance (to a score by John Tavener) – Amu (of the heart).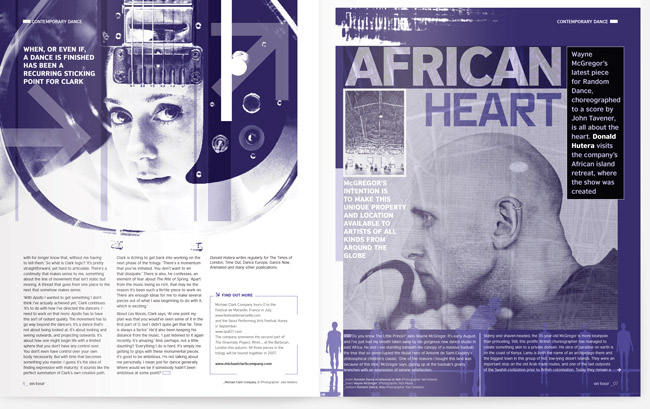 The issue also celebrated the 50th anniversary of the Royal Court Theatre with an article that spanned John Osborne's premiere of Look Back in Anger (1956) and the influential My Name is Rachel Corrie by Rachel Corrie, Katharine Viner and Alan Rickman (2005).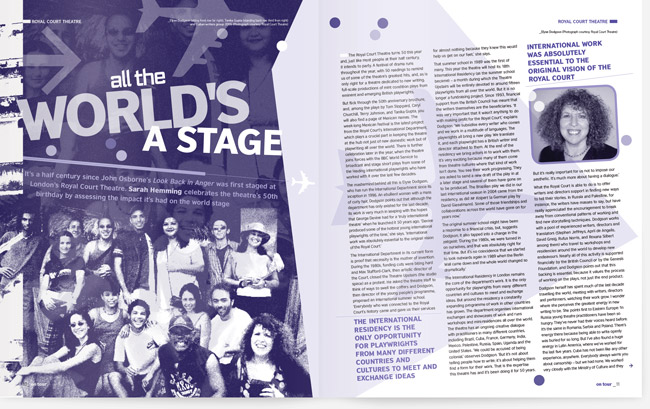 And three years after their initial speculations about a Scottish National Theatre, On Tour was able to follow up with an article about its founding as a roving company (with no fixed theatrical home).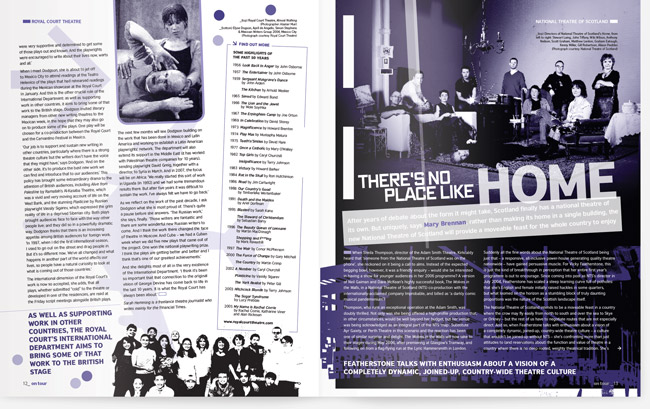 We'd always worked hard to secure the most stunning cover image. Our criteria was that it needed to be a striking image of a face (rather than necessarily being a recognisable person or even an image that related to the main article of the issue).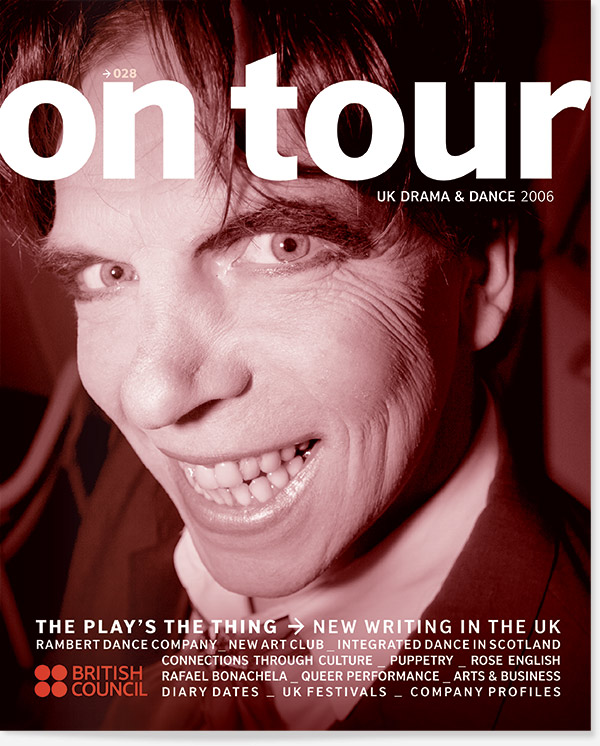 We struck lucky with issue 28, with Eoin Whelan's menacing photograph of cabaret artist David Hoyle, and issue 29, featuring Archana Ramaswamy, then starring in Dash Arts' production of A Midsummer Night's Dream at the newly opened Roundhouse.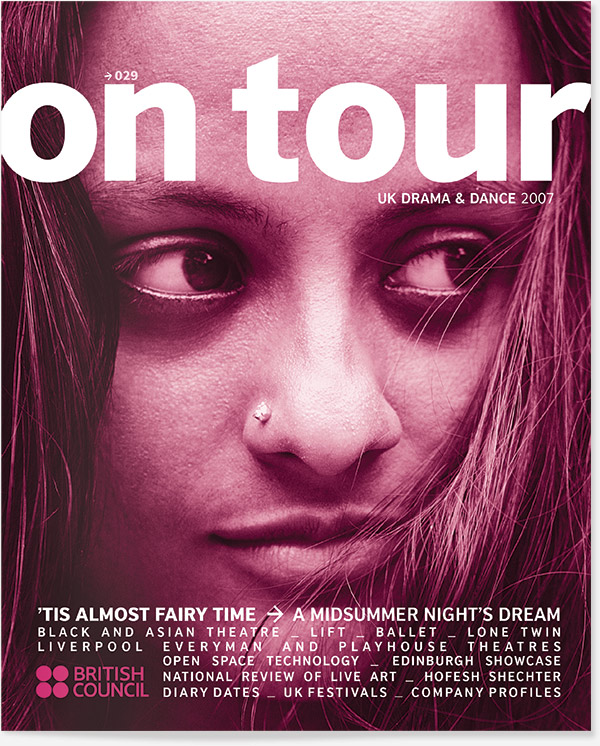 Sadly, issue 30 was the final edition of On Tour, as British Council diverted funds to larger, cross-sector areas of work. But we went out with a bang, squeezing budgets and pulling in favours with printers to produce a five colour (four-colour process plus silver) publication.
Appropriately enough, as we'd followed their journey throughout, this final issue led on an article about the National Theatre of Scotland and their hugely successful production Black Watch.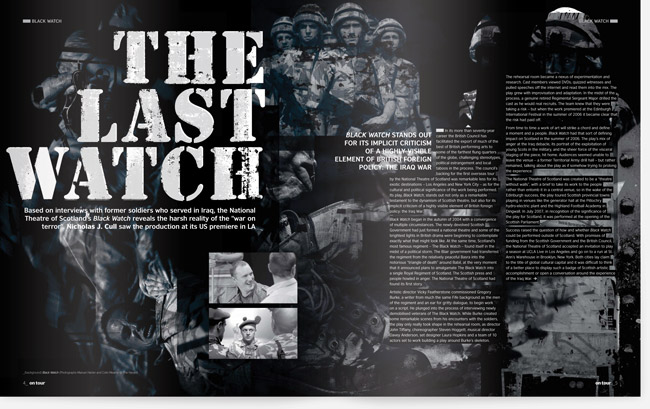 Other articles included a review of an international dance conference, featuring many of the choreographers and dance companies that we'd featured in articles through the years.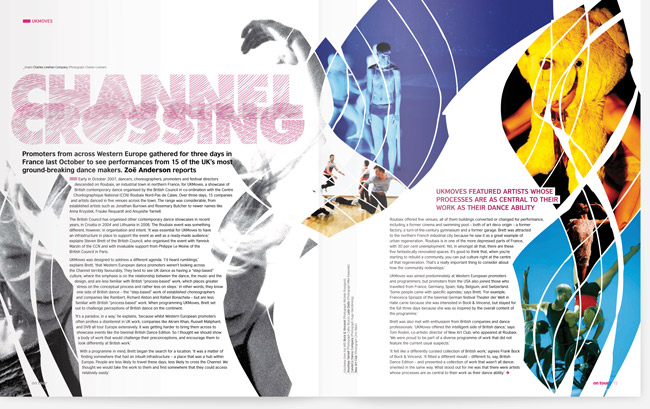 And the next generation of performance makers (Gecko, Stan's Cafe and Lone Twin) as they presented their work at the biannual British Council showcase in Edinburgh.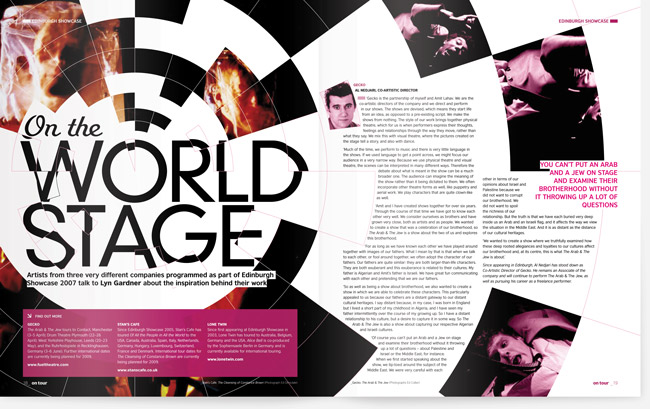 I'm hugely proud of this body of work. We were lucky to be given a relatively free reign to indulge ourselves, to experiment with layouts and push at the edges of what the software, hardware and printing technology was capable of back then.
Thinking back, I'm sure I wasn't aware of quite how important and influential the magazine was in the cultural world. It's been particularly gratifying to see how many of the featured artists now appear on our client list.
Thank you to the British Council for such a great few years. If you ever want to get together for a comeback publication, we'd love to do it; I think the cultural sector is crying out for a publication, just like this one.