The Fourth Plinth is an ongoing artistic competition with artists submitting ideas for ways to fill the empty monumental plinth in Trafalgar Square. In 2008, artist Antony Gormley's submission was chosen. Then titled One and Other, his vision was a living portrait of Britain, elevating people to this pedestal reserved for Kings and Generals – the artwork would run continuously for 100 days, with each person given an hour on the plinth.
The job of fulfilling this seemingly impossible task rested with the event producers, Artichoke. We'd previously worked with them on the incredible Sultan's Elephant event so they turned to us to provide support for this project.
We began work nine months before the project launched (and long before press interest kicked in). Our challenge was to produce materials that would maintain the artistic integrity of the project (to a gallery and cultural press audience) whilst needing to attract thousands of participants from the full geographic area of the UK.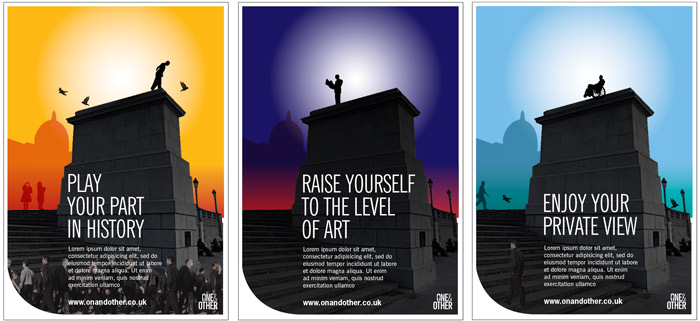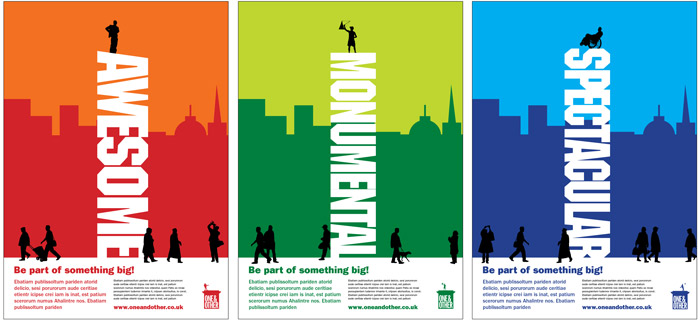 Our initial approaches were illustrative and aspirational. The concepts and copy were all about being a part of this historic event. Whilst there was something charming about the silhouetted figures (which felt reminiscent of Gormley's sculpture work) the illustrative approach felt too detached and cold. So, amongst many other ideas, we began exploring routes that used photography.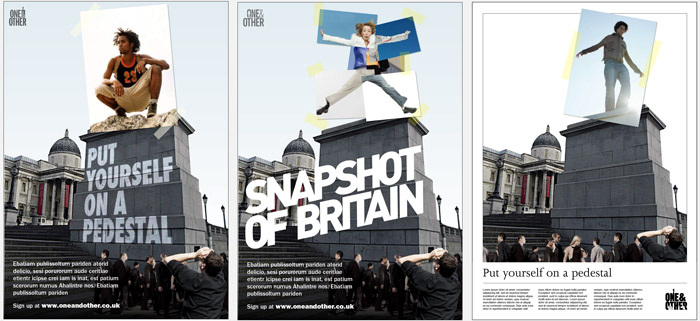 We needed an approach that 'spoke' directly to the public, with an 'it could be you' type message. We came across an amazing picture of a woman, in front of a beach-hut, that fitted our thinking perfectly. From then on, we knew we had the right solution, we just needed to put all the other elements together to make it happen.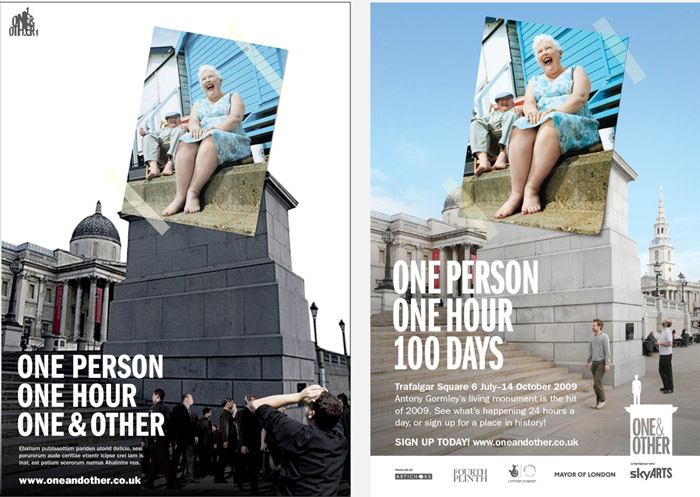 Alongside the campaign concepts we were also working on logo ideas, mindful that our solution would become the marque used across all media. With Gormley's permission, we quickly replaced the 'and' of the title for an ampersand.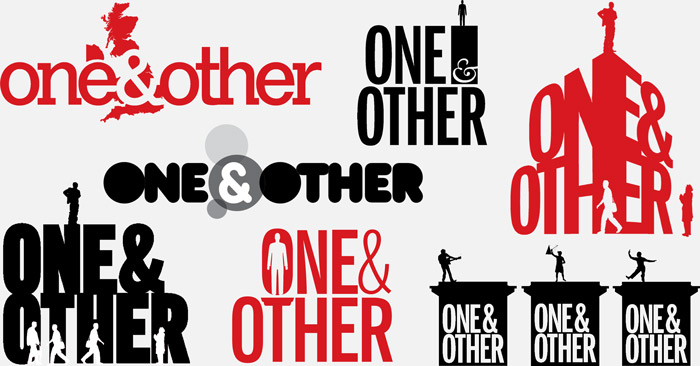 Through trial and error we came up with the idea of a flexible logo that would feature multiple people on top of the plinth. We created dozens of silhouetted characters, each was personally approved by Gormley. It's amazing how much personality can be conveyed by such a small, simple outline.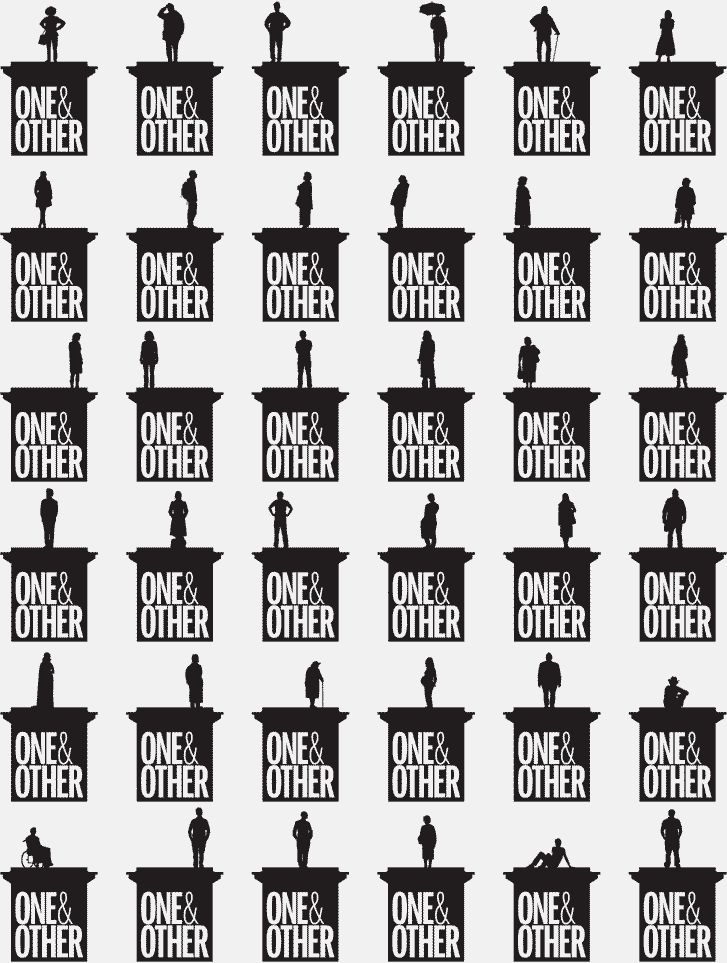 Still in the depths of winter, our next task was to create the photographic setting for our summery campaign concept. With little time or budget, we took the photos ourselves and many of us featured in the final designs – we also had to deal with the problem that the plinth still contained the previous Fourth Plinth incumbent, the brightly coloured Model for a Hotel.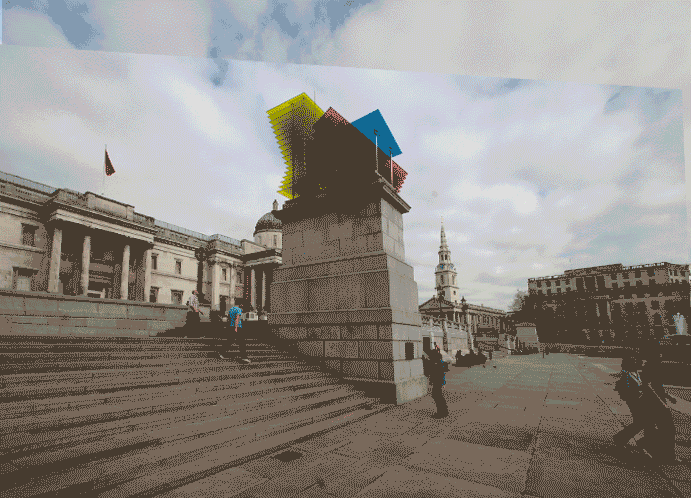 The first use of our visuals was at the press-launch for the project. Being there provided a small glimpse of how intense the pressure must be on an internationally recognised artist, with photographers and journalists swarming around Gormley.
Within days our imagery had been picked up by the papers (the internet was still in its news-spreading infancy) as we continued to create a sign-up campaign for participants – we still had no idea whether anyone would be interested in taking part.
We created our own snapshots of society through stock-imagery, photos we took ourselves and some pooled from friends and family. The campaign featured in nationwide local-press ads, postcards (sent in batches across the country) and posters, both printed and downloadable from the website.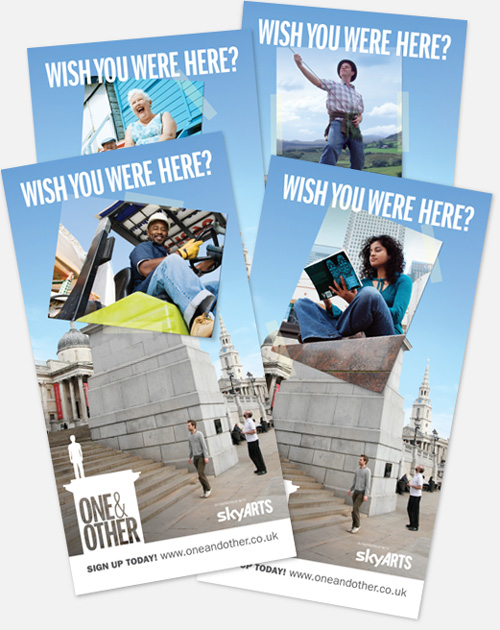 We were also part of the team behind the event's website. This was a campaigning tool and would also become the platform for the live-streaming of the event. The site was archived by the British Library and all 2400 hours of footage are still available via their portal.
"You were, as always, magnificently accommodating, and stylish. It was an undeniable success. Everyone at Cog was brilliant and deserves a huge pat on the back. Thank you all".
Much to our relief, the campaign proved to be hugely successful with 34,000 applicants for the 2400 places. Their details were split by postcode and put into a ballot, with participants chosen as random.
But our job wasn't over. We continued working on all of the ongoing communications, the graphics for the on-site broadcast hut, the staff t-shirts, invitations and banners for special events etc.
As the event approached we also produced the pack that was sent to all chosen plinthers. Included in the pack was a small booklet, personalised by hand, building a relationship with them, reminding them of their commitment to this once-in-a-lifetime event (and ensuring that they would turn up to their slot, even if it were at 3am).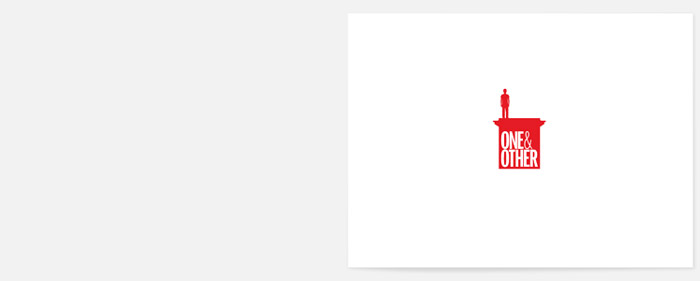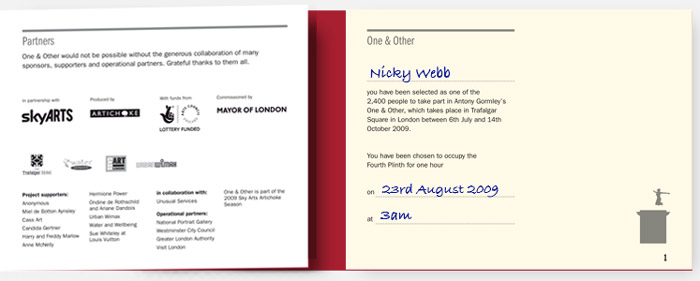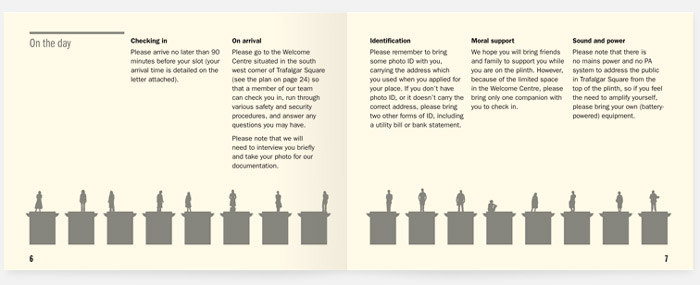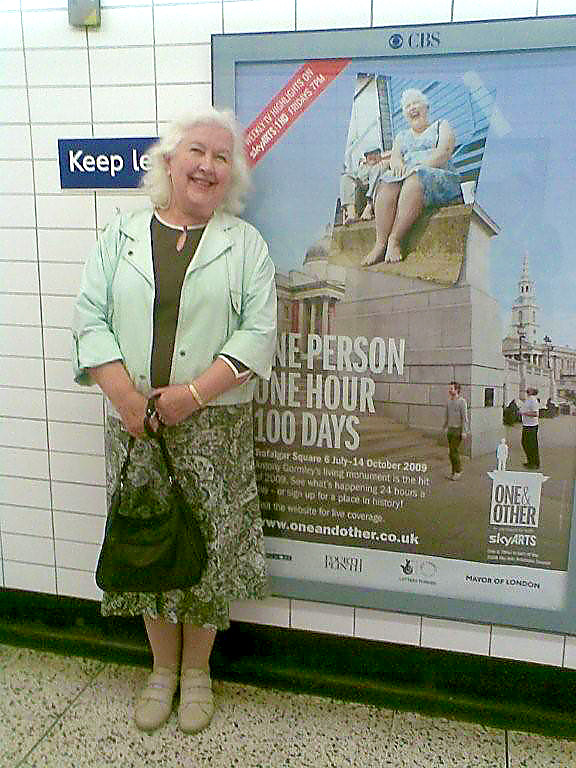 One lovely twist for us was an email we received from our clients saying that they'd been contacted by the smiling woman from the beach-hut photograph.
She sent in this snap of herself in front of one of the campaign posters.
We were hugely proud to have played a part in this important cultural event. And I also got to play an even more personal part as I was one of the people chosen to take my place on the plinth. Perhaps I'll write an entry about that experience sometime soon.