It's been a year since we locked up our Greenwich studio, not knowing when we'd be back, and started working from home.
Our studio has always been a really important part of how we work. We enjoy sharing the open-plan space with each other and we benefit from the collaboration and camaraderie it provides. Over the fifteen years that we've been based at our studio, we've made it a great place to work, a welcoming place to visit, and a sustainable place to run.
So making the necessary shift to working remotely was no mean feat.
One of the aspects of studio life that we were determined to keep going was Everyday Cog. We've taken a photo of studio life every working day since 2011. We weren't going to let a closed studio get in the way of this unbroken streak.
Using one photo from each month of the last year, here's the story of Cog in lockdown.
March
March 2020 was a peculiar month. Covid-19 cases were starting to rise, public health advice encouraged us all to wash our hands thoroughly, commutes and supermarket shelves got emptier.
We began to make preparations to work remotely, moving our servers to the cloud, checking that everyone had the kit they needed at home, and rushing to the Apple store to buy laptops and cables.
On 17th March 2020 we spent our final day in the studio, which mostly involved locking and unplugging as much as possible as we prepared to leave the studio indefinitely.
The first few days of working from home were strange and at times fraught, but we found ways to make it work. We improvised desks and downloaded a piece of video conferencing software called Zoom. We even welcomed a new team member, our designer Emma, who joined us on our very first day of remote working.
Emma was the first of three full time team members who joined us in lockdown. In April Alex joined our digital team. And in October we welcomed back Kristina, who interned with us in 2019, as a designer.
April
We were fortunate enough to have lots to be getting on with in the early weeks of lockdown. In April we launched our first website from home: a new site for the Belgrade Theatre. Michael had the foresight to bring our special website launch button home with him, otherwise we would have found ourselves in a sticky situation.
Since then, in the last year, we've launched sites for Horniman Museum & Gardens, The Crystal Maze LIVE Experience, and Nottingham Playhouse, to name just a few. All during a global pandemic.
May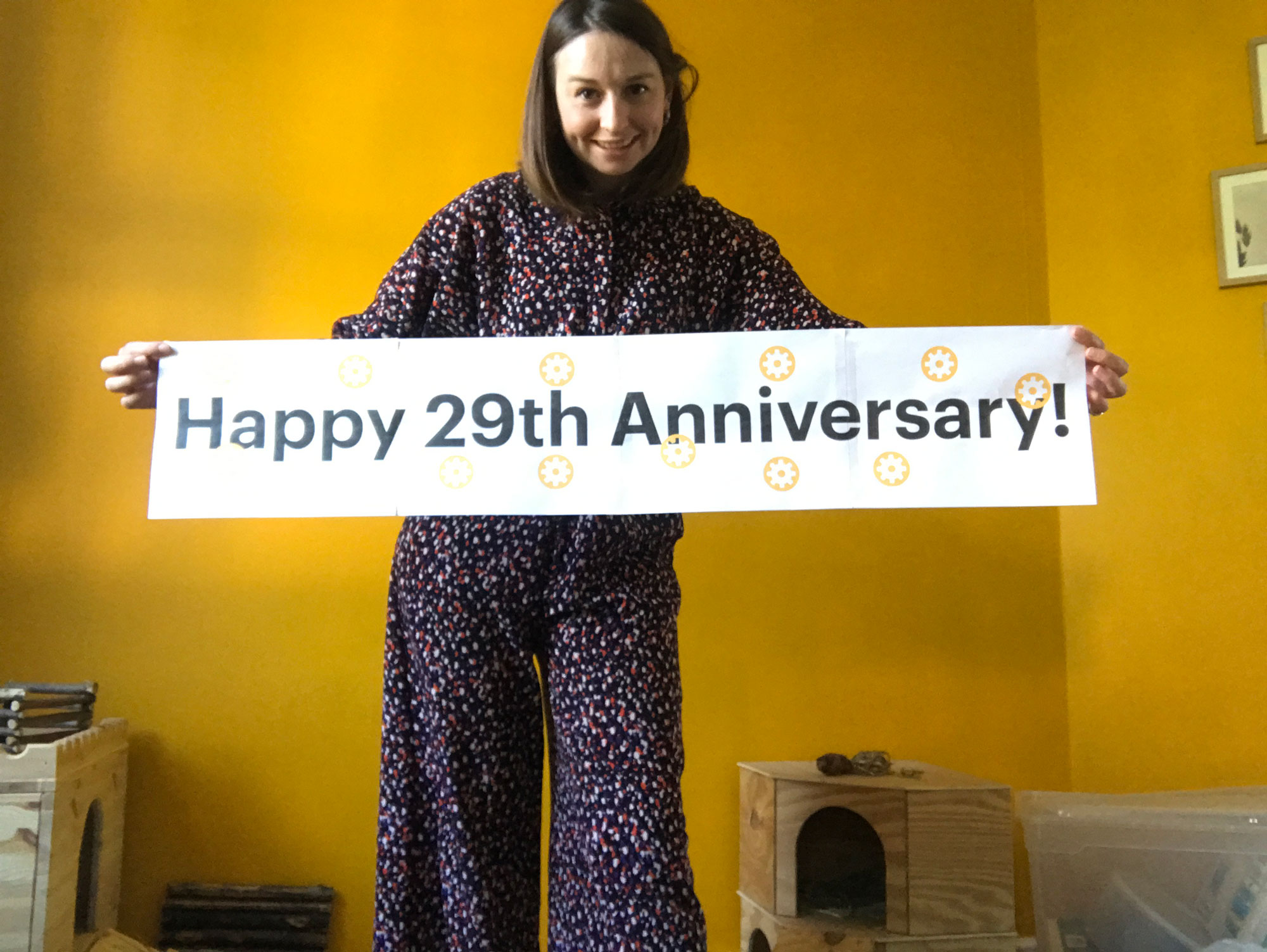 Cog turned 29 in May. Like many other lockdown birthdays we celebrated by meeting on Zoom and ordering takeaway.
Our annual discussion day, which we held on our anniversary, was a great opportunity to check in about the ongoing uncertainty and work out new strategies to help to support our clients.
June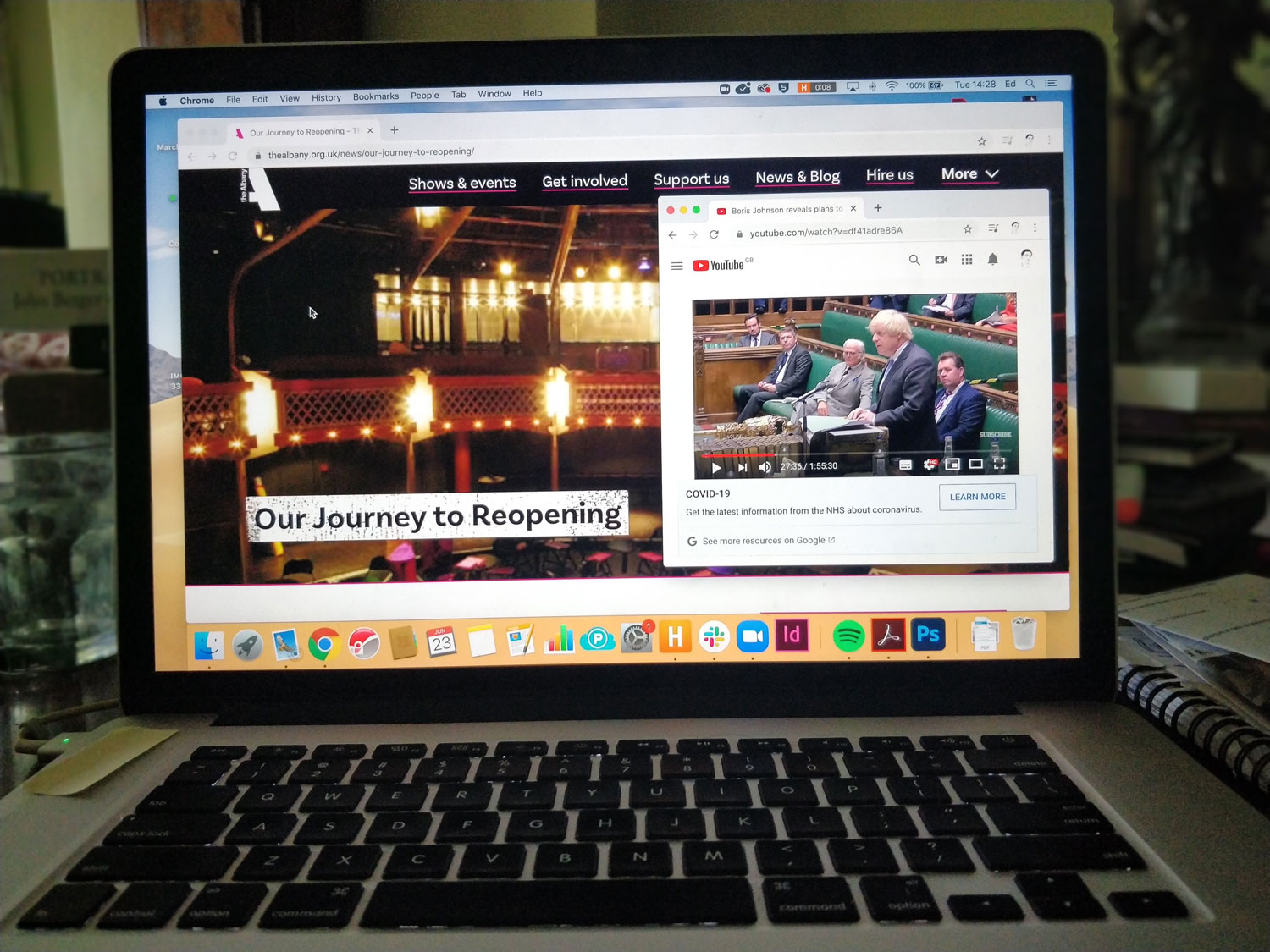 As spring turned to summer the pandemic started to show signs of lessening. The government laid out a roadmap to decreasing lockdown restrictions and arts venues made tentative plans to reopen.
Throughout June the lobbying work of so many leaders in our sector began to come to a head and at the start of July the Culture Recovery Fund was announced.
July
With the lockdown starting to lift, we began to make plans to return to the studio. We consulted government guidance, wrote risk assessments, and planned socially distanced seating.
During our time at home we entertained each other with collaborative playlists of stuff we'd listened to in the week. Some of July's offerings have a bit of a festival feel.
August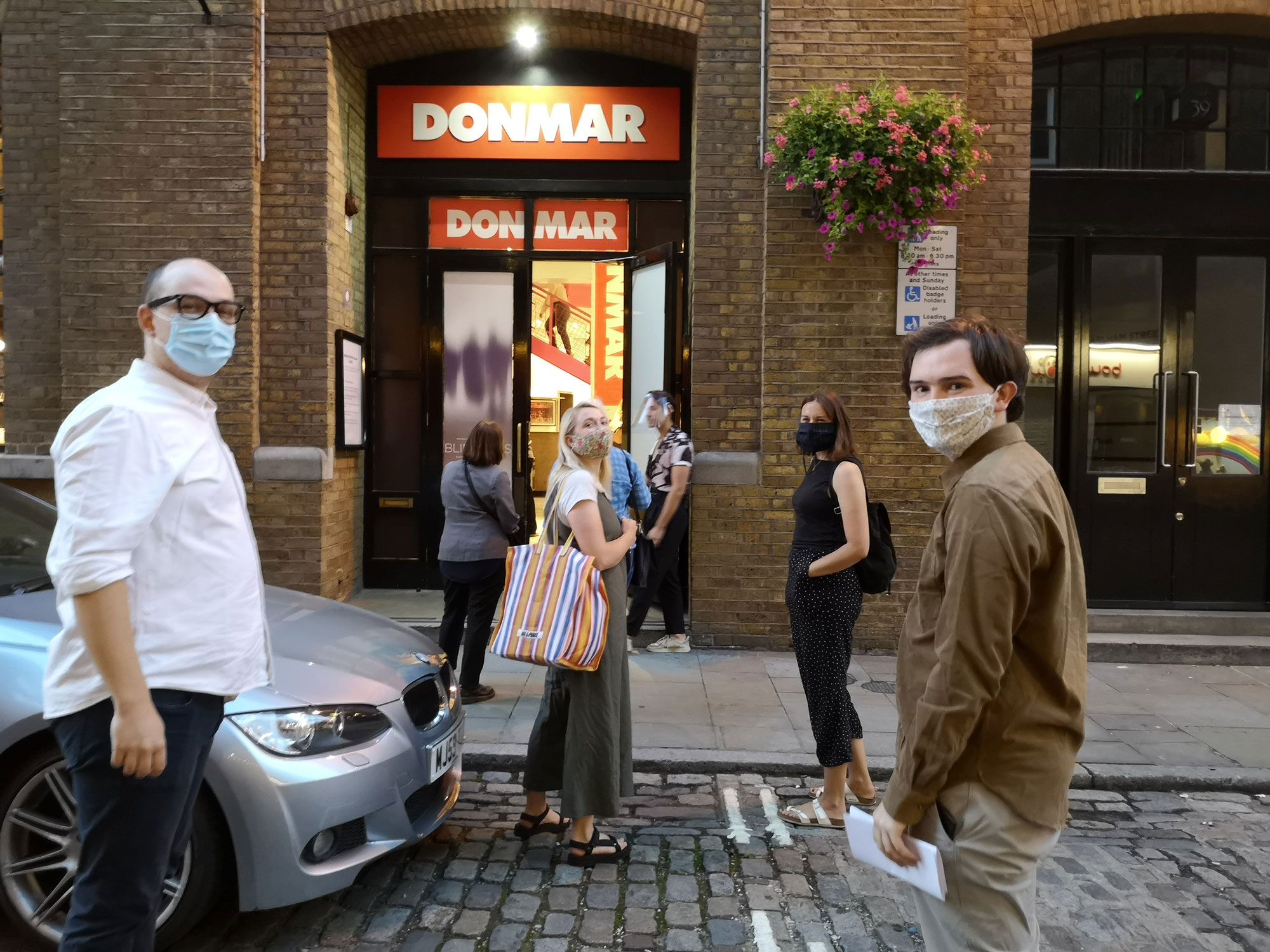 We reopened our studio in August after being away for almost five months. There was gallons of hand sanitiser and lots of social distancing, but it was great to be back.
On a warm summer's evening we went to our first in-person Cog Night together since March. We saw (actually, 'heard' is a more accurate word), Blindness at the Donmar Warehouse. It was thrilling to be in a theatre again and the show was brilliant.
September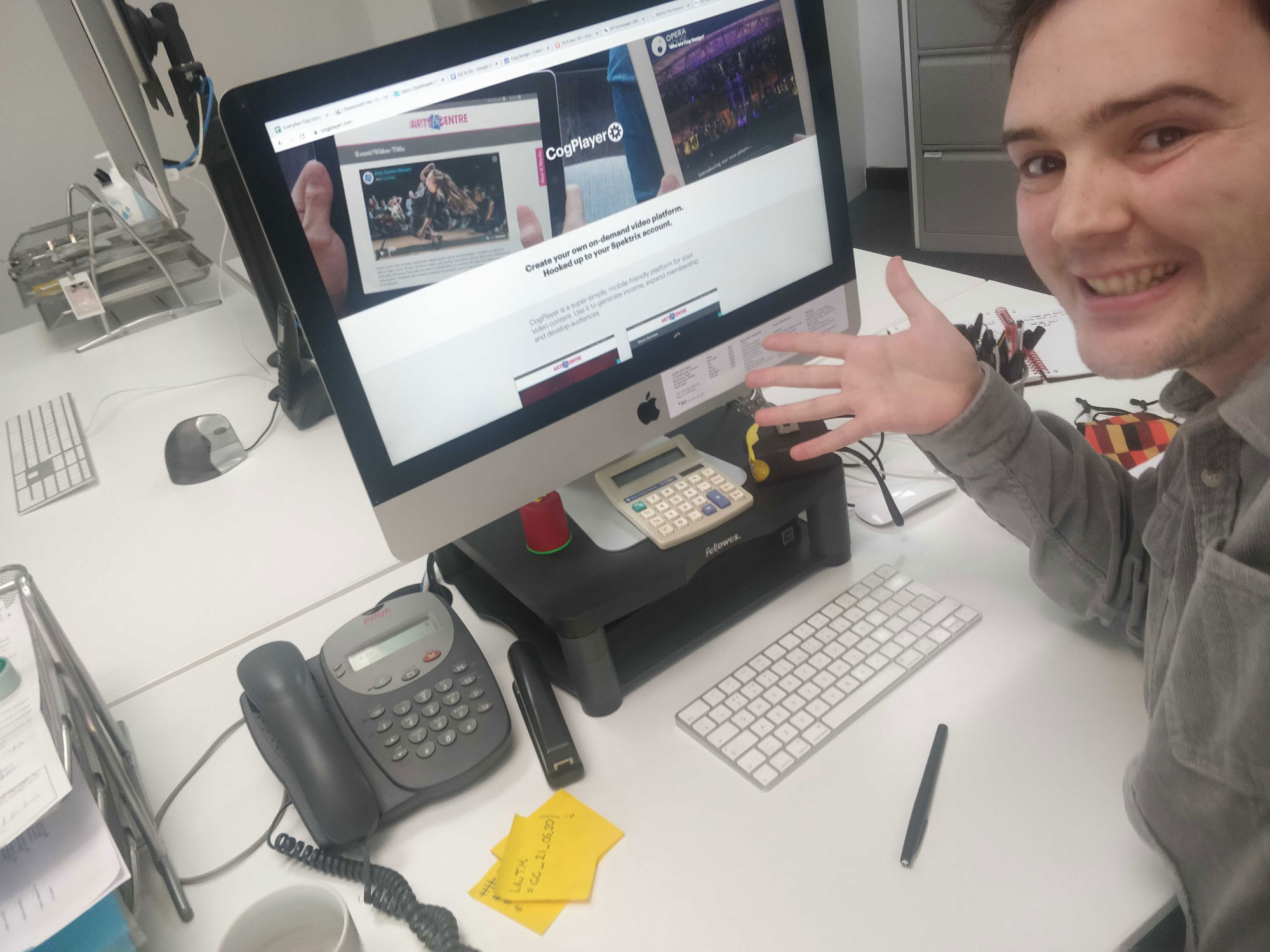 Throughout the last year we've worked with arts organisations to help them reach their audiences digitally. We set up an online paywall for the Bournemouth Symphony Orchestra (working with Spektrix), that helped them sell over 15,000 tickets to live-streamed performances.
We created an on-demand video platform for the Orchestra of the Age of Enlightenment, making the most of features introduced by Tessitura, to deliver boundary-pushing music.
We've also done some pretty sophisticated work with English National Ballet to launch two sister channels: Ballet Active for classes, and Ballet On Demand for performances.
In September we launched our first digital product, CogPlayer, which enabled arts organisations around the world to share brilliant digital content with their audiences via a Spektrix paywall.
In the months that followed we've set up CogPlayers for Royal Court Theatre, Manchester International Festival, Royal Lyceum Theatre, Northern Stage, New Wolsey Theatre, The Mill Arts Centre, Lichfield Garrick Theatre, in the UK and Caramoor Centre for Music and the Arts, Cincinnati Shakespeare Company, 59E59 Theatres in the USA.
October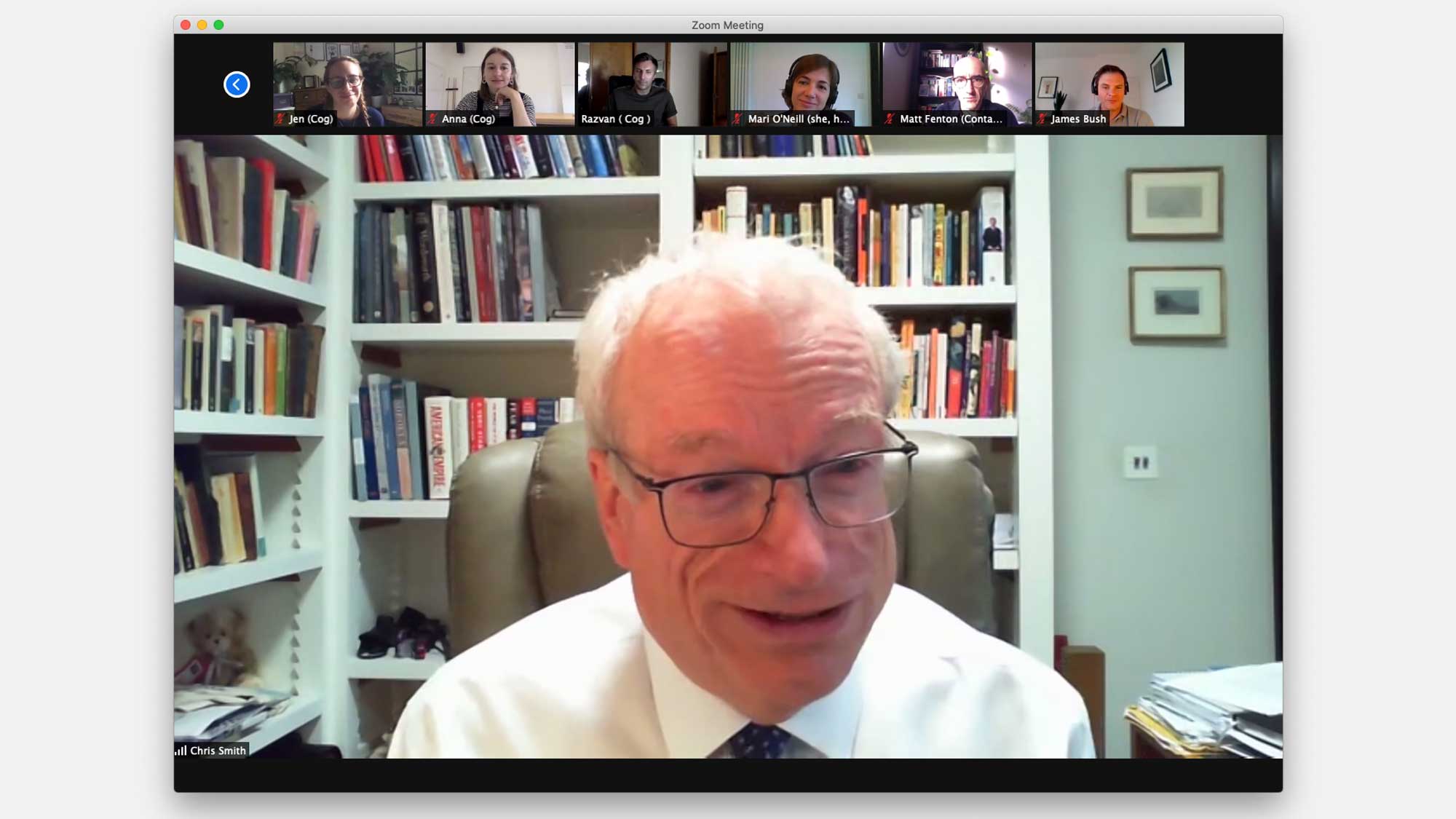 Our fortnightly breakfast briefings have been great opportunities to chat to interesting guests from the worlds of the arts, design, tech and beyond. We moved them online during the first lockdown, where they've flourished.
In October we were joined by former culture secretary and champion of the arts Lord Chris Smith. It was fascinating to talk to Chris about advocating for investment in the arts, the future of our sector, and his impressive career. Michael has written a summary of that session elsewhere in our journal.
We've spoken to so many brilliant breakfast briefing guests over the last year. We've heard from friends and clients about their experiences of staying afloat during the pandemic. And we've chatted to inspiring arts leaders, former colleagues, brilliant designers, and ticketing experts from Spektrix, Tessitura, and Ticketsolve.
We've enjoyed our breakfast briefings so much that we now invite guests along to hear what our speakers have to say.
If you would like to lead one of our sessions, or join us to listen to our speaker and ask questions, do get in touch.
November
By November cases were on the rise again and we were back to working from home.
This didn't stop us from going ahead with our annual Bake Off. The rules were slightly different this year because we couldn't taste all of the various creations. So we judged the bakes entirely superficially (much like the actual show, I imagine).
You can see some our creations on Instagram.
Emi was crowned this year's Bake Off champion for his impressively decadent layered sponge cake. Jen won our 'people's choice award' for picking up the most likes for her chocolate and hazelnut loaf on Instagram.
December
As the year drew to a close we attended a couple of online conferences. You can read Alex's takeaways from Culture Geek elsewhere in our journal. We hosted a Zoom-based cocktail mix-along at the Arts Marketing Association's Festival of Arts Marketing. This was a great chance to catch up with arts marketers after a year like no other.
There were some brilliant sessions at the Festival of Arts Marketing. We heard from arts leaders Cath Hume, Amanda Huxtable, James Mackenzie-Blackman and Sarah Ogle about the challenges of steering their teams through the pandemic. And Bonnie Turnball, from HOME in Manchester, talked about their journey to reopening.
We were working hard right up until Christmas Eve, helping theatres across the UK put on virtual pantos for housebound audiences.
But we found time to send out a bumper cultural calendar full of great recommendations. And to enjoy a Christmas Cog Night, watching James Acaster's stand up show Cold Lasagna Hate Myself 1999.
January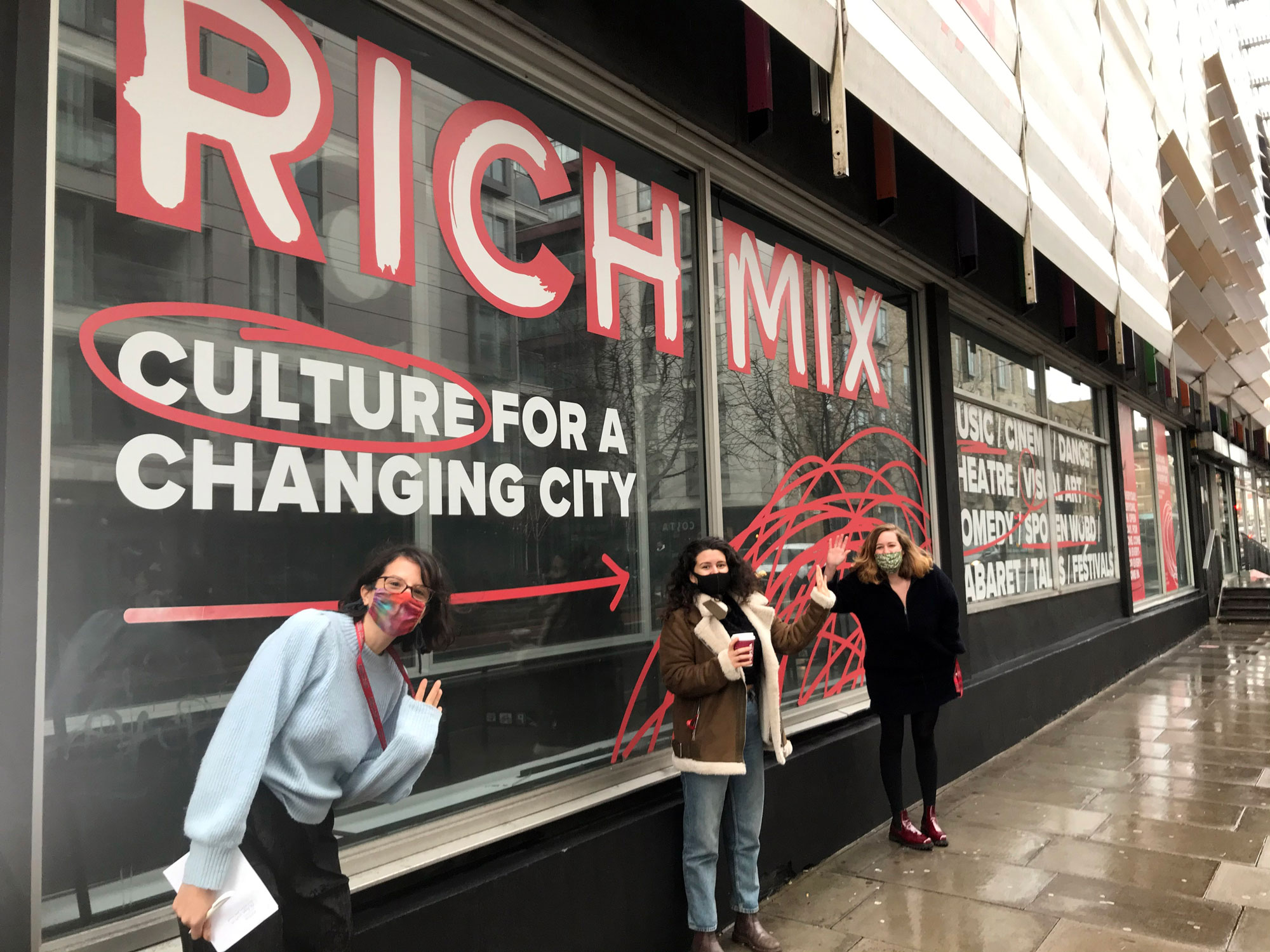 Despite yet another strict national lockdown we hit the ground running this year. We got to work on exciting new website projects, and held some large discovery workshops on Zoom.
Michael shared his cultural highlights of 2020 which include a great overview of the Cog Nights we enjoyed, among other things.
And Anna visited an actual arts venue, despite the lockdown. She went to Rich Mix to get a sense of the best way to update their signage, following the rebrand we did for them a few years ago.
February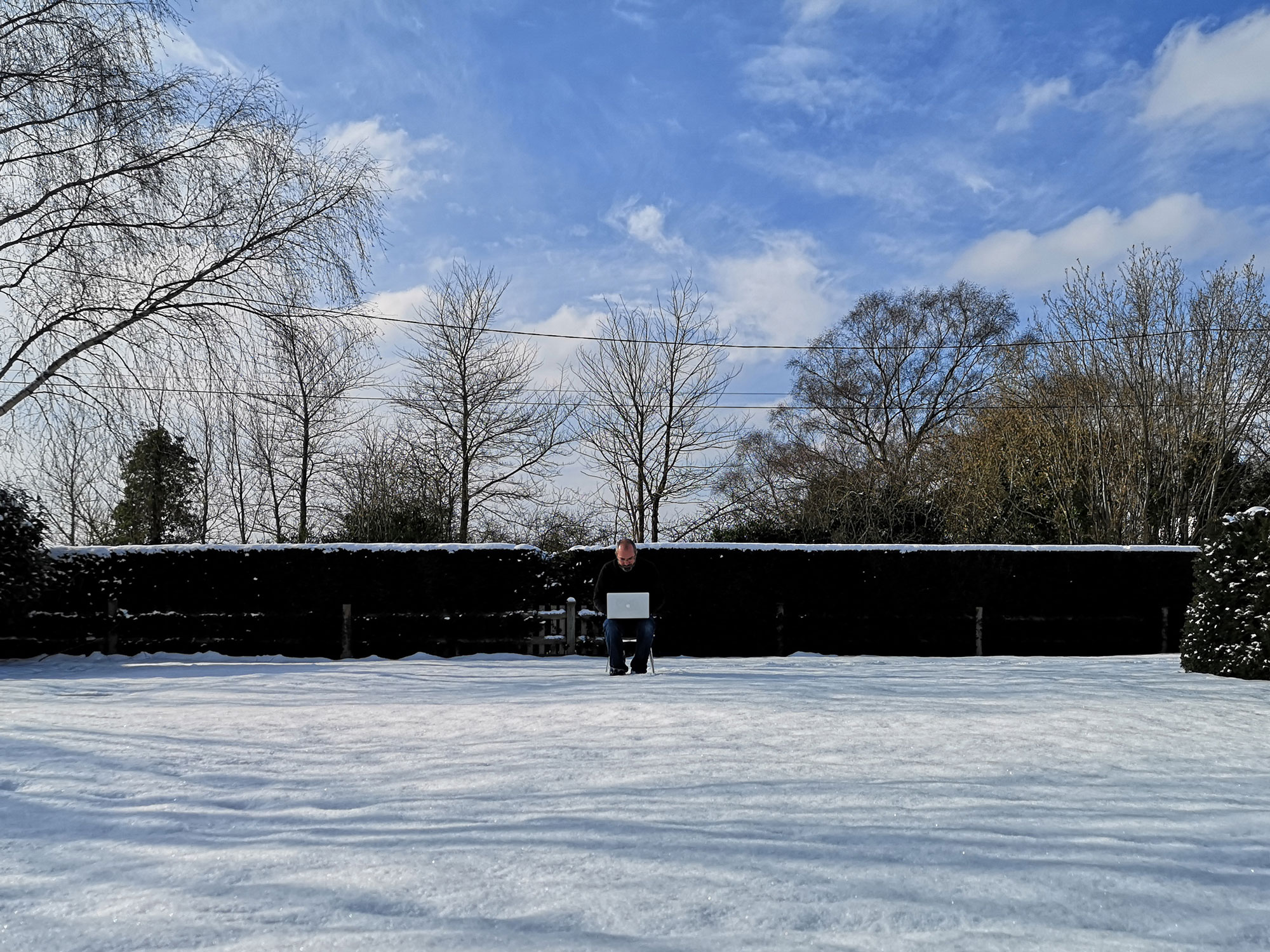 February was cold, but that didn't stop Michael getting to work in his snowy garden.
Last month was only four short weeks but we packed a lot in. We even welcomed a new team member, Helene. We got to know Helene when she was working at The Marlowe Theatre. She's joined us to take over the day to day running of CogPlayer.
March (again)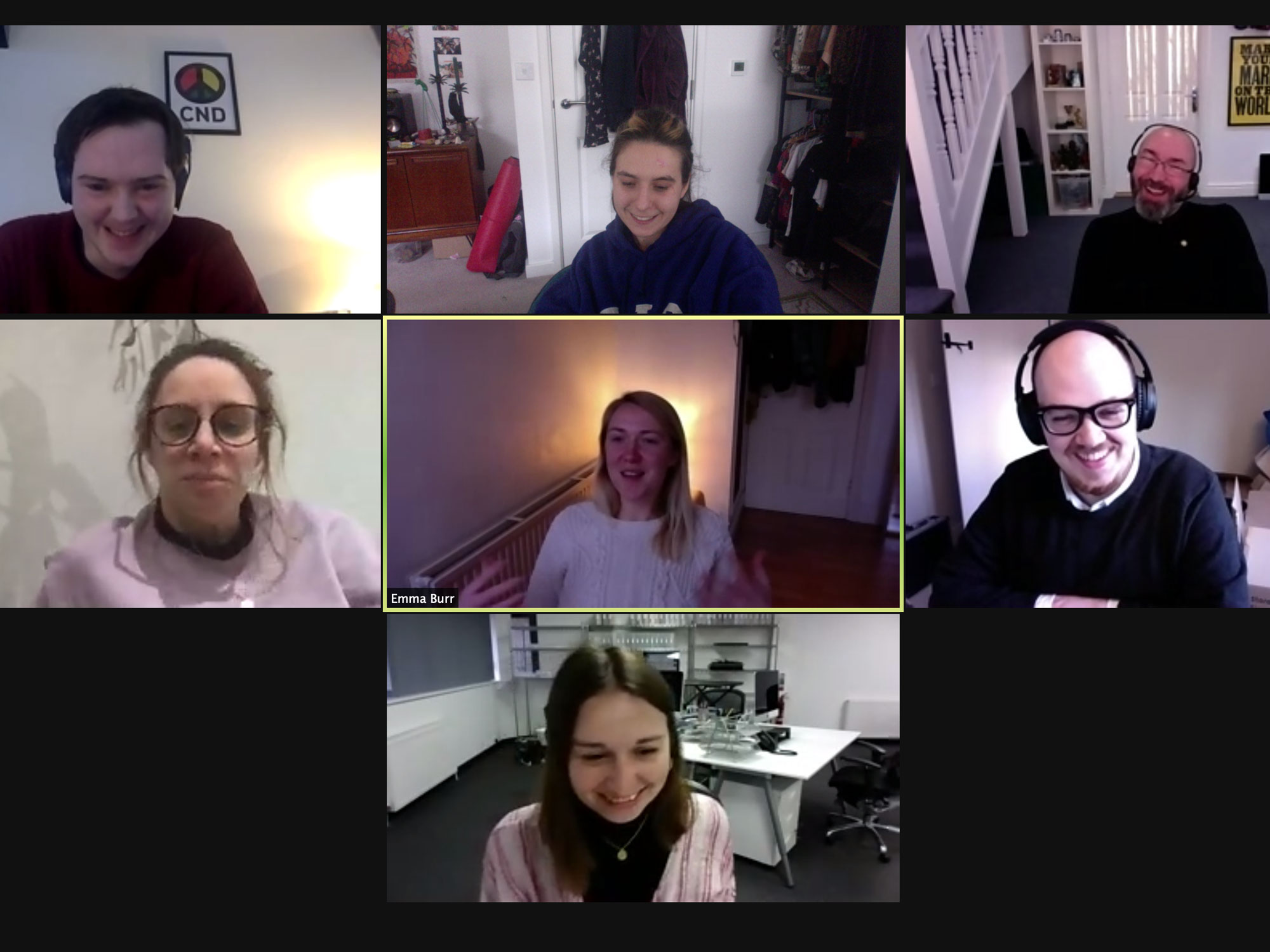 …and now we're back in March again.
Looking forward to the year ahead, there's lots to be hopeful about. The vaccination programme seems to be a success, cases are coming down, and it looks like arts organisations will be able to reopen in the summer (fingers crossed).
At Cog we're excited to help arts organisations start to come out of lockdown. We're working on some fantastic projects with existing and new clients. And we're expanding our digital team. We celebrate our 30th anniversary in May: who knows, we might even be able to do that in person.
---
The end of the pandemic appears to be in sight, but we know that we're not out of the woods yet.
If you would like to chat to us about what we've learnt over the last year and how we can support your organisations do get in touch. We're here to help.