From the beginning, it was clear that Peter wanted the website to feel accessible to people inside and outside of the classical music industry, and having just been appointed as Guest Conductor at the Dallas Opera, it also needed to appeal to an American audience.
We were given an open brief to design a website that was easy to navigate, elegant, distinctive, and engaging for US visitors. We worked directly with Peter to establish an individual aesthetic that brought a modern quality to the largely traditional world of classical music websites, while using full screen, colour treated photos across the site to set a consistent tone of voice.
As part of the website process we designed a visual marque for Peter, which formed part of the identity of the site, along with clean typography, and simple navigation (which is always reachable in the menu that sticks to the top of the page).
It has been a joy to work directly with Peter on this project, and we are incredibly proud of the results.

Becca Muir
In order for the website to resonate with an American audience, we collaborated with Peter to carefully curate his content; including an interactive timeline which illustrates his impressive career, and select photos that include key London landmarks to place Peter in Britain – where there is a tradition of great classical music.
Whilst gathering content it became clear that video content would hold an important place on the site, and with YouTube the video channel of choice in the US, it would be a significant channel of communication for Peter, so we widened our remit to ensure continuity between the website and his YouTube channel.
Thoughtfully worded content, along with a responsive (mobile friendly) design, ensured the website would rank high in search engine results.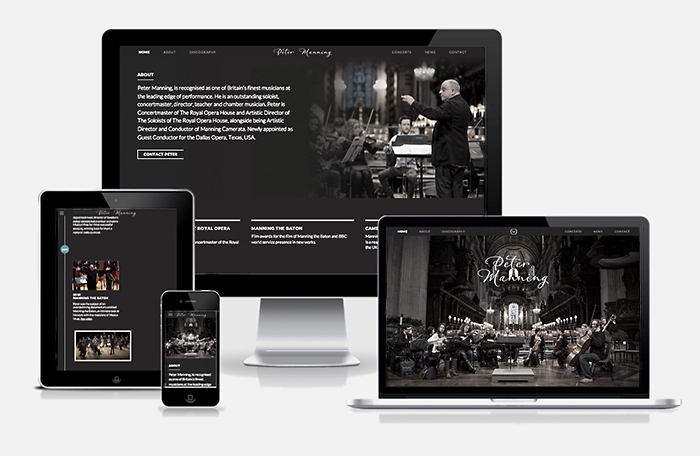 With a refined look and feel decided on, we were then able to deliver a fully responsive site, featuring upcoming events and news, as well as an interactive timeline of Peter's career, and the functionality to add sound clips of recordings, alongside links to purchase albums.
Launched: May 2015
CMS: WordPress
Visit: www.petermanningconductor.com