Rich Mix is a multi-space arts venue and multi-screen cinema in London's East End.
It offers a hugely varied programme of live music, theatre, dance, film, visual art and educational events. It also provides a creative home for artists and resident creative enterprises as well as serving as a community hub for a socially and ethnically diverse local audience.
Its overarching aim is to build links between the arts and the local community to bring people from East London into life-changing contact with the arts. It's a wonderfully diverse, relaxed and creative place.
The management team at Rich Mix were clear that they needed a quick overhaul of their website, a way to resolve the complexity and simplify the ticketing integration that a previous website project had introduced (only a year or so before). Through a credentials pitch process, we were appointed to make that happen.
We started the process by meeting with the senior management team to scope out the project and learn more about the future ambitions of the venue.
Then we set up workshops and discussions with the staff teams. We involved as many people as we could, to get a broad overview of the challenges and opportunities from across all areas of the organisation.
As well as a desire for a much smoother booking journey, other recurring themes emerged in the feedback, particularly around the existing logo and brand.

Although the logo was reasonably well recognised, it didn't work well in digital environments, and the branding didn't convey the confident, gritty values of this vibrant venue. And nobody could remember why the lines of the X were extended.
In order for the website project to be a success we decided that we needed to work with our clients to overhaul their branding and messaging at the same time. Marketing Director Jen Bartle saw the need for change and we worked closely together to make the reasoned argument for that extra investment (of time and emotion as much as money).
After an extensive design process we settled on a solution with a layered combination of typeface and handwritten type. This subtly, but effectively, reflected Rich Mix's duality – a high quality professional arts events in London's vibrant Shoreditch, and a welcoming community hub for the ever-evolving local population (represented by the handwritten type).
Alongside the visual identity, we worked with their team to develop the branding concept of Culture for a Changing City.
---
Rich Mix's new website went live with a user-friendly portal that delivered on functionality and incorporated a strong graphic treatment throughout – bold typography, dynamic images, hand-drawn visuals, animation and interactive elements.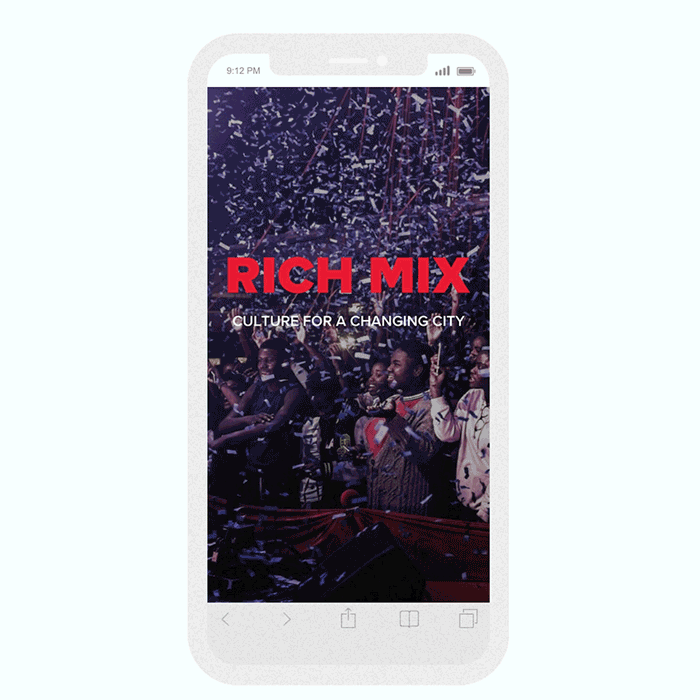 Key features of the site include: quick booking for cinema audiences; live events displayed in themes and festivals; large imagery and clear information for hires; and a modular system that allows for fundraising messages to be interspersed between the content (rather than hidden in a separate section that nobody visits).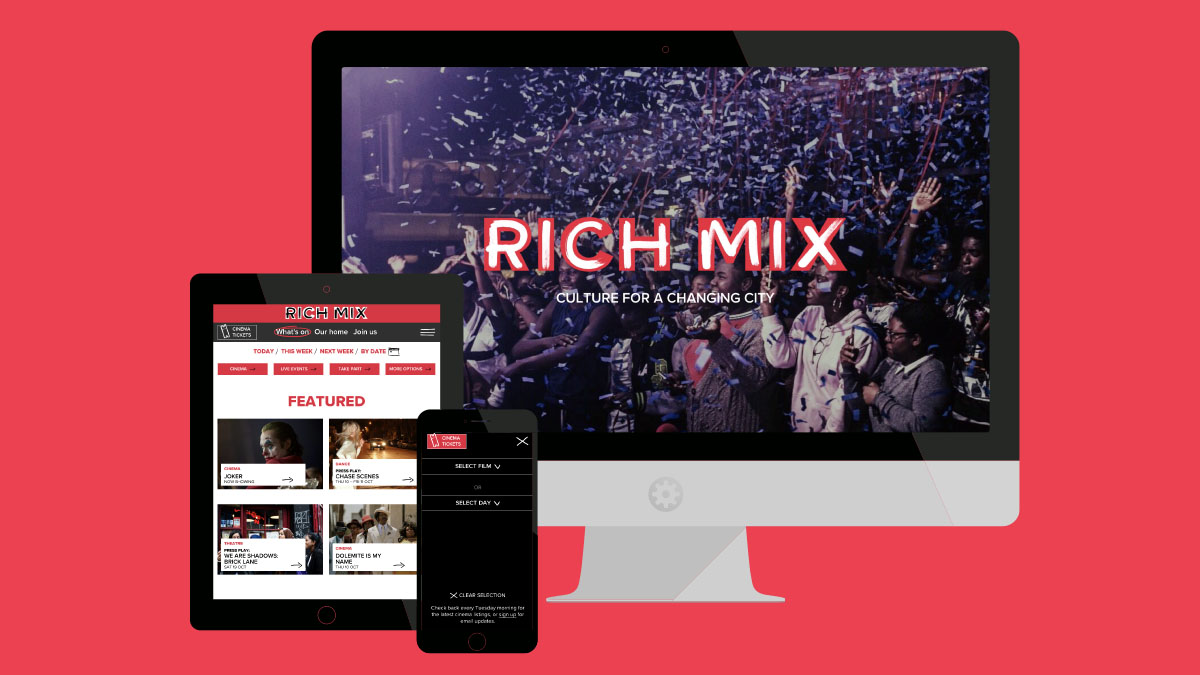 In our research we discovered that those booking films would prefer quite a different and quicker process than those looking for information about live events or gigs. We developed a quick system to bring them into the booking process without going through to a full event page. It allows booking via dates or choice of film to give users lots of choice.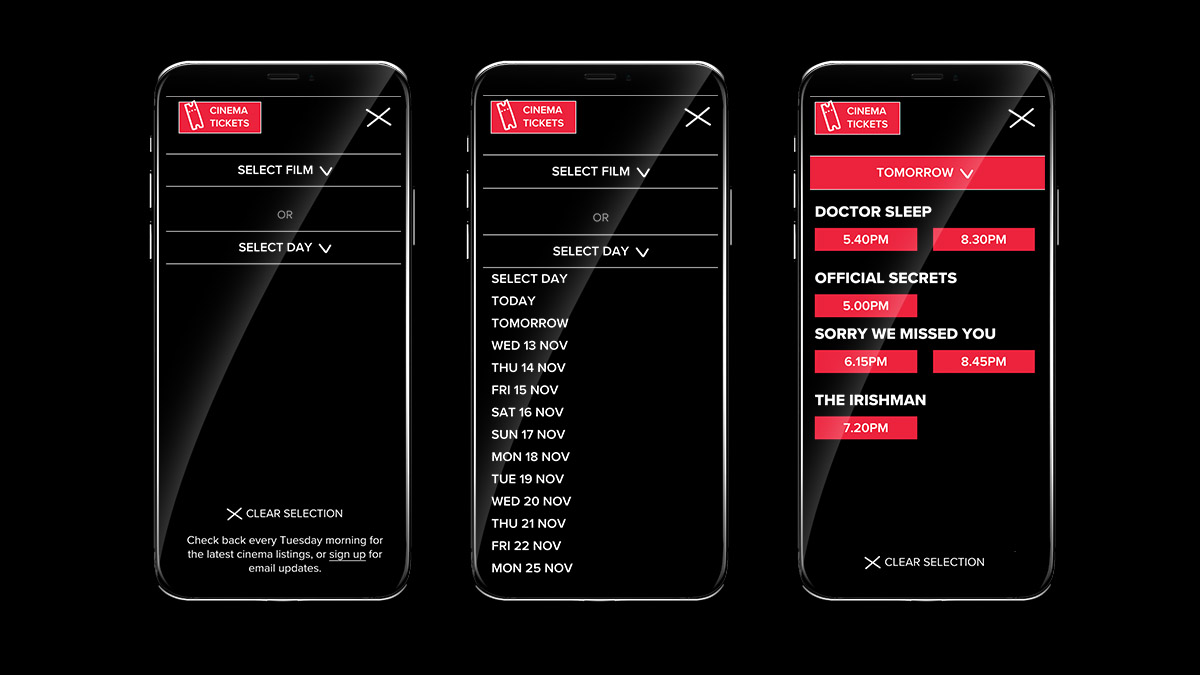 Over several months the new identity was also rolled out across a range of other uses, including window vinyls, billboards, media advertising and merchandise, creating a highly effective visual language that could be used across every touchpoint in the organisation.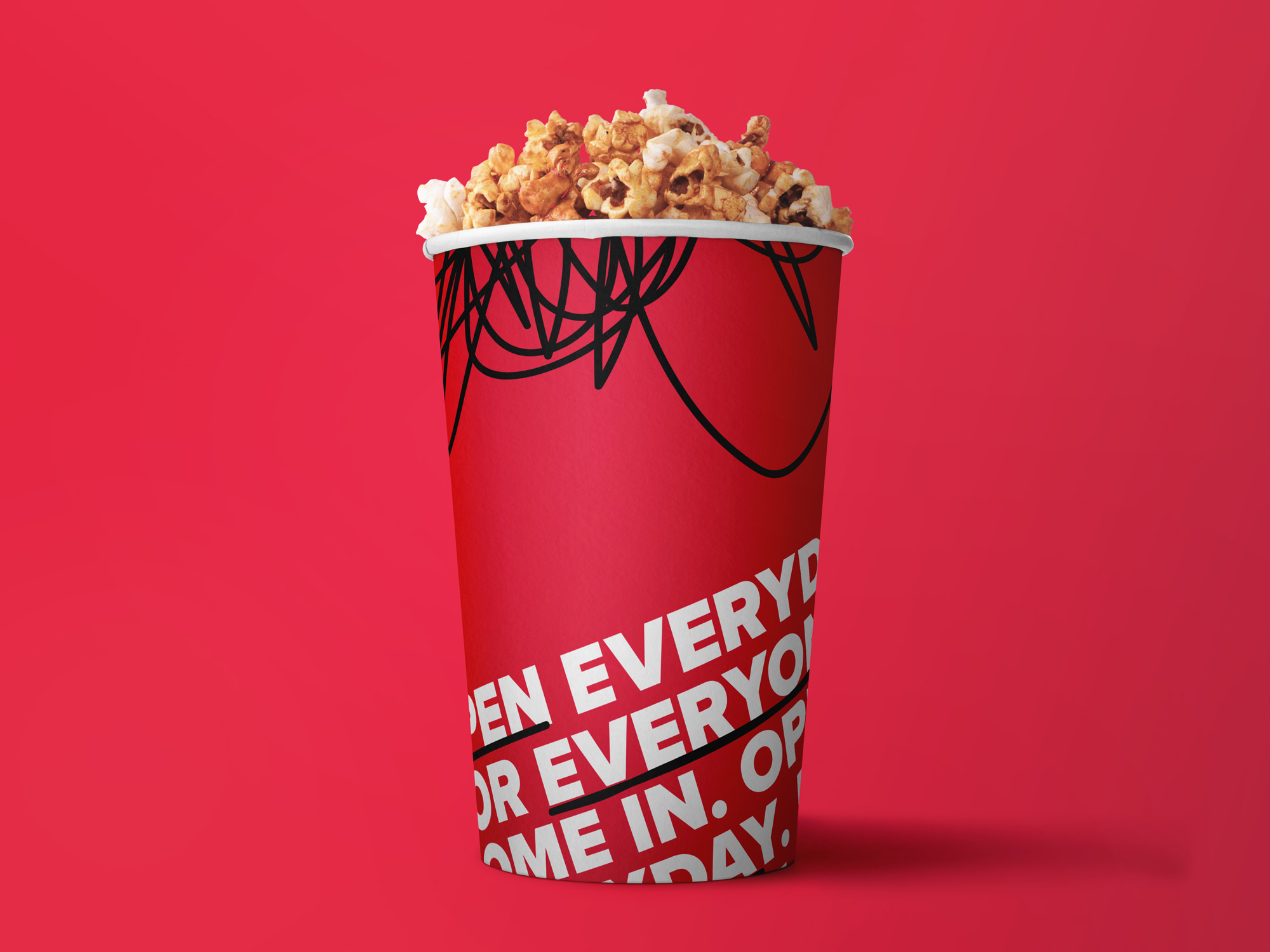 Rather than fighting against it, the new brand embraces the messy, gritty nature of a busy venue in one of the most vibrant areas of the capital.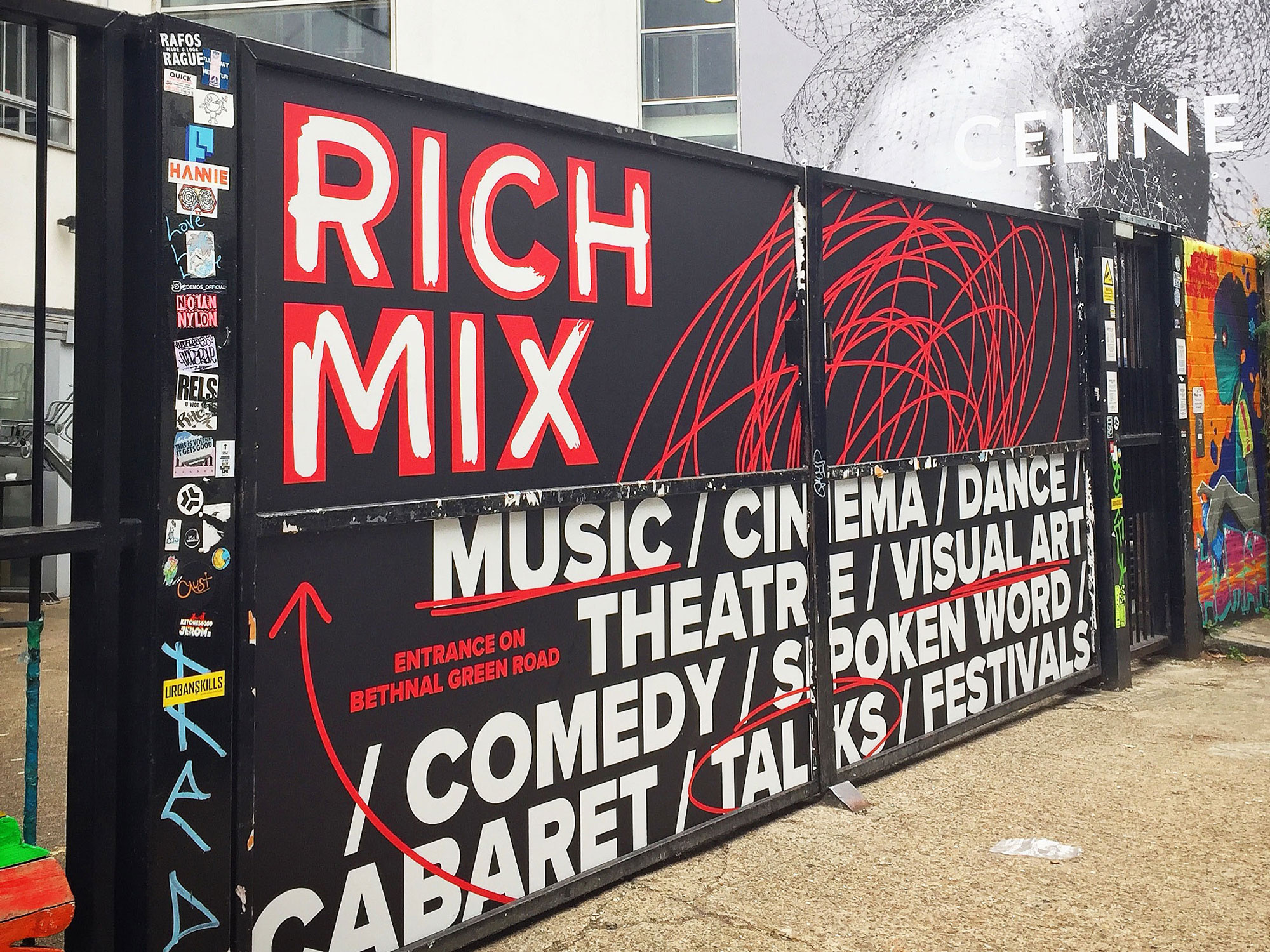 And, from a practical perspective, we delivered a suite of tools, guidelines and templates so our client can produce all of their marketing materials in-house.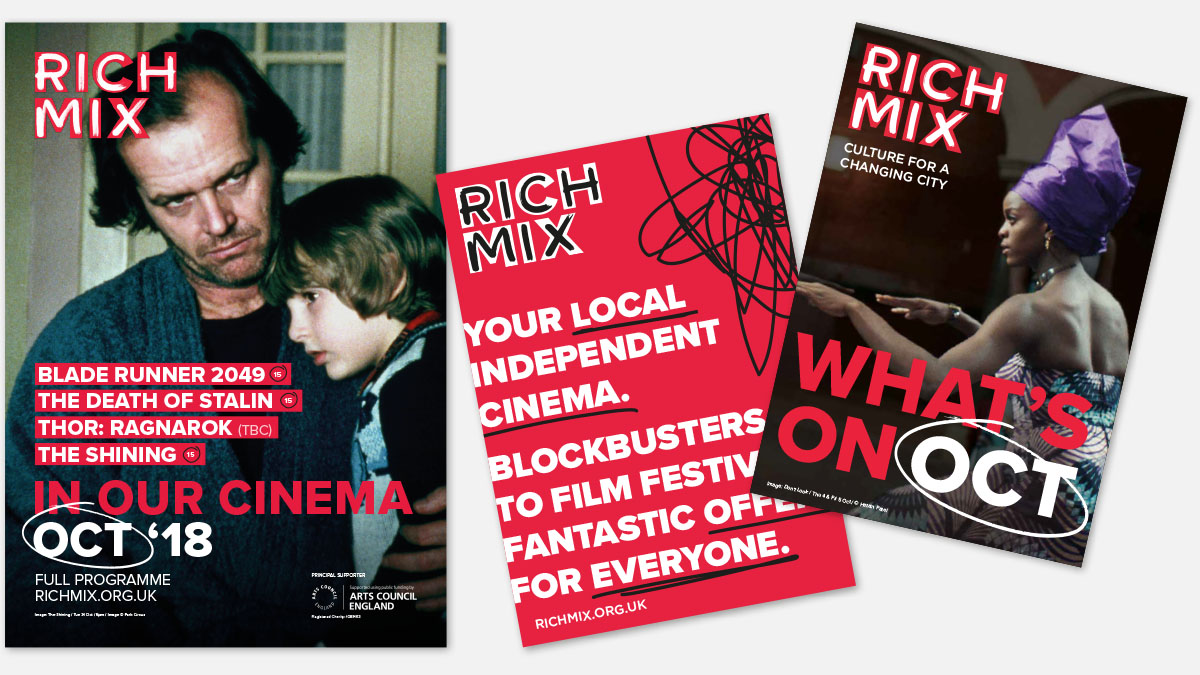 Whilst we were working on the project, Jen Pearce was Marketing and Campaigns Manager at Rich Mix. She enjoyed working on the website so much that she is now our head of digital.
---
Content Management System: WordPress
Ticketing: Spektrix
Launched: September 2018