When I tell people that I set up a design agency, back in 1991, I often wonder what mental picture it conjures up. I suspect it is very different from the reality. There was no big moment, and no grand plan, I drifted into it, via flyer and t-shirt designs for friends.
Indie guitar music (and beer) was how I spent my evenings and my money when I was at college and I'd got to know some people who managed bands, ran clubs and printed t-shirts. So I started offering my design services in exchange for tickets and occasional drinks at the bar.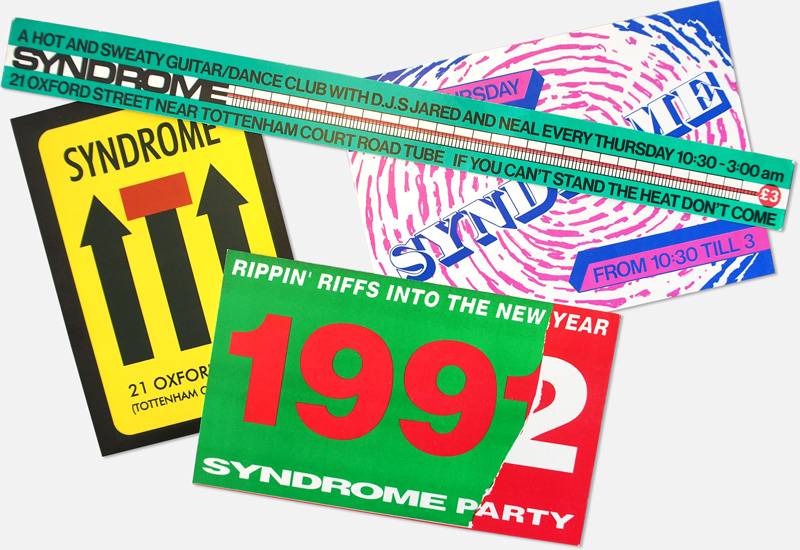 Through friends I started working with the people who ran Syndrome, the seminal Thursday night club on Oxford Street at the heart of 'The Scene That Celebrates Itself' (a term coined by Steve Sutherland in Melody Maker). Amongst many other shoe-gazers, members of a band called Seymour used to hang out there, and I think the club hosted the first gig performance with their new name, Blur. I seem to remember they didn't have enough material for a full set so it was a short show. I was also there for the first London gig by the Oxford-based band, Ride.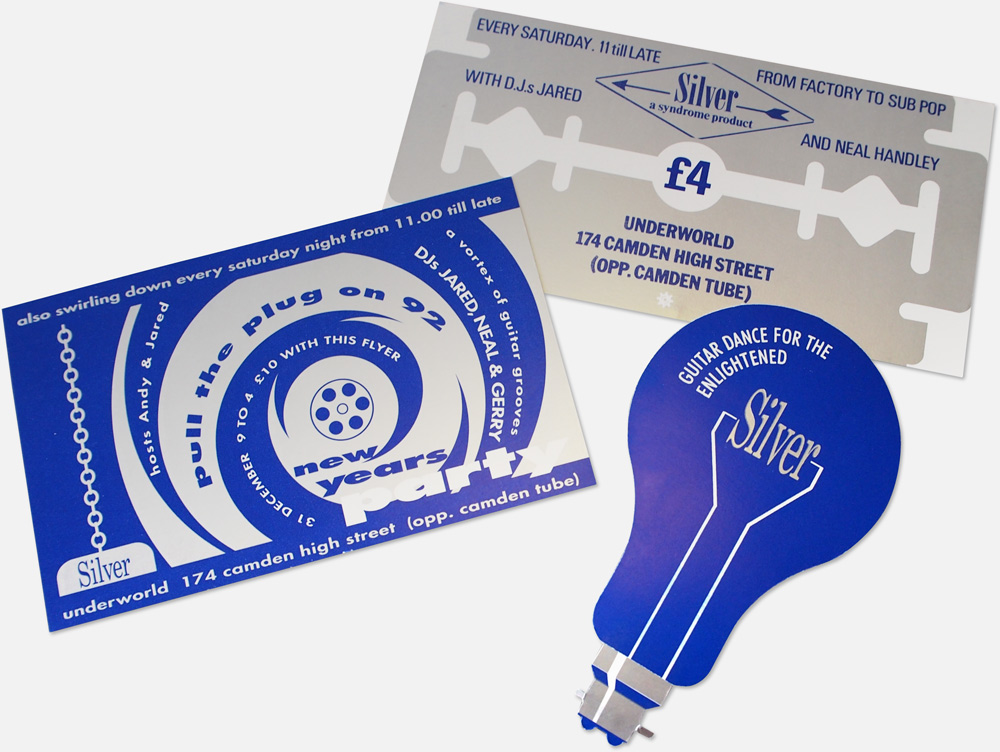 The same team started up a Saturday night club in Camden, called Silver. I produced a series of flyers for that club too. I think I'm right that their 'razor blade' flyer was the first time I'd used the Cog logo (you can just see it, bottom centre) as I started trading under the name Cog Design.
The clubs were hosted by Jared Pepall who's still a successful band manager, and Andy Allen who also managed bands and ran a t-shirt printing business during the day. He's grown that business, Backstreet International, into an enormous merchandise company now.
I got to know Andy well and when I left college and couldn't find a proper job, he offered me some space above his office (which was in the same building as his dad's dry cleaning business) in Barking, Essex.

In exchange for cheap rent, I used to create artwork for t-shirts, often for US bands who were touring the UK. It was usually cheaper for me to create artwork from scratch than to get something produced and couriered from the States. Most of it was pretty mundane stuff but occasionally I got to do something interesting, such as this type, in the style of Hole's 'Pretty on the Inside' album.
I stayed in Barking for a year before relocating to Deptford in 1992.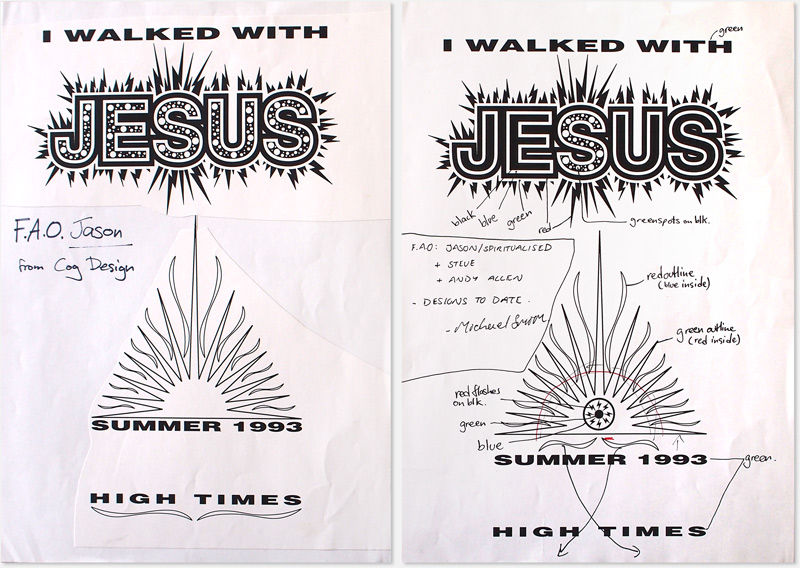 Under the name Cog Design I also started working directly with many bands and their managers. I was particularly excited when that work meant I got to meet one of my favourites, The Blue Aeroplanes. I designed a couple of shirts for them including a British Airways pastiche with the sleeve-print 'beatnics with altitude'.
And a couple of years later I got to work with Jason Pierce from Spiritualized; we only communicated by phone and fax but that was still a thrill.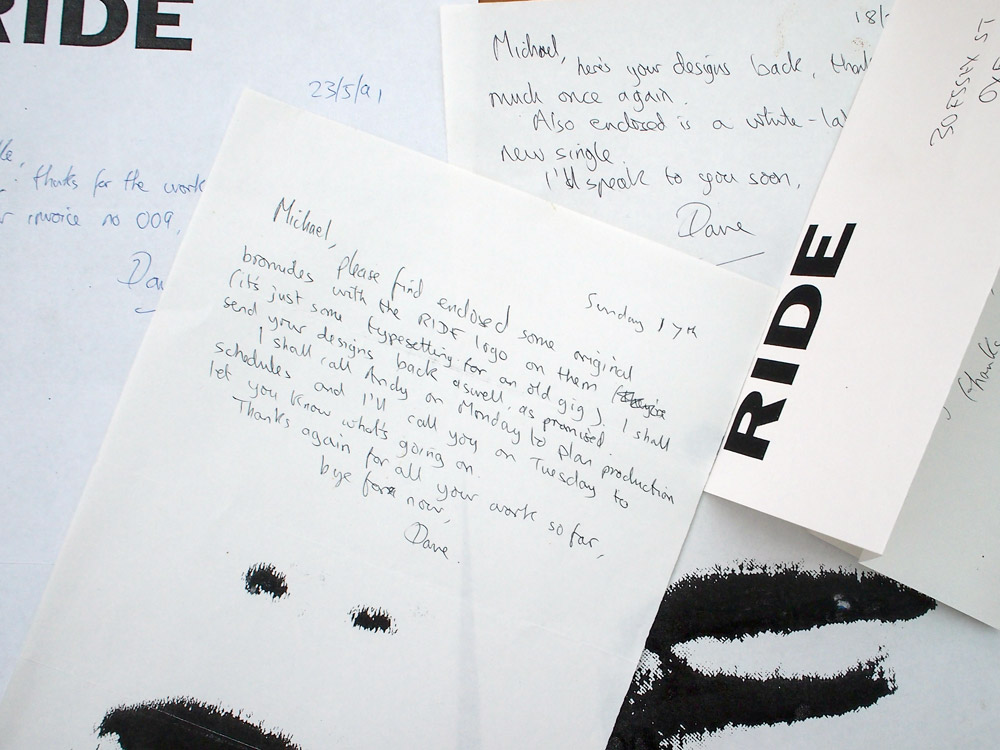 Perhaps my favourite collaboration was with the band Ride (who I'd been introduced to through those contacts at Syndrome). As well as translating their record sleeves into artwork for t-shirts, I was also commissioned to produce two original designs – they became known as 'Fireball' and, unimaginatively, 'Traffic Light'.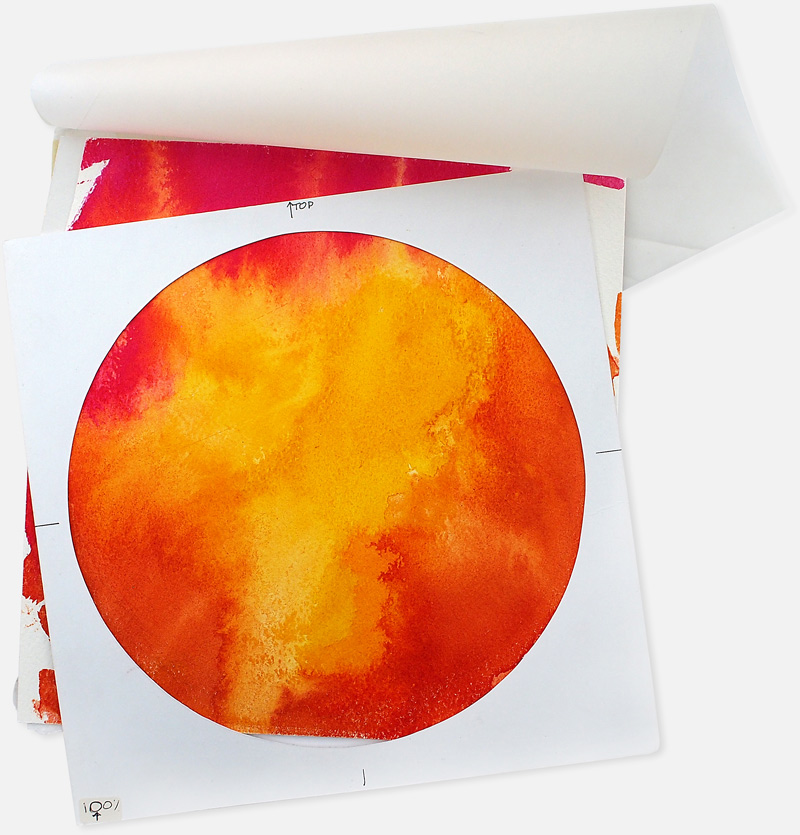 It's difficult to imagine now, but this was a time before desktop computers, I did everything by hand. And there was no way of showing rough workings of complex designs, I just had to produce them, explain them over the phone, and hope they liked the result – in this case, Ride's manager, Dave Newton (now MD of We Got Tickets), was very trusting.
I created the the Fireball design using coloured inks on water-colour paper. I merged the inks using a paint-brush and used cocktail sticks to create interesting rivulets between the colours. The Traffic Light was a photograph of, well, a traffic light that I think I took in Dartford.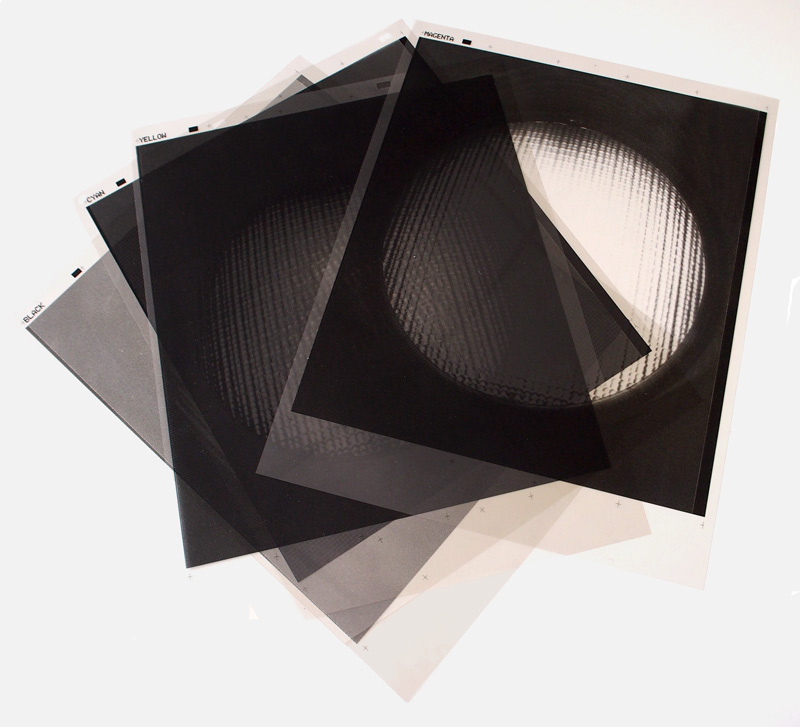 There were no desktop scanners so I had to get a reproduction company to scale and scan the image and send me the four colour separated films at the exact size I needed.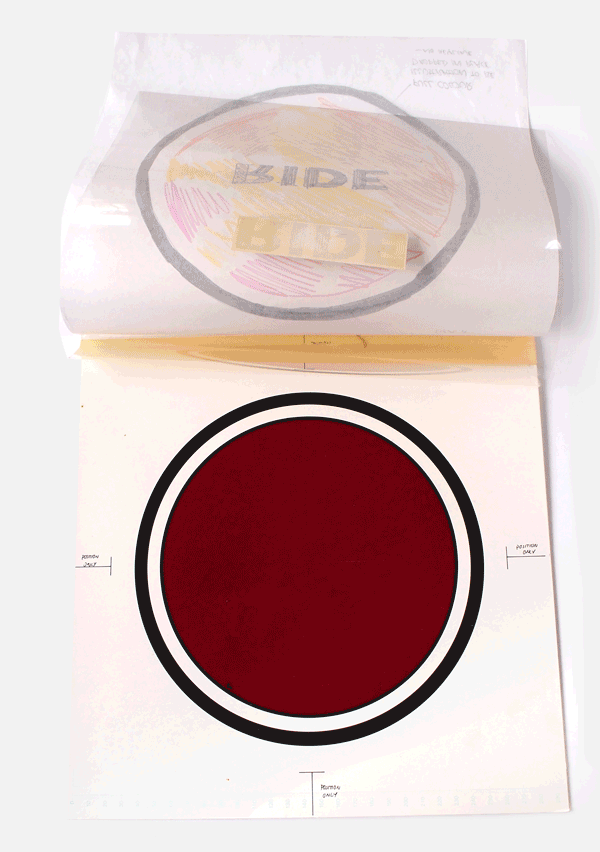 Separately I had to 'mark-up' the rest of the elements and show how the image needed to be positioned. And then take the whole pack of 'artwork' to the printers who would create the screens for printing.
The printers would 'make ready' (getting the density of the ink correct and making sure the four colours were aligned properly), then they would print position-guides onto stiff material that could be cut out and placed onto a t-shirt. I don't know why I've got those but I found them in my loft so I must have asked the printers if I could keep them just in case I was ever writing about t-shirt printing, 25 years later.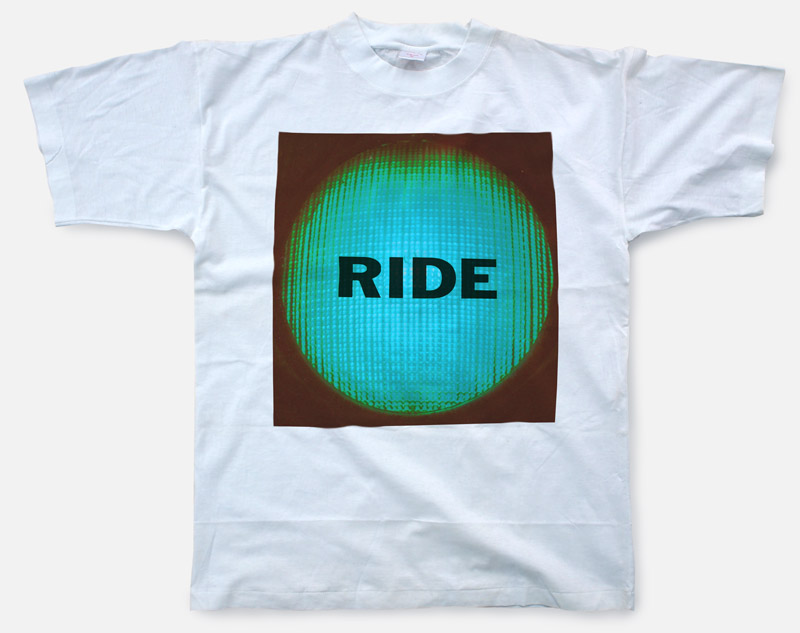 I was so pleased to get the opportunity to do this work. One of the greatest thrills, as a designer is to see your work in the real world. Little beats the thrill of seeing excited fans rushing to the merchandise stand and immediately changing into one of your t-shirts. Obviously they'd have worn any Ride merchandise but it still felt very special to see them wearing my designs.
I went to see Ride again when they reformed last year. Sadly they are no longer using these t-shirt designs but the sound they produce is still immense.