Students from over 40 different countries study at the college and they offer 15 different vocational and professional degree courses, producing over 75 separate productions a year so the site has to appeal to a wide audience demographic with very different mesaages.
We are very pleased with the new site. It marks a significant development for the college as we seek to attract more UK and international students.

The College is clustered around a Grade II listed building in beautiful parkland, but with modern, purpose-built facilities, including a 330-seat theatre-in-the-round, a 100-seat Barn theatre, black box studio theatres, rehearsal rooms, recording studios, technical laboratories, design and production workshops, a unique drama library and well-equipped study areas.
The new responsive website design uses their graphically bold and contemporary brand identity. Large slideshows and video emphasise a visual and immersive browsing experience, reflecting the dynamic nature of the college's programme.
The new site upholds their mission of placing the students at the centre of the experience. Reflecting their international audience, the site includes the Google translate widget. It provides both easy ways into information, using the dynamic page 'Why Choose Us', which gives 10 animated reasons to choose Rose Bruford, as well as in depth course details, with production images, case studies and student profiles.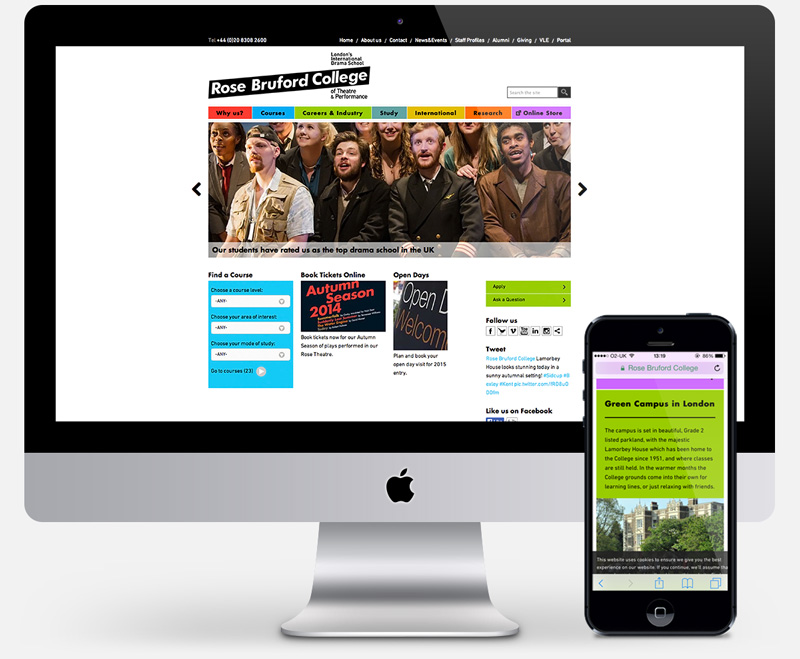 Visit: www.bruford.ac.uk