Saffron Hall is a remarkable 740-seat performance space built in the grounds of Saffron Walden County High School.
The venue opened its doors in 2013 but it wasn't until 2014, with the high-profile appointment of Director Angela Dixon (former Head of Music at Barbican), that they felt confident in launching their 'opening season'.
Angela, and marketing manager Samantha Walker appointed us, on the strength of our past credentials, to work on the marketing materials for that launch season and we've been working together ever since.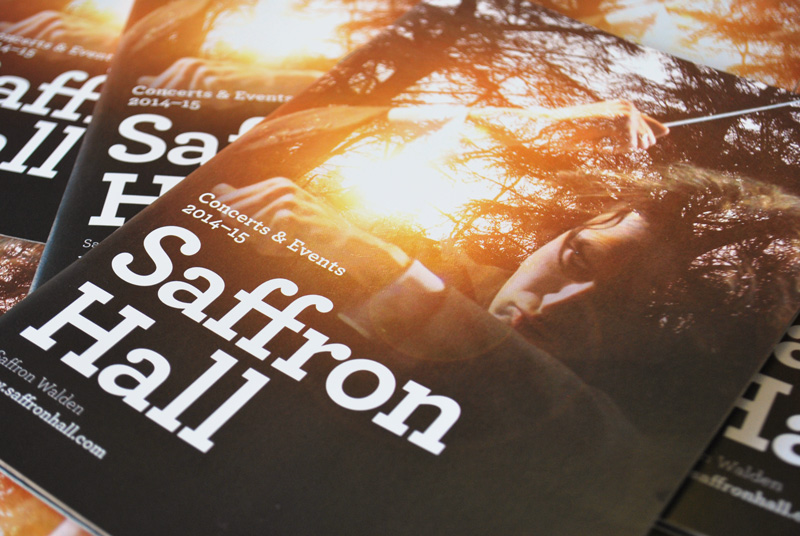 We treated the first season like a launch campaign with no particular visual identity. We combined images of  idyllic countryside sunsets with portraits of the headline artists to create a visual language that ran throughout the first year's publicity materials.
Cog's work for our 2014-15 launch campaign beautifully encapsulated our vision for Saffron Hall, and proved very successful in raising our profile and selling tickets. 
Our client was pleased with how the campaign came together but we all knew that the venue needed a cohesive 'brand' to help move the venue away from the temporary nature of its initial visual identity. Nobody wanted to rush into anything so, unusually amongst our projects, we progressed slowly through an iterative process, working with their team to gradually shift the branding and introduce a new visual identity, season on season.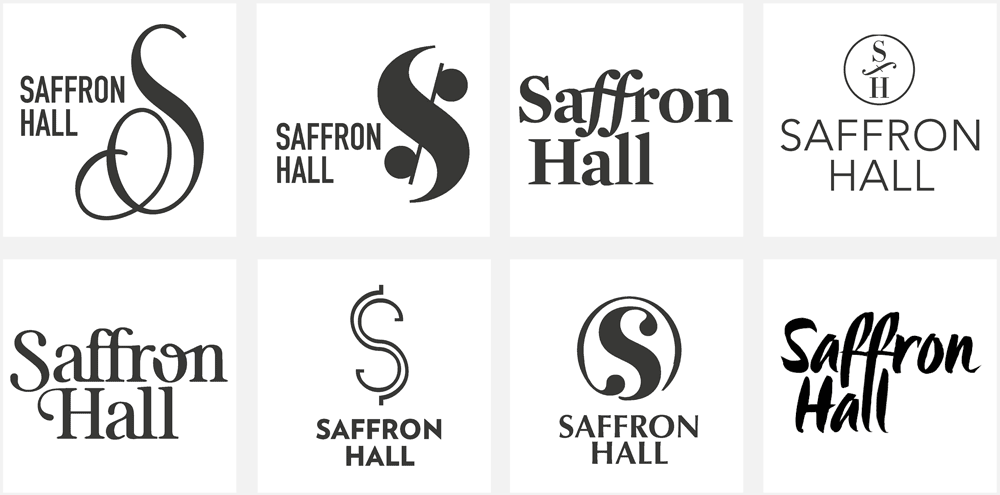 Whilst still working with those launch materials, we began sketching out some ideas (a handful of which are shown here). We needed to strike a careful balance between Saffron Hall as a credible national (and international venue), but not being exclusive or inaccessible to the local audience.
As new ideas occurred to us, and time allowed, we'd pin those ideas on the wall and share thoughts and constructive criticism across the Cog team.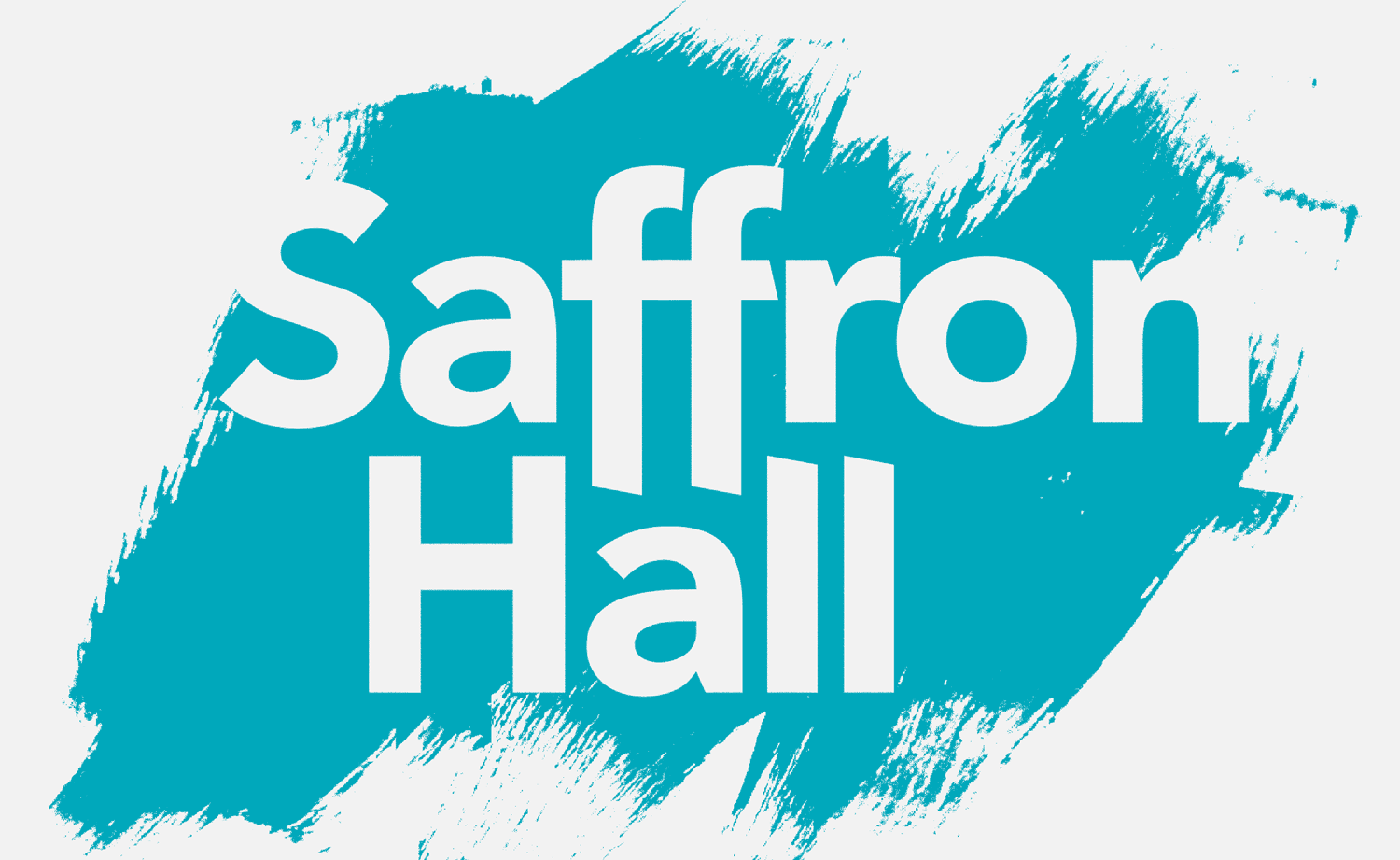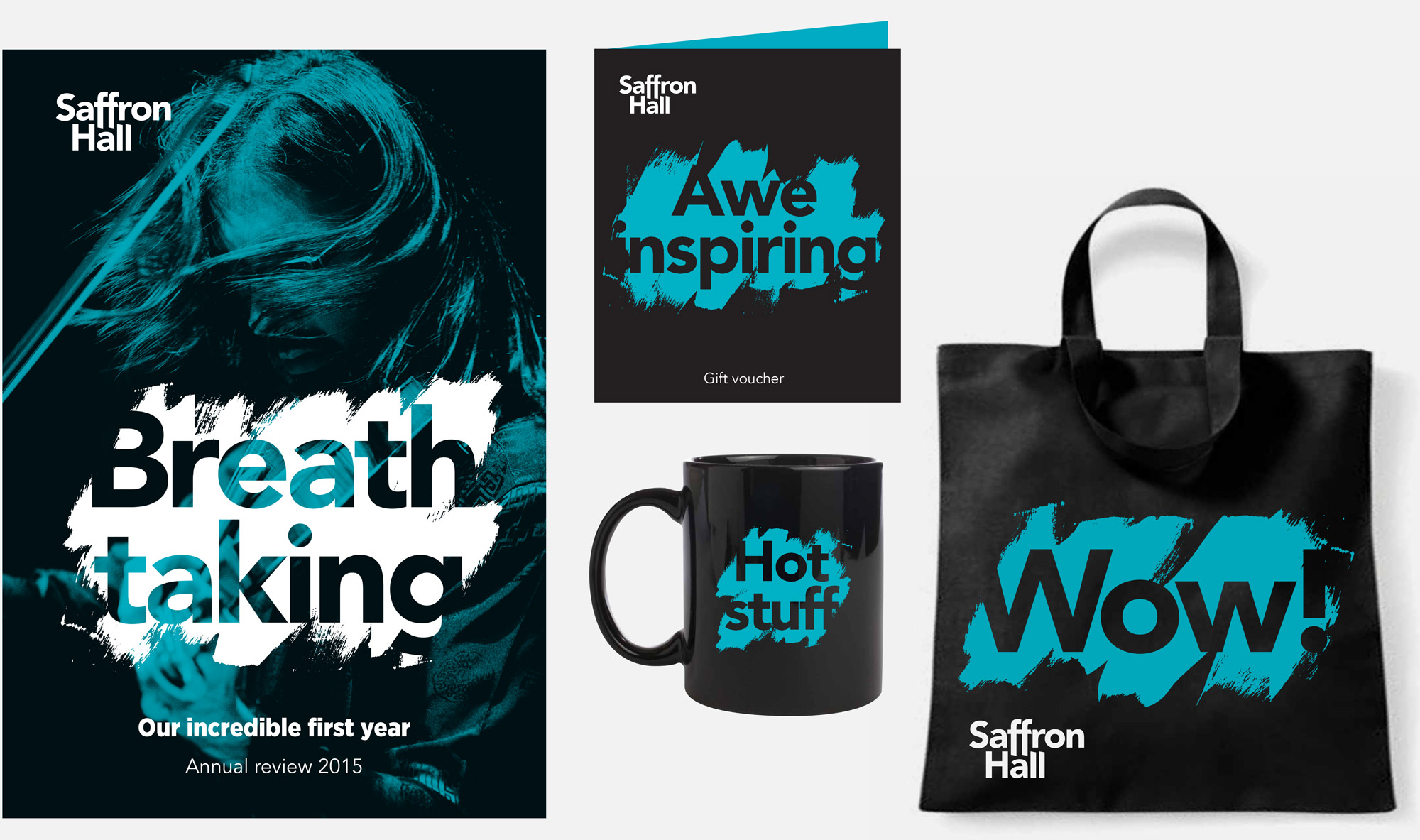 A few ideas shone through as being stronger than others so we worked those up to show how they might be applied across different materials.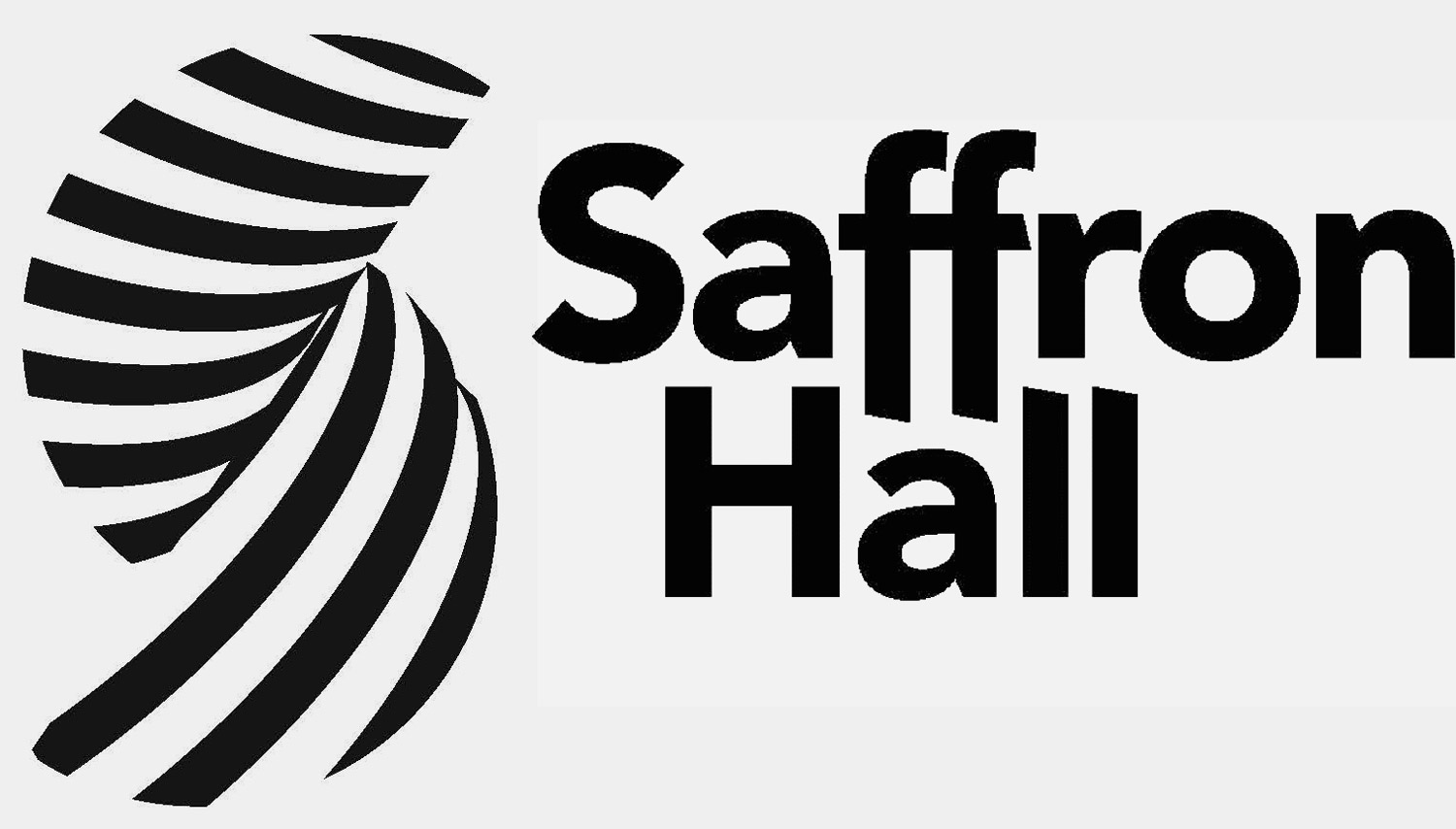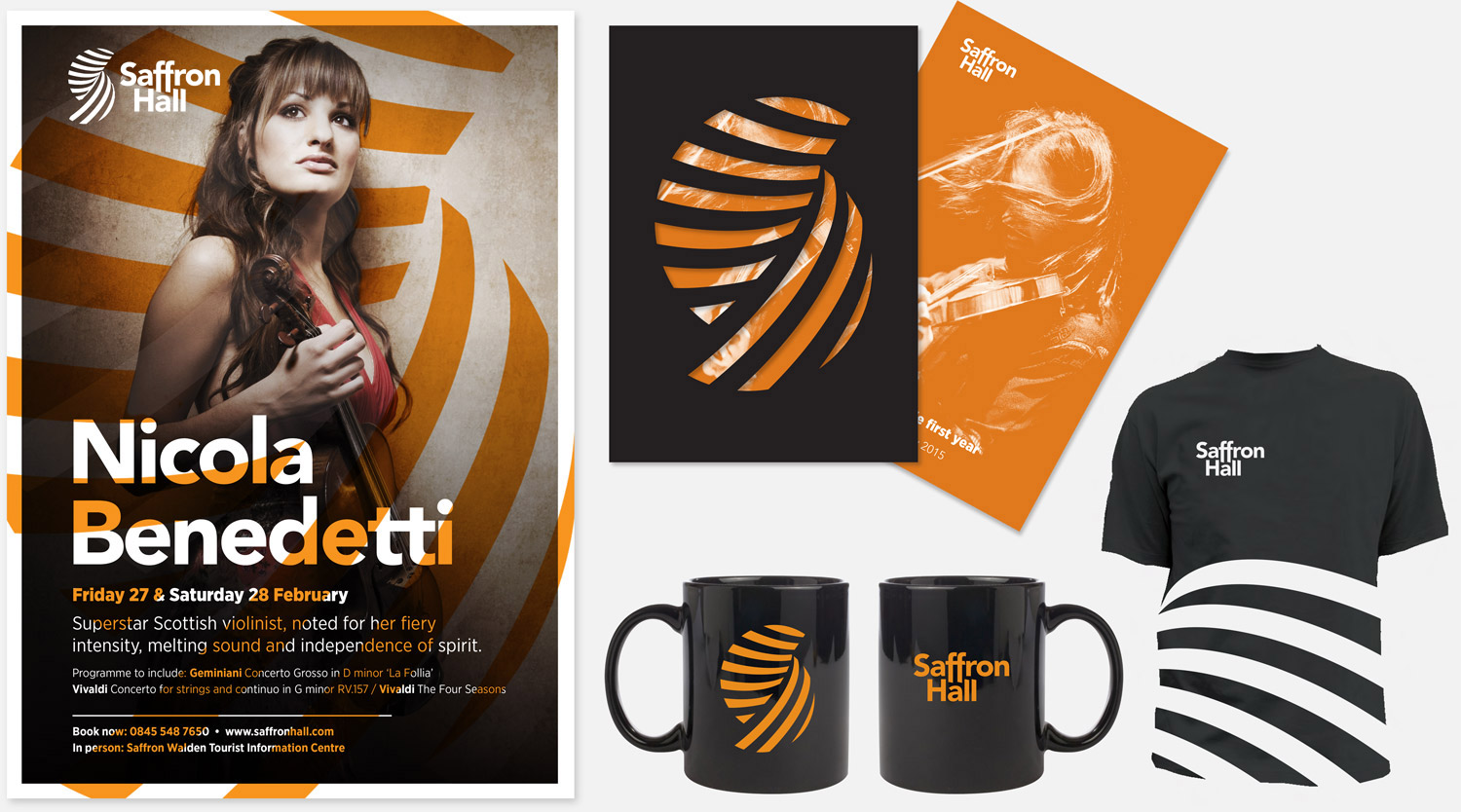 But it didn't feel like we'd 'nailed' the idea. Everything felt a little too clever and too conceptual to be applied in the huge variety of ways that we knew would be required.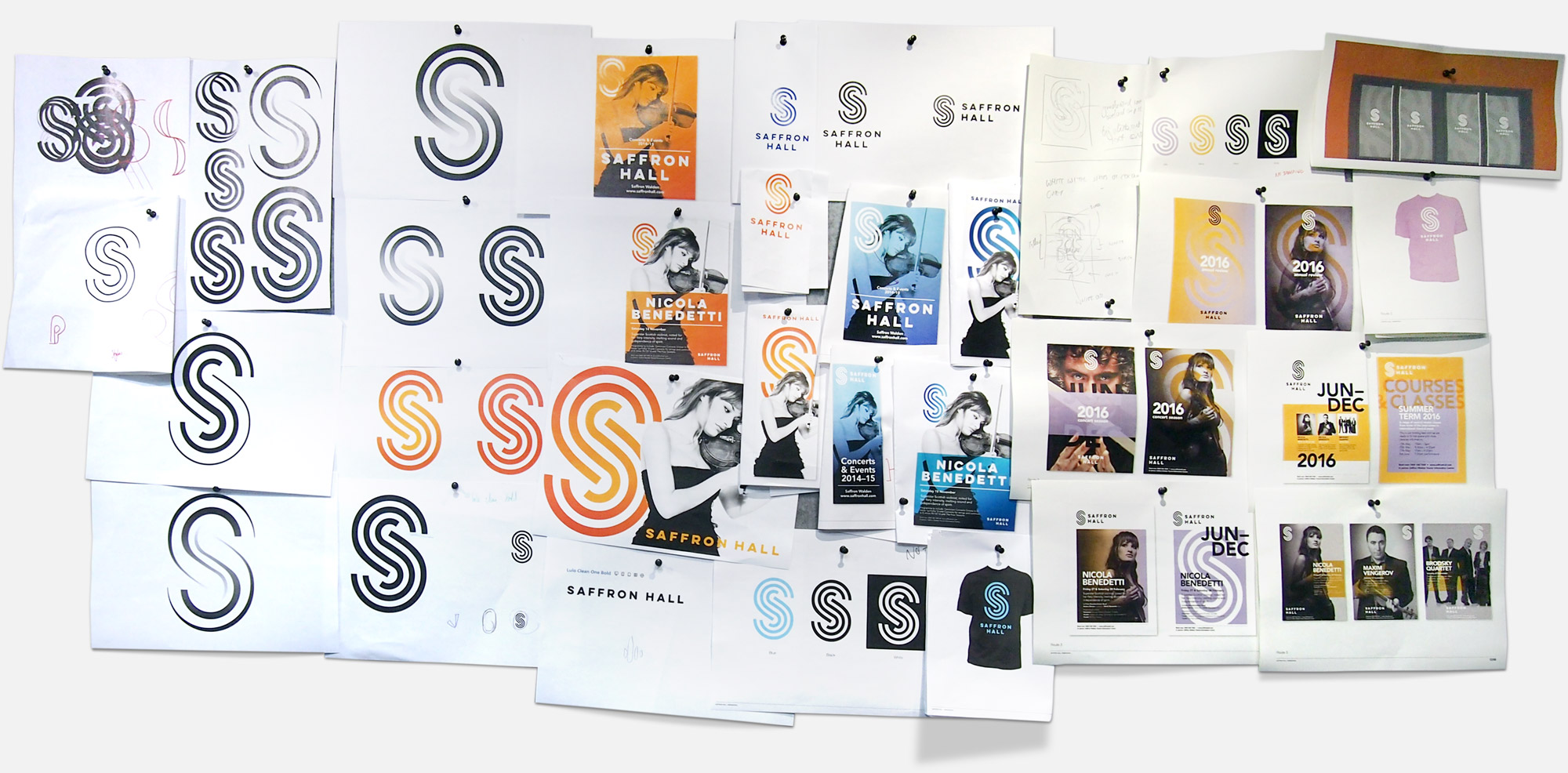 We went back to the drawing board (well, the pin-board) and pushed some of our earlier ideas forward in interesting ways.
But we kept coming back to the same simple letter-form, the lock-up of words that we'd been using. Rather than needing to develop a clever marque or conceptual approach, what if we built a visual framework around that simple logotype?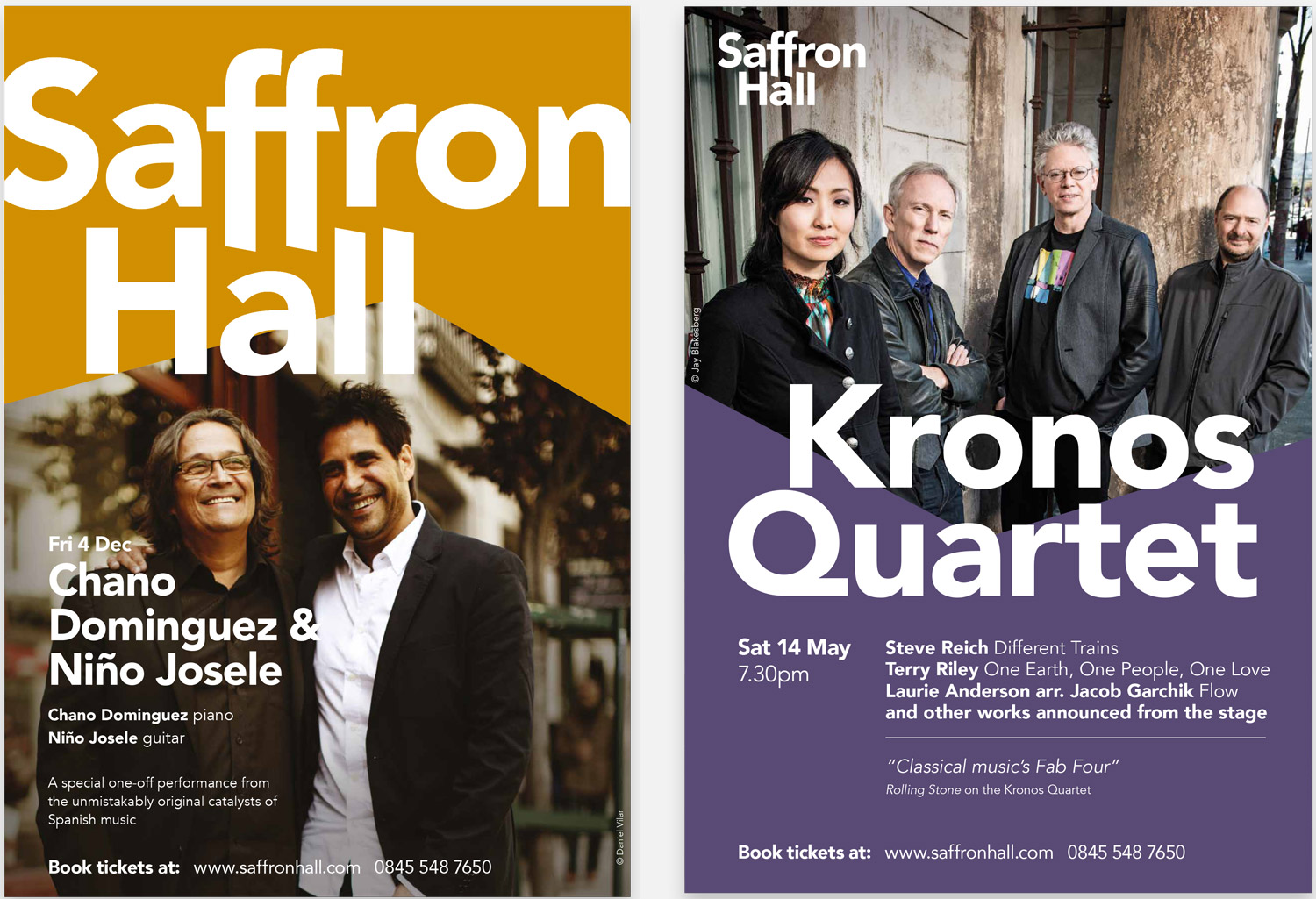 So that's what we did. Over the course of two seasons we gradually evolved a system for creating Saffron Hall's publicity and communication materials. And then we documented it in a set of guidelines.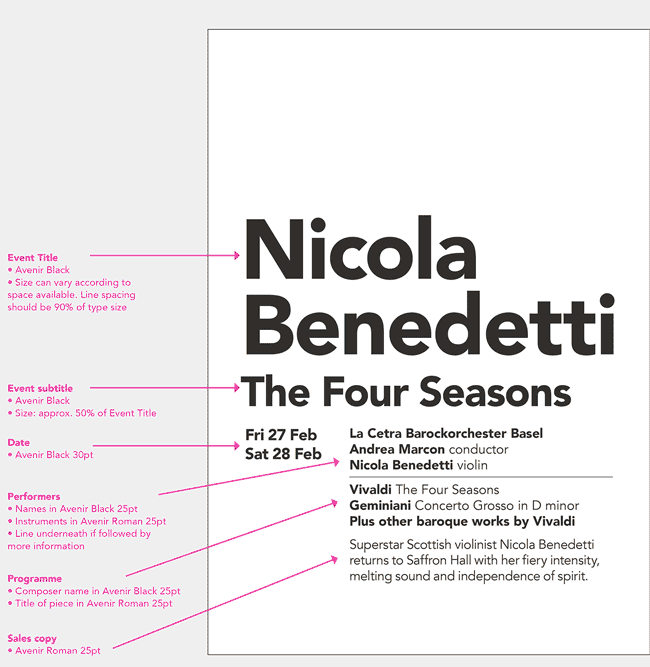 We included a full palette of colours, typefaces, position guides, house-styles for writing…


…and example applications of how the system could be adapted and applied across different materials, including the simplest banners…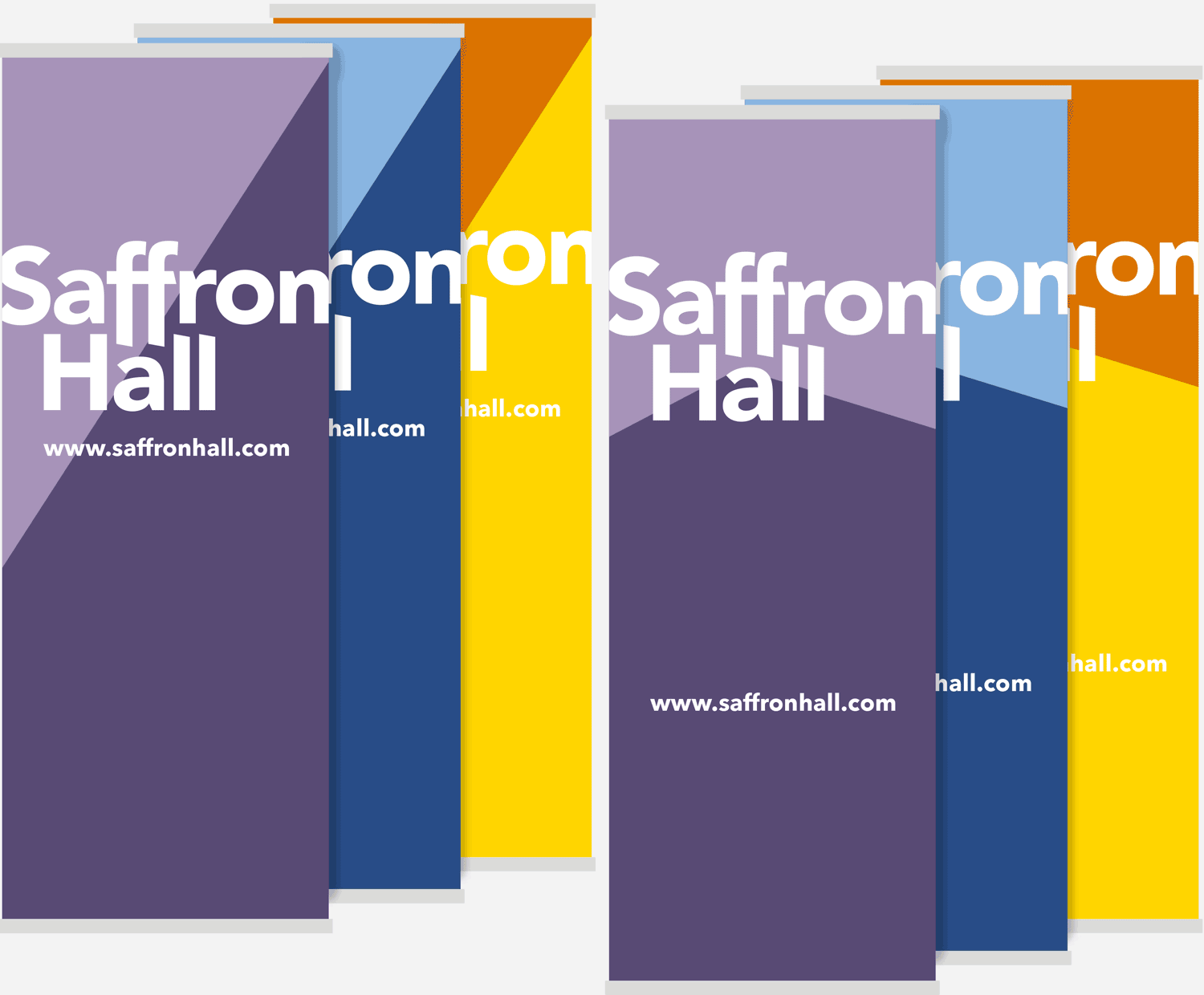 …and the most complex 'listings' posters.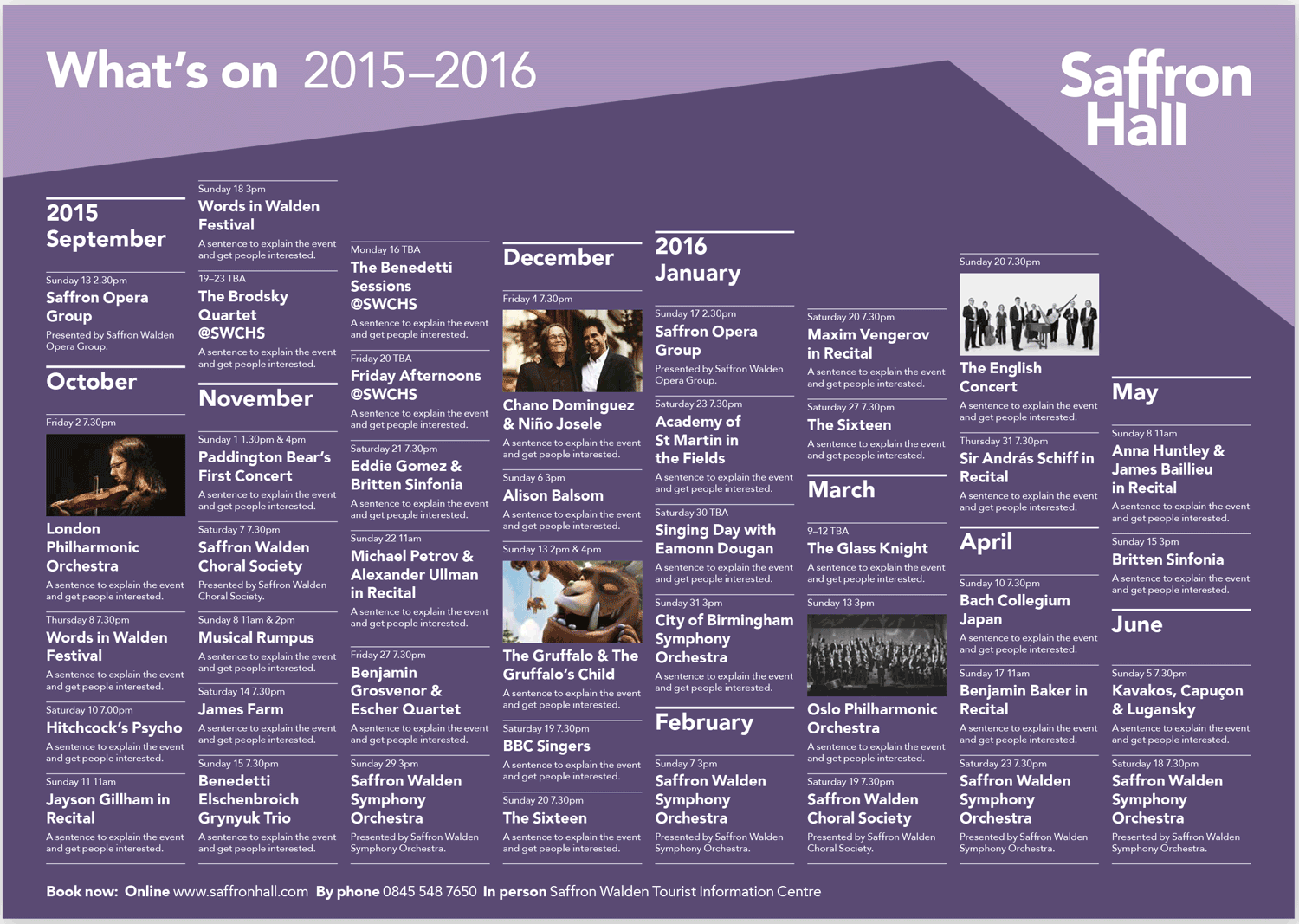 Key to the designs is the idea that some applications, such as national advertising, emphasise the venue name (building recognition and profile for the name, Saffron Hall), whilst others, such as local ads or when the artist's name is a big draw, emphasise the name of the artist.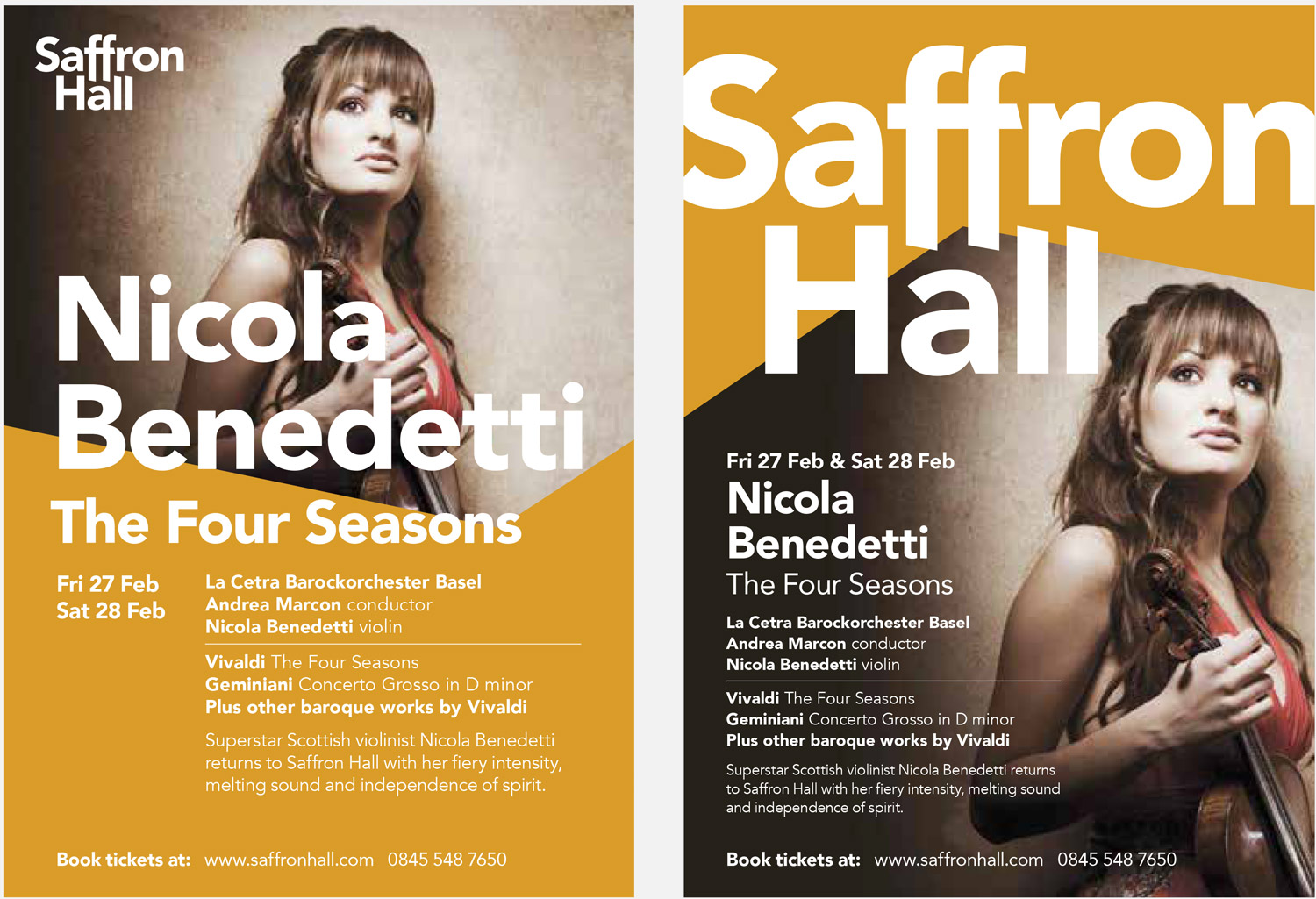 We're proud to say that Saffron Hall are now able to produce all of their own marketing and publicity materials. But they still come back to us to produce each season's launch brochure.