Since December I've been on the Board of the National Campaign for the Arts so I've been heavily involved in the production of this issue of the Index. It's been fascinating. The Index pulls together data from a multitude of sources and compares year on year figures for 20 key indicators (from public participation to West End revenues). The NCA now has data drawn from seven years to compare; some of the comparisons are pretty stark.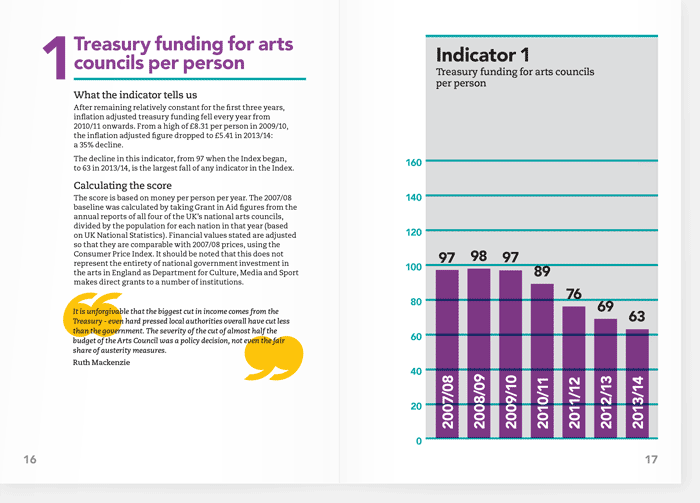 The sustained cuts to public funding are clearly shown in the figures: since the index began in 2007/8 funding from central government has fallen by a third and from local government it has fallen by a quarter.
The National Lottery continues to be a major factor on the arts. Funding from the Lottery has shown the biggest rise in this edition of the Index (as funds that had been diverted toward the Olympics were brought back to support their intended good causes). There has been such a yo-yo-ing of figures that I had to change the axis of that graph to fit it on the page.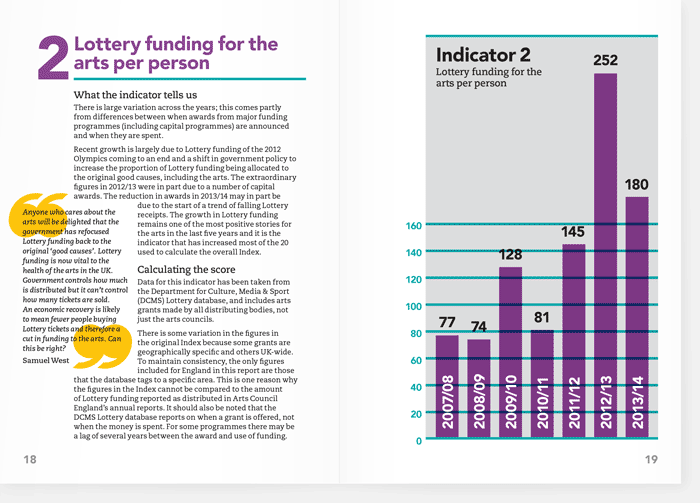 Originally conceived as a 'bonus', providing cash injections on top of regular funding (for unique projects or new buildings) the Lottery money is now being used for core funding of arts organisations. The day-to-day funding for many arts organisations has literally become a lottery.
This government's stated plan was to promote private giving and business sponsorship as a way to plug the widening gaps and support the arts. Somewhat ironically, it is their cutting of subsidy to the organisation Arts & Business that means data is no longer collected for these indicators so we can't say whether that plan has worked in recent years.
We can say that business contributions fell steadily, whilst money from trusts and foundations rose steadily from the first Index to the last recorded figures in 2011/12. This suggests that we could be edging towards a US model of large-scale philanthropy rather than business support or sponsorship.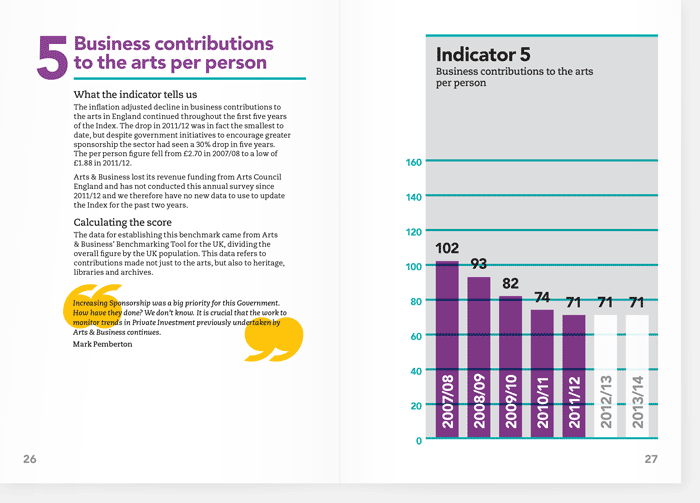 Despite the huge cuts in subsidy, the sector does seem to be holding its own. The indicators show that public satisfaction and engagement remain high, employment figures are growing, and earned income (mostly ticket sales) are higher than ever.
However, the figures indicate that we could be heading for much bleaker times. Arts organisations are relying on savings to subsidise their productions (no bad thing in the short term but unsustainable unless other financial input can be found); Lottery funding is fickle and could fall at any time; and there doesn't seem to be any emerging new age of support from business or private giving. We could be on the edge of a financial collapse of the arts sector.
Even if the arts can survive and find new models for income, the Index seems to show a potential for widening social division. With crippling tuition fees, are poorer students going to be driven away from arts subjects? If we are going to move to a model where private trusts and foundations are the major funders, will they push private agendas and insist on safe, bankable 'product'? If ticket prices continue to rise to make up the shortfall in funding, will we soon exclude all but the most affluent in our society?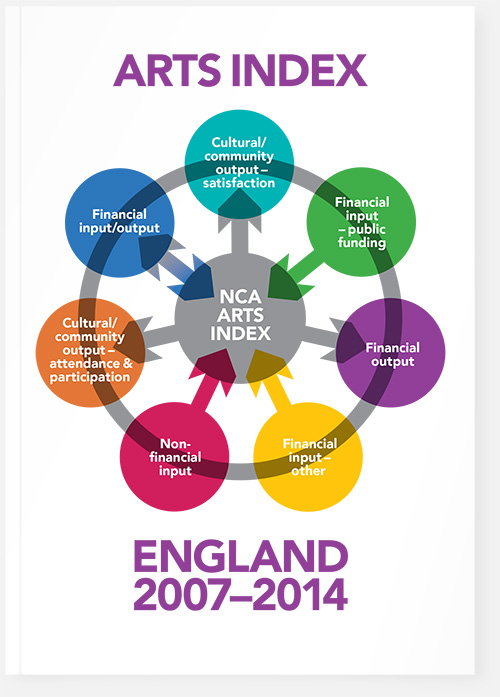 In my opinion, the massive recent cuts in government funding of the arts was more of a political decision than an economic one. Arts funding was a tiny percentage of government spending. Slashing that funding saved very little money but could have caused the kind of long-term harm that takes generations to rebuild.
It seems like such a short-term policy when all of the figures show that arts and culture are our nation's differentiator. They contribute a disproportionately high return into the economy; they contribute to social cohesion, and health and well-being in a ways that no other sector can; the funded sector provides the grounding for our international reputation in film, video-games, theatre, fashion and design.
But don't take my word for it. Download the Arts Index, read it for yourself and draw your own conclusions.
If you'd like to find out more about the work of the National Campaign for the Arts, send an email to enquiries@50pforculture.org and they'll keep you informed about their developing plans to support the arts and audiences over the next five years.