"All of we is one". This quote from the celebrated West Indian poet, Derek Walcott became the rallying cry for our work with the newly built UK Centre for Carnival Arts (UKCCA) in Luton.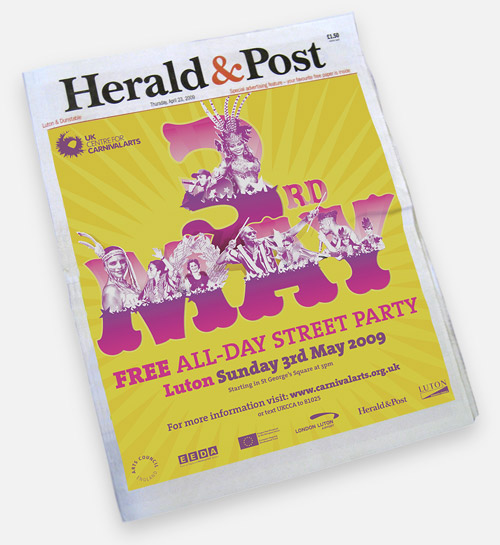 Carnival is fast being recognised for its hugely popular and important contribution to UK society. It draws people together, across racial divides, united by a cultural celebration that draws on the West African, Caribbean and Latin American traditions.
Luton, a once prosperous industrial town, has seen its fair share of deprivation and racial tension as the work has dried up and the population demographics have shifted. But once a year, the whole town comes to life through Carnival, a huge street celebration that is the culmination of months of work from people across society.
Luton was chosen as the home of a new, national centre for Carnival Arts, a place where traditional skills can be kept alive and passed to new generations; a performance centre for the town, a library, a workshop and a hub for all of the UK's best talents to meet and celebrate the art and traditions of Carnival.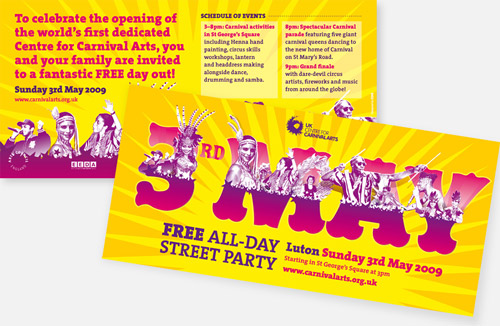 Our main job was to create the campaign that publicised the opening celebrations – a huge, free, all-day street party with everybody welcome.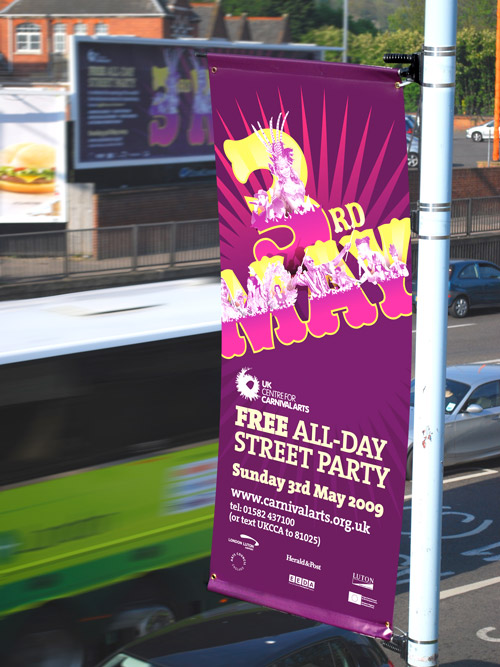 Using traditional typography and mixing in dozens of carnival images (provided by carnival companies across the UK) we produced a visual language that could be applied to a wide range of publicity materials in a quick hit before the opening.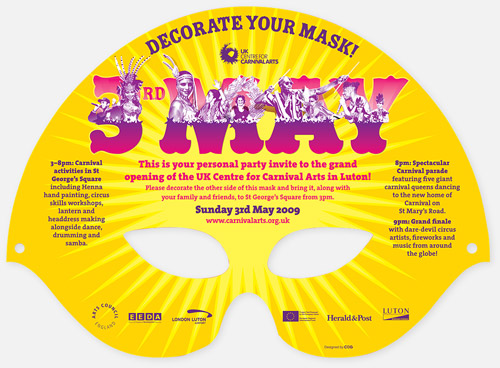 One of our favourite applications was a cut out mask which was given to every primary-school student in Luton. We were also pretty pleased with this huge poster on the town's main thoroughfare.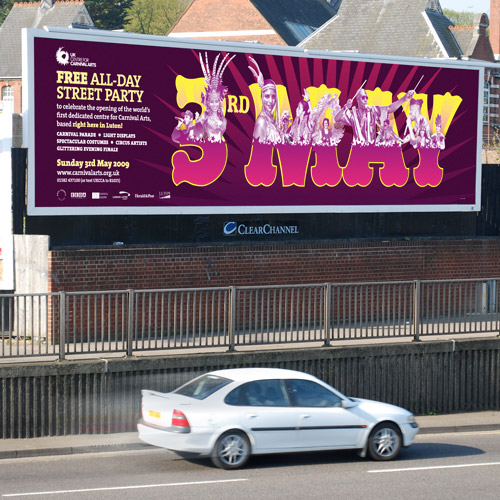 In addition to the public celebrations, there were also various private events, including the significant 'Handover' of the building to its occupants. As a physical manifestation of carnival arts, we created this thick card invite – raw, industrial material on one side, covered with a glittering foil and bold type on the other.