We were working late into an evening, in September 2007, when the phone rang. Night time calls are usually wrong numbers or double-glazing companies but this was an opportunity, a door opening to a great new working relationship. The call was from Rachel Collins, Marketing Manager at the newly opened Wellcome Collection.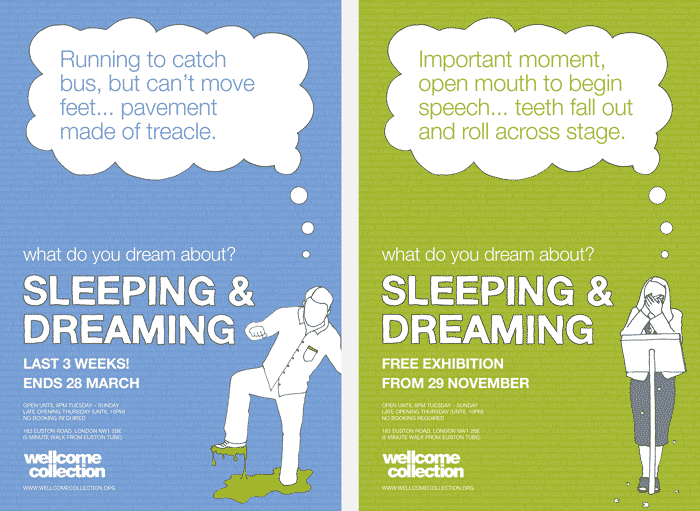 She wanted us to pitch ideas for a forthcoming exhibition about the science of sleep. The deadline was imminent and the brief was deceptively complex: the world's largest scientific trust had opened a new public-facing venue with a strict corporate identity that couldn't be easily changed. This was to be their second temporary exhibition and they had to work hard to attract a new audience to this relatively unknown new venue. A key part of our brief was to help the marketing team win the trust of the wider organisation so they could begin to loosen up that visual identity.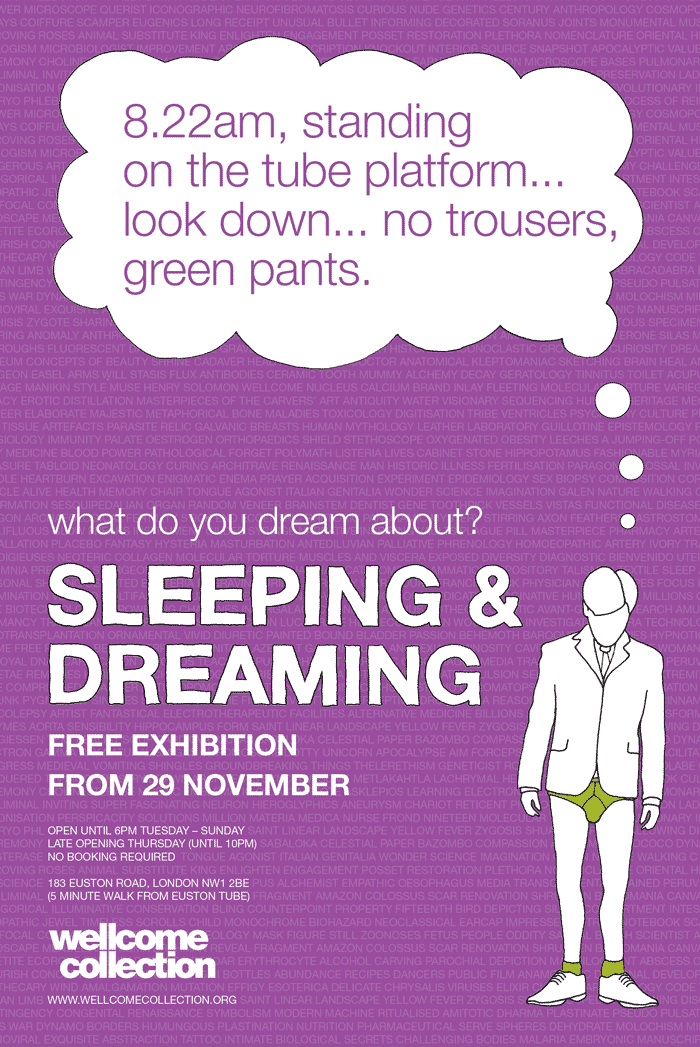 With very little time, we put together three routes that played to the strengths of their branding – a consistent typeface (Helvetica), a restricted colour-palette, and a strict vertical grid, dictated by the background pattern of type that they called their word-soup.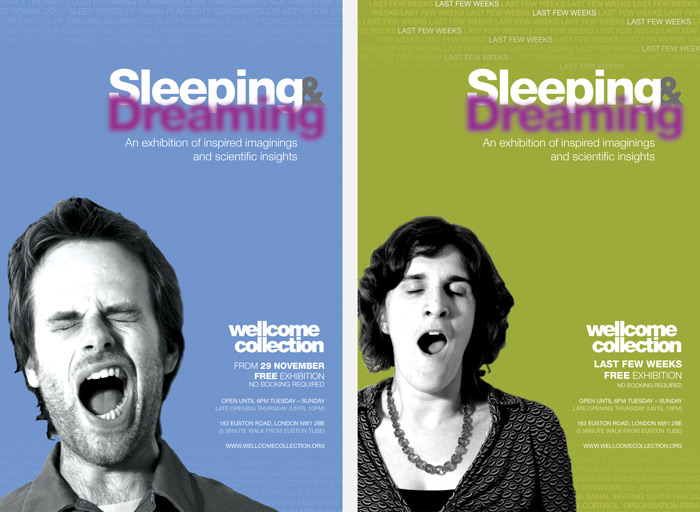 I think it was our ideas-based approach that most impressed the marketing team – the dream interpretations in simple line-drawings, and the idea of placing yawning people on tube posters (catching people off guard, on their commute) – but in the end they decided to run with our most conventional route: pairings of exhibits and sleepy-sayings.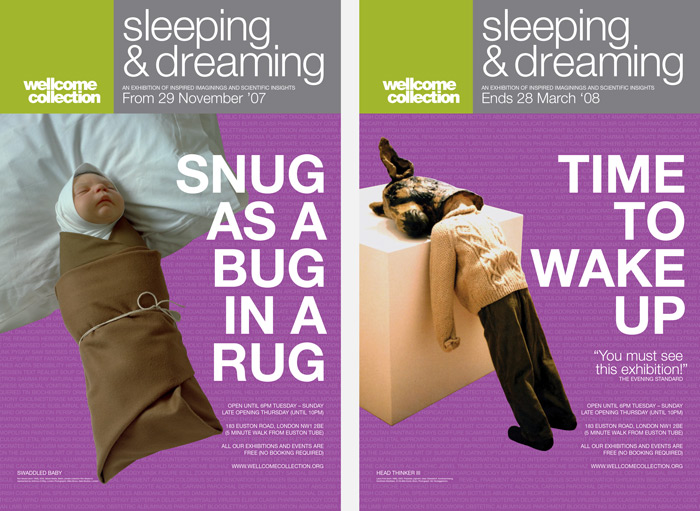 After a lot of refining, discussions with curators, and looking through the amazing library of images in the Wellcome library, we settled on three poster pairings as the basis for the campaign. We also worked hard on the copy (from the headlines to the strapline) and the hierarchy of information.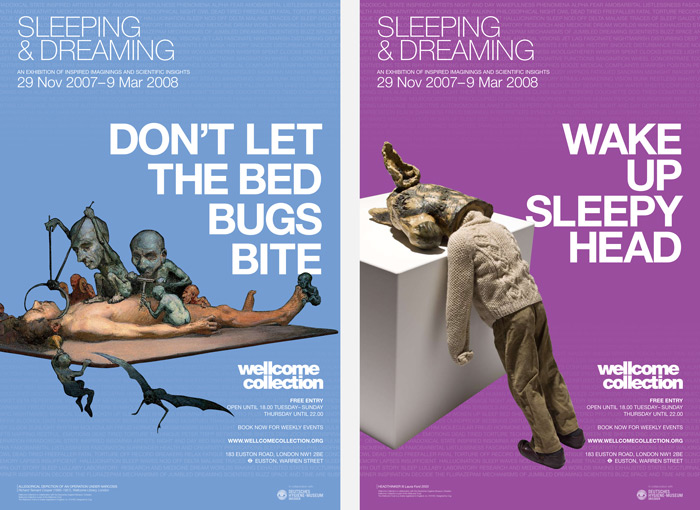 The designs were used on a series of posters across the London transport network, building brand recognition for the venue as well as attracting huge crowds to the exhibition.
We also adapted the designs to other promotional items, including this opening night invitation, targeted at the movers and shakers of London's cultural sector. Printed on thick card, the design picks out white-foiled Zs, embossed into sleep-related words.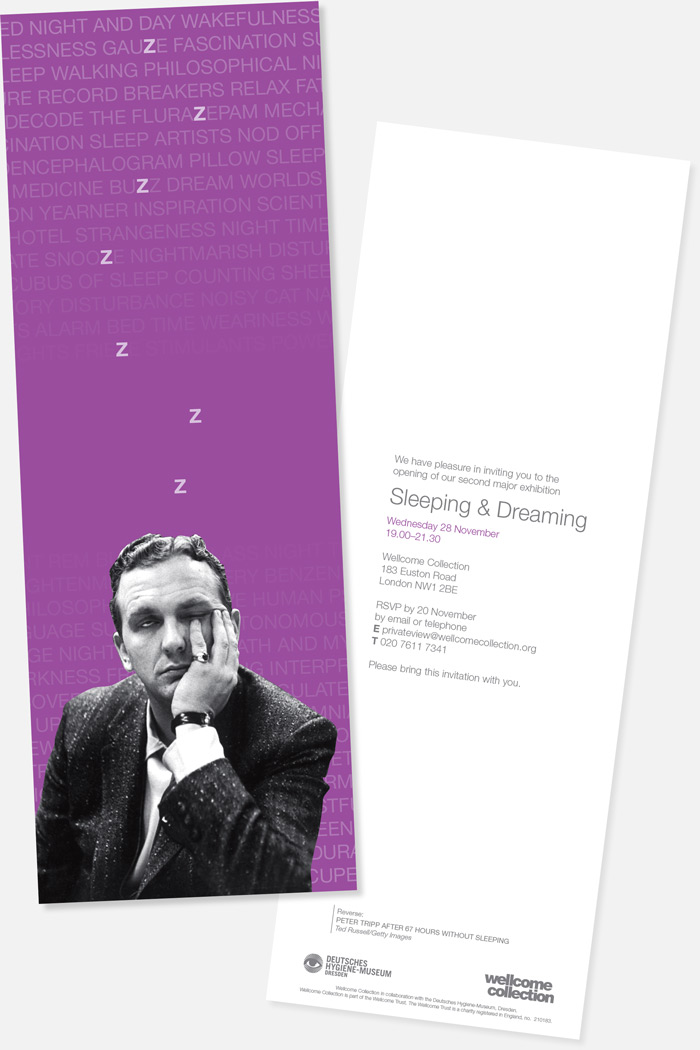 ---
The success of that campaign led to an ongoing partnership where we helped with publicity designs for all of their exhibitions. These included…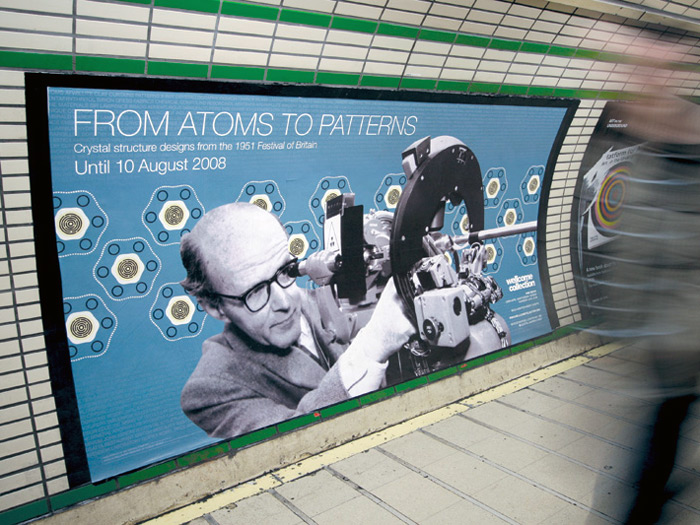 From Atoms to Patterns, which explored the relationship between science and interior design at the 1951 Festival of Britain – specifically the inspiration that artists took from the beautiful crystalline structures that were emerging from atomic research.
---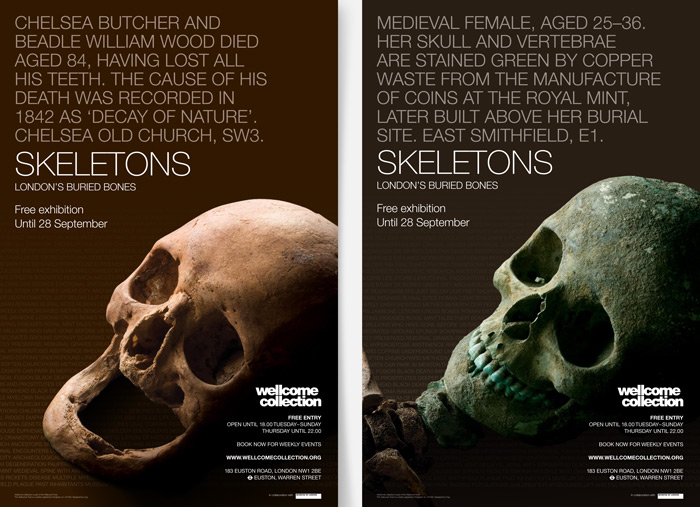 Skeletons, an amazing exhibition of full body skeletons, in glass cases, each exhumed during building works on London's streets, and each with an incredible forensic story to tell. For obvious reasons we had to be particularly sensitive in our treatment of these human remains.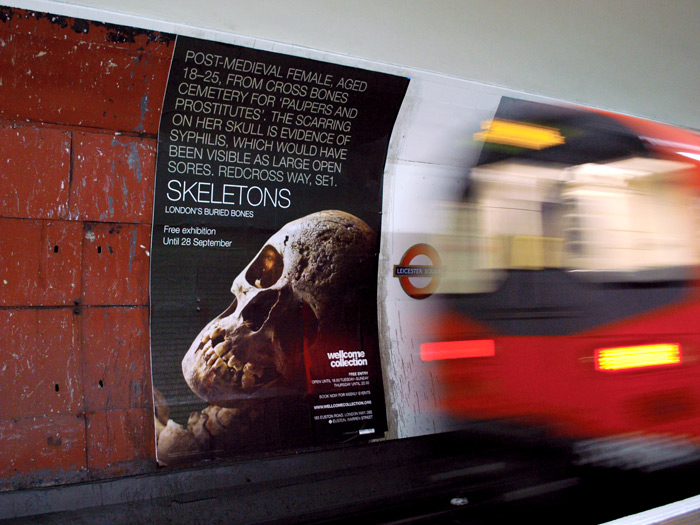 It would have been ghoulish and inappropriate to place cut-out pictures of skulls on a brightly coloured background so, instead, the colouring of the skulls informed subtle changes in the dark backgrounds and helped us to further loosen the visual identity.
---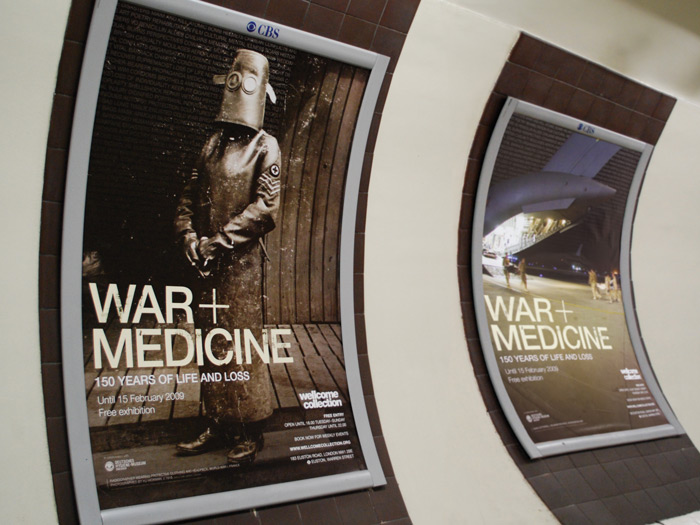 Continuing with sensitive subject matter, War + Medicine explored the often huge leaps made in medical science during times of war. Using full bleed imagery and a bespoke type-treatment (albeit still using the corporate Helvetica) was another big step forward in working in a more adaptable visual framework.
---
With the exhibition space now well established as one of London's key cultural destinations, the Wellcome Collection team asked us to think about their wider offering. Specifically, they wanted us to raise the profile of their permanent collections whilst maintaining their now regular audience to temporary exhibitions.
Our first step was to introduce the tag-line:  a free destination for the incurably curious. That simple line works so hard to sum up the grown-up quirkiness of the venue.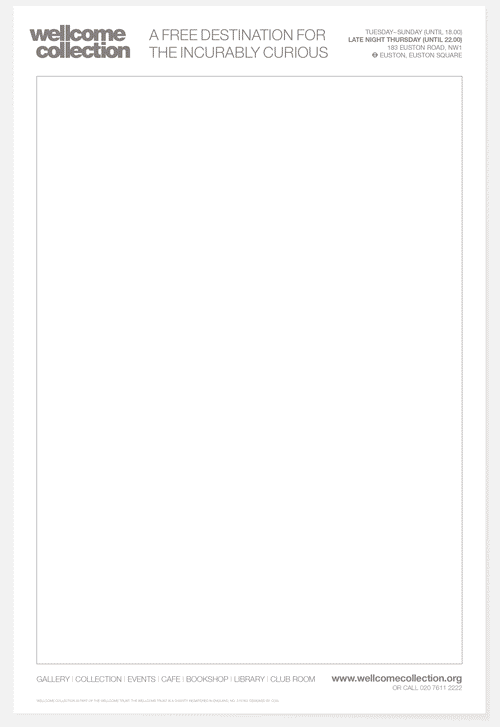 Next we developed a modular framework that would allow their in-house design team to build their visual communications, with different emphasis on the various offers. We also introduced a simple naming convention to define the permanent Gallery, the Collection, and the temporary exhibitions.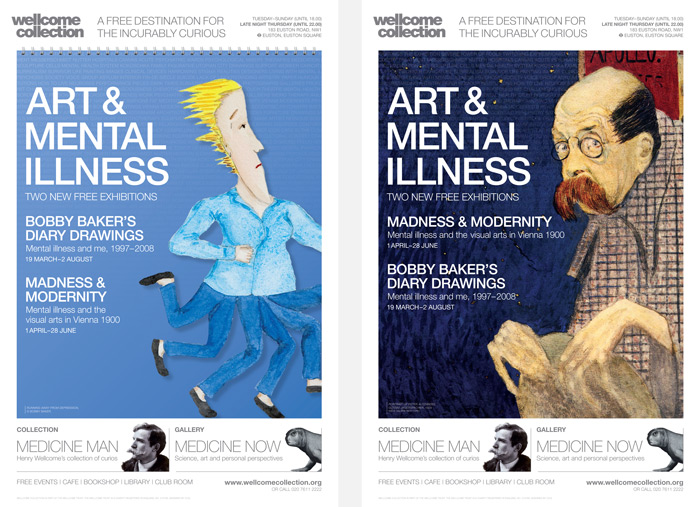 We used that modular framework to good effect when promoting their next exhibtion, a double-bill of shows that looked at the crossover between creativity and mental illness.
---
Research showed that Wellcome Collection had two distinct audiences: the day-trippers, who probably didn't know the venue well and needed clarity to guide them through the offer; and the culture-hopper who saw the venue as one of a number of a cool London hang-outs, somewhere to meet friends, use the wi-fi at lunchtime and come to unique events in the evening.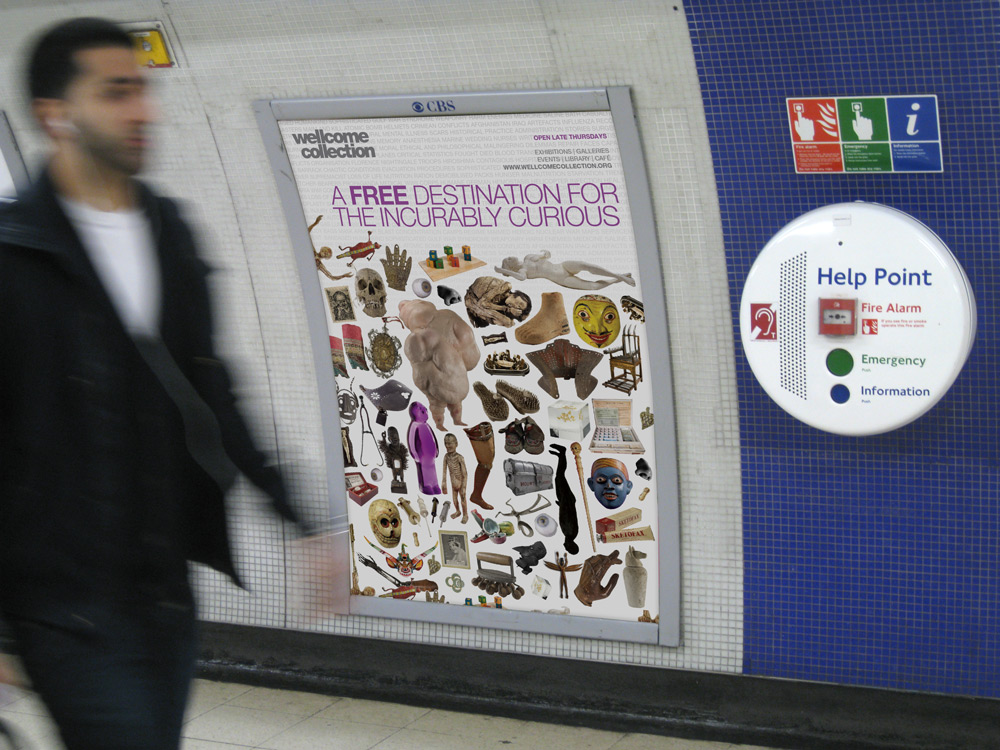 For the day-trippers we developed a campaign concept with a huge tessellation of curious objects that could be used as a background pattern or cropped into for use on specific leaflets, banner and posters.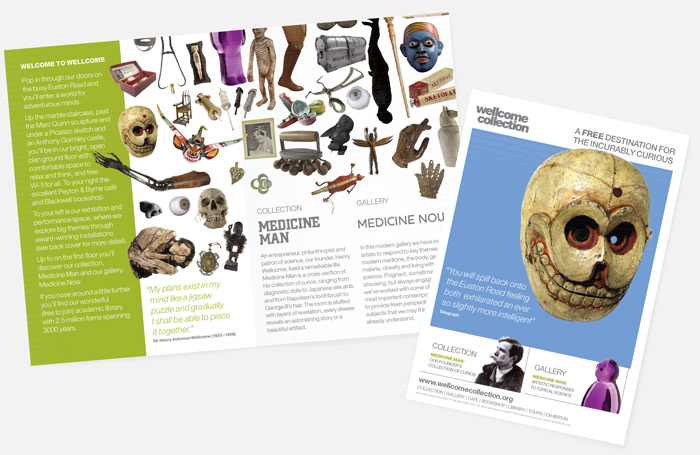 We focused on the 'free' aspect of the permanent collection and 'sold' the venue as an unusual drop-in for intelligent and curious people. We designed a simple, impactful leaflet that could be mass-produced and distributed through leaflet racks across and beyond the capital's cultural venues, libraries and community centres.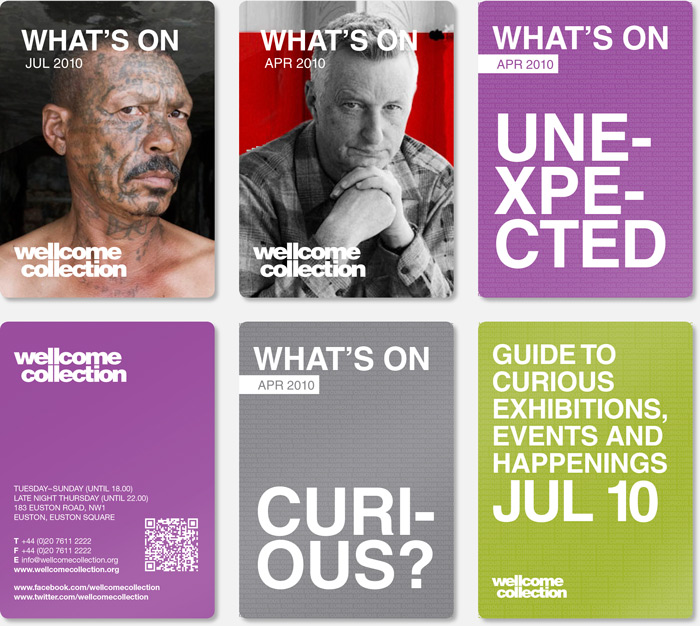 For the culture-hopper crowd, our communications had to be more targeted on specific events and activities.  We developed these short-run, pocket-sized folding events guides.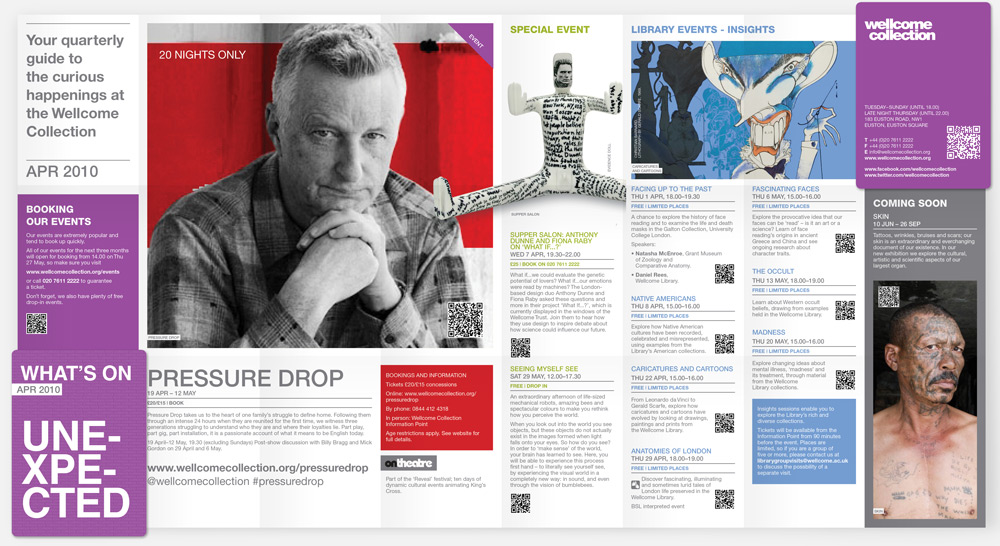 We introduced (at that time, quite cutting-edge) QR-codes for every event, allowing us to keep copy to a minimum whilst encouraging audiences to sign-up to the free wi-fi (and leave their contact details for future marketing). The booklets also afforded us the opportunity to start using the colour palette in a more structured way, with different types of event given their own colour.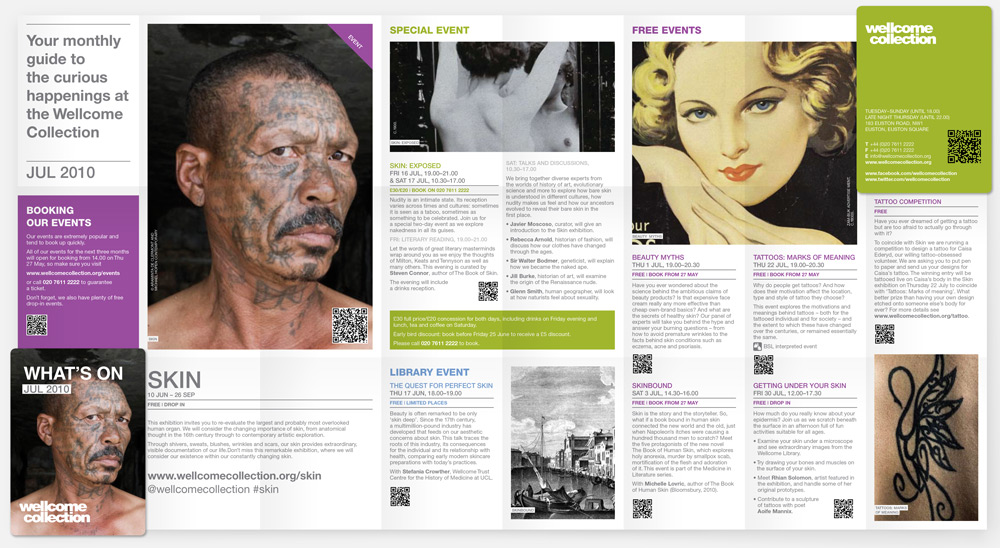 And again, the layout was entirely modular so the in-house team could quickly swap and change elements to build each issue even though the number of events might vary between issues.
Looking back on that three-year body of work, I'm really proud of the journey we helped them to navigate. We certainly achieved our main ambition – to put Wellcome Collection firmly on the cultural map of London.
And there was one big project that sat outside of this work… a thematic year of activity and their biggest exhibition to date: Identity. More about that work elsewhere in this journal.