When the first marketing emails pinged in my inbox, about The Ruling Class, I belligerently deleted them. I was grumpy about another, above-the-title star-casting for Jamie Lloyd's Trafalgar Transformed season.
I'm such a hypocrite. I saw Martin Freeman's Richard III and James McAvoy's Macbeth and enjoyed them both, but I'd never heard of The Ruling Class and so dismissed it.
As time wore on and the high-star reviews rolled in (I hadn't read them, just seen the stars) my grumpiness relaxed. With a last-minute deal (it was still £30 a ticket) I relented and booked. I had no idea it was a revival and didn't know what to expect, but with a name like The Ruling Class, I assumed I'd be in for a bit of politically charged class-war, with McAvoy railing against the aristocracy. I was mistaken.
In the opening scene, an ageing, hang 'em and flog 'em judge (and Lord) explains that he needs to take a new wife because all of his suitable male heirs have met tragic ends, leaving just one wayward son. Minutes later, he's noosed from his four-poster, in a tutu, indulging in the sort of self-inflicted sexual garrotting that was the downfall of so many, between the sheets of the News of the World.
Walking in to find his 'master' dead and hanging (with none of the sexual 'consequences' that you'd biologically expect from such an act), the butler exclaims and downs his whisky to howls of laughter from the audience.
After the funeral, in walks McAvoy. He's Jack, the unsuitable boy who has now become the 14th Earl of Gurney. He's dressed in a monkish habit and he thinks he's Jesus. 'He's mad' someone exclaims to us all in case we hadn't picked up on the subtlety.
The tone is set. The tone is dark, clumsy sixties satire with music and dancing.
There were skeletal, literally cobwebbed members in the House of Lords; there was a mad psychiatrist in a straightjacket; there were upper-class twits and men, hilariously dressed as larger ladies, organising the village fayre.
I could cope with most of that but I couldn't come to terms with the sixties view of schizophrenia and its hilarious consequences. There was even a mad-off between two loonies to see whose insanity would crack first and bring them back to normality.
And, I know it's a crazily modern view but wouldn't it be nice to see a play where the women don't end up in their underwear?
Despite the unpleasantly outdated script there was something very engaging about the production. That something was McAvoy. He was absolutely brilliant in the role of Lord Jack Gurney. It was a role made for a charismatic lead, Peter O'Toole played Jack in the 1972 film version apparently.
McAvoy made the role his own, bringing an incredible morphing physicality to every scene. He leaps from crucifixes, shuffles as a dwarf, and Charlestons like Fred Astaire.
In the second half, after Jack is 'cured', the clunky story casts him as a dark force: murder ensues as Jack becomes the ripper, and his shotgun-toting character is happily accepted into the impolite society of The Ruling Class. All the while, McAvoy is compelling and beguiling. I couldn't take my eyes off him.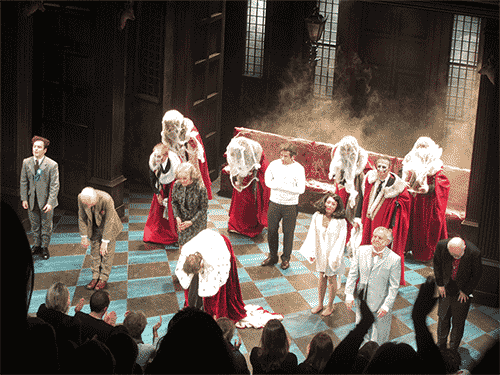 I've been back and read those high-starred reviews. Everyone seems to have fallen under McAvoy's spell. Admittedly, theatre critics seem to have a love of farce that leaves me baffled, but none of them have a good word to say about this particular rag-bag of clumsy plot-points. It is McAvoy's shine that has earned their stars. And those stars are well deserved.