Greeted by beer and popcorn we settled in to listen.
Sarah, who now runs her own practice, and previously worked as Phaidon Pvx, spoke first. Her talk was interesting, although brief, and she talked through several of her book projects.
Very quickly Craig Oldham was up.
Craig's passion, bluntness and effing 'n' jeffing, amused and at the same time struck a chord with the audience. He spoke about his self published book 'In Loving Memory of Work', a very personal project about the UK miners' strike of 1984-85, which his Dad was a part of.
Craig demonstrated the creativity of the miners and their families, and spoke about how they used what they had available to say something important.
"Design is such a middle class profession, so I really want young designers, who may know little or nothing about this subject, to pick it up as a design book and then hopefully take from it a desire to create meaningful work."
Craig was a hard act to follow, and the audience was quiet as David Pearson stepped up. We needn't have worried, he gave an educational and brilliant talk, picking out things he'd learnt about designing book covers over the course of his career; working for book publishers Penguin, and afterwards whilst setting up his own studio.
Whilst I was at Bath Spa University, David visited and gave a great workshop, so I was keen to see him speak again, (and pay a bit more attention this time round).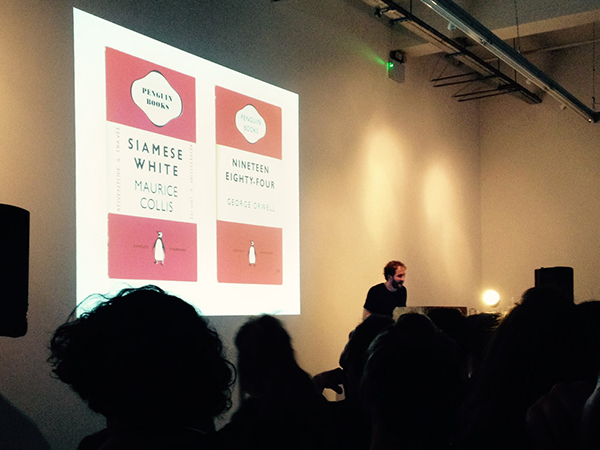 "Book covers can be used to build relationships through complicating legibility and encouraging reader interpretation. By building in these pockets of space we obviously increase the chance of miscommunication, but we also open up the possibility for meaningful – and memorable – connections to be formed."
He spoke about keeping imperfections in your work, and how he sometimes works with rubber stamps, oil and water, to deliberately create imperfections. He also spoke about having confidence in your design decisions, especially if you're being pushed to play it safe because something has worked well in the past, and not spoon feeding your audience.
One of his final points was on legibility, and how when working on a book series you can hide elements on one cover, with the knowledge that these elements could be seen on another cover in the series.
We came away inspired, clutching a signed copy of 'In Loving Memory of Work', and looking forward to the next Nicer Tuesday's event.