There's something for everyone in the all-star casting of Old Vic's production of King Lear.
Rhys Ifans plays The Fool (as usual); there's a sprinkling of 'you remember, we saw them in that thing' faces in the ensemble; there's a grown-up Dudley Dursley (Harry Melling) from Harry Potter; and the Royal household is filled with acting aristocracy: Celia Imrie is Goneril, Jack Horrocks is Regan, and the shunned youngest daughter, Cordelia, is played by rising star Morfydd Clark (most notable in my household because of her lead role in the excellent Pride and Prejudice and Zombies).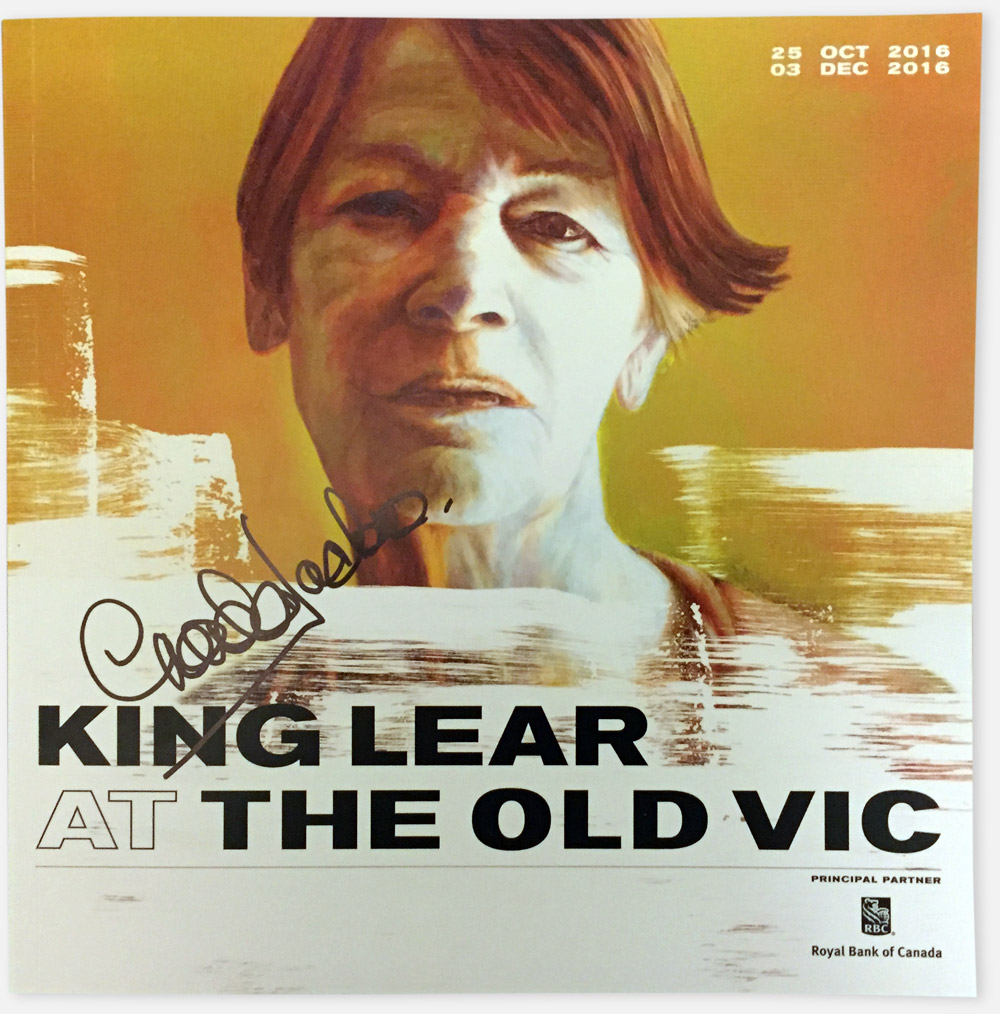 Head of the household, the imperious Glenda Jackson, returns to the stage to play our monarch after her years of political service.
I've written before about not really liking the plotting and pacing of Shakespeare's tragic 'masterpiece'; it's just too long and rambling for me. But I wasn't going to let my dislike, of what others consider the greatest English language play, get in the way of seeing Glenda Jackson on stage. 
Jackson is of course wonderful in the role. At eighty she's ideal for the part, life's experience hanging heavy from her frail frame, and a tongue as sharp as any in the room. I wondered a little what it would be like if she'd played the role as a woman. Seeing a 'man' be so mercurial and spiteful is more recognisable and somehow less shocking than if the lines were to be delivered by a woman.  
I'm a big fan of Director Deborah Warner, especially her collaborations with Fiona Shaw (who plays Dudley Dursley's mum in the Potter films). Their The Testament of Mary was one of my favourite ever theatrical experiences. I'm also a big fan of the Old Vic, it's one of London's most interesting venues, especially at the moment. But there was something about the combination of the two that didn't sit well with me. The vast staging and clinically detached direction left me a bit cold.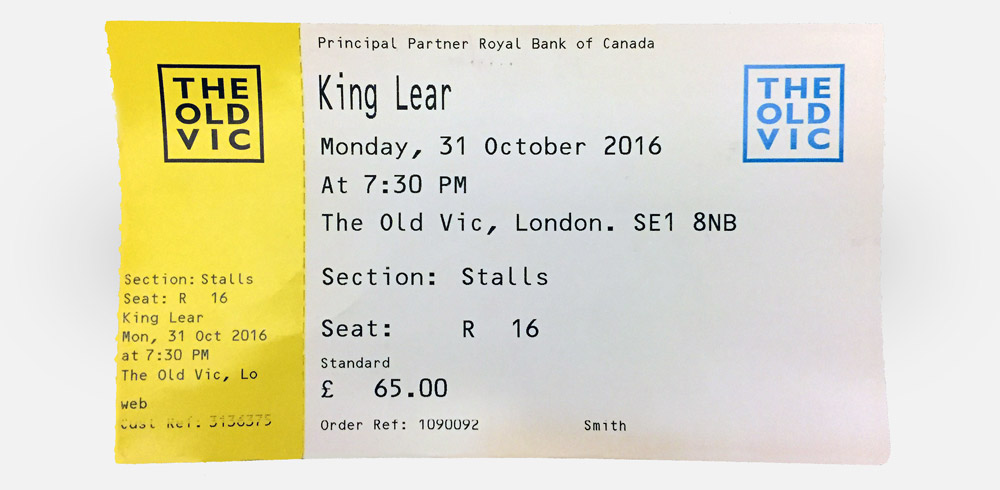 Actually, the whole experience was pretty chilly as the air con in the stalls was turned up so high that many people put their coats back on. Presumably it had to be cooled because the Old Vic is such a tall building and a sold-out, three and three-quarter hour performance would make it very warm in the upper circles, I've sat up there many times and it can get very hot.
The Old Vic has a huge stage and Warner has used the full depth of it, often getting her characters to make the most of their perspective, walking from back to front, sometimes followed by moving walls to enhance the effect. It works well most of the time but it does mean that everyone has a lot of distance to cover, they are constantly moving and dashing between plot points.
There is a palpable sense of chaos and disintegration as the 'empty' set (stage hands and production managers are walking the floor as we arrived, making a play of the empty set) gradually fills with white noise, cracks of lightning, and torrents of rain, projected onto black plastic sheeting. 
The eye-gouging scene is particularly 'noisy' with huge cast shadows and Horrocks' Regan mock screaming (in either approval or disgust, I'm not quite sure which) as her husband removes Gloucester's eye. 
For me it felt a bit too big and disconnected. I remember seeing a production at Almeida's temporary bus station venue (with Oliver Ford-Davies as Lear and Tom Hollander as Edgar) where the scenery literally fell apart and crashed to the ground and rain fell from the ceiling; I think that probably hit my level.
It also felt, to me, a little like the actors had been given free reign to find their character's voice, which results in lots of interesting performances that didn't carry the plot as clearly as I need. Sam Mendes's production at National Theatre (with Simon Russell Beale as Lear) had been so clear in its story telling and consistent in its character building that I feel I might have been a bit spoiled by the experience. 
Towards the end of the play I became quite distracted. Shakespeare gives lines to a character (the Gentleman) who's not played much of a part before then. His County Tyrone accent is so distinct that I knew I recognised it. Each time he spoke the cogs in my brain were turning, until they clicked into place – it's Ian Craig (Stephen Kennedy), Adam Macy's husband from The Archers. I try to ignore it but I can't help wondering if this is why he's been looking for work away from Ambridge and can't forgive Adam for his infidelity.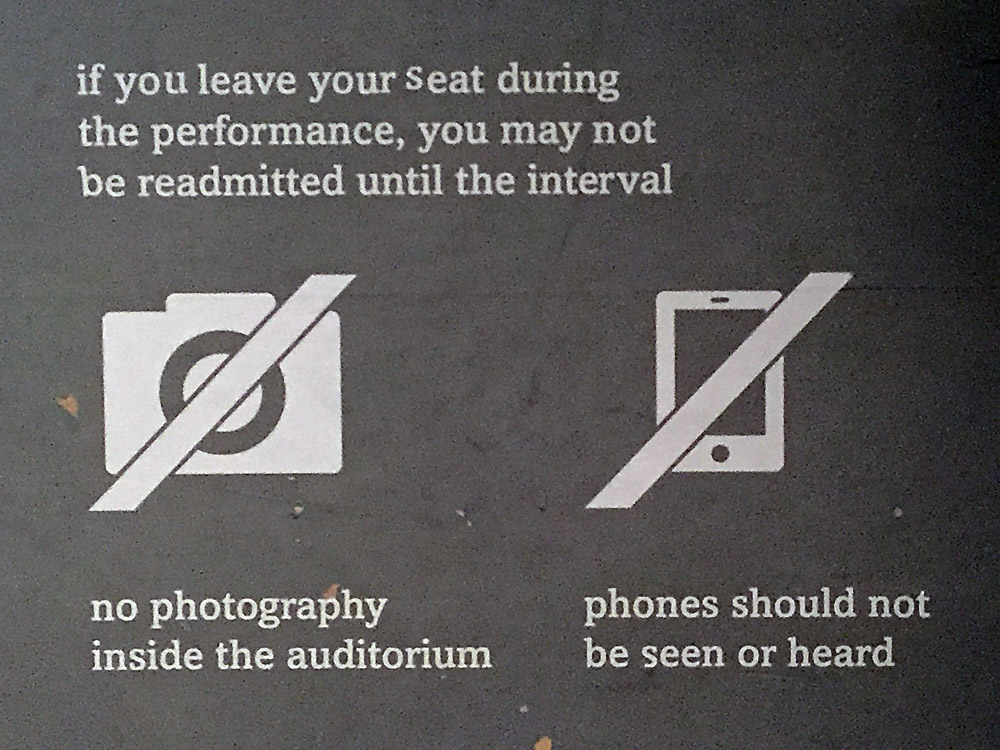 This production is a spectacle and Glenda Jackson is everything you would hope. Don't let my lack of stamina and grumpy dislike of the staging put you off. 
It was very late when the lights went down and the audience rose to their feet in appreciation. I ran out to have some hope of making the train and getting home before the Shipping Forecast (as you can tell, my days are punctuated by Radio 4). But my partner and son stayed and waited, as they like to do, to meet the cast at the Stage Door. They were all (especially Jackson) charming, chatty and generous of their time, apparently.
The all-star casting might be distracting to some but it definitely brings in the audiences and gets them to experience new interpretations of 'the greatest English language play'. I wish I'd enjoyed it more.