My small echo-chambered alcove of Twitter was filled with excited voices at the beginning of September 2017. The much lauded immersive theatre company, Punchdrunk, had announced a new London show and it promised to be something quite different.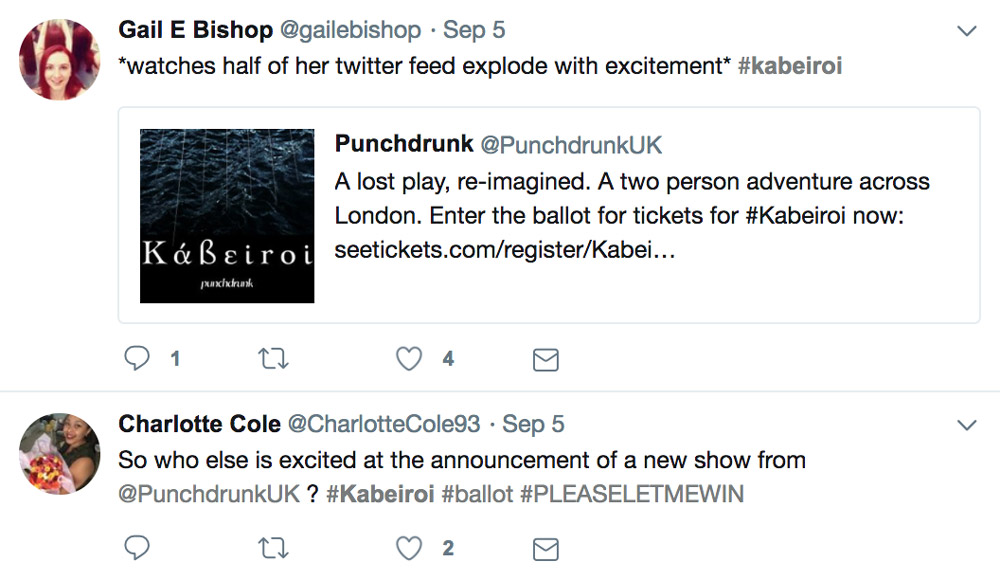 The play, or was it a performance, or maybe a happening? Let's call it a show. The show is based on fragments of a lost play by Aeschylus that told the tale of the women of Lemnos – Persephone, Demeter and Hecate – and the Gods they worshipped, Kabeiroi. Are you following so far?
No, of course I hadn't heard of the lost play. You can Google it but you won't find much.
It's the kind of high-concept thematic starting point that Punchdrunk's artistic director, Felix Barrett, seems to revel in before abandoning the narrative and leaving audiences adrift in their own arcs.
---
Getting a ticket
The show was for two people at a time. Tickets (£55 each) had to bought in pairs, via an email ballot. Because of the relatively short run, there were a total of 432 pairs of tickets available (and I'm guessing that a fair few of those went to the company's 'supporters').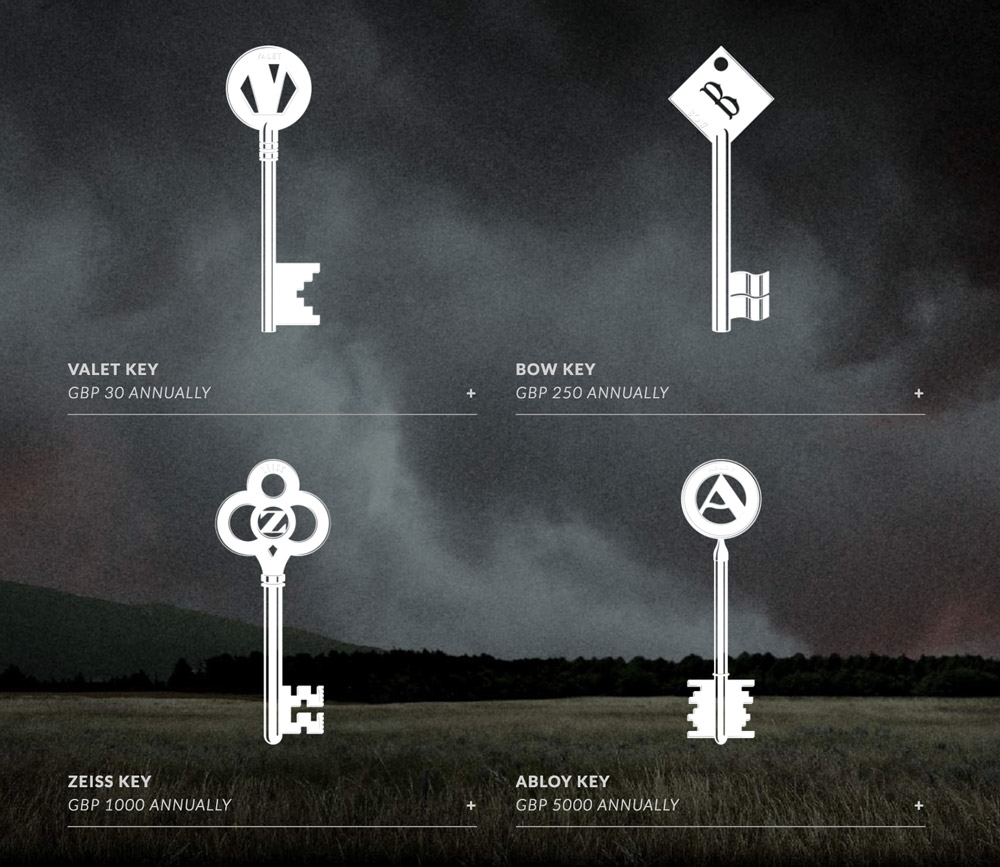 So, the chances of getting a ticket were remote before you'd even dipped into the long list of reasons not to come on their website… not suitable if pregnant, claustrophobic, of a nervous disposition, under 18… you must be comfortable being on your feet for six hours… dress for the weather, there are no storage facilities, no refreshments… you must bring a travel payment card… no mobiles, no cameras, no re-entry if you leave, and no refunds.
This exclusivity either made the prospect more tantalising (as it was for me) or ever more off-putting (as it seemed to many of the critics who were not given preview tickets)…
After the excitement of entering, I felt let down at being unsuccessful in the ballot, and thoroughly deflated by failing again in what seemed to be a hastily-arranged second round (presumably to fill the gaps of those who'd read the T&Cs after being invited to buy).
In the second rejection email was a line about any available tickets going on general sale on Thursday 21st September from 12pm.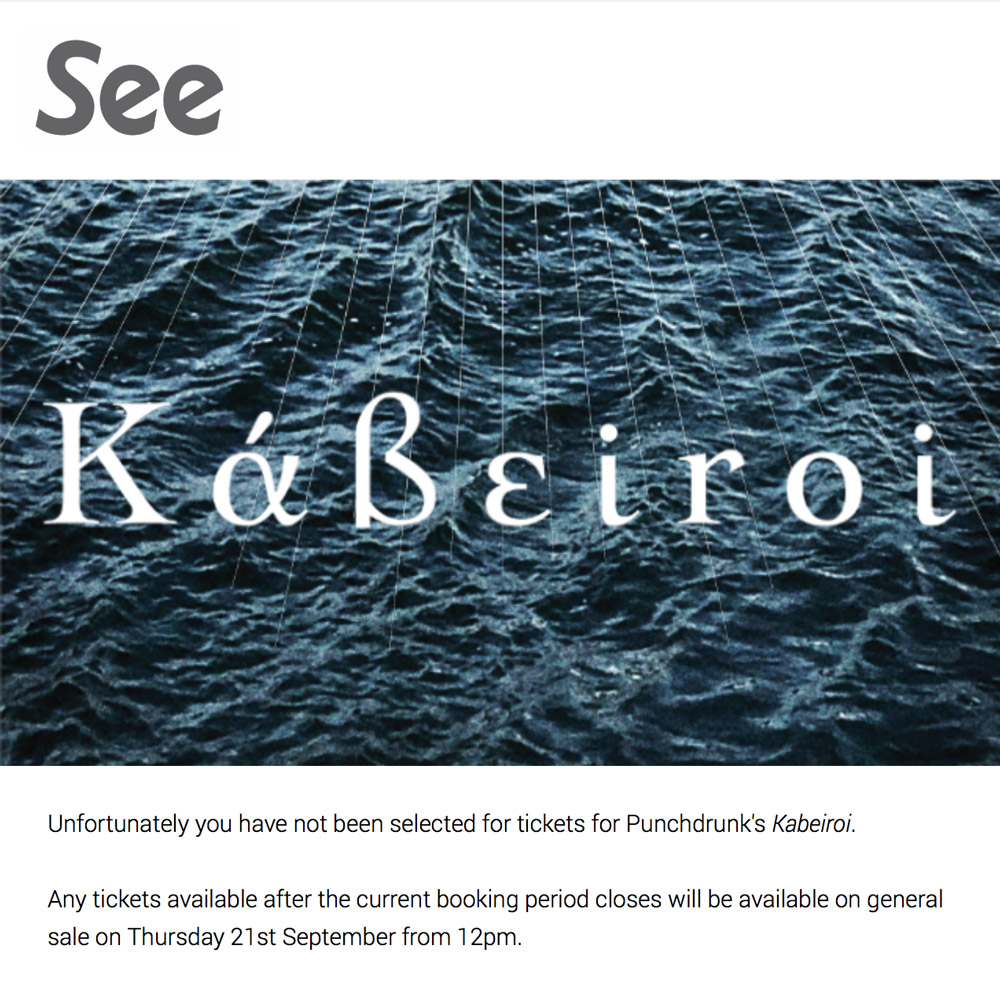 That time came and went with no follow-up and no real indication of how to get those tickets.
But I've been involved in enough ticketing websites to know that there probably wouldn't be a system in place for this eventuality. I just had to go to the event page and click on each date and time, over and over again, in the hope that my page refresh coincided with them putting a pair back on sale.
After an hour I stumbled into a pair. I felt like a ticket-securing superhero. As VR becomes more and more realistic, I might repackage this experience as a high-concept computer game for arts-nerds.

My reward for all the effort… disappointingly these were print-at-home tickets. 
Punchdrunk had handed over the ticketing experience to See Tickets. That's probably a good thing as they have the infrastructure to handle it (and did it well, despite my grumbling at being unsuccessful) but it does seem a shame that Punchdrunk didn't take over the communications once contact had been made – it would only be 432 emails, after all.
But some people seem to have been sent special tickets. Maybe those 'golden-tickets' were for the company's supporters, or maybe they just ran out as they seem to be for previews…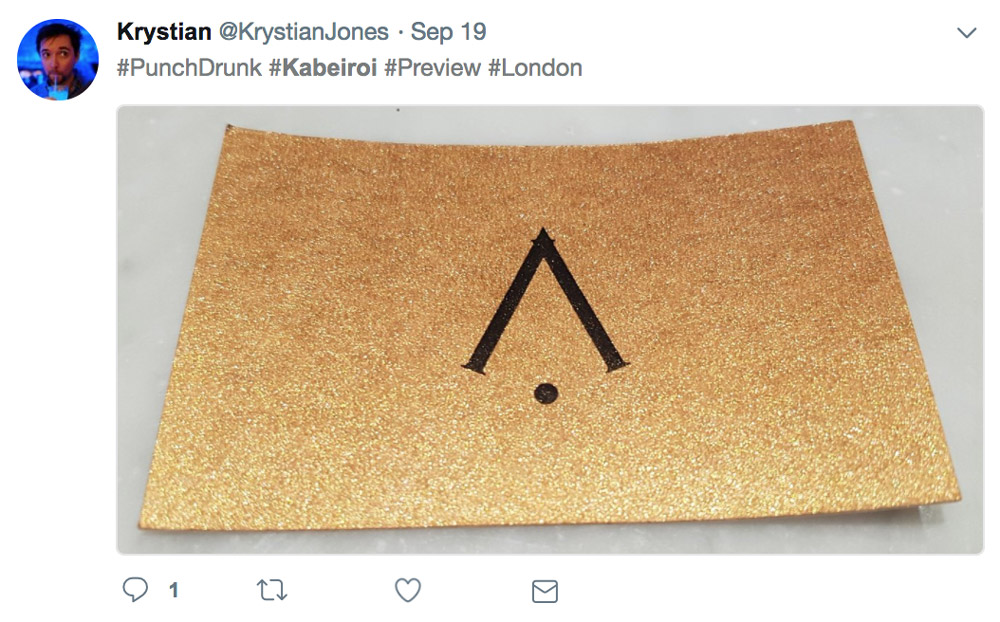 Three weeks later, limp sheets of A4, in hand, my friend and I arrived at the secret location in central London.
---
A review with lots of spoilers
A few years ago I was chided by a member of the Punchdrunk team for talking about a tiny part of The Drowned Man show so I'm nervous of giving away spoilers. 
But I don't really know how to write a review without talking about the show so please don't read on if you are here after a Google search having been lucky enough to get a ticket for some future incarnation of this show.
i) An inauspicious start 
Our experience started badly. We waited at a designated place, a wooden hut, at the appropriate time: "Please arrive exactly five minutes before the time stated above. Late-comers will not be admitted".
We ignored the A4 laminated sign with directions to a crappy looking tourist walking tour, pinned to the door. We thought it might be a bluff, or a sign for an actual crappy walking tour – there were no clues, no Greek symbols or thematic links.
We debated, maybe we should split up and one of us should wander off. But we'd been told we had to be a pair, maybe that was the test. We decided to stay put. That was a mistake.
I hadn't read the small-print of the T&Cs that had been emailed to me by See Tickets. In there was the name of that walking tours company (it wasn't on the tickets).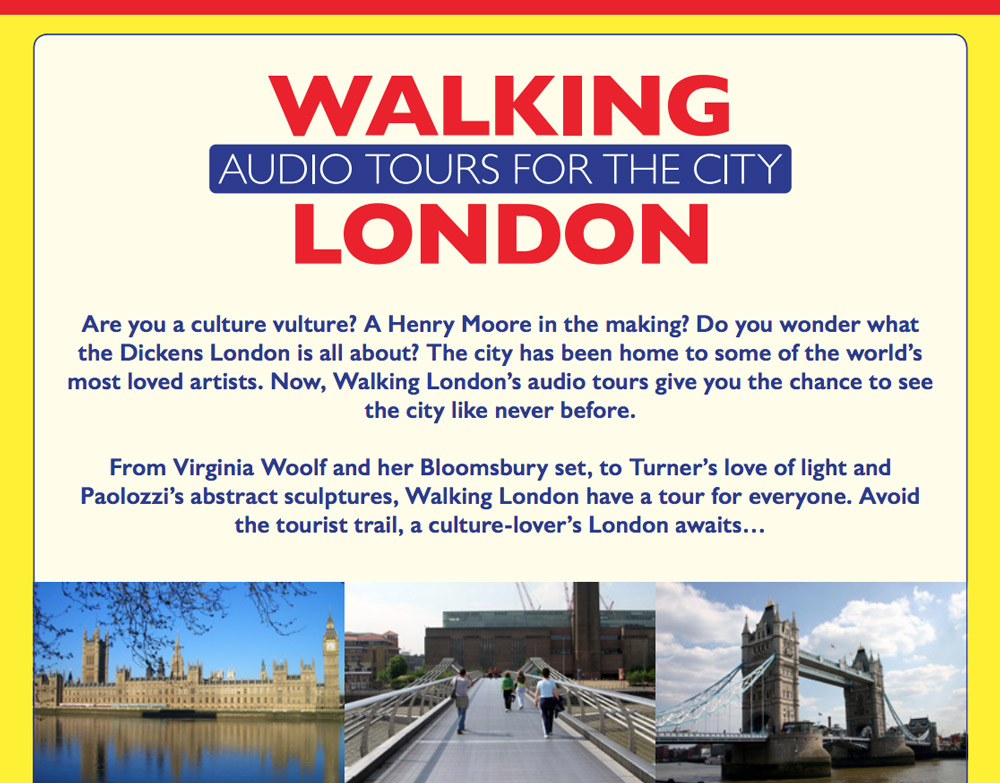 We stood and waited. The five minutes passed. A woman strode towards us and told us off for not coming to find her.
Then she corrected me for mispronouncing the name of the show (we all know how to say Kabeiroi, right?). 
"Have we stumbled at the first hurdle?" I asked.
"Yes, you have rather"
She made me feel stupid. I didn't enjoy that. 
Maybe she was playing a part and being grumpy with me because I'm a man, and the Kabeiroi-worshipping women had killed all their male relatives. Oh no, she was just as grumpy with my female friend.
Marched to our new location we were given a map, mobile phones with audio-tour apps and some instructions to keep a brisk pace. We were also asked to place our own mobiles in pouches, locked with shop security tags (and told not to enter any shops in case the alarms went off).
---
ii) An enriching if slightly boring walking tour
With cheaply-printed maps of 'London's rich cultural history' in hand, and noise-cancelling audio tour headsets on ears, we set off into the crisp dusk evening. I was very pleased it wasn't raining.
Our maps promised that we'd 'experience London like a local' and showed us where we were going to end up (the British Museum). We listened intently to the audio tour as it guided us through Bloomsbury. But the map extended further, dropping hints towards the day ahead.
It was a nicely paced excursion, featuring literary figures whose lives and works were set on these streets. I suppose it was a good way of layering a narrative onto an existing backdrop – immersive shows often have a kind of decompression stage as the audience are acclimatised away from reality. 
There were some idea planting moments, calling on us to look into the eyes of strangers, to imagine the generations who had walked these streets. We were beginning to feel paranoid – any of the 8 million Londoners might be in on it, watching us, poised to interact.
As we approached our destination the audio started to shift. The sound of an approaching storm rose in our ears.
We entered via the rear of the British Museum, through a security checking tent. Were they in on it, would they stop us? No, we were ushered straight through into the exhibits.
The audio continued to guide us, music began to soar until we were immersed in a more cinematic experience. From case to case, ancient artefacts were given resonances: a pot, a bell, the tiny figure of the Kabeiros. As the sounds surged further we found ourselves standing before an ancient tomb, then spun to face three headless goddesses.
Actually, my friend had found three different female carvings to gawp at. That must have caused some panic amongst the Punchdrunk performers. After a while I realised what was happening and went to get her.
As we stared together, we were approached by our first 'actor'. An older woman with melancholy eyes. She stared deep into our souls and held us tenderly by the hand. Our headphones were taken and we were sent on our way into the next stage of our adventure.
---
iii) A treasure hunt
Our borrowed phones turned from audio guides to text message receivers. A stranger sent instructions to rush through the museum, onto the streets and told us to hide. We were excited and disconcerted. 
We were told we had to gather an offering to appease the gods. We had no idea what to do. We hid in a gift shop and I bought an offering – the cheapest thing I could find was a 99p guitar pick. But I guess we'd just hidden in the 'wrong place' or that they failed to track us as we left the museum because we were ushered on by the texts.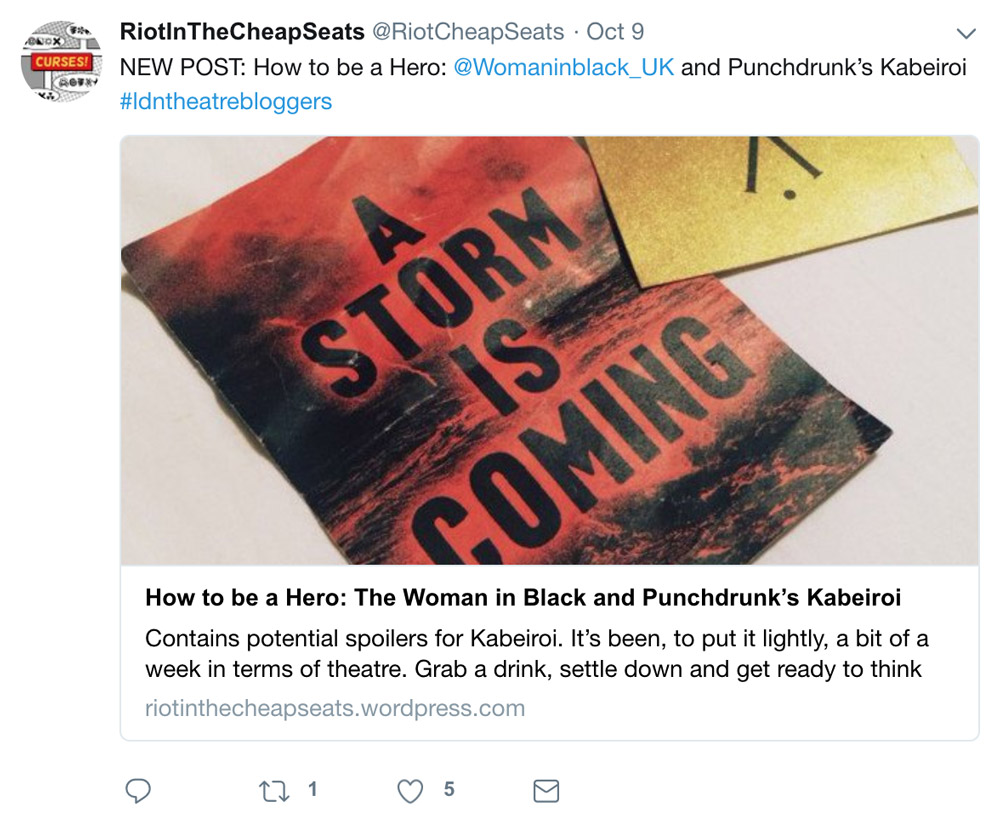 Maybe that was the point where someone was supposed to thrust a leaflet into our hand. Other people seem to have had them but we never did.
Guided by the mysterious well-wisher, their instructions sent us gathering items from an underground car-park and a lock-up storage facility.
I don't know about you but I've only ever experienced storage facilities in the context of crime dramas, so I was particularly on-edge as we punched-in codes and used retrieved locker-keys to gain access. Was that person in the other corridor really retrieving their stored possessions, or were they actors about the pounce on us, or were they unconnected and actually just about to attack us and leave our bodies in a lock-up?
It was very dark now and the clues sent us to a pub. On the way, a passing Punchdrunker grabbed at the arm of my friend. She screamed. It was the second time it had happened, maybe they were testing our resolve, maybe they were just keeping us on edge, letting us know they were watching, or maybe they'd just run out of leaflets.
The pub must be a 'stage' management device, to keep us in synch with the dozen other people who must have been at various stages of the journey. But by now we were suspicious of everyone we saw. Why had that empty table been reserved by a man with a Russian name? Was that a real football game on the TV? Was that woman talking loudly on the phone to an actual person or was it all a pretence? We closely guarded the clues and treasures we'd picked up along the way.
Another text and we were off again, this time to a small hotel where we were each summoned individually to a room and told that the other had been 'taken'. I was rushed down the stairs and ushered out into the night.
---
iv) Alone in the dark
Oh God. My friend had been 'taken'. Selfishly, I wasn't that worried about her, but I was concerned at my own ability to complete the challenges. I do not have 'a very particular set of skills'. I'd felt reasonably comfortable in a pair but on my own, in the dark, without my mobile (even in central London) I was starting to properly panic.
A text sent me to a lamp-post with a tiny mobile number on it – really, really tiny.
I can only imagine that the whole experience had been planned in daylight by young people with sharp eyes. I just about managed to read that first number. I called it, a voice gave me detailed but obtuse poetic instructions to find another number.
Jesus, I'm never going to remember all of that.
The voice mentioned a street. I had no idea where the street would be. It was too dark for me to read the tiny printed map even after I'd finally remembered I had it in my pocket.
By now I'd realised how reliant I've become on my own mobile phone. With it locked in a bag, I was lost.
What if I never found the next number, what if the whole afternoon's performance collapsed due to my incompetence?
I was in such an adrenaline fluster that I almost forgot myself and asked someone for directions. But, as anyone who knows me will tell you, I'd rather spend all night wandering aimlessly in circles, until fatigue drags me into the gutter, than ever ask anyone for directions.
I did wander in circles for a bit until I realised something. That number must be an answerphone. I can ring it again and listen properly this time, and I kind of do know London well enough to know what direction to head in. Slightly calmer I found my way to the next tiny number, and the next and the next (their phones will show quite how often I had to re-call because I couldn't recall the clues).
After at least one too many of those number-readings I was at King's Cross, a station I know well enough to know that the barriers in the toilets are broken so you don't have to find 30p (who ever has coins in the pockets nowadays?) to spend a penny.
A text had told me to wait and get sustenance for 20 minutes so I thought I had plenty of time. But when I came out of the loo the phone buzzed with several missed messages.
Where are you?
Change of plans, you have to go now.
Are you ready to go?
Let me know when you are ready to leave.
---
iv) Travelling to the dramatic climax
The texter told me to get the tube. On the way I had to learn lines from a prayer, stuck inside a book we'd picked up earlier. Actually, I think my friend was supposed to have the book and someone must have spotted that mix up along the way and redirected us.
The last time I'd learned any lines was from Shakespeare, at a detention in 1982. I didn't fancy my chances. But by the time I'd arrived I was reasonably confident. I know the lines now if you want test me – both the Kabeiroi prayer and Macbeth's last soliloquy.
I really don't want to spoil the final part of the experience (even if you think you're fine with spoilers). I can tell you it took a leap of faith, a blind-folded journey, a ritual where I had to hold a pose for longer than my body wanted, and a test where I had to say 'the words' to prove my belonging to a sect. 
A rescue mission reunited me with my friend and we escaped into the presence of Goddesses. That was one of the most intense 10 minutes (or maybe it was an hour, by then I'd lost touch with mundane concepts like time) I've ever experienced. 
All too quickly, a distant door opened and we were back out on the streets.
My phone was released from its security jacket and I was finally tethered back to a reality. It was 9:30 and I was a long way from home.
---
Was it any good?
It's three weeks since I experienced Kabeiroi. That's just enough time for it to sink in. But was it worth the heart-ache and time invested in getting tickets?
Not everyone on Twitter loved it…

I've been on better London-based, treasure-hunts with planted actors: Accomplice:London (from Tom Salamon and Menier Chocolate Factory) was an amazing afternoon of clue-solving and site-specific shenanigans.
I've been on more intensely immersive theatrical experiences: Punchdrunk's own The Drowned Man was astonishing; Dream Think Speak's In The Beginning Was the End was an incredible site-specific piece at Somerset House; and I've had some mind-blowing evenings with Shunt.
And I've been on audio tours with much better use of the technology. The Lost Palace is a great example.
Kabeiroi was patchy, overly long and often infuriatingly slow. But it got under your skin. There were seeds sewn that grew in the back of my mind and influenced the way I looked at London, and still do now.
I was frustrated by the lack of a single narrative thread but still I seemed to pick up enough fragments that I could tie them together. And I've been prompted to return and read around the subject (the English teacher who gave me that detention would be pleased).
There were times when I might tell myself I was safe but my reflexes made me tense and genuinely scared, like the tipping point of a great theme-park ride. My heart was pounding in my chest trying to remember that prayer.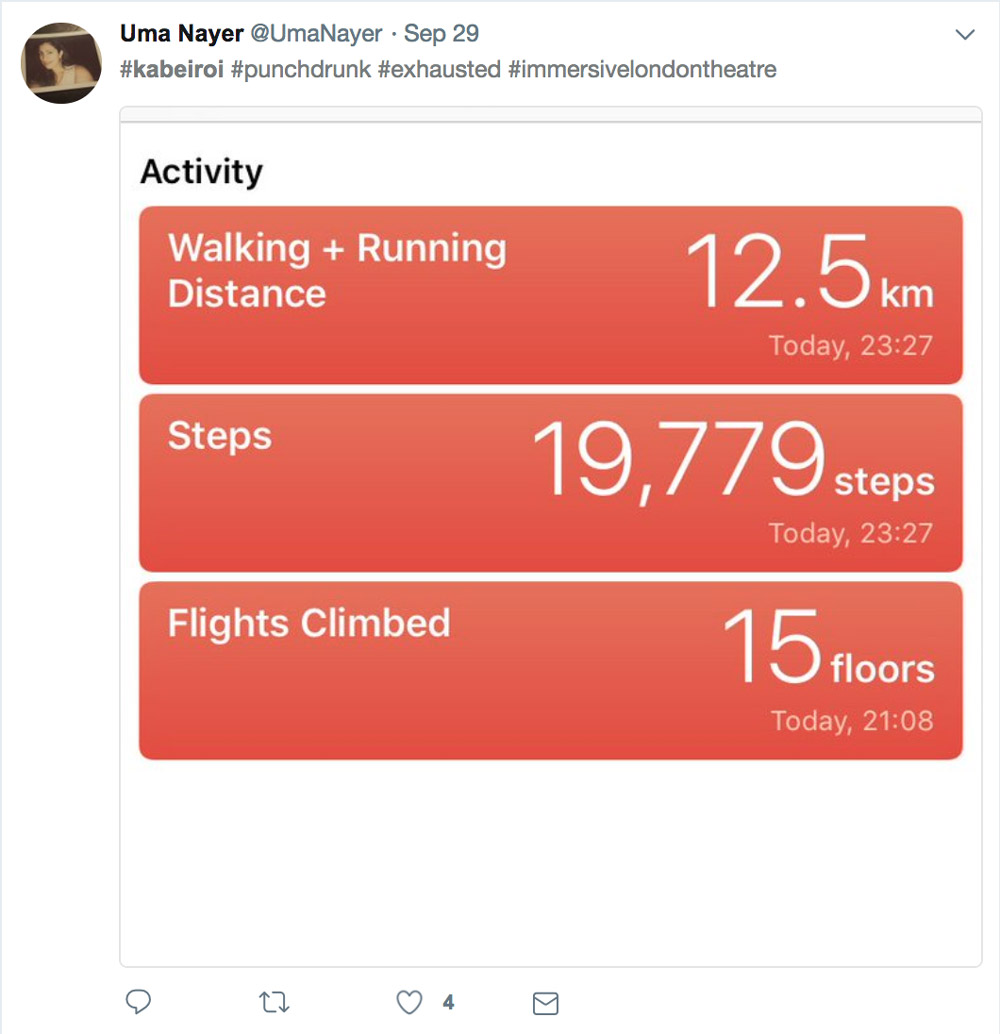 After hours of walking and overly repetitive number finding I was shattered and frustrated. But that last hour was, to misuse a modern euphemism, life-changing. And maybe it wouldn't have been without the very long lead-up and disorienting fatigue.
Technically it was astonishing. There must have been spotters and presumably tracking apps in the phones but still, keeping a dozen pairs of people evenly spaced over several hours is an exceptional feat of management.
My only criticism of the show is its lack of humanity. That opening encounter with the snarky headphone woman really knocked me off balance, and then we were set adrift for hour upon hour. There was no reassurance to counter the discomfort, no cues or signals when there were troughs amongst the peaks of action, no context to the experiences.
I still don't know if it was any good. But I loved it. I am so pleased to have struggled to get a ticket, so pleased to have had the experience. If it returns I hope you get to experience it too. But I also hope you haven't read this far and I haven't spoiled any of it for you.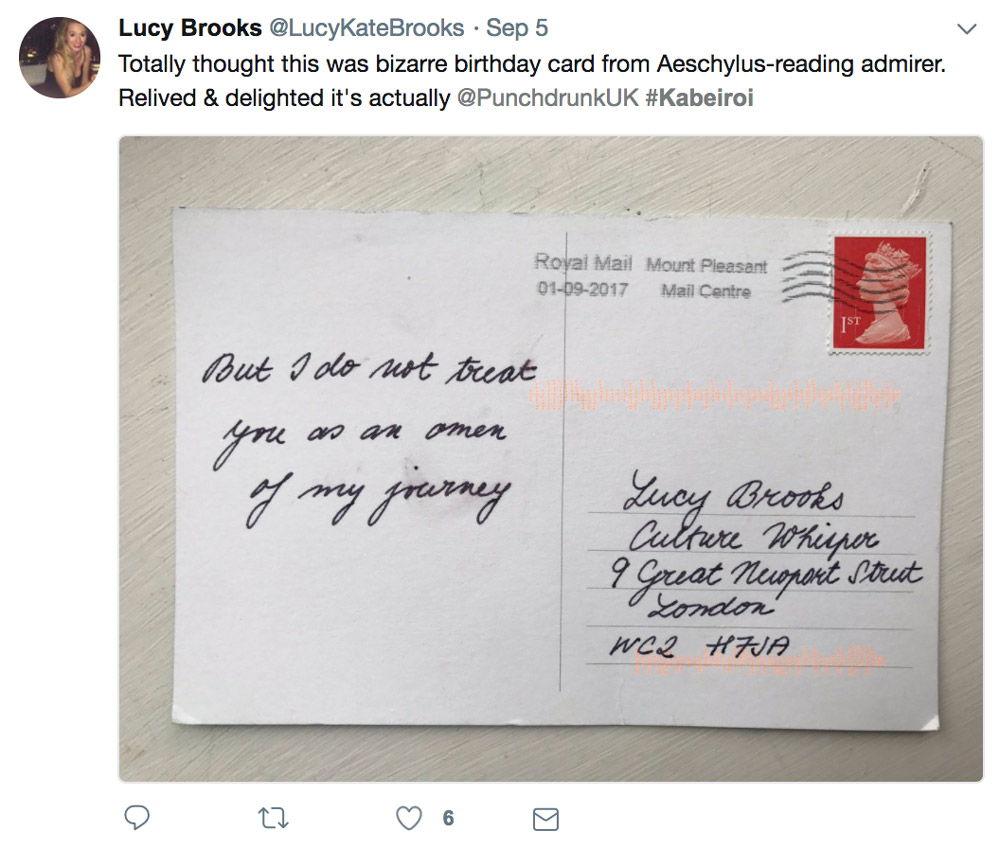 Maybe you should join their mailing list so if the show comes round again, you might get one of these postcards.