As a relatively compact event (with a capacity of around 16,000 people), EOTR is one of the gentlest of the camping festivals and seems to be timetabled to take place in the last weekend of the school holidays, perhaps that's where it got its name.
There are four stages (in descending order of size: Woods, Garden, Big Top, Tipi) plus lots of fun periphery activities. The line-up is drawn from indie labels, alt folk, blues, rock and some country, and a fair amount that can't be defined.
I first went in 2009 and I've been drawn back a couple of times, more for the excitement of discovery (and spending time with friends) than for specific headline acts.
This year I was determined to see as much as I could squeeze in so I arrived on Thursday afternoon (before the music started) and left on the Monday morning (a few hours after the final act had left the Tipi stage).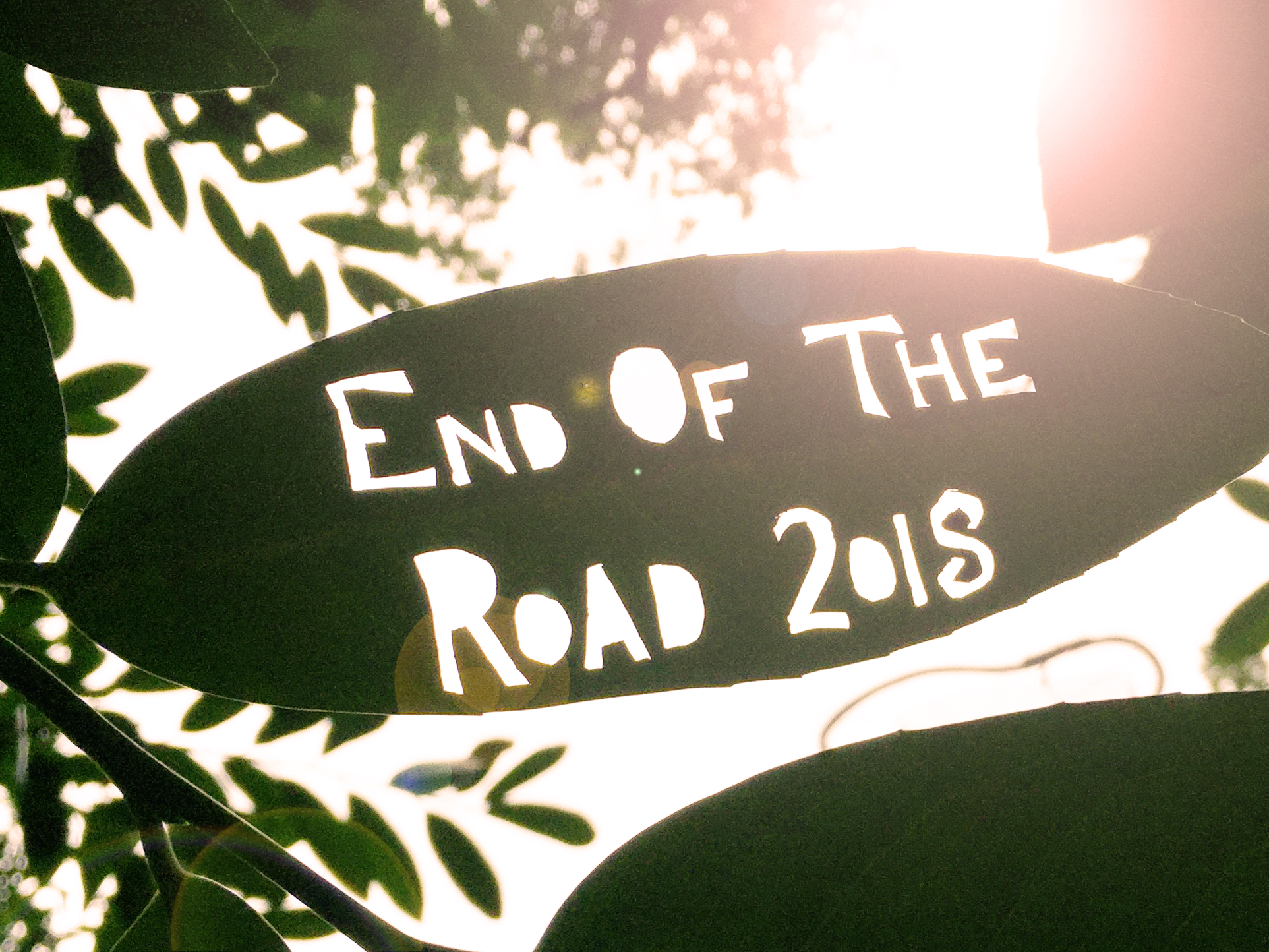 I saw a lot of music, most of which was new to me. I thought I'd make a few notes about each act so I have some chance of remembering what I saw. I'm publishing that here in case anyone is interested in skimming through.

Thursday 30th August
After meeting up with friends and setting up camp I was ready to venture, wristband in the air, into the main site around 8pm. There wasn't much music programmed but it was already busy with stalls, food vans and bars all doing a good trade. I headed to the Tipi tent. The smallest of the venues was, when I first went, actually in a Tipi but is now in a large marquee.
Quirky is, I suspect, a word I'll use a few times in this write up. It's the perfect word to describe the female trio, Bas Jan. Dressed in metallic tabards they are fronted by performance artist, multi-instrumentalist and singer Serafina Steer. There were some fun story-telling lyrics, often about the mundane aspects of life – 'how can I stop you sending me this stupid mumbo-jumbo'. Not the sort of thing I'd normally go to see so probably the best possible start to the festival.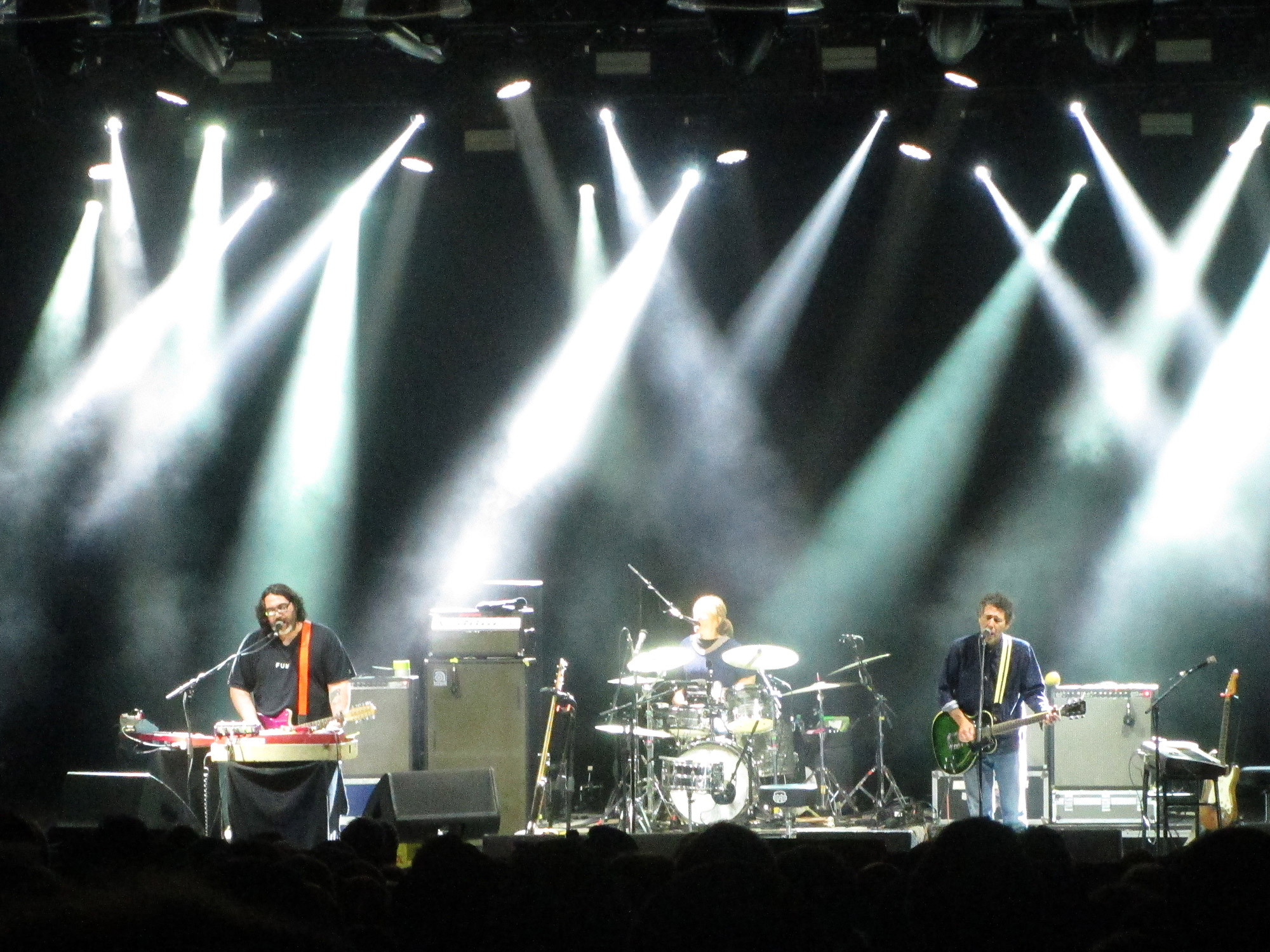 I'm guessing that the legendary trio, Yo La Tengo were booked to attract an early crowd. It definitely worked because they filled the area around the biggest (Woods) stage.
Cog worked on publicity materials for a UK tour when YLT (as they are known, apparently) in 2000. I can't remember why I didn't see them. Perhaps I was looking after my then two year old son. That son was now standing beside me. We were impressed by the virtuosity and inventiveness although, as a non-musician, I suspect I'm not well equipped to fully appreciate quite how good they are.
At a loss for something to do after YLT we headed for the cinema. They were about to show Suspiria. We kind of guessed that it wasn't what we now know to be a remake, due for release later this year, but we were intrigued. Apparently this original 1977 film is a classic of the Italian horror genre. There was some crazy cutting between shots and lenses, great use of colour and truly terrible acting.

Friday 31st August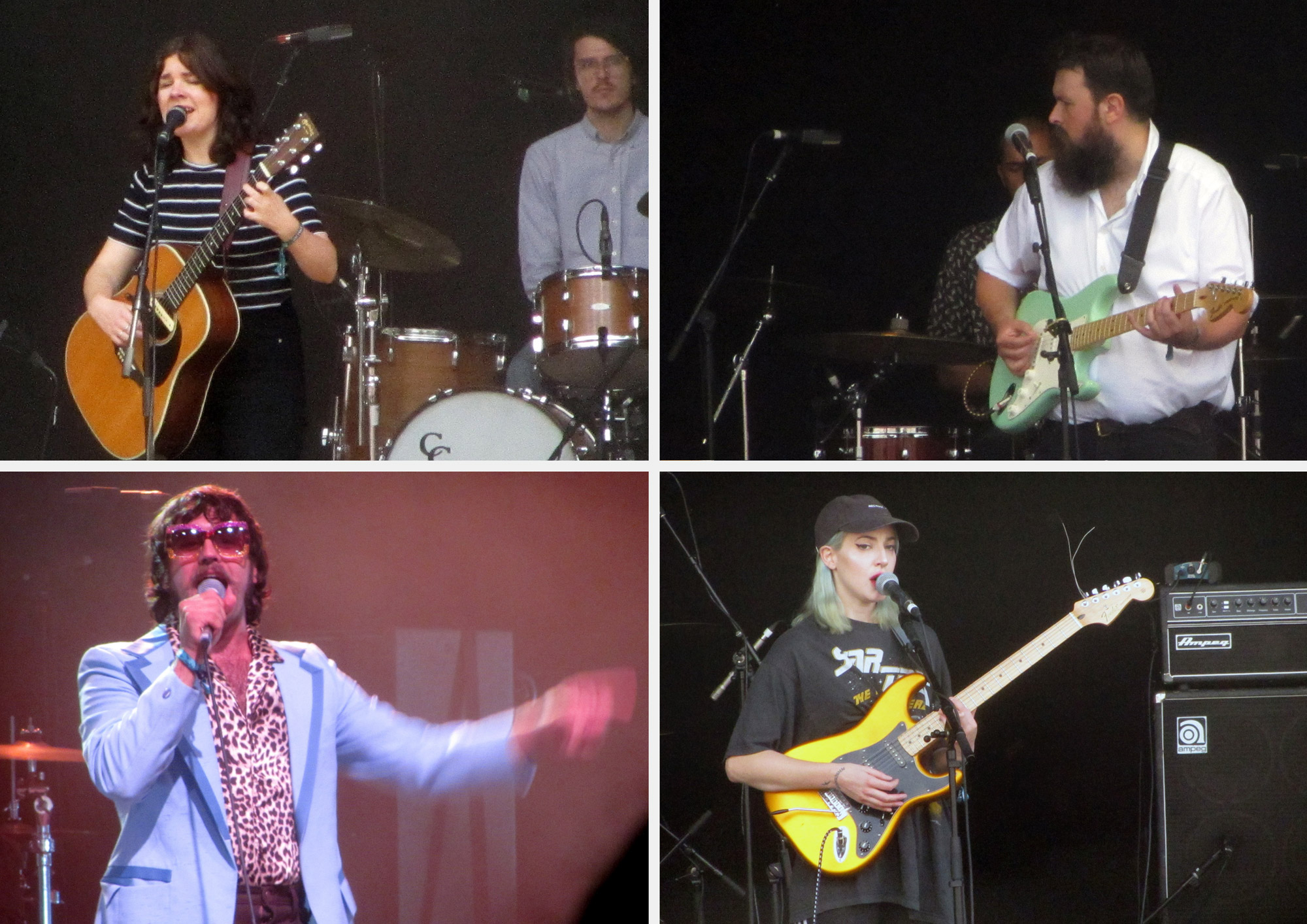 My first trip to the beautiful but always crowded Garden Stage was to see Tiny Ruins. Led by New Zealand singer-songwriter Hollie Fullbrook, this trio perform haunting ballads. A gentle, melancholic start to the day.
Taking the difficult opening slot on the main Woods stage were Red River Dialect, fronted by Cornish songwriter David Morris. A eclectic mix of folk influences, the band layer rolling percussion, acoustic and electric guitar, and strings, under earthy vocals. As far as I could hear, the songs were about big themes around nature and being. Deep stuff.
In contrast, Creatures (in the Big Top) were a pastiche of bands you might find in a Quentin Tarantino soundtrack. Dressed in '70s cabaret chic they play electric cowboy torch songs with their tongues in their cheeks. At least I hope they weren't taking themselves too seriously.
Back into the light I headed for the Woods stage where the latest Beth Jeans Houghton project, Du Blond tried to inject some late night energy and aggression into an early afternoon crowd (with some success). Judging by her angry lyrics, you really wouldn't want to be the ex-lover who bought Beth a coffee machine as a present (when all she wanted was his time and affection).
In my cursory research before the festival, the Australian band Amyl and the Sniffers had caught my ear. They were incredible live. Singer Amy is like a demented Kylie, in a swim-suit and short-shorts, she screams, head-bangs, climbs on the amps, throws the mic around and swears like a… well, as she says, people think you're rude if you don't call them a c*nt in Australia. The band are mulletted and dressed like mid '80s Midlands rockers, and they play like them too. I loved every second and vowed to see them again next time they played in the UK. Luckily for me the next time was a surprise gig, in the Tipi, two days later.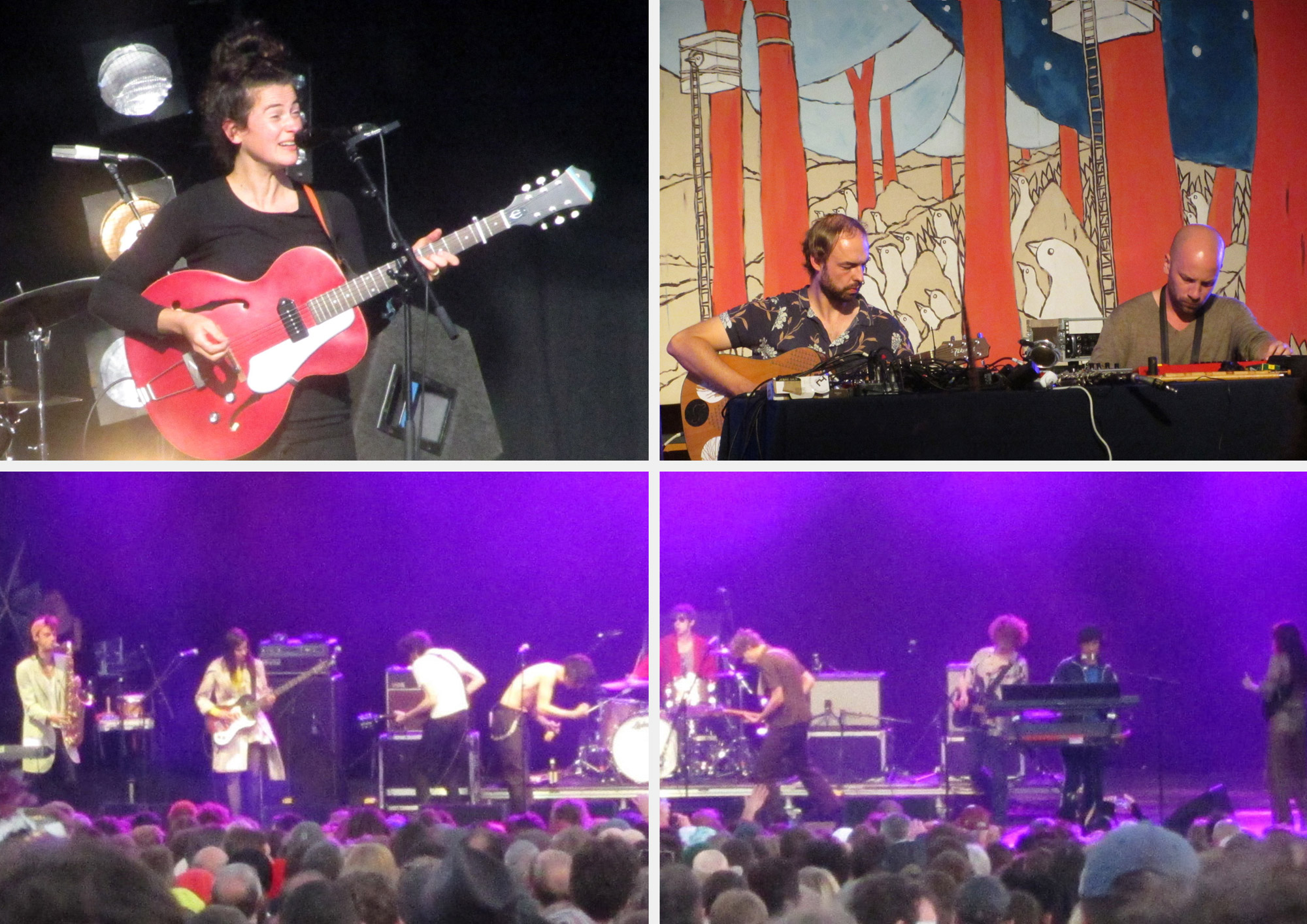 Off to the Garden stage for the very popular This is the Kit. Banjo (and acoustic and electric guitars) in hand, Kate Stables looks like she's having a ball. Fronting a big band and chatting with the audience, she's more at ease on this sizeable stage than most performers. And their recent rise to fame means she'll be playing to bigger crowds in the months to come.
I stayed on in the Garden for a couple of songs by The Low Anthem but I've seen them before and was keen to experience new things. I headed to the Tipi to Zimpel/Ziolek who I'd never heard of. This was apparently a live recording for Radio 3's Late Junction. Clarinetist Wacław Zimpel and guitarist Kuba Ziołek have teamed up to create not so much tracks as long meandering treks. Folk and jazz explorations, interspersed with samples, loops and treated vocals. I could have listened to them for hours.
The huge Fat White Family were the penultimate act on the Woods stage. They have a large, energetic following and the space was packed and jumping. I loved the organised chaos of it all but struggled to be excited by the setting. For me the songs aren't structured and hooky enough to work in a big outdoor arena. But thousands of people disagreed with me so what do I know? And, as the sun set, the staging did get more and more impressive towards the end.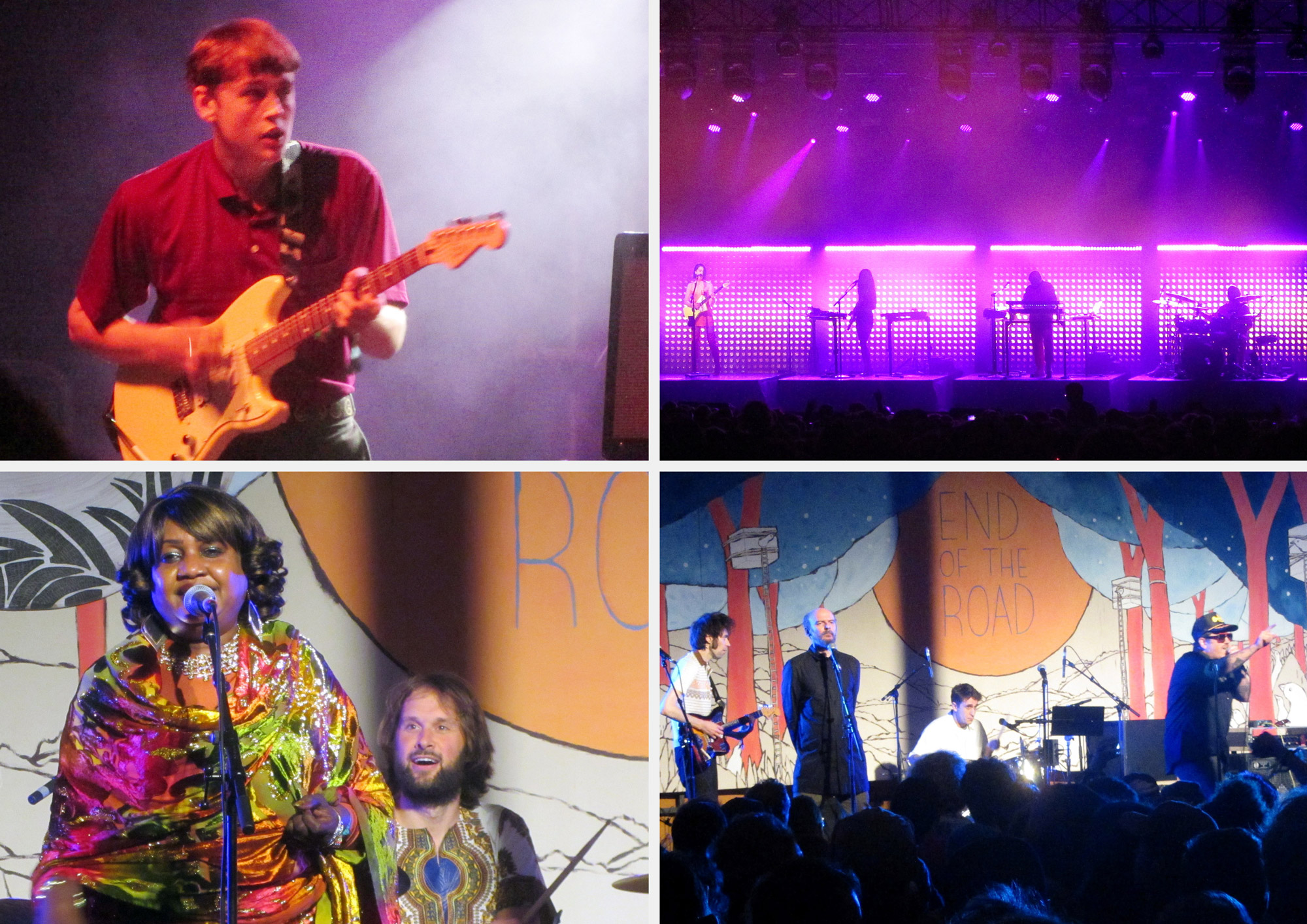 Youthful energy with punk sensibilities is my best attempt at a description for The Orielles. Henry Carlyle Wade is a live-wire on guitar (playing it high like Nick Hayward). The band apparently learned to play on the road. Henry seems the most musically gifted whilst sisters Esmé and Sidonie complement his energetic performance with vocals and rhythm, reminiscent of Mazzy Star.
Headliners were St Vincent. I've not really got over her soulless show as Brixton Academy (where she posed artfully and sang to backing tapes) so I wasn't inclined to fight my way through the crowds. I stood near the back, watching much of what was an impressive stadium-style stage set-up. It did help to bring an impressive anthemic quality to the live performance of what is a great album. But I slunk away long before the end.
As the final act of the Radio 3 evening in the Tipi, The Scorpios were great fun. This collective of London-based Sudanese refugees combine traditional instruments with western jazz and a little rock and psychedelia. The result is infectiously joyful. The band seemed to be having as much fun as we were.
I just had time to catch the last couple of songs from Detroit rockers, Protomartyr (not my thing) before heading back to the Tipi for the hard to describe Warmduscher. A guitairst and drummer from Fat White Family, joined by a vocalist who speaks and raps through a voice changer like the Beastie Boys, and a man dressed like Rasputin who seemed to be playing feedback through some electrical gizmo. Their music was lounge, dance and pretty sleazy. A great way to round off a Friday night (at 2am).

Saturday 31st August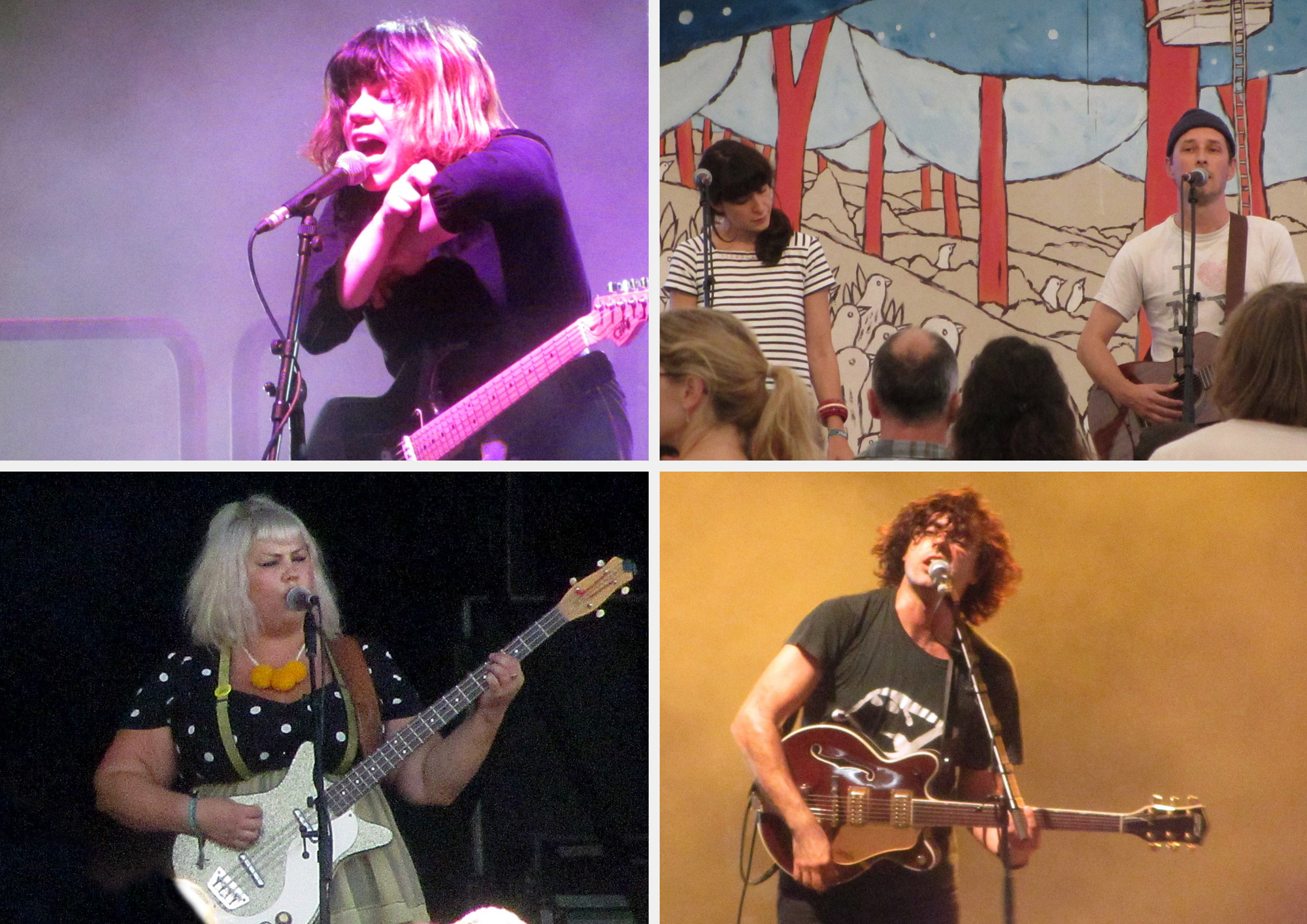 I'd intended to flit between two bands who were both playing the twelve noon slot but I was so taken by Screaming Females that I didn't leave the Big Top (sorry to miss you, Colter Wall). The three-piece (drums, bass and guitar/vocals) are fronted by Marissa Paternoster. She the only female and she doesn't scream. She's tiny but with an effortless and distinctive voice. They had touches of a rocky Dinosaur Jnr but with occasional poppy sensibilities like Elastica or Garbage.
Stealing Sheep were on the list for the day, with what was billed as a Suffragette tribute. I had no idea what to expect. Rather than appearing on stage, they led a marching and dancing parade around the Garden stage. More performance art than music but engaging and fun all the same.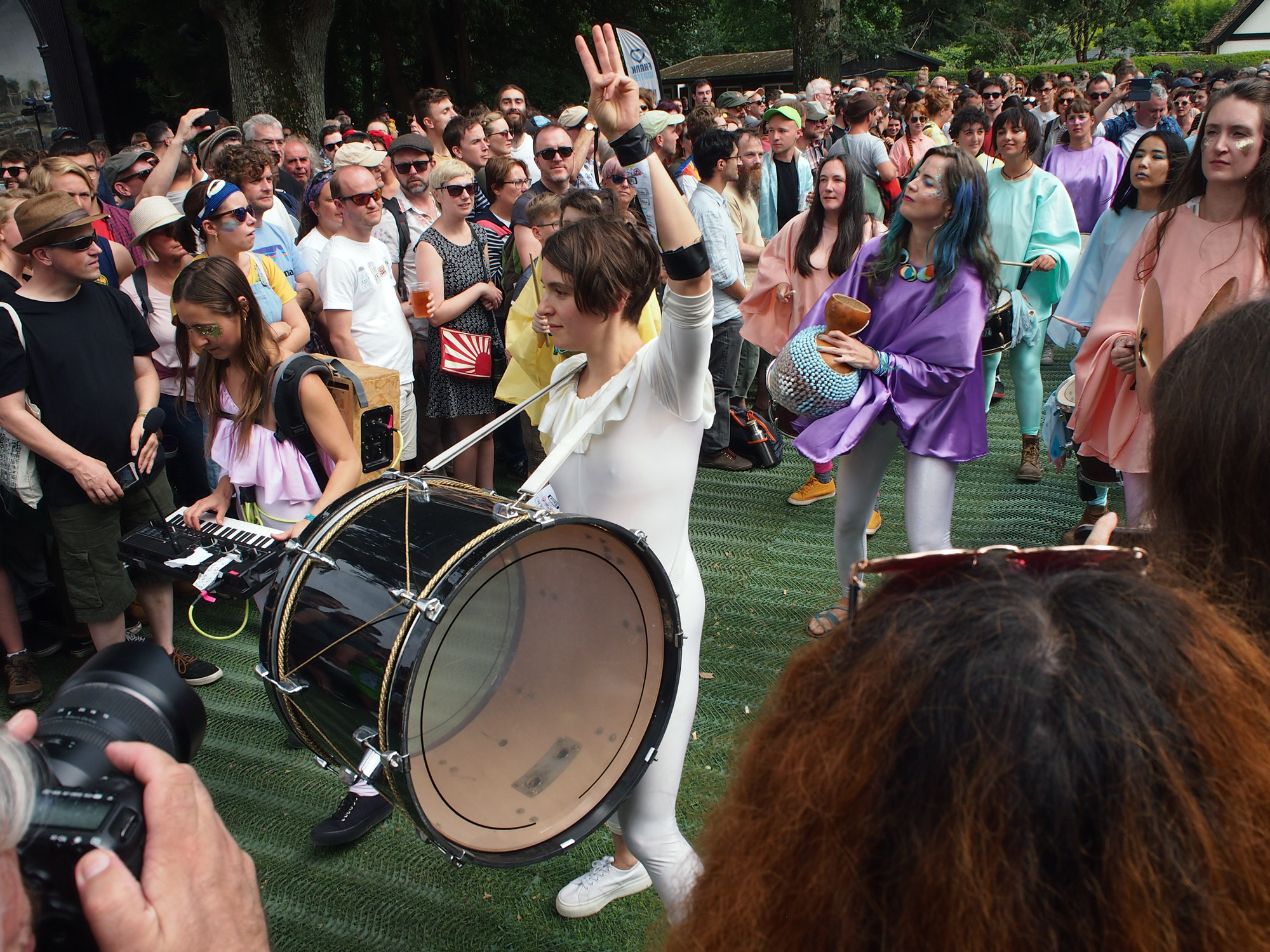 For my first Tipi tent act of the day, Lail Arad & JF Robitaille provided stripped back, acoustic modern folk songs and sweet harmonies, mixed with affable song-bridging chat. The mix of Arad's girlish London vocals and Robitaille's Quebecoise lilt and jangling guitar work made for an engaging set. I'm sure I'll be exploring their recordings in the weeks to come.
It's difficult not to compare Shannon and the Clams to the Californian surf-sound of acts like Jan and Dean. But there's something darker and occasional much rockier about them. And their bassist has a voice like Beth Ditto. There was a lot to like about them and they did well in the difficult early afternoon slot of the Woods stage.
There were three 'worms' based bands at End of the Road this year. I saw two of them. Flat Worms were my favourite. There's not much to say beyond them being hard driving, foot to the floor grungy, sweaty rock.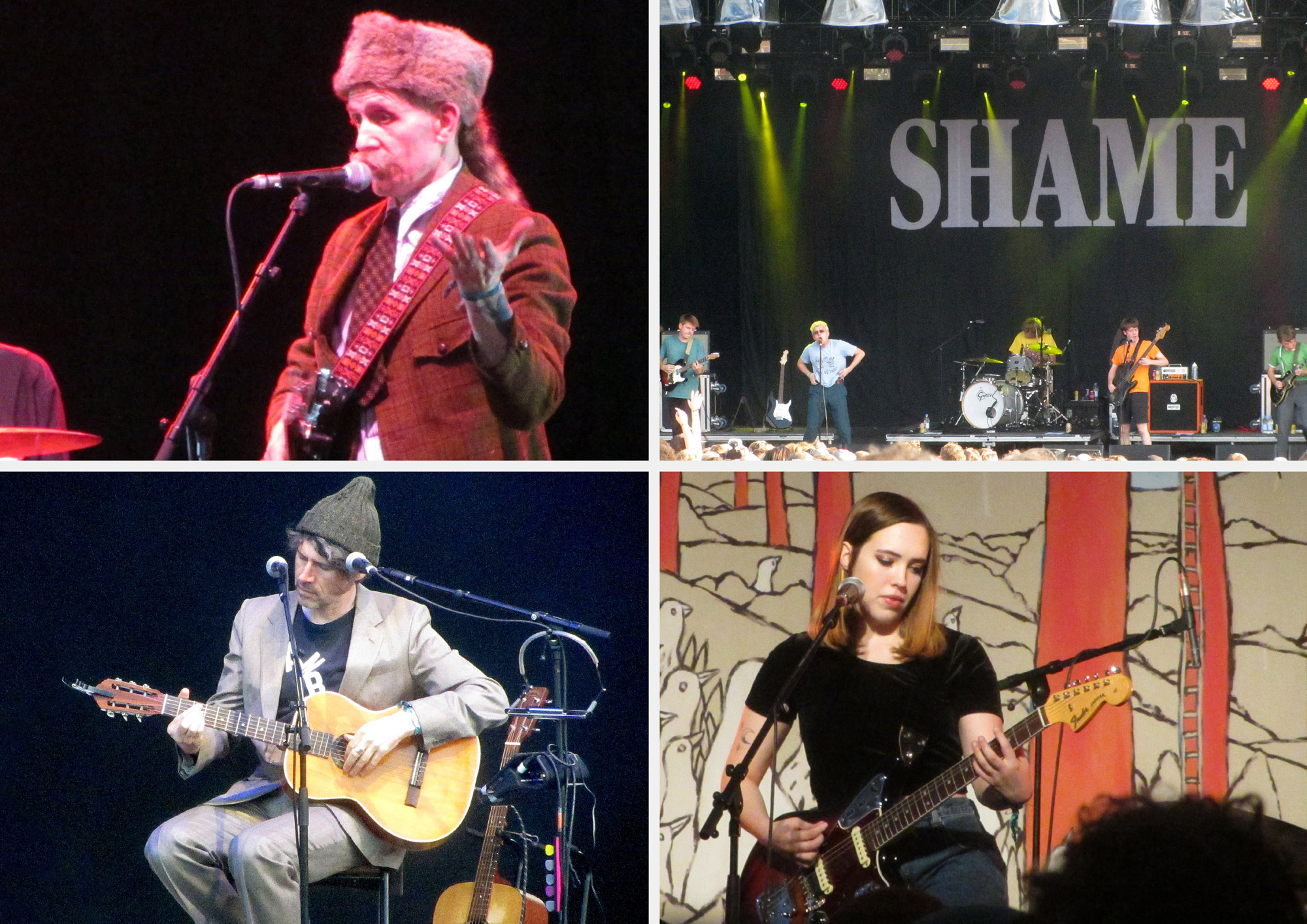 It's been a long time since Wild Billy Childish has been on stage so it was a real pleasure to catch him in the Big Top with his band CTMF (nobody but he knows what it stands for). The chat between songs was just as entertaining as the songs, and they were pretty entertaining even if I didn't know any of them.
Performing on the Woods stage, Shame were the talk of the festival. Apparently they gave a career-defining performance. It wasn't my kind of thing although I can see why they're feted as future superstars.
Gentle-voiced Super Furry Animals front-man, Gruff Rhys was next up on that stage. He's very popular and easy to listen to, I stayed for most of the set but I'm not a massive fan.
I was expecting the name Soccer Mommy to be ironic but this detuned group were surprising harmonious and poppy, and they did a great cover of Springsteen's I'm On Fire.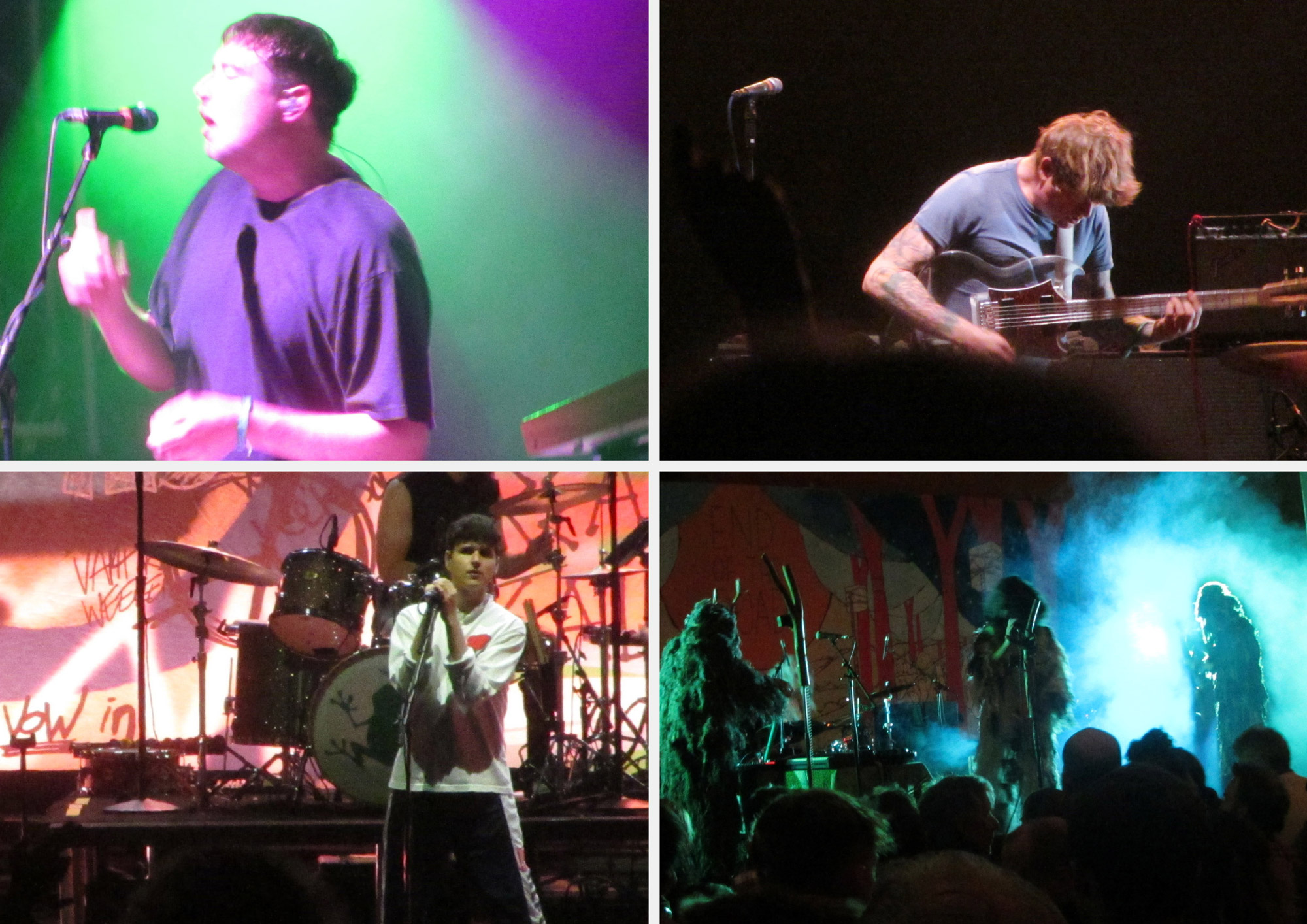 Dance act Hookworms (my second 'worm' act) have great songs. I enjoy their music (having listened more since I got home) but found them surprisingly disengaged with the Big Top audience. It was like they didn't really care that we were there.
All the cool kids were crammed into the Garden to see the energetic and hugely entertaining Thee Oh Sees. Guitarist and singer, John Dwyer moved around so frenetically that I couldn't get a photo of him singing. They put on an exhausting psychedelic rock show. I enjoyed them very much but snuck away near the end to catch the headliners on the Woods stage.
Vampire Weekend seemed like a surprisingly poppy headline act for this festival. In their only UK date they were back performing for the first time in four years so maybe they were cheaper to book than if they'd had a new album out. Perhaps they were the main reason why the crowd seemed younger this year than previously, or maybe I am just getting old. They ignored the convention of saving hits until last but I was there in time to see them performing my favourite of their songs, Oxford Comma.
As the crowds dispersed to their tents, I headed to the Tipi to give Snapped Ankles a try. They were unusual. Microphone stands made of forked tree branches were a clue that we were in for something different. Then the band arrived, dressed in shamanistic grass suits, masks and horns. They played improvised theremins and had adapted the mic stands into percussion instruments, struck by glow-sticks. Chanting through a distorted voice-box we were implored to think about the trees. The next 4o minutes of crazy dance music are amongst the most fun I've had at a gig. They ended with several more costume-clad performers carrying cymbals through the crowd before joining the band in a musical free-for-all.
Emotionally exhausted I headed back to my tent before midnight.

Sunday 1st September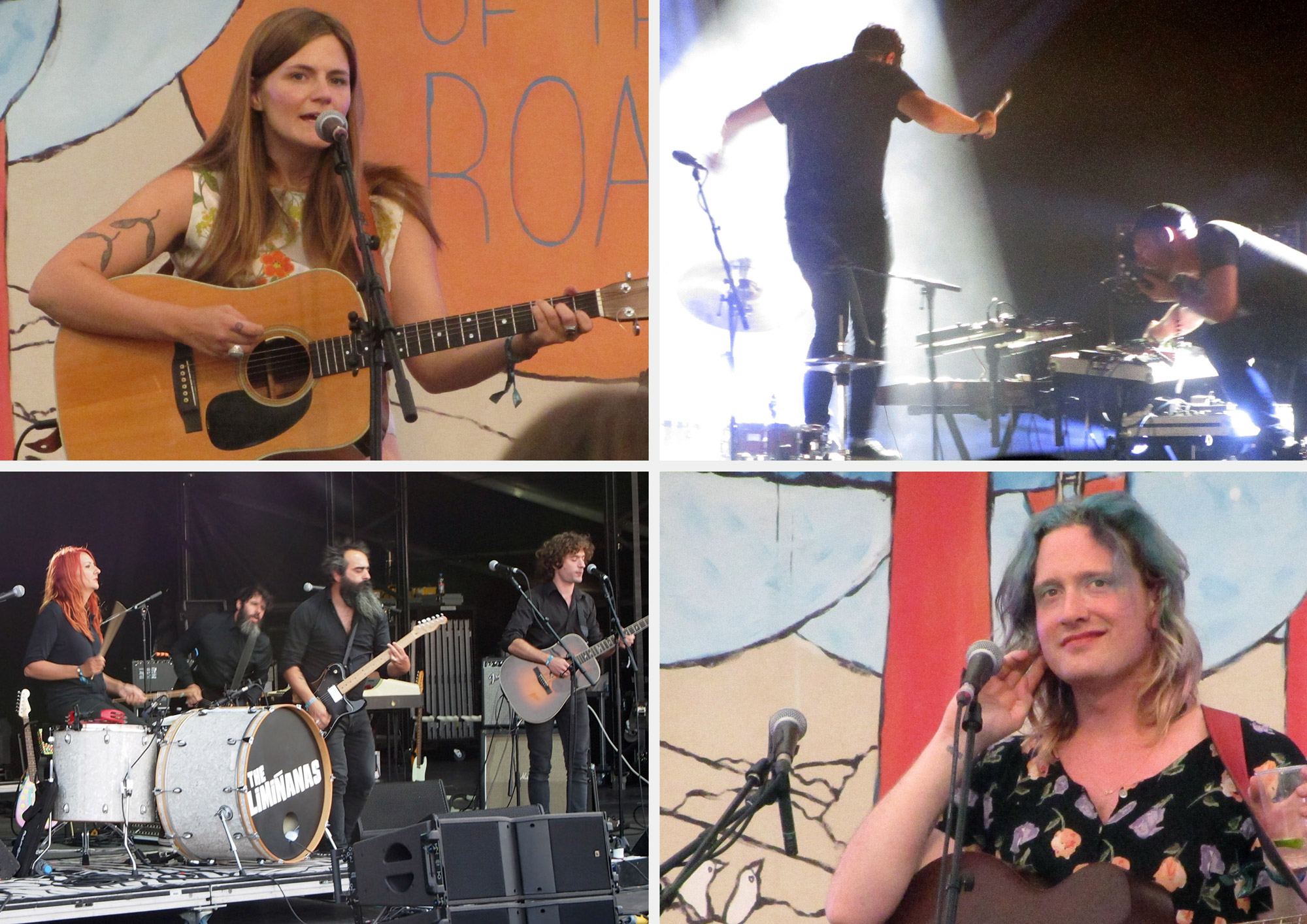 First act of my day was the country singer Erin Rae in the Tipi. If you were describing a typical Nashville songwriter, Erin would be it. Joined by producer and hugely impressive guitarist, Jerry Bernhardt, their set was accomplished, emotional and slick.
I'd listened to some AK/DK before the festival. I knew they'd be dancey and electronic (think Simian Mobile Disco or LCD Soundsystem). What I didn't expect was the set-up. A pair of drum-kits with a bank of samplers and decks between them. The sound was amazing. They were incredible. In the oppressive heat of the Big Top it felt like we'd discovered an awesome underground dance club.
It was only 1:45 but I'd almost forgotten there would be daylight when I emerged from the Big Top and into clear blue skies. I worried my day had peaked too early. The band had more than hinted that they'd be playing a surprise set very late that night. After three sleepless nights of camping, I worried I might not still have the energy to be there.
I wandered across to the Woods where the excellent The Limiñanas had attracted a surprisingly small crowd at the very big stage. I sat in the sun and enjoyed the rock act, led by Lionel Limiñana and his wife, the drummer and sometime vocalist Marie. All dressed in black they layered the sort of influences that felt so appropriate to their origins in southern French.
My friends were excited that Wave Pictures had taken on a cancellation slot on the Garden stage. I went there for a while but couldn't see what was so wonderful about them so I moved on to the Tipi.
Where Erin Rae is everything you might expect, Honey Harper is everything you wouldn't, apart from the superb vocals and cleverly constructed songs. Honey is the country-singing transvestite persona of William Fussell, an Atlanta-born artist, living in London.  As if to prove the point, his main set was with a band but when they left the stage he switched to a cabaret performance of Dusty Springfield's 'You don't have to say you love me', to huge applause.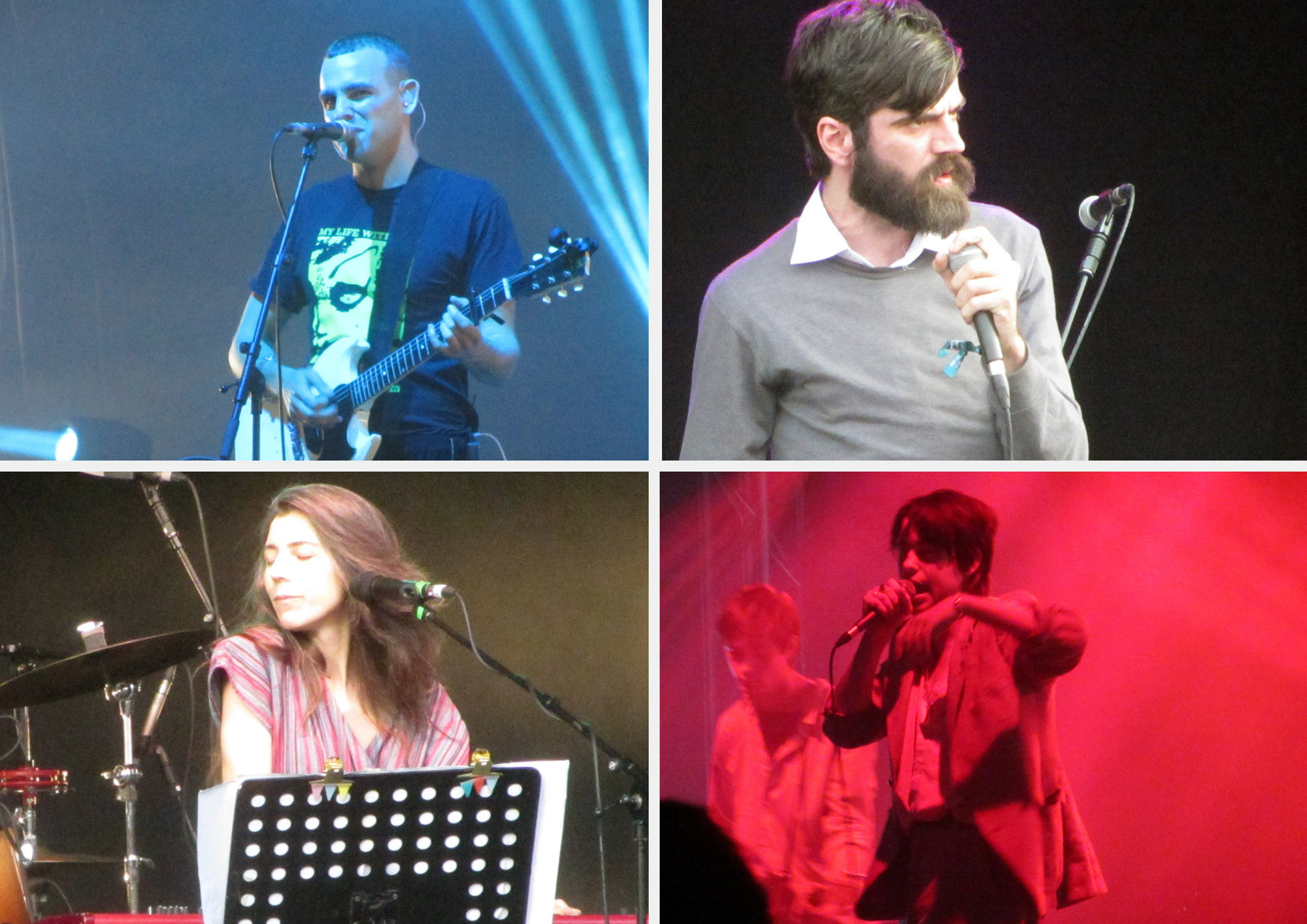 In the Big Top, Amen Dunes were another new band to me. The dreamy guitar and drawled vocals made for more of a soundscape than a set of songs. Occasional snippets of stories appeared through the waves. It felt a little like I needed to know the songs before seeing them live. I'll do my homework, ready for next time.
The Algerian, Tuareg band, Imarhan were on the Woods stage. In the dusty heat of the afternoon, their chanting vocals, rhythmic clapping and high-register distorted guitars made the perfect soundtrack to lie-back and soak it all in. My son, who'd joined me on the grass, nodded off completely.
In the changeover of bands on the Woods stage, we headed to the Big Top to see Japanese Breakfast, I found the sound a little too influenced by others to really appreciate it.
As I waited by the Woods stage, I expected Titus Andronicus to be a punk band. But instead, a bearded man in a white shirt, black slacks and grey jumper came to the stage. He opened with what felt like 15 minutes in the style of Tom Waits or Shane MacGowan. It was storytelling but I couldn't make out more than a sporadic word. I was captivated. He was eventually joined by one other musician. I'm sure it would have been a disappointing set for people hoping to see the full electric line-up of this US punk band, but I really enjoyed it.
Over at the Garden, Julia Holter did her sweeping soundscape with stripped-back snare drums, layered wailing vocals and staccato singing thing. And back at the Big Top, Iceage seemed a little too much like a sixth-form rock band for me to fully accept their talent. Really I was just killing time, waiting for the next act.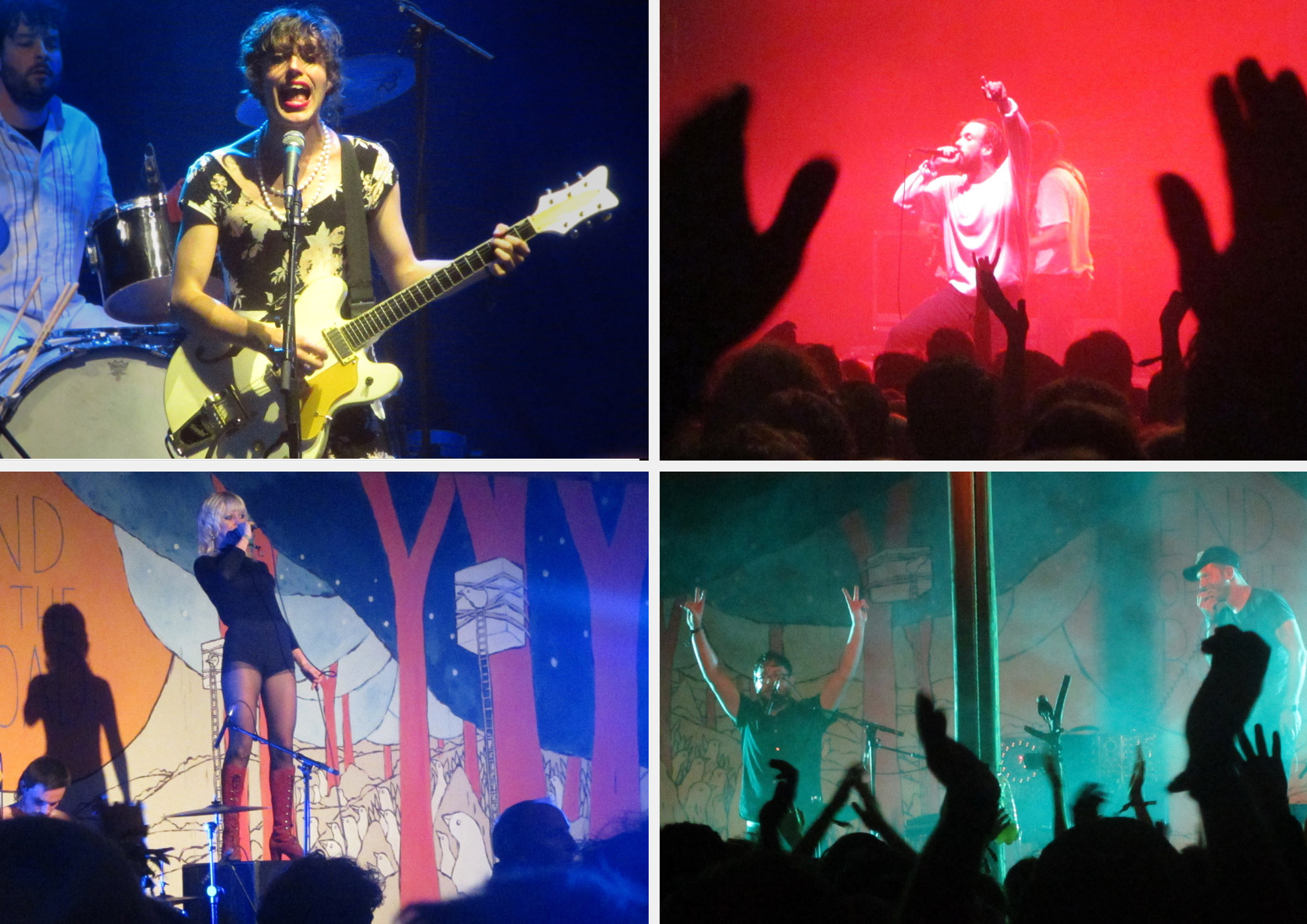 Ten minutes before Ezra Furman took to the stage, I thought I might have got the timings wrong. The area was almost empty which really surprised me. I thought he'd be a much bigger draw. This vulnerable, self-questioning, pretty man in a dress and bright red lipstick seems like he'd be a magnet for adoring fans. Add to the mix some catchy songs, an impassioned performance and some great stage-craft and he was an almost perfect festival performer.
As the drums kicked in for the last song, Suck The Blood From My Wound, the hit single was my signal to turn to go. The crowds has swelled significantly but it still wasn't as packed as I thought it would be (perhaps because it was Sunday night). I rushed away to see the highly rated Idles who were about to start in the Big Top. It was packed and all but one of the entrances had been closed. I was amongst the last few people allowed in before capacity was reached.
Their set really reminded me of the anarcho punk spirit of mid-80s bands like Conflict and Crass – "the best way to scare a Tory is to read and get rich". They take aggression and masculinity and turn it on its head. How many other bands shout lyrics about toxic masculinity and the need to be in touch with your feelings?
It felt very special to have squeezed into the tent even if I do feel that my time of listening to such angry, shouty music is probably behind me. As singer Joe Talbot says during every audience engagement, "thank you very much".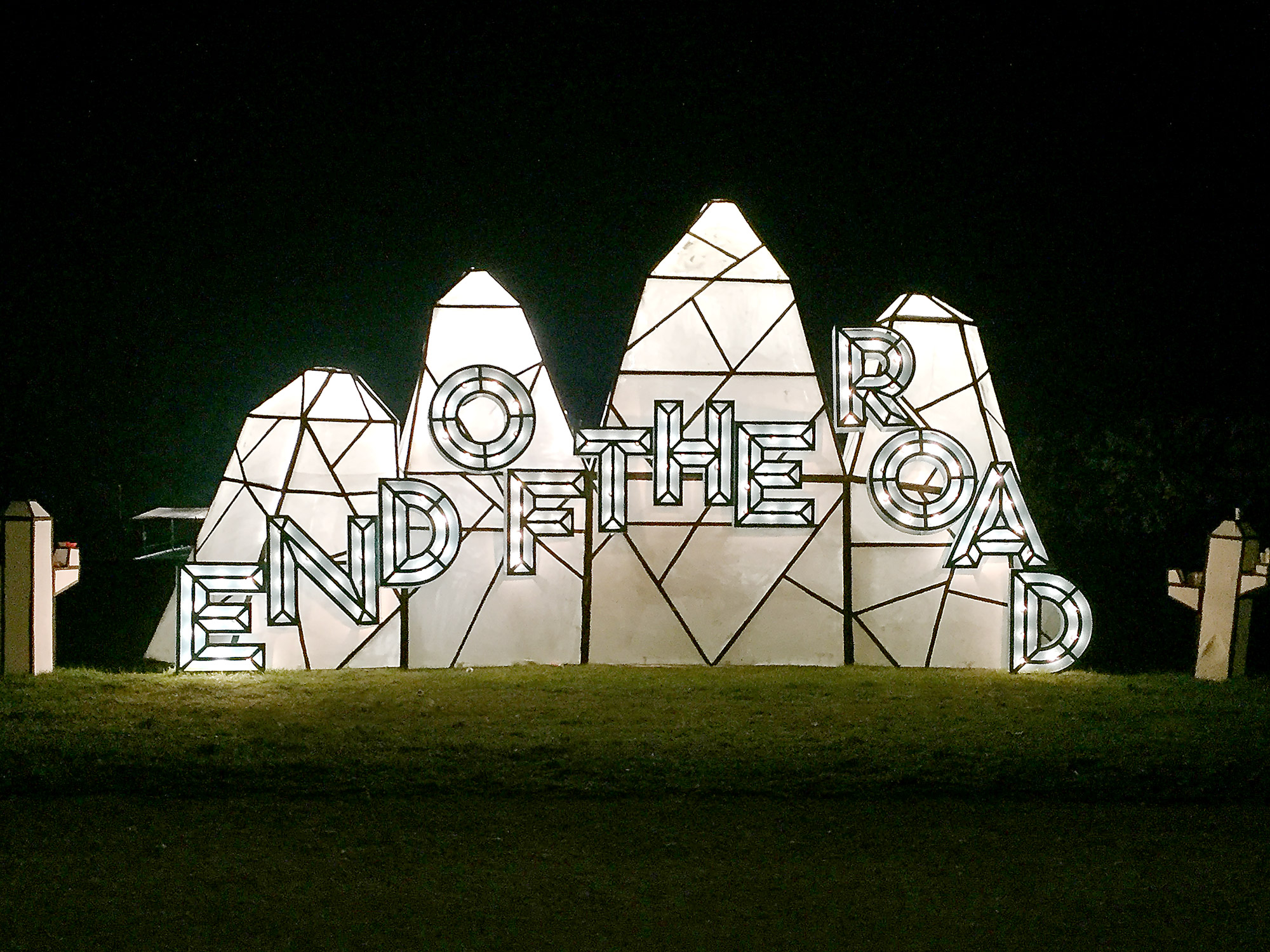 I needed to wind down after that performance and Feist were the perfect way to do that. But their lack of energy quickly left me a little empty. So I walked to the Garden to catch  White Denim, who were like an excellent Free or Lynyrd Skynyrd tribute act (which I see as a good thing). They aren't a band I'd ever go to see in any other context but I enjoyed them and stayed till they (very professionally) ended their set.
With time to kill I wandered around the site whilst my son and our friends were at the silent disco. I dropped by the Tipi tent to see who the penultimate surprise act would be. I was very pleased I had because I managed to see another set from the amazing Amyl and the Sniffers.
Hanging around in the tent, I was joined by the silent disco gang. By now we were all flagging but I was excited at the potential that the final act of the festival might be AK/DK. I wasn't to be disappointed. In fact, they were joined on stage by Snapped Ankles which made for a very special end to the long weekend.
Shattered, we trailed back to the tents at 2:30am for a short sleep and a long drive back to the reality of our normal lives.