I first saw Ride play in Brighton at The Richmond – a small room above a now closed pub. They were floppy-fringed boys with no chat and no stage presence which was OK because there wasn't a stage. They shuffled from one end of the room to the other, plugged in and unleashed such an assault on the senses that I can still remember that feeling now. There were maybe 30 of us in the room –a few locals, the two ubiquitous Japanese girls, who seemed to be at every Ride gig, and two car-loads of us who'd driven down for the day.
It was an amazing gig but I remember feeling a little sad, driving home. Why weren't there more people there? A few months before, it had seemed like all the stars were aligning for them. Newly signed to Creation Records, I can remember excitedly going into college with a VHS recording of their appearance on the cult indie music show, Snub TV.
I saw them half a dozen times in two months at the end of 1989, playing progressively bigger gigs before the launch of their debut 12″. They were going to be huge.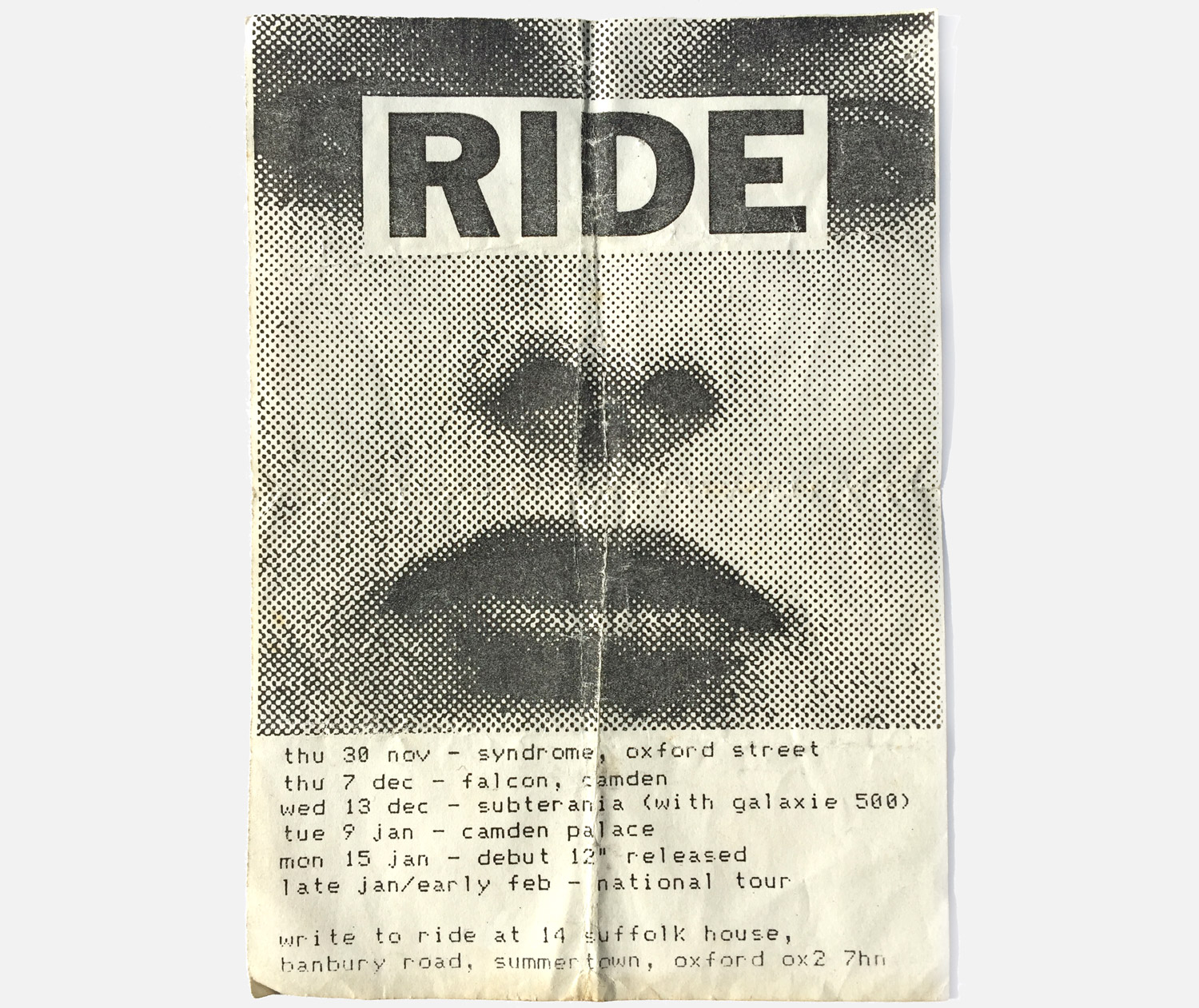 Except, in the days before internet, it took a long time for bands to become huge. Through the next couple of years it did start to happen. They released several 12″ singles and an album of that early material, Nowhere – the sleeve designs, printed on 'inside out' uncoated stock made an impressive package and gave Creation their biggest chart success before a new Manchester band called Oasis (with whom, Ride's guitarist, Andy Bell played as bassist for a few years after Ride split up).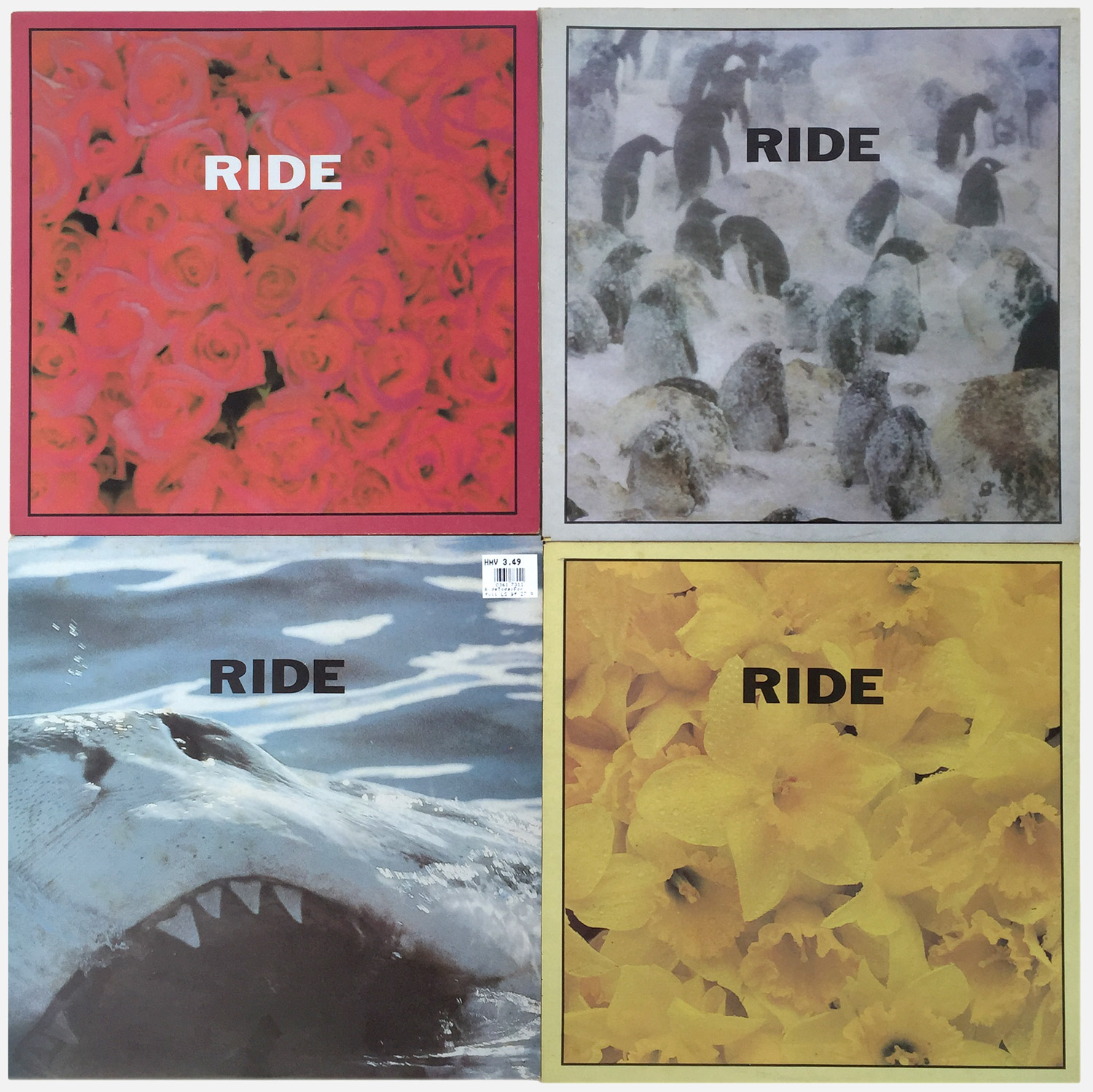 Around that time I was producing the artwork for a t-shirt printing company and through some lucky introductions I got to design a couple of the band's t-shirts. I've written about that elsewhere in this journal.
In 1992 they released their second album, Going Blank Again. I still went to see them (including another trip to Brighton, and two nights at Brixton Academy – which was recorded and released on lazerdisk) but for me they'd lost the raw energy of those early performances, they'd lost the beauty of their packaging and I kind of lost interest. I bought their subsequent two albums, the confusing and trippy Carnival of Light, and the half-hearted Tarantula but I'd written them off as a band I'd ever see live again (and to cement my point the band announced their split in 1996).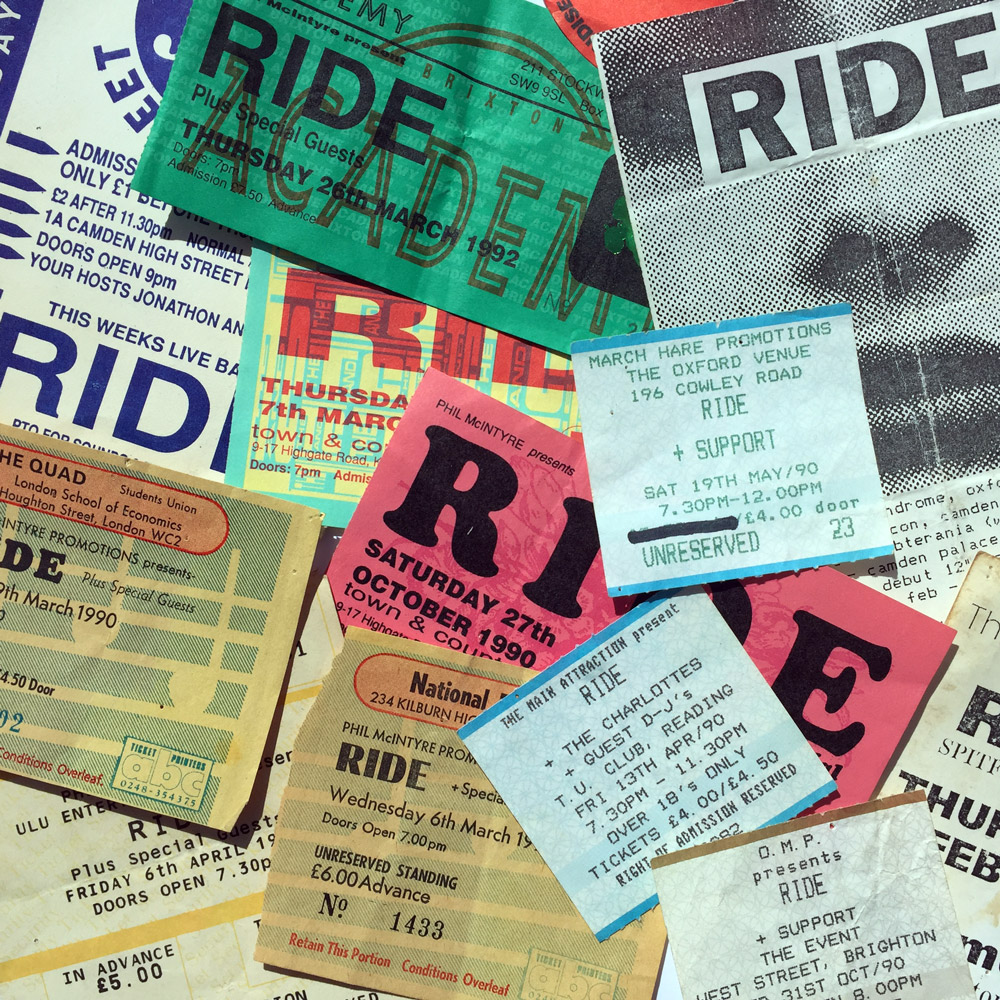 Until they announced last year's come-back tour. I toyed with the idea of going but by the time I'd thought about it properly they were sold out; where had these tens of thousands of Ride fans come from? I convinced myself that they wouldn't be any good; they are middle-aged men who couldn't hope to recapture the intensity of those early years…  but then I saw some of the footage.
Obviously I wanted to see them again. So, as soon as they announced another London date, I was on the internet (several tabs open, desperately pushing the book now button). Returning to Brixton Academy, they were magnificent – a wall of light and sound that had my ears ringing all the next day.
I was happy. I was done. I'd seen them again, they were brilliant but I didn't want to keep going to bigger venues with diminishing returns so I made peace with the fact that would be the last time I would see the band play live.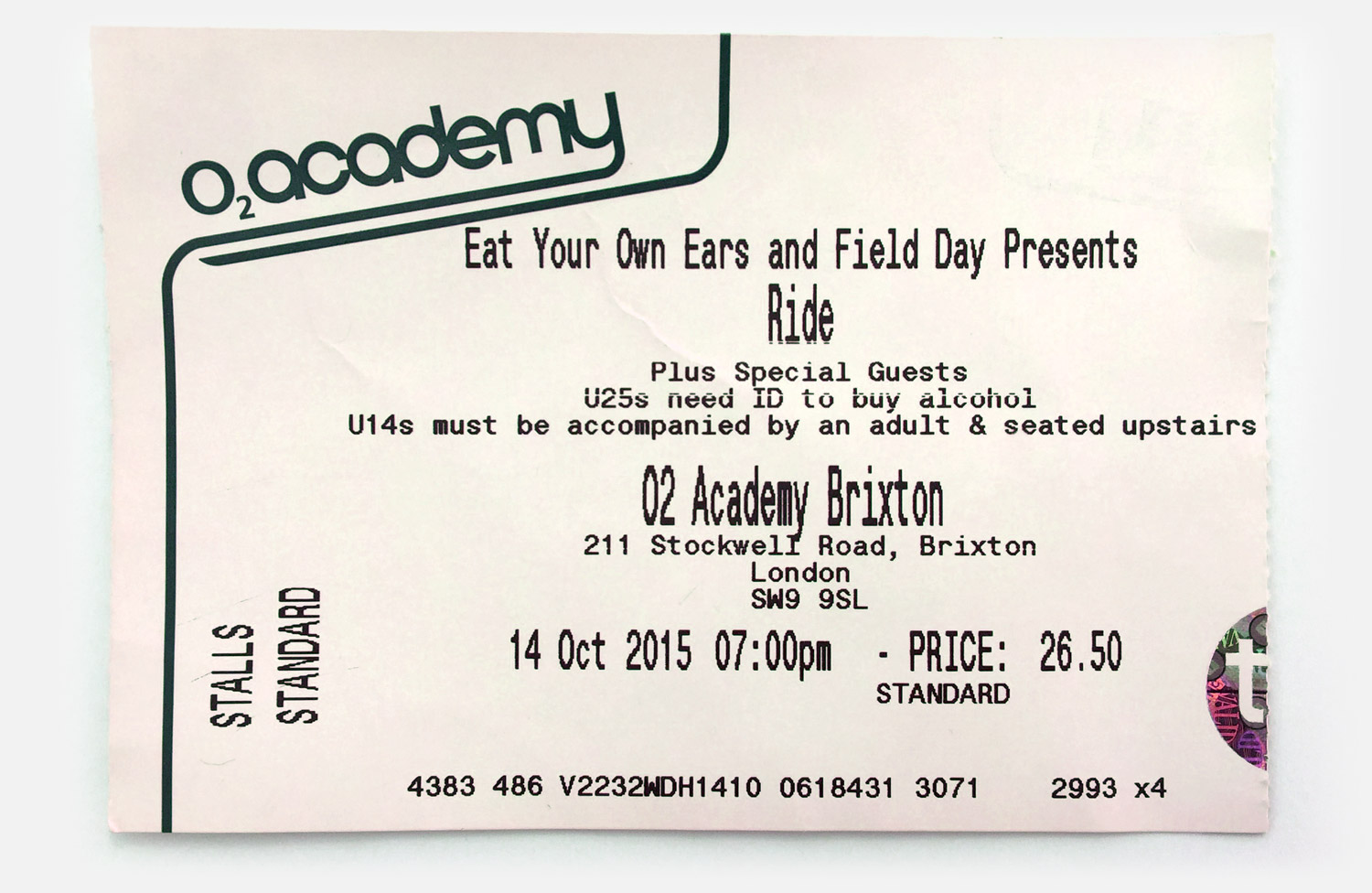 And then they announced dates at the tiny Concorde 2, in the arches along Brighton seafront. We booked straight away. By 'we' I mean the other car driver from our Brighton trip in 1990 (who a year later became my girlfriend) and our now 18 year-old youngest son.
On a Thursday night, towards the end of a long and tiring week at work, I was considering whether the journey to Brighton was actually worth it. Should I just go home and catch up with some TV? But my family were already on their way so I decided it would be silly not to join them. I was coming from London so I travelled by train. It was a beautiful evening and I watched the sun set over London, Surrey and Sussex as I travelled to the coast. The closer I got, the more excited I became.
From Brighton station I walked down to the seafront, past the 'new' pier and the hen parties (hen parties on a Thursday night!). I met the others outside the venue, they'd driven down. Concorde 2 is just how I remember it – two rooms, a large bar and a performance space; enough people to uncomfortably fill both rooms, gradually crushing down into one.
We just caught the end of the support act, sorry I don't know their name – it's always horrible for the support act, isn't it? The performance room was already packed with people jostling for space away from the tall blokes. And it was mainly blokes – middle aged, balding men, with paunches stretching their Fred Perry shirts (including me). The on-stage time had been announced as 9:15 and it was only 8:30. As each minute passed, the space filled and the air emptied, it was going to be a very sweaty night.
At the appointed time, the intro music played in, the band took to the tiny stage and the looping keyboard sounds of Leave Them All Behind was joined first by Laurence "Loz" Colbert on drums, and then the wall of guitar from Andy Bell and Mark Gardener, and the solid bass of enigmatic Steve Queralt (who I've never seen look up whilst he's playing). The song builds to a cacophonous climax and we know we're in for a good night.
Mark Gardener used to have an impressive mop of hair. His boyish good looks, floppy fringe, lack of eye contact and mumbled delivery were a big part of their charm, although they were never happy to be called shoe-gazers.
He's obviously taken the decision to shave his balding head (rather than suffer the indignity of the comb-over) – I can empathise with that decision. It was good to see that tonight he'd also abandoned the trilby he'd been wearing at recent gigs. Perhaps he realised, as this was the second night at Concorde 2, that he was likely to pass out in the heat if he kept his hat on. They all seem so much more confident on stage now; I'm not sure it makes for a better performance but it was nice to see them enjoying themselves so much.
The second song was Like a Daydream. I could be wrong but I don't think it ever featured on an album, perhaps because it's not a particularly complete song but its distinctive vocal harmonies and a sound of what I'm assuming is a sample of a cymbal, played backwards, send chills up my spine.
And then we're into my favourite Ride song, Seagull, the opening track on their debut album, Nowhere. This textured, soaring song brings out the best from every band member, everyone playing at full tilt, layering the sound and building the tempo until the room was bouncing and we'd had to lose our inhibitions about what little personal space we'd guarded.
With the crowd firmly in their grip, the rest of the set was a mix of old songs and new (including three as yet untitled new songs from a promised new album). In fact the set finished, bravely, with an excellent new song featuring joint vocals between Gardener and Bell (which was great to see and hear).
But it was the penultimate song, Drive Blind, that is always the big crowd pleaser. Andy Bell Mark Gardener [somebody has been in touch to correct my misunderstanding on this] picking out a simple note sequence, joined by thumping drums and bass, and a still boyish vocal delivery singing about, well I'm not too sure but I'm guessing the road-blindness of a long trip, and the potential of covering his eyes and crashing into oblivion. The song breaks down into several minutes of what feels like jazz freestyling, Loz Colbert standing and thrashing at the hi-hat and cymbals, The guitars keep that note sequence as a home to return to through feedback and fuzz, Steve Queralt keeping the rhythmic structure, and Mark Gardener channelling a dream of being a Hendrix-like guitar God. The crowd loved it but it felt a little overblown to me.
In the sweltering heat the band returned for an encore – Mousetrap followed by the early favourite Chelsea Girl. What an amazing gig. As he left the stage, Loz Colbert took this pic – you'll struggle to spot me but I know where I am.
We left through a side door and into the cold sea-air. The heat and crush had caused some issues and we passed a couple of drunken men who were still remonstrating with a bouncer that they'd just been 'keeping up the vibe' and shouldn't have been ejected early. Actually, I think the security team had done a good job, keeping their cool in that heat, and giving latitude to a lot of misdemeanors that would not have been tolerated in bigger venues.
We got into the car and headed back along the seafront, parting the waves of Ride fans as we drove. Our ears were shot so we shouted about our enjoyment all the way home. We'd been lucky enough to revisit an experience of our youth, and it was just as good as we remembered it – we were even able to share that experience with our son who is almost the age that Ride were when they provided the soundtrack to our youth. Sadly, though, in these days of internet booking, we have no printed ticket as a keepsake.