I'm very lucky, I live in a tiny hamlet called Crouch (it's pronounced Crooch for reasons I've been unable to track down) in the countryside in the North Downs of Kent. It's hard to deny that it's a really beautiful part of the world.
The only downside is that I'm a long way from any public transport and it's impractical to walk to anywhere apart from a distant pub (maybe that isn't too much of a downside). So, I drive to work each day. It's about 25 miles and takes about an hour, give or take. I feel a bit guilty about my daily commute despite owning a comically small car.
A few years ago we worked on a small project with a charity called Living Streets, they champion the cause of pedestrians. One of their big annual initiatives is their Walk to Work Week. It's such a simple idea, to encourage people to burn their own energy rather than fossil fuels, and enjoy the experience in the process.
I've always been a bit jealous of people who can walk to work but it's impractical to think I could actually commute on foot.
Even so, it's been niggling away at me for a while. Could I actually do it? Ignoring the time implication, what would it be like to walk to work, even if just once?
Last weekend I mentioned the idea to my family and had a quick look on the Living Streets website to see how much time I'd have to plan… "oh, it's next week, that's far too soon, isn't it?"
Why not, what's stopping me? I looked up the weather forecast and picked a day – Wednesday 13th May.
To say I was well prepared would be a lie but I knew my phone battery wouldn't last the whole journey (especially if I was using GPS) so I did spend the Tuesday evening planning a route and doing a bit of internet research into the places I would pass through.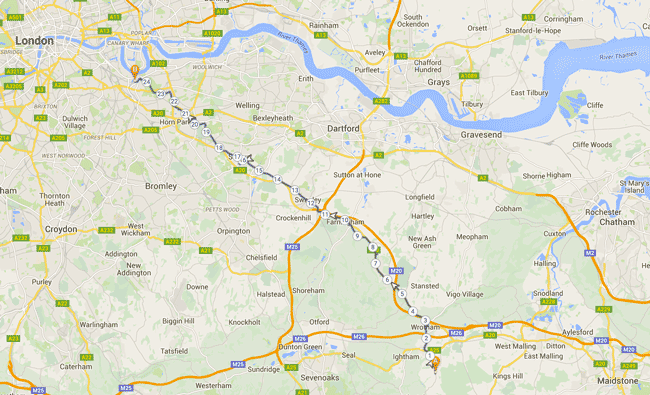 I got up at the normal time, 6:15am, showered and packed a bag with lunch, a drink and a packet of biscuits. I'd intended to leave before 7am but at the last minute I thought I should make myself some breakfast (I don't normally bother – yeh, yeh, I know, it's the most important blah, blah).
So, 15 minutes or so after my planned start, I set off. Just before I closed the door, I rushed back in and got a hat (you never know, it might be sunny). That was the best decision I've made in a long time. My ever more balding head would have proved how blisteringly hot it turned out to be had I not worn that hat.
The first couple of miles were probably the most precarious part of the journey. There are no paths and none of the drivers, rushing through the often single-track country lanes on their way to work, expect to find a hiker round each corner (I know I'm not at my most alert when I drive down those meandering lanes). Still everyone is very polite and I got a thank you on both of the occasions I had to jump out of the way into a hawthorn hedge. Yes, only two cars passed me in the mile and a half until I got to an A road; no, it's not a busy route to live on.
Into my nearest village, Borough Green and past the nearest station. Borough Green & Wrotham is a quaint station on the Victoria to Dover line. I stuck mostly to my normal driving route along the main road, stopping briefly to take a look at the relatively new skate park – I'm a little bit in awe of whoever lobbied, fundraised and organised the building of such a great local amenity. I'm sure its users won't appreciate it for a few years but they will in decades to come.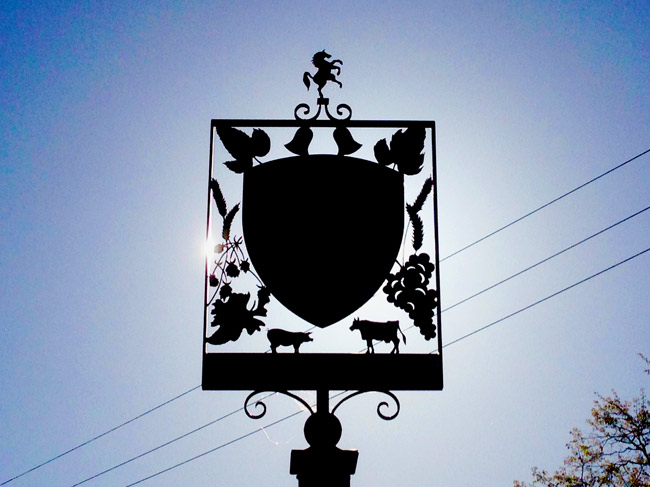 Off the main road I wandered into Wrotham (pronounced Root'em) village. Wrotham is a typically charming Kentish village with winding streets, beech hedges and a mixture of old (Tudor and Elizabethan in some cases) and new housing. Unlike many country villages, there are still lots of pubs and a smattering of proper, independent shops. Sadly, its most recent infamy came when Peaches Geldof died there. But two thousand years before, the Romans were inhabitants and left a disease resistant strain of Pinot Noir grapes that still grow in the churchyard.
Out the other side of the village, I'd plotted a course that took me across the Pilgrim's Way, the ancient path between the cathedrals of Winchester and Canterbury. That's a 120 mile journey, nave-to-apse, so perhaps a challenge for another time.
I'd taken this route because the footpath crosses to Wrotham Hill, one of the highest points in the North Downs, over the M20, the motorway I join each day.
On top of Wrotham Hill is a viewpoint. Judging by the litter, I'm assuming it is a popular night-time dogging venue, but at 8:20 on a Wednesday morning it affords nothing but magnificent views across Kent.
The area is also historically significant as a point for trigonometric readings, linking Greenwich and Paris observatories in the 18th Century. And it is the site of a magnificent radio mast, the first transmitter of FM signals in the UK.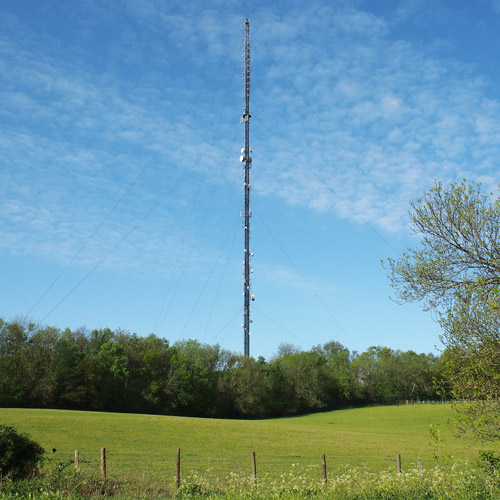 As this altitude chart shows (reading left to right from journeys beginning to end), this was at the highest point in my journey – 730ft (the lowest point was the approach to the Cog studio, just 26ft above sea level which is why flood-damage insurance is such a nightmare in Greenwich).

"It's all downhill from here", I said to myself like one of those rambling ramblers you overhear and assume they have no friends and nothing better to do than fill their days walking aimlessly whilst chatting to themselves, and then you think, "oh, hang on, he seems really carefree and content, maybe it's me that's got it all wrong", before snapping out of it and getting on with whatever desperately important task you have to complete at that moment as if your life depended on it.
Through West Kingsdown which is the conurbation that town-planning forgot, full of blinged up bungalows and long-drived static-home parks for the semi-retired. I did stop to see a bluebell wood and a now incongruous windmill that gave clues to a once idyllic farming history.
Out the other side and I was at the big local attraction and employer – Brands Hatch racing circuit.
Once home to the British Grand Prix, Brands Hatch is still a popular circuit for major racing events and was a Paralympic venue for road races in 2012. I went there to see the warm up laps before the British Grand Prix in 1978. I was eight and it was so intensely loud that it made my internal organs ache and my spine judder; we didn't stay for the actual race.
I've not been back since but it was very much quieter as I approached so I figured it was safe to make a ten-minute stop to catch my breath and eat some biscuits on their lawns.
Heading down the steep Gorse Hill, which I remember being nicknamed death hill (because so many motorcyclists raced and crashed there in the 1970s) I turned off and took the longer but more scenic route down Donkey Lane (I'd love to know a little more about how it got that name) and into Farningham Village.
Farningham is lovely in a cliquey Midsomer Murders kind of way, it was the local village to where I grew up although I rarely went there as my family came from Dartford (and I went to school there) so we always 'faced' in that direction.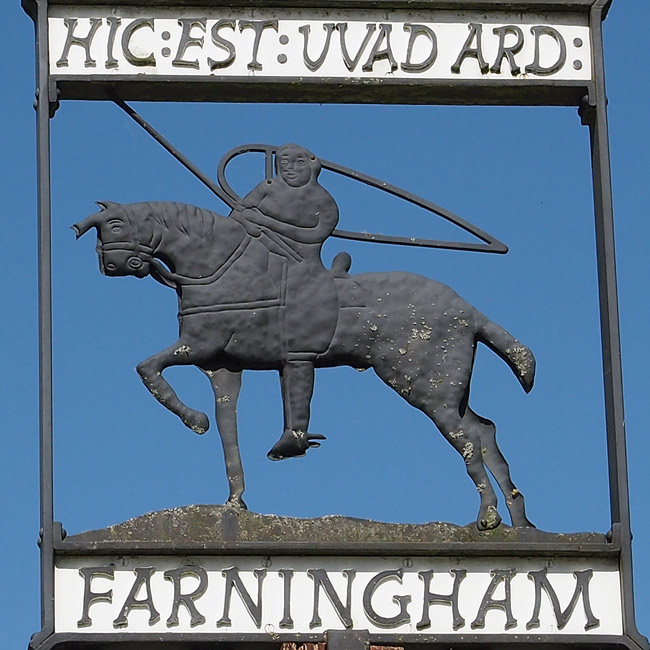 In the early 11th Century, under Alfege (the martyred Archbishop of Canterbury, in whose name the church near our studio in Greenwich is dedicated), the area was employed in the production of cloth, as noted in the Doomsday book. After the Norman Conquest, William's quartermaster, Wadard took over the running of the area and set up base in Farningham. He appears on the Bayeaux Tapestry and that has been adopted as the village sign. In a weird coincidence, Wadard's estate, in the Prime Minister's constituency of Whitney in Oxfordshire, was (and still is) called Cogges.
Farningham is now home to some stunning 17th and 18th Century buildings alongside the picturesque river.
Whilst there, I popped into the Church of St. Peter and St. Paul, a great example of a flint-built Kentish church, with parts built in the 13th and 15th Century. However, what looks like a magnificently ancient stained-glass window, turns out to be 20th Century, as it features our Queen and her dad, George V.
The most notable feature of the church is in the graveyard: the Grade II listed Mausoleum of Thomas Nash, thought to be an early example of the work of his nephew, the prolific Regency architect John Nash.
Enough of this history…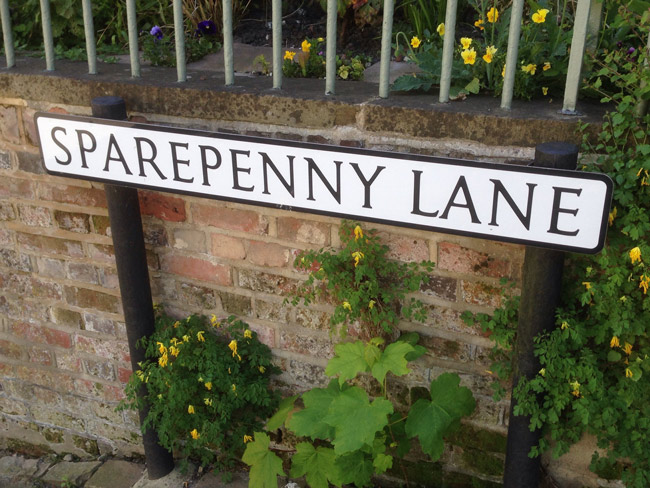 Well, not quite, as I walk past Sparepenny Lane, so named as it was the long way round, to avoid paying the tolls on the turnpike to Sevenoaks in the 1700s.
Uphill again and I approach the Swanley roundabout where the M25 crosses the M20. Sadly I'm old enough to remember the bridge here being built long before the M25 was connected as a ring road. I vividly recall a sequence on That's Life (a Sunday night, BBC consumer programme hosted by Esther Rantzen) where the great Richard Stilgoe performed a song bemoaning the bridge's fate. I've looked it up, it was called – Bridge over Troubled Mortar. Sadly I can't find a clip to share.
Taking my life in my hands, I cautiously stop-started my way across this exceptionally busy junction; it is far from pedestrian friendly. It did feel like a key point in the journey, I was within the concrete ring that surrounds our capital.
There's not a lot to note about Swanley other than I'm guessing it is the conception place of one of the main characters in the Channel 4 programme, My Big Fat Gypsy Wedding, oh and Mark Steel grew up there and was at one of the schools that used to have regular fights with my school in Dartford. Jostling my way through the weekly market on 'Asda Walk' was the busiest part of my journey.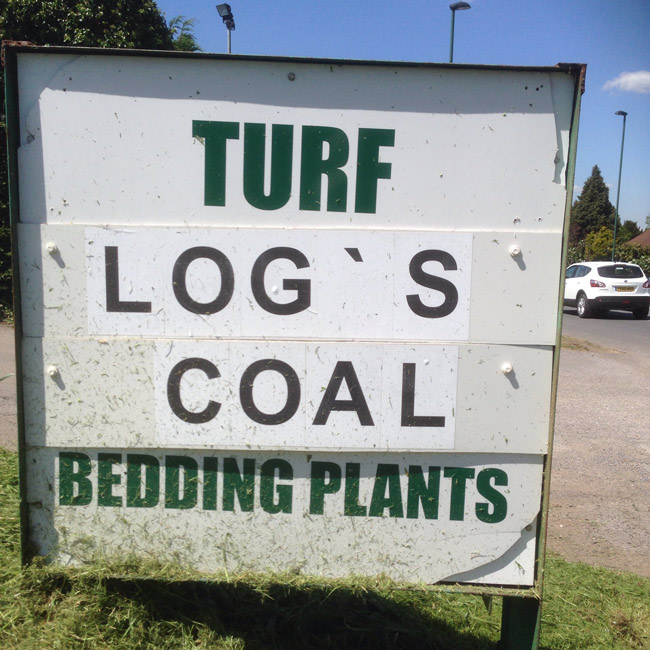 I was clocking up the miles now, continuing along London Road as it turned into Maidstone Road, with not a lot to divert my attention apart from a misplaced apostrophe on a 'log's' sign.
As the road turned into Footscray High Street I passed the very pretty Walnut Tree Cottage (circa 1700) and the very ugly Bengal Tandoori (circa 1987).
If I'm honest, it had taken me a lot longer than I thought to get to this point but it did mean that I'd arrived in Sidcup at lunchtime and I knew there was a park area nearby, next to the hospital where my children were born. So, I took a diversion, found myself a shady area under a tree and got out my packed-lunch.
In retrospect, stopping was a mistake. My mildly aching legs had completely seized up by the time I tried to get up, and what I'd convinced myself were slight pinches from my boots were now pretty obviously huge blisters. I was two-thirds into the journey and starting to get pretty sore.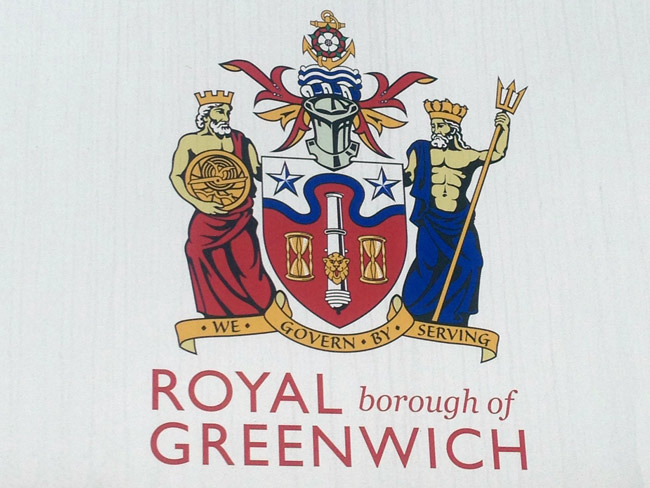 Heading out of Sidcup and into New Eltham. I was now in the London Borough of Greenwich. But as I know well, the Borough is very large so there was still a long way to go. As I passed New Eltham station (and popped into the library because I'd never been in before) my path had crossed my driving commute for the first time in ages.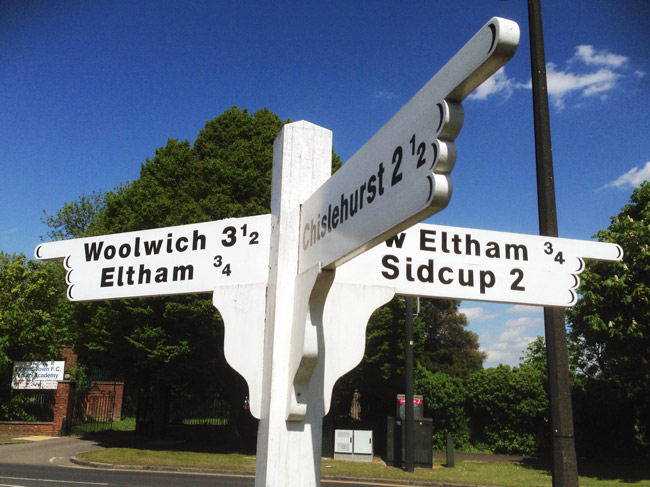 Into proper/old Eltham and I couldn't resist a diversion to see Eltham Palace, one of Henry VIII's hunting lodges and halls that was latterly home to the wonderful art-deco party home of the Courtauld family.
I hadn't been there since 1995 when the properties were taken over by English Heritage, having been used by the Royal Army Education Corp since 1944. The estate was in a state then. It looks magnificent now but I was too tight to pay to go in, over the moat (and too tired to look round the gardens) so I turned round to continue my journey.
Trying to avoid the huge three-lane A roads (I was now at the intersection of the A2 and A20 as they head towards Blackwall Tunnel) I wound my way through the local housing estates and eventually into Kidbrooke.
Kidbrooke was the site of the Ferrier Estate, one of Britain's largest and least successful precast concrete, social housing experiments, completed in the early 1970s. It quickly fell into disrepair and neglect and despite various attempts to spruce it up, including a major initiative at the turn of the millennium (hence the underpass murals), the estate was never fit for its purpose.
In the past few years, the people have been moved out and the entire site flattened. The whole area has been reimagined on a utopian village model, with free-running children of the corn.
Working my way up towards Blackheath I passed the imperious looking parish church of St James. It looks wonderful from the outside but sadly it was locked shut so I've no idea if the interiors live up to the stature of the external architecture.
Instead of walking up to the busy Shooter's Hill Road, I took the same cut-through that I often use in my car, through Kidbrook Gardens.
Sitting right next to the impoverished Ferrier Estate, Kidrook Gardens is quite a contrast. It's an affluent area with huge properties, perhaps that's why they've chosen to drop the E at the end of the name, to disassociate themselves from that neighbouring, former sink estate. The Gardens border the  private roads of Blackheath's exclusive Cator Estate, a gated community of posh properties.
As I was walking, rather than driving, my eyeline allowed me a glimpse of the huge Morden College, a retirement home for merchants who've fallen on hard times.
And now I was on Blackheath. I'd followed much of the journey that Watt Tyler had taken, leading the Peasants' Revolt from Maidstone. This was where he'd camped, overlooking the City of London before sacking it in the coming days (and eventually being killed by Richard II). I didn't camp but my aching legs were making me mince a bit (sorry).
Instead of the more direct route down Blackheath Hill, I walked across to Greenwich Park.
I passed the Old Royal Observatory and the General Wolfe statue (with its stunning views across Canary Wharf and what I stubbornly still refer to as the Millennium Dome), across the Meridian and down towards Greenwich town centre.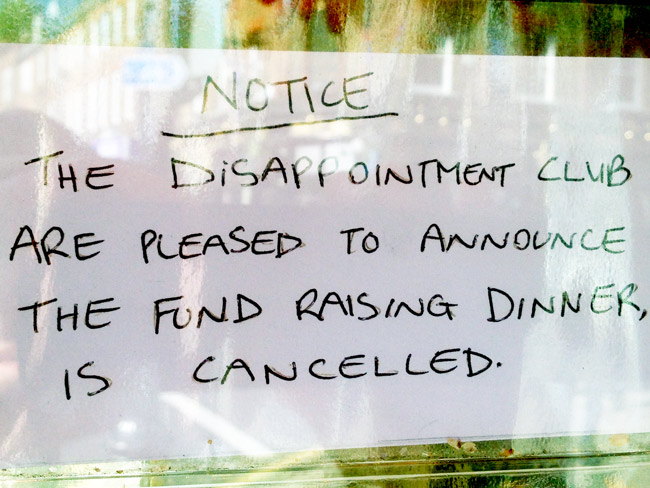 Out of the Park I peaked at the funny 'want-ads' in the newsagent's window (always worth a look) and made my way to the town centre.
Walking round the beautiful Hawksmoor church of St Alfege, and down St Alfege Passage I was now very close to my destination.
A minute later I was outside Greenwich Station, facing the Cog studio. In the windows was a sign and behind the windows was a cheering team. Hurrah, I'd made it.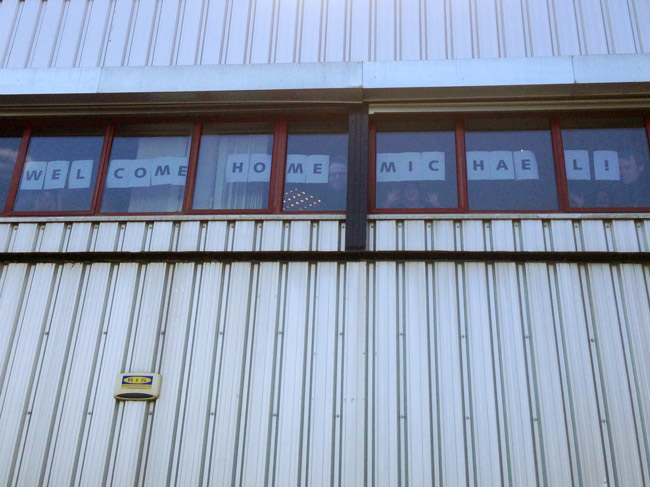 I just about got up the spiral stairs and dumped myself into my chair. Shattered but delighted I'd had such such a lovely day, I switched on my computer and started reading through my emails.
The journey was a little under 25 miles and took a little over nine and a half hours. I think I've successfully proved that it's not a practical way to commute to work.
Whilst doing the walk, I recorded my journey on a website called Track My Tour. You can still view the map of my walk, complete with markers for each of these photos, and more.
After the walk, I used a site called Plotaroute.com to more accurately chart the roads I walked and measure the distance covered. I've left that route on the site, if you're interested in seeing it.
Lots of people have asked me if I did the walk for charity and whether it was sponsored. No, sorry, I did it for entirely selfish reasons because I wanted to take on the challenge. I'm no fan of turning such situations into guilt-inducing sponsorship opportunities. However, if you are inspired to give to charity then Living Streets would be happy to have your money. Or, as it was also Mental Health Awareness Week, maybe a charity such as Second Step would be an appropriate recipient.