We've long been fans of the work that Soho Theatre do. It's been a pleasure to continue to work with the fab team since we designed and built their website in 2017. And, when it's open, you'll often find us there: watching a fantastic show, or drinking at the bar.
During lock-down, we've sorely missed the buzz of the place. So we leapt at the opportunity to join one of their Soho Socials, online.
Soho Socials are a great concept. A limited number of attendees watch a recording of a show together on Zoom, and then the performer or creatives join the Zoom call for a Q&A with the audience.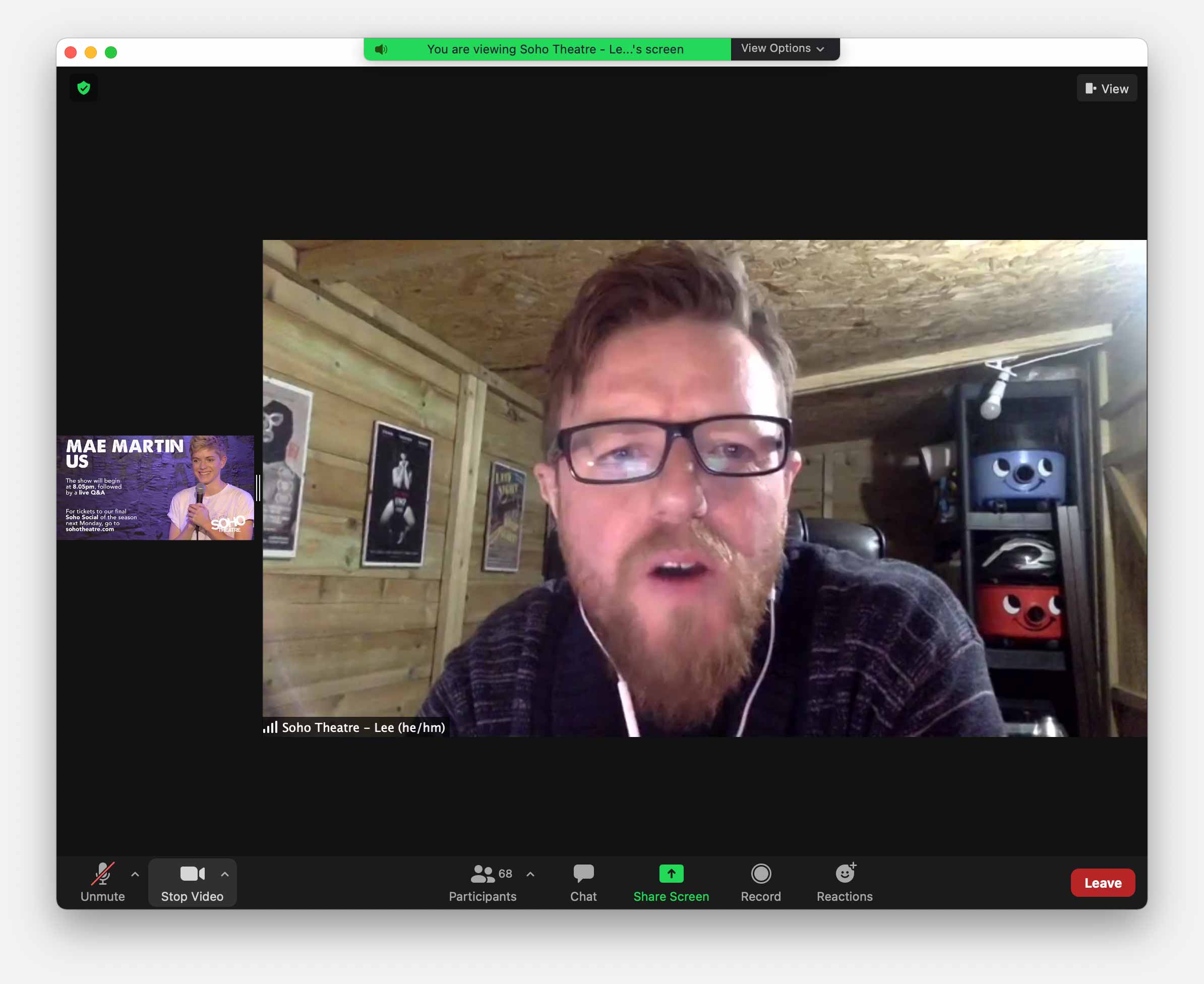 For our April Cog Night we went to Mae Martin's Soho Social, featuring a stream of their 2015 show Us followed by a chat with Mae on Zoom. Mae's been a Cog favourite and mainstay of our Cultural Calendar for a while so this was an exciting opportunity to find out more about their work and process.
Soho Theatre's Lee managed the event, introduced the video and hosted the post-show Q&A, all from his shed (with Henry and Charles Hoover for company).
The show itself had been recorded at Soho Theatre a few years ago, back when 'social distancing' meant ghosting your friends.
It crackled with witty social commentary, discussing topics that included sexuality, family, and adolescent interactions with parents (Mae's parents, Wendy and James, are recurring characters in a lot of the material).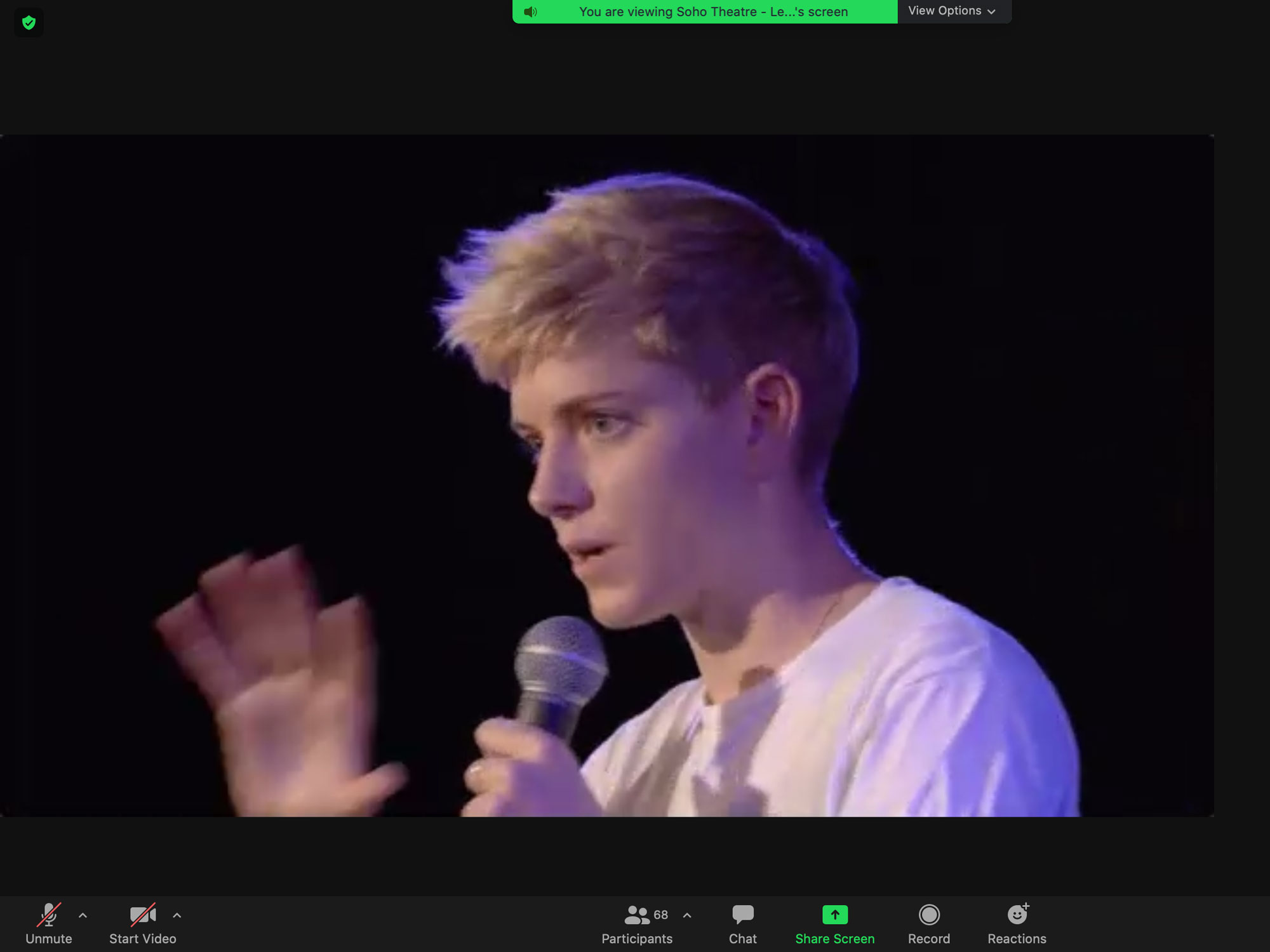 Mae was brilliantly self-effacing about the way we all see our awkward teenage selves. And they spoke insightfully and often movingly about gender identity, sexuality, and bi-erasure.
The show was slickly produced (the recording is available on Soho Theatre On Demand if you fancy giving it a watch) and that was a much more successful approach than some of the Zoom-based stand up I've seen.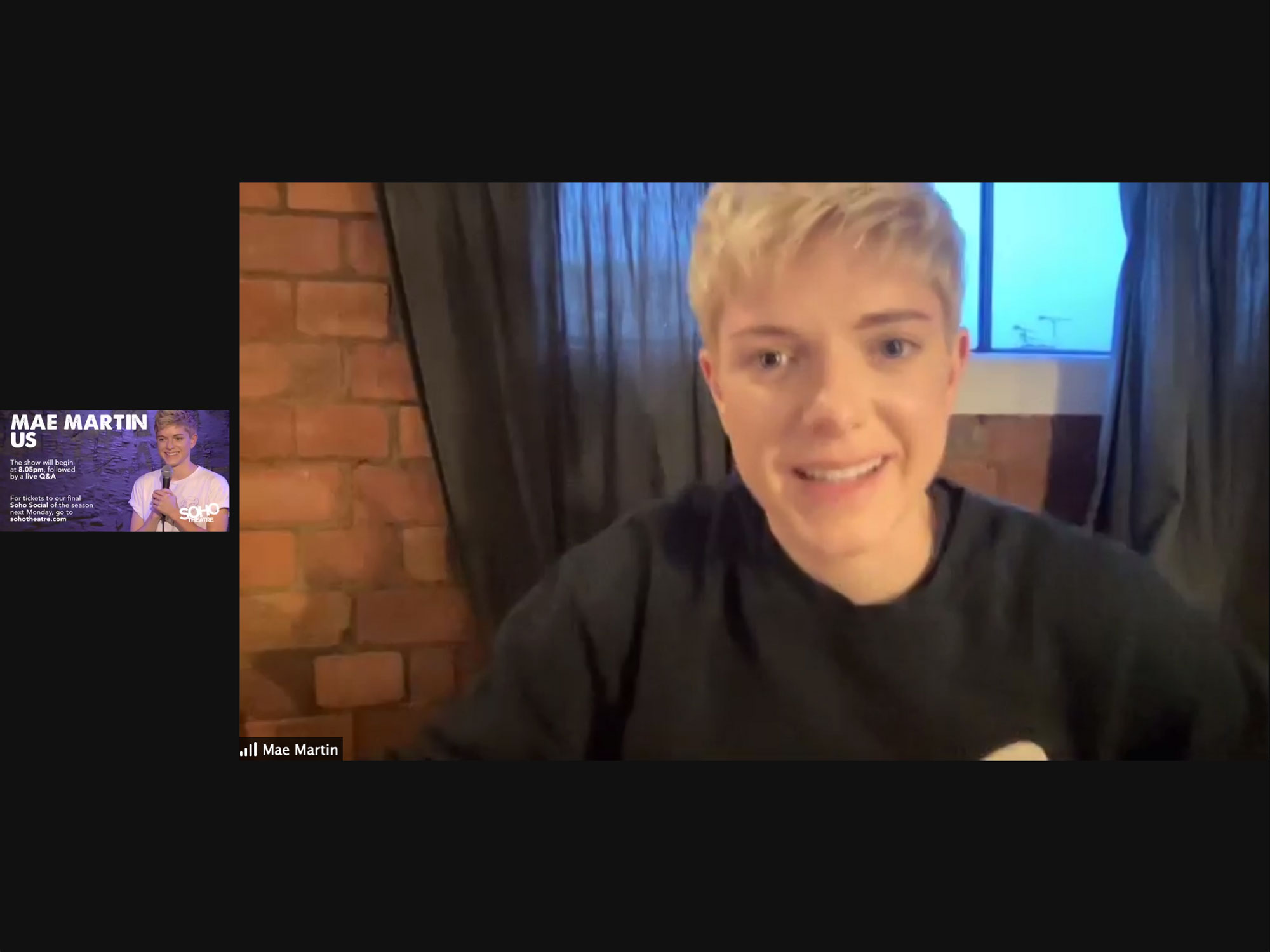 Perhaps the mots interesting aspect was the opportunity to share the experience, with Mae, of looking back on that past material. It was remarkable how the lexicon around gender fluidity and transgender politics has changed in that time, even for someone like Mae who was (and is still) leading the conversation.
There were some great questions in the Q&A that followed. Some picked up on those themes of gender identity and sexuality. Others asked about Mae's Netflix and Channel 4 TV show Feel Good which has been renewed for a second season. Mae wasn't allowed to tell us when the show will return to our screens, but it's very soon.
I asked Mae about the writing process behind an hour-long stand up show like Us. I was really interested to know what that sort of performance looks like 'on the page' (or if it didn't involve a page at all). Mae responded by showing us their notebook, full of handwritten bullet point notes which was fascinating to see.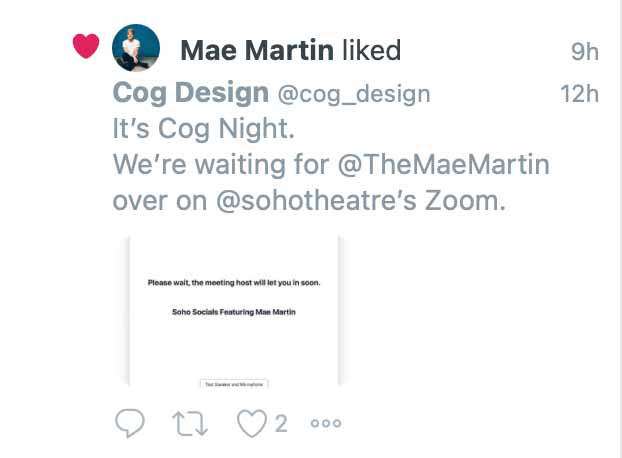 The Soho Social was a really novel way to enjoy comedy and find out more about the process behind it. And it really felt in the spirit of Soho Theatre's buzzy and friendly atmosphere. I'm sure I'll be back, online and/or in person very soon.