A year of our Cultural Calendar
Last August we sent out our first Cultural Calendar email, Anna looks back over the year and what we've learnt.
Our monthly newsletter starts with a specially commissioned illustration, usually showcasing the month's Cog Night. It includes reviews of events the team has been to that month, and upcoming events we're excited about.
Why start a new monthly newsletter? Our aims when we started were to keep connected with our clients and the cultural sector, to celebrate what we love as a studio and to make new connections with prospective clients and with illustrators we'd like to work with.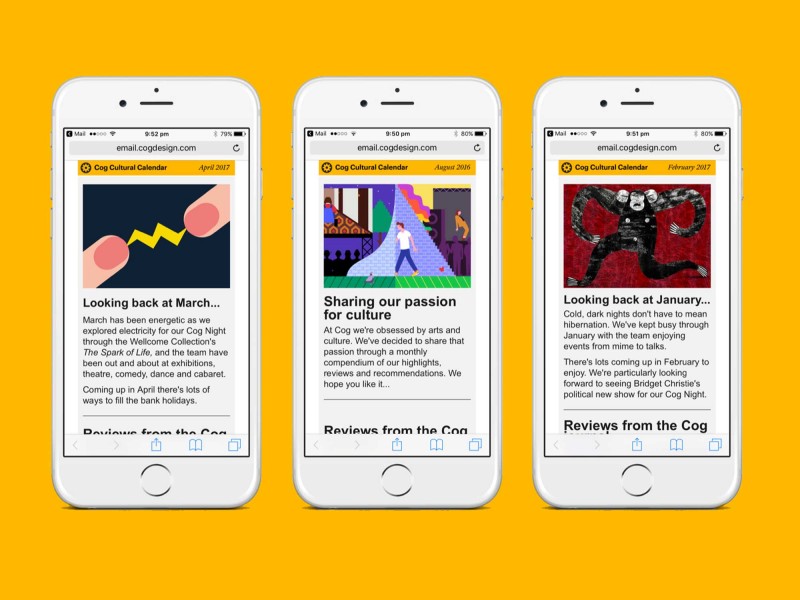 Arts and culture are what we care about as a studio, so we were already writing lots of content on the site, reviewing events we've been to. We didn't have a clear channel to display this, so an email seemed like a great way to direct people to new articles.
We worked to decide on a format. We wanted content that would be useful to readers and manageable for us to keep on top of every month. That format includes links to our journal articles, usually led by that month's Cog Night, which the illustration relates to. Below this are 'snippet' reviews, making it easy for the whole team to join in and talk about events they've been to in short form.
At the end we include what we're excited about in the coming month and further ahead. We don't want to be competing with Time Out, so we've never aimed for an exhaustive list. It's a way of providing a snapshot of the kinds of things the team are looking forward to and show off events from our clients and friends.
Now that one year, twelve newsletters and hundreds of events have passed by, we're looking at what we've achieved and how to improve things as we continue them month to month.
I love these emails. Bang on brand. A lesson in content marketing and aligned culture for us all.
It has encouraged new conversations with clients who were pleased to be mentioned, or who'd get in touch with events they'd like featured. It's been a great way to highlight the events we've been enjoying to them and new potential clients. It emphasises our position as a design agency truly engaged with the arts and culture sector.
Our team have enjoyed sharing what they've been up to, feeling proud to be part of a team who explore diverse events. It fits in with the Cog Nights we go to once a month as a group, and gives an incentive for those writing the monthly reviews.
We've been digging the bespoke monthly illustrations, it's nice to see Cog championing emerging artists.
It's been a great way to make contact with a range of illustrators and a learning curve in finding out how different people work. Some sent lots of options and sketches with lots of discussion and input from us. Others worked the design up quickly. This has been great as it's help understand people's different working styles.
We've loved working with the range of illustrators. A big thank you goes to all of those who have taken part so far. We're always on the look out for new people to work with, tweet us if you're interested in contributing an illustration in the future.
It's been a great year, we've learnt a lot and really enjoyed it. We're looking forward to seeing how the Cultural Calendar develops in this next one. If you're not receiving the Cultural Calendar already, do sign up.