Grayson Perry is an enigma. How has this man, who won the Turner Prize with his sexually explicit vases, become a national treasure?
My theory is that he is disarmingly normal. He knows how to play the art game, as brilliantly demonstrated through his Reith lectures; and he's not afraid to be confrontational, as he showed when riding his pink motorbike to an Essex biker-bar, dressed as his amped-up female alter-ego Claire, for a TV documentary; but he never comes across as pretentious.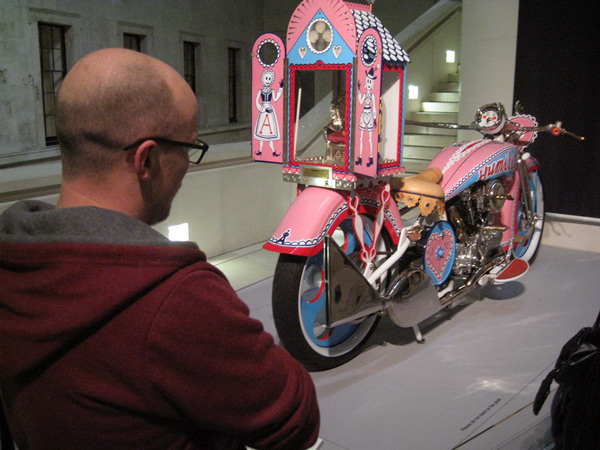 Everyone seems to respect his authenticity, his disarming honesty, his originality and his lack of dogma, but mostly people respect how bloody hard he works to create his art.
If Grayson Perry represents the accessible face of intellectual pursuits then Alain de Botton is his antithesis, so it is interesting that this project was commissioned by de Botton's Living Architecture company. The House also required a number of other collaborators, not least the architectural practice FAT who helped tame some of Perry's crazier ideas, whilst retaining his fairytale vision.
The central conceit is that this is a folly, a house converted by the second husband of Julie May Cope, mourning her death after she was run down by a take-away curry delivery-driver. Julie has a full backstory that resonates clearly with many modern British women. You can read all about her back-story in the many interviews that Perry has given about the project, or watch the excellent Channel 4 documentary where he invites a group of Julies to see the house.
So how did such a crazy project come to be built in such a conservative part of the country? Perry famously comes from suburban Essex and the story of Julie has been described as an homage to his mother, the story of a life she could have led.
The location was chosen for its remoteness and geographical position, like a medieval pilgrimage chapel, positioned at the confluence of rivers. As you might expect, at first the locals objected and planning permission was refused. Grayson Perry stepped in with his charmingly down-to-earth approach and set about winning people round. He told the story of Julie and talked about his inspirations. He convinced people that he wasn't 'other', he was one of them. It's a trick he seems to pull off with everyone he meets, there's no artifice or contrivance, and that seems to catch everyone of-guard. Eventually, he persuaded more people to support than object and the planning permission was granted.
Getting to stay in the property is not straight-forward. We put our names in a ballot for tickets with a couple of suggested dates and crossed our fingers; a few weeks later we found out we'd been selected and quickly had to find the money. Would it be worth the expense?
The drive took us through some beautiful countryside. Half an hour away we had to phone ahead to arrange for someone to meet us. As we got closer the houses seemed to get smaller, hamlets created by bunches of bungalows.
We arrived in Wrabness and found the turn down a single track road, over the railway bridge and onto the gravel approach. We'd been given the code for the gate with strict instructions to lock it behind us.
A man called Bill had been sent to let us in, check our identification and explain the security set up. That's when it really hit home. We were staying in a gallery with valuable artworks all around us. They were all alarmed and watched over by cameras. Was this actually big-sister's house? No, Bill assured us, the cameras were trained on the artworks, if we didn't touch them then we wouldn't be captured.
Nobody else was allowed in the property, no friends, no guests and no tours for people who might knock on the door.
Actually, although there was a fairly constant stream of people stopping on the footpath outside, everyone was friendly and respectful of us and our privacy.
Departure time is 10am but get-in time isn't until 4pm, and now I can see why. The house was impeccable; every surface polished, every window shutter in the same position, furniture perfectly positioned.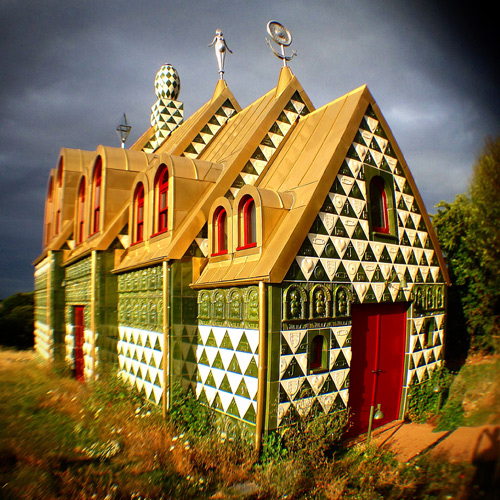 From the outside, the proportions make it appear tiny but inside it's surprisingly spacious and comfortable. There are two bathrooms (one with a sunken bath in the eaves above the front door), a large kitchen, two bedrooms and a spacious living room that opens out through a set of double-doors to face the River Stour.
The interior detailing is amazing. Every switch, latch and clasp has been considered, every screw-head is vertically aligned, shutters clip shut with magnets, doors are double-thickness, tiling is finished with coloured grouting, and every light-fitting feels perfectly selected.
This would be a stunning, if extremely expensive, holiday let. But of course it isn't your usual holiday apartment, it's a museum that you can stay in.
The double-height living room is a chapel, dedicated to Julie's memory. On either side wall, huge tapestries tell the story of a life in two halves: her first marriage, to Dave, where she brought up their kids before he left her for another woman; then her emerging independence, protests at Greenham Common and a second marriage, to wealthy Rob, who loved her so much he converted their home into this folly to her memory, after she was killed in an accident with a curry delivery moped.
On the front steps is a mosaic, built around Rob's feet, the place where he stood when he answered the door and heard of her death. And, hanging high from the ceiling is the moped that killed her, converted to a chandelier, shining light on her life-story below.
Two of Perry's biographical pots sit atop the music system (complete with some of Julie's favourite CDs) and television. In pride of place, staring down from the centre of the room, like a Madonna, is a life-size earth-mother sculpture of Julie.
Either side of Julie's sculpture are two small balconies, accessed from either bedroom, one representing each marriage: the first with a double-bed, the second with twin beds – which might be significant or might just be for the practicality of letting.
The twin room has another huge tapestry of Rob and Julie, Rob has shed a tear and toasts Julie with a glass of red wine.
It looks like there was supposed to be another tapestry in the double-room (there's a wooden beam embedded in the plaster) but there is just a plain white wall. Perhaps Grayson didn't finish it, or maybe Rob couldn't bring himself to hang it.
Entrance to either balcony is through a bright yellow walk-in wardrobe and a secret mirrored door.
Down the dark wood and red-lined staircase, through the bright yellow hall, the kitchen is as beautiful as it is practical. Kitted out with the best-designed gadgets and accessories, it has everything you need for a comfortable stay. Entrance to the living room is via two, semi-secret doors (the handles give them away), inset into a wall hung with green tiles, with a row of Sheela-na-gig style tiles of Julie (who looks remarkably like Grayson Perry's female persona Claire).
The outside of the house has been written about in countless articles and reviews. It's a chocolate box, a Hansel and Gretel cabin, a layer-cake, a mini-Taj Mahal, a Babushka doll. It's all of those things and more. Wrapped in incredible tiles and topped by stunning sculptures the house is simply remarkable.
The only thing I was disappointed by was the garden. The house is set in a small plot and it doesn't feel like anyone's really thought about the long-term up-keep of the garden. At first I thought it was being deliberately left to grow wild, there were some fearsome brambles and comically tall weeds growing, but as we were leaving some 'gardeners' turned up to cut all of that down. The house had only been open for three weeks so this was presumably the first time they'd been.
It's a pity that the garden isn't better kept and maintained, that would make it all the more attractive. And perhaps the areas around Julie's grave (yes, there really is a grave in the garden) could be left to run wild.
We had a fabulous couple of days staying in A House For Essex.
I've made a video tour of the house, in case you want to see it all…
It is a beautifully bonkers idea, executed with the stubborn inflexibility and eye for detail you would expect from the pairing of Perry and FAT.
Congratulations to all involved. It is well worth a visit.