With Slade on the speakers and tinsel trailing across the studio, Christmas, as they say, was all around us this December. We've been up to all sorts of festive fun this month, from a mulled wine movie night, to a delicious Christmas dinner at Marcella in Deptford. We even found time for Secret Santa.
This year we decided to share the festive cheer with our lovely followers on Twitter and Instagram, by producing a series of animated Christmas cards.
We set out to release a card a day, in the week running up to Christmas. Each one would be from different members of the team, including our international developers.
We decided to demonstrate the transformative power of print and digital imagery by setting up a series of optical illusions.
In each animated card the team brighten up the studio and step into Christmas, by holding up a seasonal image that transforms their surroundings.
To get the effect we wanted we needed patience and a steady hand.
Once we had worked out the concept for each shot, we needed to work backwards to get the desired outcome.
We started by taking a Christmassy photo. This was then cropped, printed and trimmed, for use in the shoot itself.
In order to get the perfect shot, we filmed each clip backwards, starting with the festive photos aligned with the background, and moving in reverse.
Once we had filmed our studio team, we called up our international developers to film a sequence with our Head of Digital, Jen.
And we placed them on Jen's screen.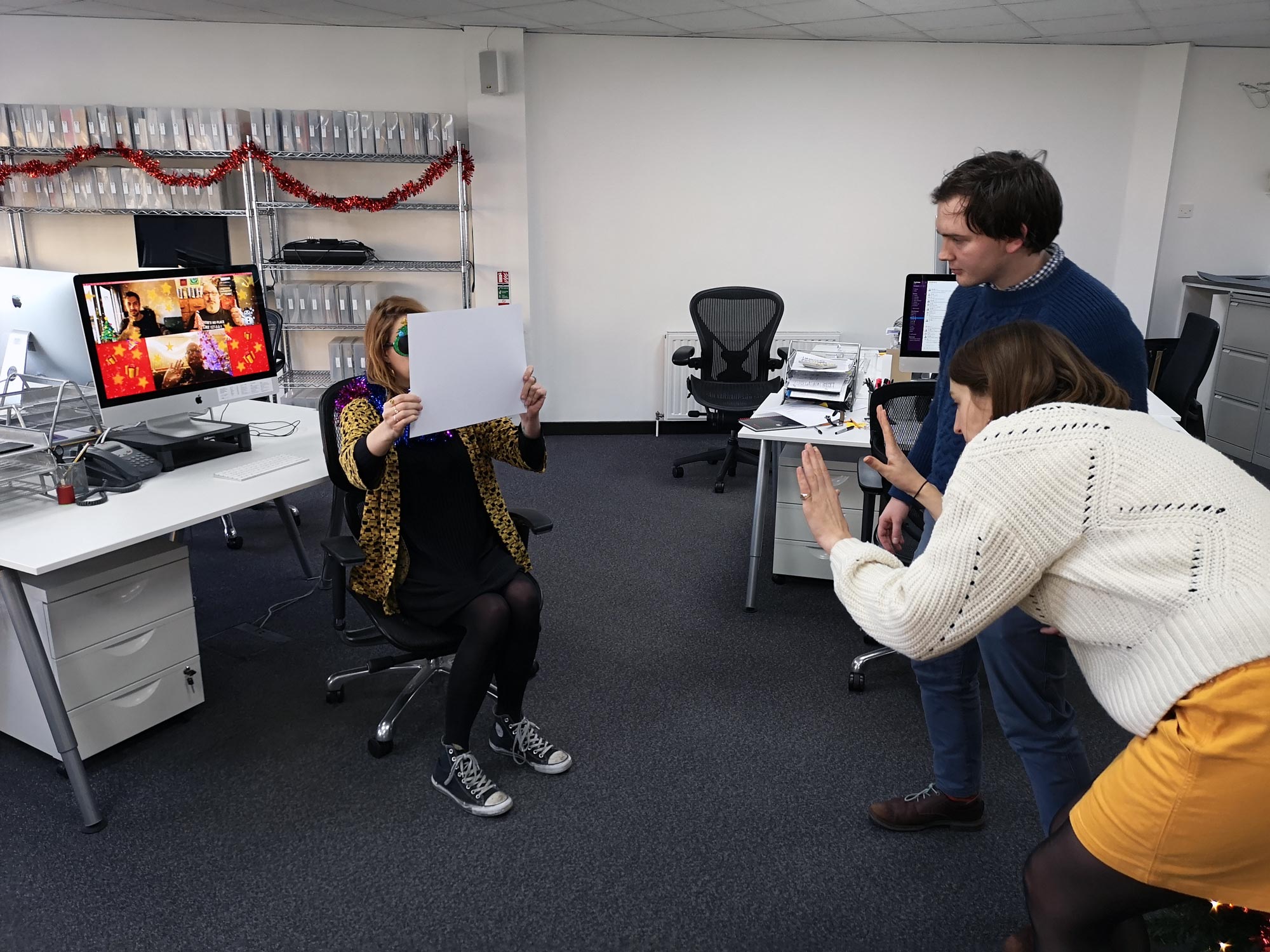 For Friday's grand finale we gathered the team together for a tinsel-packed group shot.
---
Monday with Ed and Emma…
---
Tuesday with Lucy and Toni…
---
Wednesday with Anna and Claire
---
Thursday with Jen, Razvan, Emi and Daniel
---
Friday with Michael, Kathleen and some of the studio team
Merry Christmas everyone. Looking forward to an exceptional 2020..