My first Cog night out began by entering the historic St Bride Foundation, an old publishing house just off Fleet Street. We were introduced to Daren Cook who, during his career, has worked for Wolff Olins, one of the leading agencies in branding, and collaborated with the late godfather of branding himself, Wally Olins. Nowadays, you will find him creating brands from his own self-named studio. Surprisingly, all this experience has shaped a refreshingly simple attitude to branding.
He began by telling us about 'brand onions', a diagram which is over-used in the world of branding to get to the 'core' of a brand. He showed us how a quick Google search brings up thousands of them. He demonstrated his adapated 'post-it note' method to create just one simple sentence or phrase that sums up every aspect of the branding project.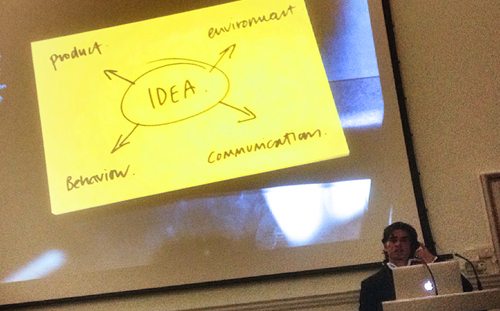 As testament to his approach, Daren described his involvement in the re-brand of Hutchison Microtel Communications, one of the many emerging mid-90's mobile phone companies. His method was to simplify the brand down to the word 'optimism' in the centre of his post-it note and described their story as 'looking into the future of telecommunications'. in other words; 'The future's bright, the future's Orange'. This simple story produced one of the leading brands in the mobile phone industry.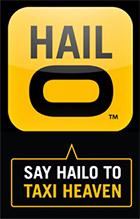 Similarly, when branding a new taxi company, he interpreted their story as 'Taxi heaven for all' and 'Halio' was born. He showed us how the name and logo are simply an expression of that one concept. Even when selecting colours, it was as straightforward as combining colours of American cabs and English Taxis, black and yellow. He believes that brands needn't be rocket science and audiences should be immediately able to identify what your company can do for them. He reasons that if you can't explain your proposed brand strategy to your mum in one easy sentence, then it's time to go back to the drawing board.
He did point out that these simplistic approaches will only work if you have built trust with your client. They need to have confidence in you and your decisions.
Discovering more about Daren Cook's methods towards branding was very insightful and I believe everyone in branding can learn something from the simplicity of his approach. He finished by applying his storytelling style to conclude the entire talk:
"Stories not logos. Ideas not onions."
Unfortunately, I don't think my mum would get the onion part.