Hysterical at The Vault Festival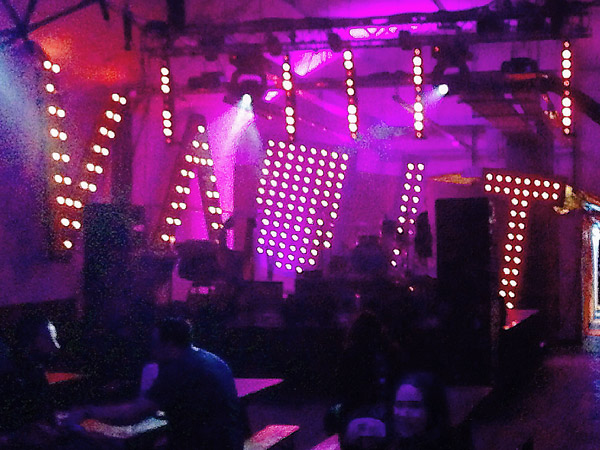 For February's Cog Night we visited The Vaults Festival to see Hysterical, a play about advertising and mental health.
The vast, damp chasms of space in the arches beneath Waterloo station are good for very little, commercially. But they've proven to be a wonderful home for quirky entertainment. There was an uber trendy crazy golf /film club there for a while, and through much of 2015 they were home to The Terrible Infant's immersive performance of Alice Underground.
Since 2014 they've also been home to The Vaults, 'an arts platform for the bold, the fresh and the fearless', incorporating The Vaults Theatre, The Vaults Gallery, and The Vaults Kitchen (each with their own individual offerings).
And, for the second year in a row, for six weeks, many of those spaces have been taken over by Vault Festival – billed as six weeks of adventure & exploration underground – with performances, workshops, bars, a restaurant, late night parties and a mini-vault for under 11's. It's a labyrinthine set-up, every bit as sprawling as the venue itself.
There are 15 – 18 shows each weeknight, and up to 31 shows on a Saturday. It must be a logistical nightmare getting shows in and out of the limited number of individual performance spaces. Whilst we were there the operation was impeccably organised and efficiently run.
They've also done a good job trying to present it all coherently on the website but it's pretty overwhelming to come to it cold. It was so confusing that we came close to giving up but we stumbled across a show about a woman tasked with rebranding water – it was vaguely relevant to us and could be funny so we booked for our February Cog Night.
When the night came we were all still pretty confused by what it was we were going to. The website write-up was a bit worthy – Hysterical examines how gender and modern day pressures take their toll on mental health and questions whether societal structures mean we're destined to fail; urging us to ask 'Is mental health a deeply political question?'.
Through our experience of working on the design of theatre publicity we know that the blurb is often compiled a long time before a new show is actually written, let alone finished. 
https://www.youtube.com/watch?v=xEnLhNHLPIw
How deep and dark could it be if it was called 'Hysterical'? The show's trailers were pretty stylish and conceptual but they didn't give a lot away. We were excited to give it the benefit of the doubt.
We approached The Vaults via the 'graffiti tunnel' off Leake Street. It's the kind of place they'd shoot a fashion spread for Hipster weekly, and it's not the kind of place I'd want to wander if I weren't in a crowd.
They've done well to make the huge space feel welcoming and delightful, through a combination of urban utility and well placed lighting. The low light meant I wasn't too conspicuous, but I still felt like a middle-aged intruder at a student party. I don't think there was another person over 35 in the whole place.
Walking through the entrance, past the bouncers and the box office, you're confronted by a corridor. Clip-board wielding door-staff control the entrances to venues to the left and right and there are bars dotted between them.
We kept walking down the corridor to a bar and an arch devoted to a seating area and live music space (although there was no one performing when we were there). A particularly tatty leather sofa housed an overly exuberant bearded man regaling a carefully perched partner with tales of his brilliance – I think they were just comfortable punters rather than part of the entertainment but he provided me with five minutes of amusement whilst we waited for our showtime.
As our time approached we were allowed into our particular venue. A sold-out show and unallocated seats meant some awkwardness at having to shuffle along to fill spaces that we'd politely left between our party of 8 and those in our row.
The show was fast paced and interesting; a handful of actors and a mobile set having to act hard to keep our attention in the huge, noisy, vaulted space.
the Virgin Mary roller-skating on with a fairy-light head-dress was a highlight… an anatomically exaggerated male baby doll simulating the rape of a woman in a Bikram yoga class was a low point.
According to the write up it had been devised in collaboration with psychology academics and clinicians at UCL, and that was pretty clear. If I'm honest I found it all a bit superficial. It felt like they'd workshopped a dozen anecdotes and starter lessons in psychology into a narrative.
There were some funny bits – the Virgin Mary roller-skating on with a fairy-light head-dress was a highlight. And some disturbing bits – an anatomically exaggerated male baby doll simulating the rape of a woman in a Bikram yoga class was a low point.
Overall, for me, the level of the show didn't live up to the depth of the promise from its publicity materials but that didn't seem to matter to the audience, they clapped as hard as any I've heard at much more engaging or challenging evenings.
Perhaps that's the point of The Vaults. They are full of young people trying stuff out in front of audiences who are there as much for the experience of being there as they are for the plays. It's about the event, the bars, the discovery and the feeling that you're part of a thing that other people don't know about.
It wasn't really for me and it'll take a lot to get me back there, but then I'm definitely not the target audience. If you're into 'adventure & exploration underground' then you could do a lot worse for a night out than pick a show at random and head down to The Vault Festival.