I'm fascinated by VAULT Festival (I really don't like using those capitals but that's how they write it so it feels like I should too).
I've dipped in to individual shows for the past few years but this year I thought I'd properly embrace the 'festival' nature of if all, often seeing two or three shows a night.
I have a terrible memory so I've written some notes about each, in the hope that the experiences will stay with me.
---
Fringe theatre isn't a world that I know much about at all. I suppose if you think about it, there are almost countless actors, directors, producers, writers and technicians emerging from education into their careers every year. They have to start somewhere, and this is one of those somewheres.
The Vaults (the venue where VAULT Festival ((run by Heritage Arts)) is mostly based) is filled, night after night, week after week, with predominantly young people. It's a vibrant place where you can feel the ambition, elation and frustration of youth. But I do sometimes feel too old to be there; I'm very often the oldest person at a show and that's not a comfortable experience.
I wrote a bit about that experience (and the festival and venue as it was then) when I first visited in 2016. Looking at that review, I wrote that is 'would take a lot to get me back there'. This year I booked for two-dozen events so they must be doing a lot. Right?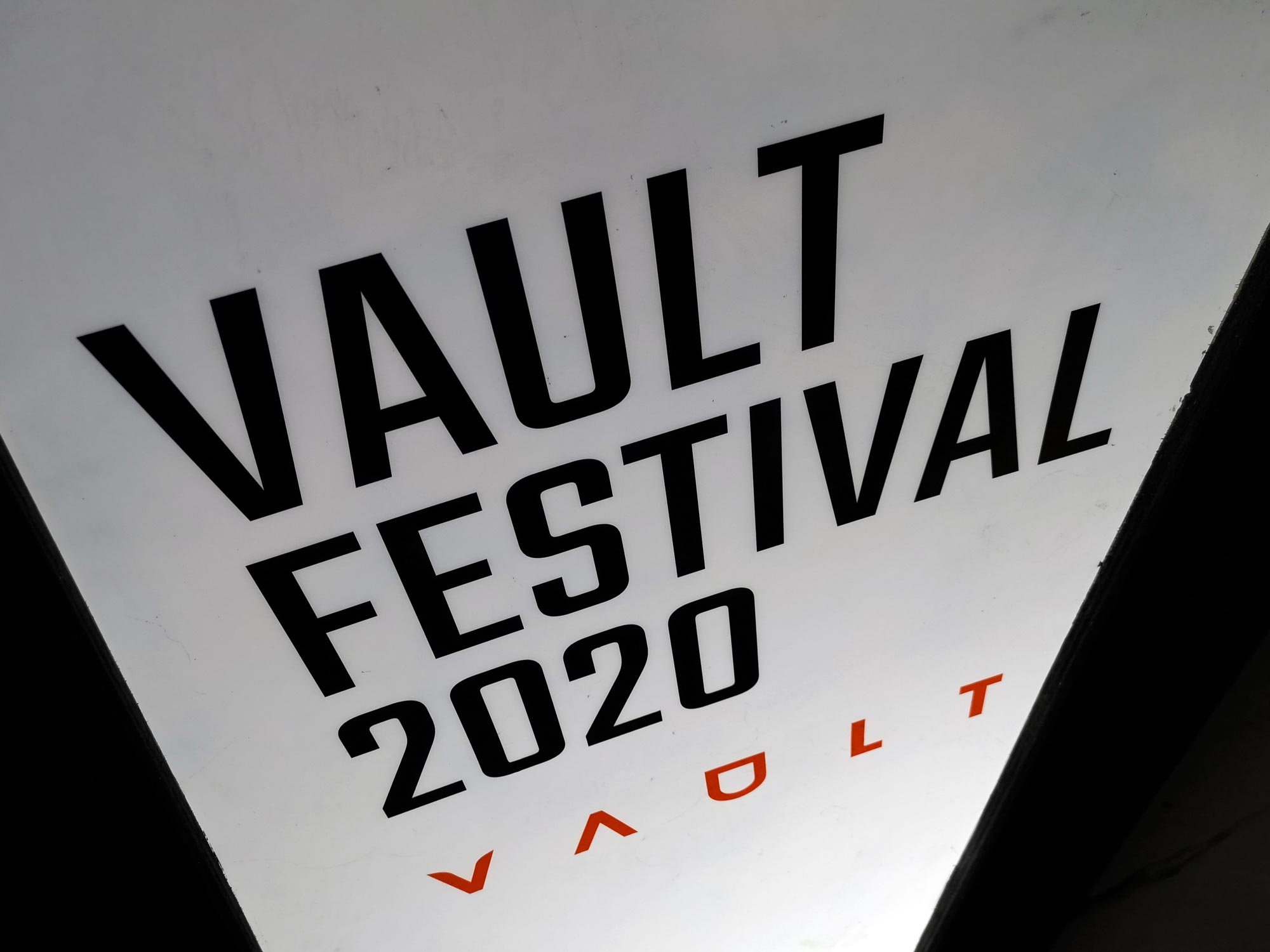 Interestingly, they are very open about their (lack of) funding and the financial model that they operate by. The majority of their revenue comes from the bars.
Total income in 2019 broke down as:
Box Office Split 25%
Audience Festival Contribution 9%
Bar & Food 58%
Memberships & Merchandise 0.4%
Sponsorship 6%
Service Charges 1.6%
I did buy a lot of tickets this year but I'm afraid I rarely buy food and drink. So maybe it is much better to target young people rather than stingy older people like me.
---
Wednesday 29th January
19:30
Sofie Hagen: The Bumswing 
The Forge
It's probably my own perception, but I don't really associate VAULT Festival with stand-up (especially of established names like Sofie Hagen). And, only a day or so into a very long run, the atmosphere in the sprawling venue of venues was pretty subdued.
But of course The Forge was busy and boisterous. People (and of those people, the women outnumbered men by maybe 25 to 1) were not crammed in to just see some stand-up, they were there because Sofie Hagen is special.
Her confessional, raw, exposing style is disarming because of its honesty.
Bumswing weaves several themes into a tight rope. It's clever and heartbreaking.
Sofie tells us that she builds false memories to protect herself from life's traumas. Most of tonight's show is built around different memories of a trip to Swansea. The name sounds so lovely that once she actually visits, she feels like she's been "catfished by a town".
I'm not going to spoil a moment. Go and see it; she's touring all through the UK.
---
Thursday 30th January
18:15
I Don't Know What To Do
Network Theatre
Worthwhile, if a bit worthy, is how I remember this play. Perhaps I'm being overly critical because this was the first play I'd seen at this year's festival.
This is very much an autobiographical piece from writer Zoe Lafferty. She juxtaposes the Extinction Rebellion protests with the Palestinian struggles.
I was genuinely interested in every aspect of her story, including her increasing scepticism about the lack of organisation amongst an overwhelmingly white and middle-class protest movement.
Most notably she tells the story of listening to a performer on Waterloo Bridge, and wanting to share that with her partner in Jenin. On the call she could hear the hear the sound of gunshots in the background.
It was notable but I couldn't be sure what point was being made.
Was the play saying that Extinction Rebellion's cause was less important than the Palestinian struggle? Or was it saying that the climate crisis is too intangible for us to grasp, yet?
Maybe we'll see a differently developed version of the play later in the year.
Or maybe it's a brilliant script that I just didn't quite understand.
19:45
The Legend of the Holy Drinker
Crescent
Apparently this was 'an urgent modern adaptation of Joseph Roth's neglected 1939 European masterpiece'. No, me neither.
It was interesting though. The story centres around a homeless man, given the gift of a large sum of money by a repentant banker – a miracle. He has to promise to return the favour and to visit the statue of a particular saint. More miracles follow and the man is led astray by various characters. It is a tale of addiction, refugees and homelessness.
What is most interesting is the adaptation. HUNCHtheatre have used a team of refugee artists from across Europe. They have incorporated personal experiences to update the pre-war work to the 21st Century.
It was cleverly staged, thought-provoking and hugely relevant to the streets of London. I could have lived without the sleazy table-dancing scene but apart from that there were very few missteps.
20:50
James Rowland & Tom Bell (work in progress)
Cage
We were promised a work in progress and that's exactly what we got; although it seemed very early in the journey.
James Rowland told us he had an idea for a show where the audience would intuitively learn to play a song. He'd borrowed a lot of instruments – several ukuleles (is that the correct plural), a kick-drum, a melodica, a triangle and a lot of percussiony shakey things.
I've seen him in three one-man shows, he's always brilliantly engaging; he's likeable and funny and endlessly charming but I can't see how this idea can scale beyond a late-night lock-in with a bunch of musician mates. Especially if he gives the g-tuned uke to a musically-challenged numpty like me. I look forward to being proved wrong.
Tom Bell is one of those funny people from The Mash Report. He had some notes, ideas and some fun 'bits' but they haven't yet coalesced into a show. Assuming he'll be in Edinburgh, I look forward to seeing how the routine has progressed by August.
---
Tuesday 4th February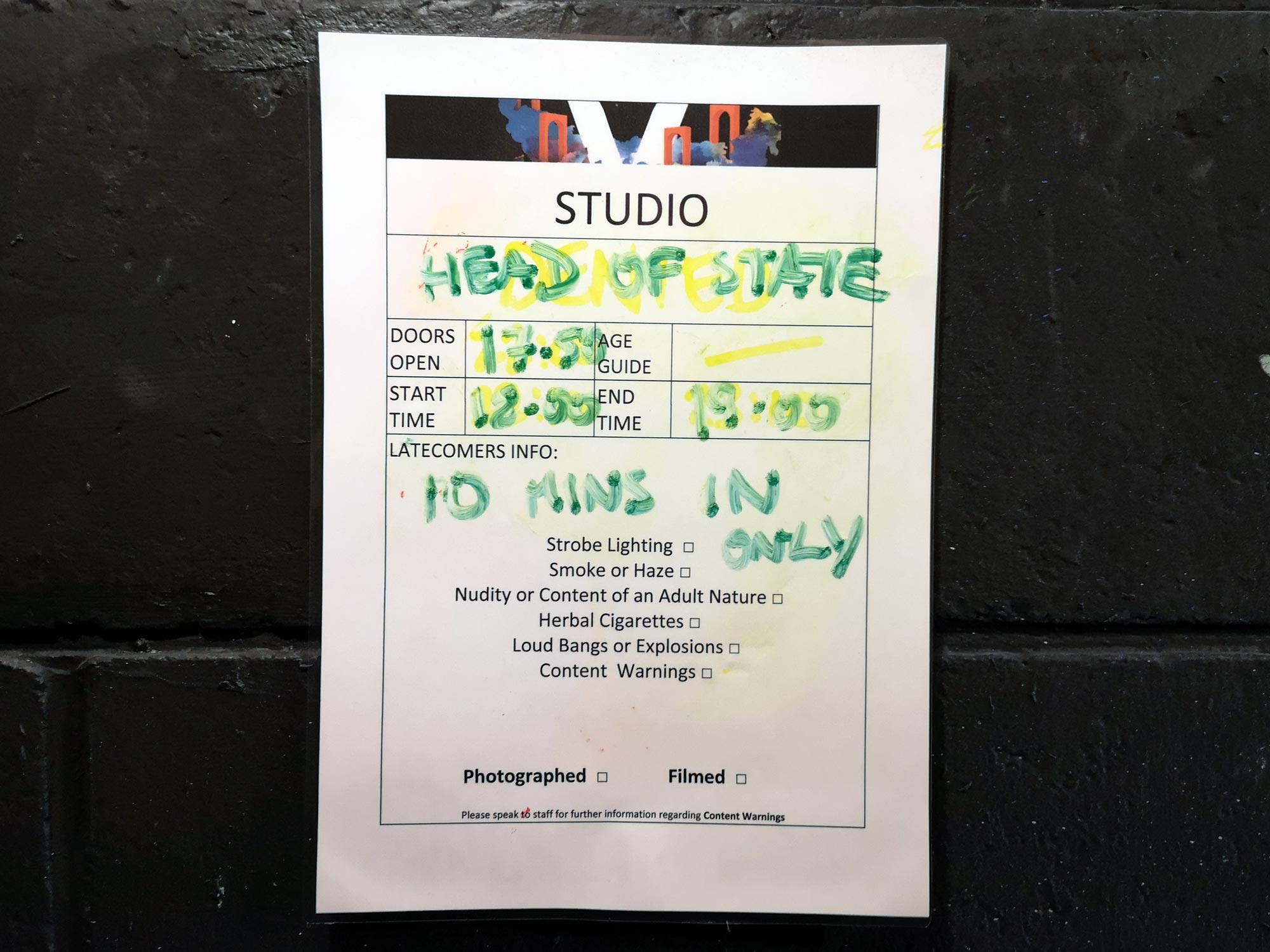 18:00
Head of State 
Studio
In Rob Thorman's Head of State we meet Mo, Akshay Shah, the newly elected leader of the tiny state of Nechora. His Chief of Staff is tasked with queuing the congratulatory calls from the heads of other states.
At first the conversations are filled with platitudes but quickly Mo's lack of status primes him to go beyond the protocol and to become a kind of agony uncle, brokering deals between the leaders of the world.
Lawrence Russell plays all of the other leaders (as well as the Chief of Staff). It's a brilliant role for someone who obviously has a gift for comic characters. He plays up to the stereo-types of America, Britain, Ireland and beyond. And the production neatly side-steps (and makes fun of) the potential pitfall of impersonating China's leader.
At one point, there's a Brady Bunch (a reference for our older readers) screen with Russell playing nine characters simultaneously.
It's funny, clever, satirical and beautifully constructed. My only issue with it was the slightly incongruous sub-plot of Ariana Grande. Or maybe I just don't realise how profound her lyrics really are.
---
Wednesday 5th February
18:10
Fanboy (Work in Progress)
Cage
Joe Sellman-Leava's Fanboy could be a reasonable show about a man who views his adult life through the lens of his nerdy childhood.
It could be a good show because he pushes the form in a time-jumping tale that stretches and rewinds like the VHS tape it centres around.
We live in times when people no longer need to be embarrassed by their obsessions. We live in an age when it seems perfectly plausible that someone will meet their life partner through a shared a love of Jar Jar Binks. Joe has captured that moment.
What makes it a great show is the multiple thematic arcs. We jump between timelines, between fact and fiction, dealing with love, loss and the prevalence of male suicide along the journey.
At VAULT Festival, Joe was still reading the script. By the time he's off-book, this could be an exceptional show.
19:20
Gobby
Studio
Gobby is Jodie Irvine's debut play. It's very good. She's very good.
As we arrive, Irvine's character, Bri ("like the cheese" she explains to everyone she meets) is placing plates and blowing up balloons, preparing for the latest in a series of pivotal parties that have shaped her life.
With one party-popper popped we're in to party number one. The tale begins like many teenage dramas. Bri feels hard done by. The cool kids are ignoring her; they've stopped inviting her to things.
Irvine puts a party hat on a balloon, to represent the boy she's chatting up. She jumps between characters, doing the accents and being the people.
It could be yet another 'why are other people so mean' play. But it's more than that.
As each subsequent party begins (two party-poppers, three, four), we learn more about the character behind the character.
We hear of the trauma that has shaped her personality in a way that has made her loud, brash, perhaps a little difficult to be around. She lacks self-awareness but (understandably) questions those who try to help her past the problems.
It's a tender, funny, moving and complex one-person play. I'd be very interested to see whatever Jodie Irvine does next.
21:00
What The Dolls Saw
Pit
An all female production (written, directed, produced and acted) is definitely something to support.
Despite a lot of promise, its leaning on the macabre and some great dialogue, I didn't enjoy it.
And there's no merit to moaning so I won't.
---
Wednesday 5th February
18:15
The Indecent Musings of Miss Doncaster 2007
Network Theatre
What do you do when the peak of your life happened more than a decade ago, and you're still trying to relive that moment?
Miss Doncaster now moves between a series of dead-end jobs and meaningless sexual conquests, living for the weekend, necking shots and living it large. She knows it can't last but she desperately hopes it will.
Sitting beside the hospital bed of her dying father we see her as daddy's little girl, desperate to pause time before she has to face the realities of life without this bedrock.
It's a sharply observed, often funny, occasionally melancholy show. Full marks to Annabel York's performance and energy, and to the writing, direction, lighting and sound that transformed a single chair, on a bare stage, into believable scenes and scenarios.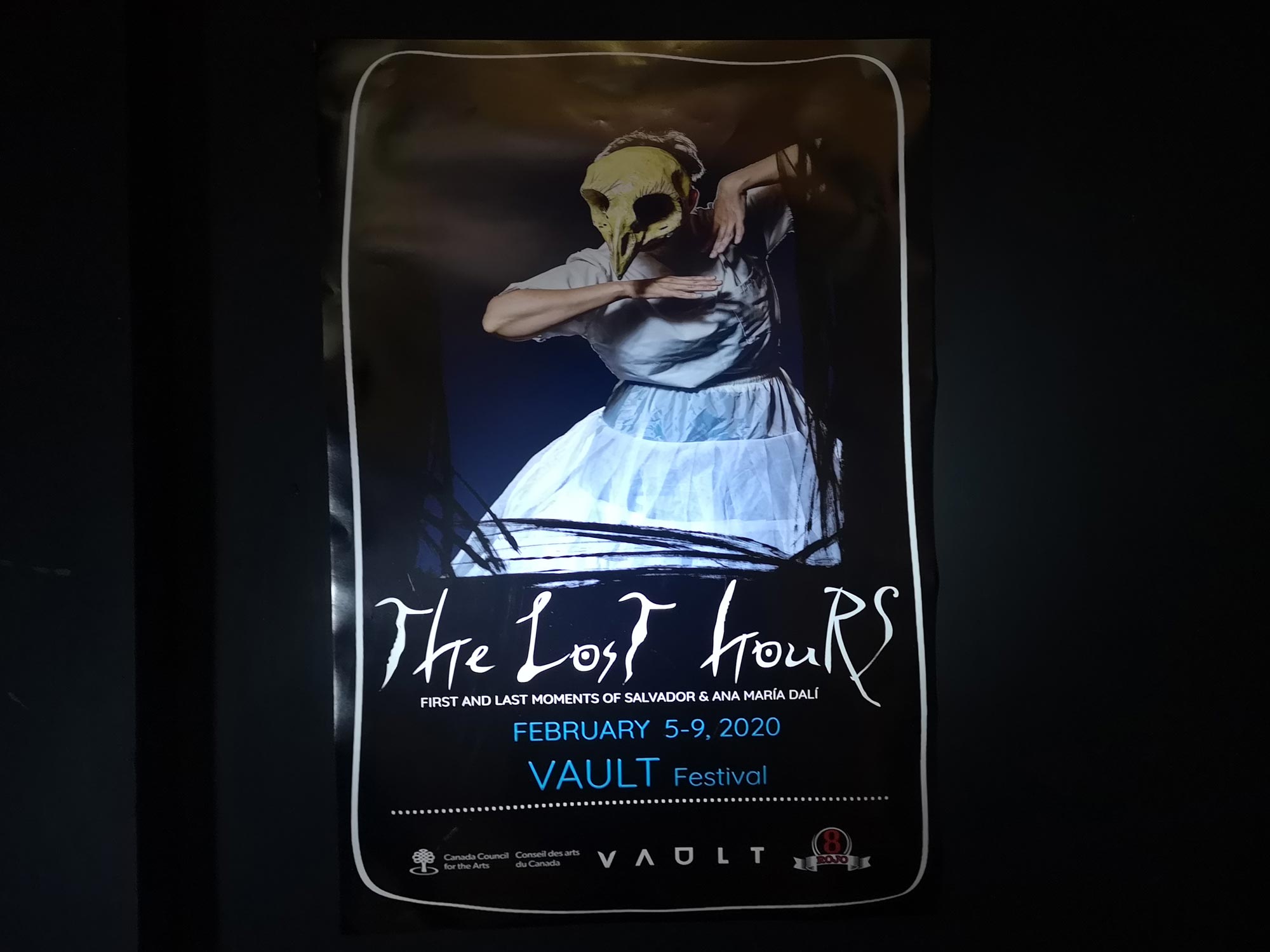 19:30
The Lost Hours
Shipping container
A performance for one in a shipping container. I had little idea what to expect from this show by Canadian company, 8Rojo. It turned out to be an incredible and intense theatrical experience. I've written a full review elsewhere in this journal.
21:20
GORGON: A Horror Story 
Cavern
The Cavern is a long, thin, erm, cavernous venue. The audience sit, two deep, on benches along the edges. There's no stage and it's a big space to dress. But designer Sophie Pardon gave it a good go, with mannequins, masks, chairs with embedded faces and lamps draped with skins.
There was a lot going on in this production, written and performed by Elf Lyons (and others).
There are multiple timelines, a true-crime podcast, a mystery policeman, some taxidermy, and lots of sound effects performed live by foley artists (like Berberian Sound Studio).
The long, damp room certainly helped to create atmosphere but I found it distanced the actors and made it sometimes tricky to follow the dialogue and the cues that we were switching between timelines and locations.
---
Wednesday 12th February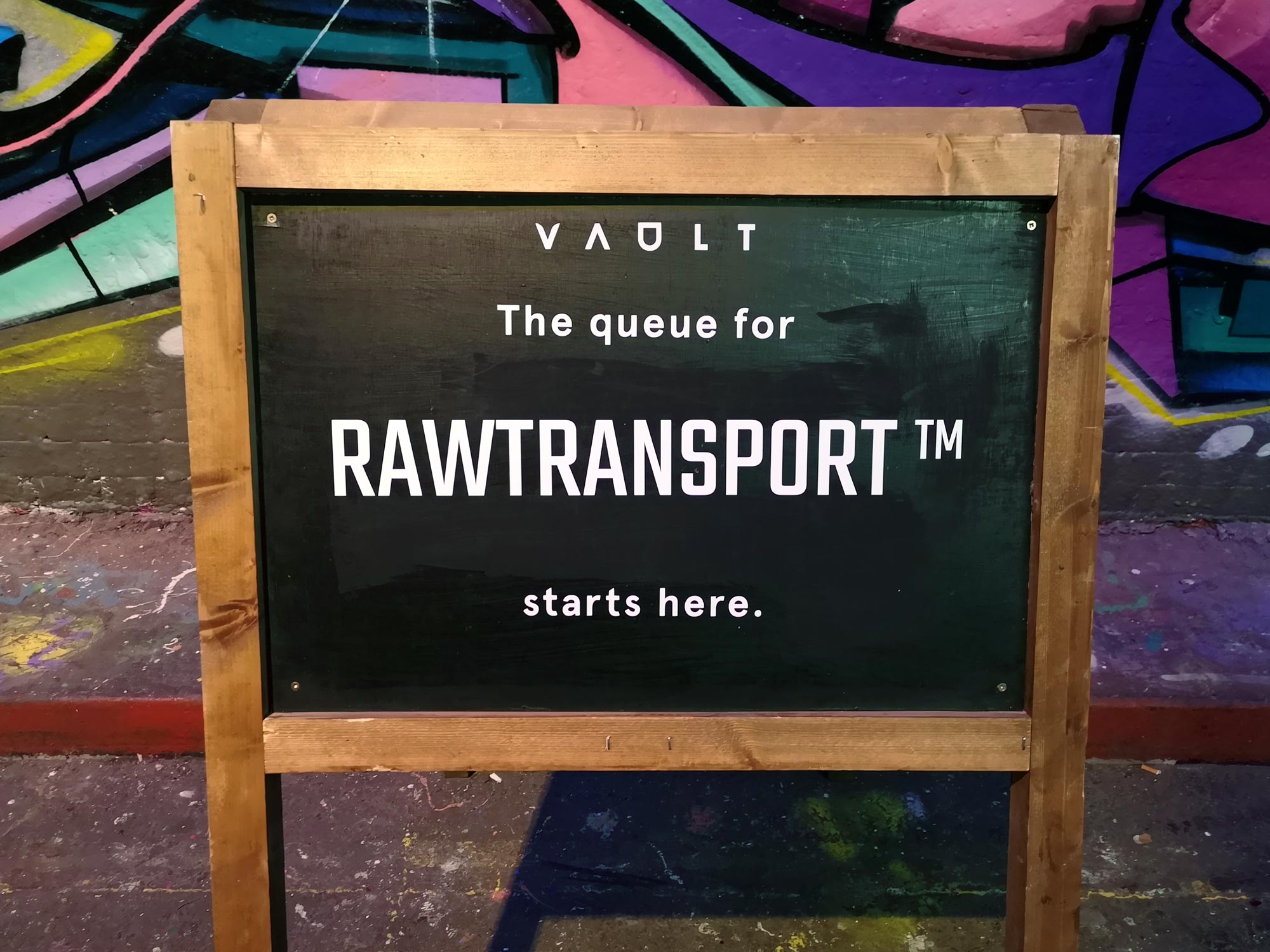 18:30
RawTransport™ 
Shipping container
The concept was simple enough. We'd be donning VR headsets and experiencing a trip (the holiday kind not the hallucinatory kind).
Our effervescent host (Carly McCann) was settling us in when her domineering boss, the creator of RawTransport™ (Ben Grant), interrupted and undermined her.
With staff members off sick, the boss feels he needs to step in and help to run the simulations.
There are health and safety forms to fill out – I'm still not sure if they were real or part of the show.
We put on the headsets. As usual, mine didn't quite fit over my glasses, and the dominance I have in one eye makes the whole experience a bit blurry – I am not looking forward to a VR future where the world is always a little off-kilter.
It was a 'multi-sensory' experience. I'm not keen of that aspect; it all feels a little like the Honey I Shrunk the Kids '4-D' cinema experience from EuroDisney in the late '90s.
There's a plot that I won't spoil because it's worth visiting if you get a chance at another festival.
But the experience felt a little half-hearted to me. If this sort of thing is going to work, you need to throw-off cynicism and be truly immersed in the world that's being created (before the headsets go on). The exposition needs to be clear, the set needs to be spot on and the cues need to be clear. And they weren't quite there (from my perhaps off-kilter point of view). I just felt a bit confused rather than immersed.
19:15
Ask Me Anything
Crescent
I love the premise of this show by The Paper Birds. Three women (in their twenties and thirties) invite young people to write in, like an old fashioned 'agony aunt' – Ask Me Anything.
The set-up is friendly and welcoming. Those of us who arrive early are invited to sit on beanbags, to recline and relax (I kept in my chair, obviously) and we are given sweets. We're told it is a relaxed performance – use your phone, take photos, leave when you like.
The cast chat with us, talk about past experiences. They make us feel at home in a set that is a recreation of the bedrooms of the three when they were teenagers.
The show is an eclectic mix of songs (performed by the three), sharp banter and video messages from other people, helping out with answers to some of the more difficult questions about sex, body image and suicide.
It feels like an important and timely show that should be seen by more young people.
There's even a party scene, where members of the audience help to recreate a pivotal moment in a cast member's life, all via the medium of a cheesy video diary. The rest of us were invited to dance and fill the background of the scene. I know I should have found it cringey and embarrassing but they'd set the scene so well that the whole thing felt very natural and appropriate (although I still didn't get out of my chair, obviously).
21:00
Bible John
Forge
I loved this show. It was unexpected and tapped into topics that I'd not previously considered.
Bible John was a serial killer, in 1970s Glasgow, and this show is about four temps who share a fascination with him, via the latest true-crime podcast. Their fascination becomes obsession as they try to solve the riddle and track down the killer. The historic killings become entertainment, distracting them from the mundanity of their lives.
The dialogue forces us to question why people, especially, young women are drawn to serial killers. And why those killers are always men (yes they do know about Aileen Pralle).
At the end, recognising the irony of making entertainment from the very topic they are questioning as entertainment, the These Girls team pay sensitive tribute to the women killed by Bible John.
Writer Caitlin McEwan performed alongside Renee Bailey, Carla Garratt and Louise Waller (who I thought was particularly fantastic).
Director Lizzie Manwaring and movement director Laurie Ogden brought the whole thing together into a wonderful overall shape and form.
---
Wednesday 12th February
19:45
The Future is Mental
Network Theatre
I was attracted to see this show by the publicity image and the promise of 'Near-future stories drawing on Black Mirror, Margaret Atwood and the black comedy of Killing Eve'.
Of course, the future is never quite a slick as the promises. And it's hard to create a slick futuristic scenario on an empty black stage with a few props and little lighting.
The show began with a simple premise. Amongst us would be the future leader, we just had to work though some multiple choice questions to test our reaction to some tricky decisions; the most adept of us would get our chance at leadership. The questions got more obscure as we settled in for a long run; the questioner popped up several times, through the hour, to hold the show together.
What followed was a kind of sketch show of dystopian comedy. I've only subsequently realised it was all written and directed by the same person, Rosie De Vekey.
It was at times fun, often funny and almost always very well written (especially the Decluttering piece).
I just wish I'd done a little research in advance, or that I'd been given a little more context so I knew what to expect.
---
Wednesday 19th February
19:15
Jeckyll & Hyde
Outside
Fire Hazard Games have put together a fun interactive experience where players use an app to piece together clues about the previous night of murderous debauchery. I enjoyed it very much.
My colleague, Jen, has written a great review elsewhere in this journal.
---
Wednesday 26th February
18:20
L I M B O
Cavern
I had no idea what to expect from L-i-m-b-o. Now I've experienced it I'm even more unsure. The show is a series of short monologues from a company of performers, each feels like a personal experience, a life-pivoting moment.
And sometimes there is dance, occasionally there is song, and at one point, a man kind of dance-crawled through the puddles of the very damp venue.
I came away with a feeling, a feeling of European lives, of individuals who are enjoying the creative freedom that society affords them. They seemed to be having a whale of a time – both in the show and around the venue for the rest of the evening.
19.45
Visit Bethlehem
Walking tour
We met our tour guide, Osama, in the 'graffiti tunnel' under Waterloo Bridge. He promised us a tour of his home town of Bethlehem (and taught us to pronounce it Bethl'em). He loaned us tiny camping chairs and led us into the tunnels.
I'm not sure if I wasn't paying enough attention or if Osama's voice wasn't carrying well over the sound of his speaker but I missed the set-up. The idea was, apparently, that we were being diverted from our tour to see the Church of the Nativity. Osama had had enough and instead he was showing us the real Palestine.
We walked to 'the wall' and sat near the Banksy hotel. We followed to the street where his brother (or maybe a friend, I couldn't quite hear) had been shot in the face by a rubber bullet. The bloody nose inspired Osama to train as a red-nosed clown,
And we went on to visit Palestine's smallest refugee camp, Osama's home, where people clutch the papers for the houses they lost when Britain partitioned their homeland to create Israel.
It was an engaging history lesson, with music and dancing but perhaps the exposition could have been clearer.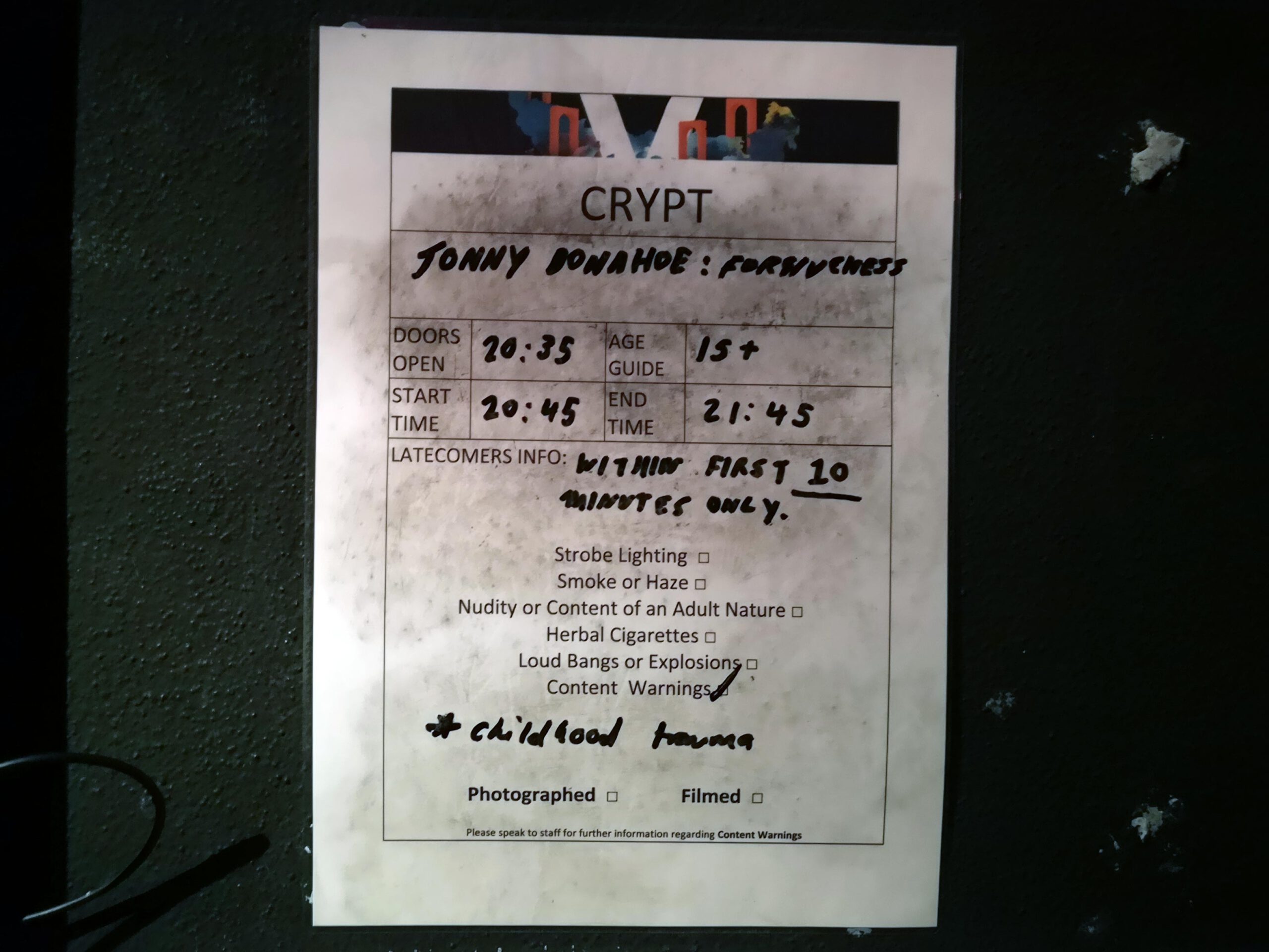 20.45
Jonny Donahoe: Forgiveness (Work in Progress)
Crypt
The Crypt has issues as a venue. Access is via the fire exit and there's no way for the performers to enter discretely. So when we arrived Jonny was essentially trapped behind a curtain. That didn't last long. Before the allotted time, Jonny was out amongst us, chatting and learning our names (dealing with his baby brain, he said).
In his affable and hugely engaging way, he drew us in and won our confidence. He explained that previous shows had the appearance of autobiography, but this one was real; actual people in Jonny's life. As this was still a work in progress he asked us not to talk about the stories he told, especially not on the internet. Of course I respect that.
I hope I'll get the chance to see the show again in Edinburgh this Summer. Maybe I'll be able write about it then.
---
Friday 6th March
18:00
Speed Dial (Work in Progress)
Forge
I was torn watching Speed Dial. It was a great fun, slick, clever mix of character acting and physical scene setting. And, as this was the first performance (after which they invited feedback), it was very impressive.
But I was uncomfortable with the genre. Apparently it was an homage to, and parody of, the Campus Novel. I'm not sure I knew there was any such thing. From my perspective it all felt a little like young posh people knowingly talking about previous generations of posh people; all very exclusive. But I suspect my grumpiness says more about me than them.
The theatre company (Spies Like Us) have had plenty of recent fringe success and I'm sure that many of them will go on to bigger things. I'd pick out Evangeline Dickson who was particularly funny and physical.
If there was any actual fault, it was the title. The whole play brilliantly spins around corded, rotary phones. One thing that they definitely weren't is speedy in their dialling.
19:30
Kraken
Pit
Simon (Jack Parry-Jones) and Trixie (Shazia Nicholls) are contractors, deep under the sea, drilling for cobalt in a near-distant future where the mineral is used for batteries in cars and energy plants.
They have targets to hit and ambitions for their life back on the surface. At first their only company is a digital assistant supplied by the mining company to keep them on target. But, while drilling, Simon befriends a giant squid, attracted by the lights and a Lana Del Rey playlist.
The days count down (via huge projected numbers), the tension mounts and the couple's relationship is pressured to its limit. As news comes through about assassinations by eco-terrorists, the couple are forced to consider the balance of providing green energy with the damage they are doing to the planet.
It's a funny, sharply written (by Skot Wilson) play about morality that cleverly turns its metaphor inside out, with the global ecological crisis acting as a macrocosm of this young couple's relationship. Is the monster in the deep, or deep within us?
There is also an extraordinary costume, worn by one of the characters in the final scene.
Kraken was devised by Unbound Productions who made their name with Travesti a verbatim play where men speak the words of women; words about body image, self-esteem and being groped on public transport. Jack Parry-Jones (tonight's Simon) was in the original 4-minute pilot version in 2013.
---
Sunday 15th March
A sad end to the run
I was due for one last day of three performances. But I took the decision to stay at home and avoid the crowded space and the potential of COVID-19 (I really don't like using those capitals but that's how they write it so it feels like I should too).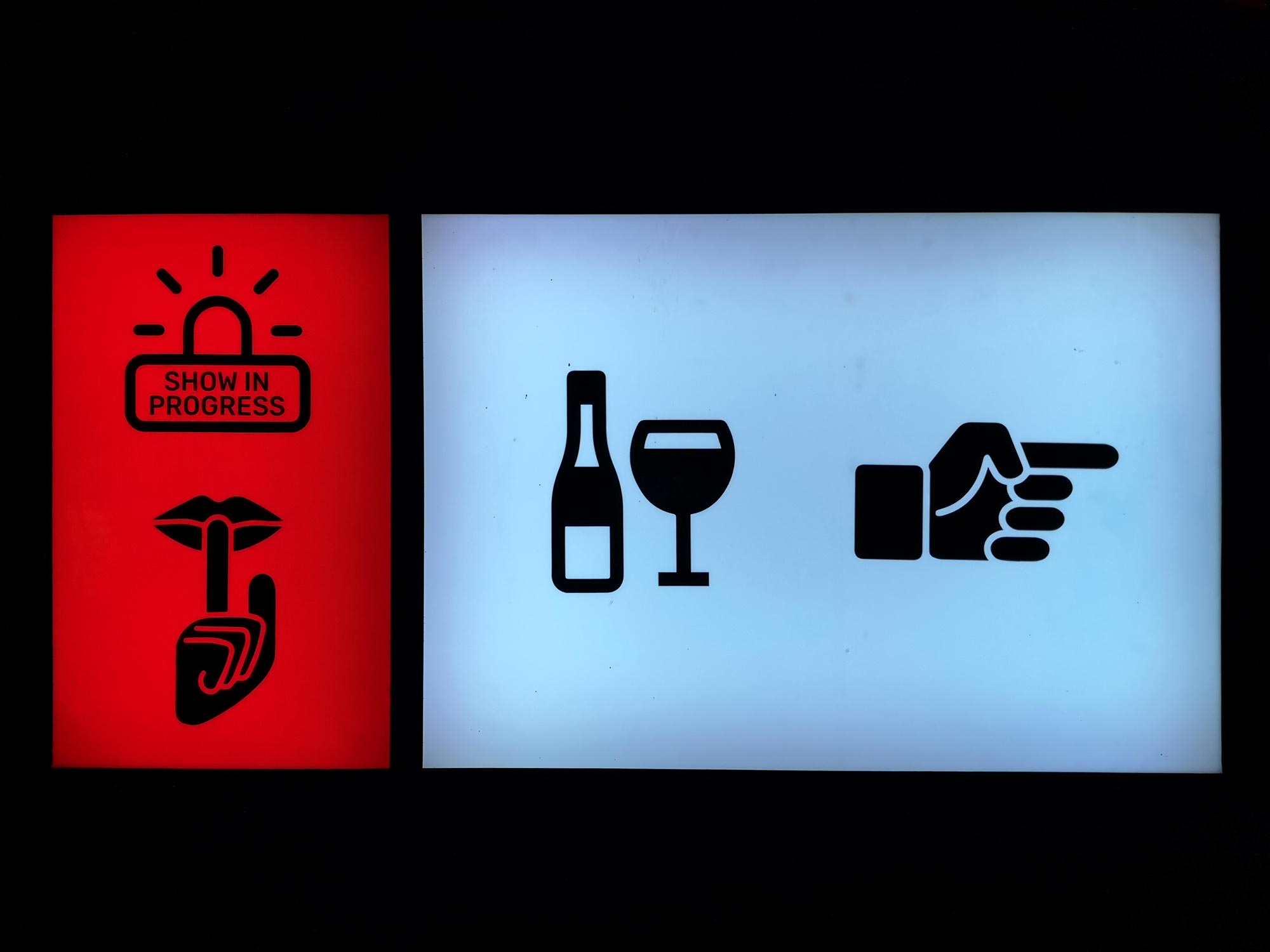 It was a disappointing end to what has been a great festival. Will I return next year, when I'm even older? Yeh, I think I probably will.