Dare we say it, our Cog Night's are starting to feel back to normal. We've enjoyed our virtual Cog Nights, but it was a real pleasure to be sharing a cultural experience together, in person this month.
For our June Cog Night we were in Elephant and Castle to see the Thursday evening late opening of the Drawing Room Biennial. We're very proud to be designing a new website for Drawing Room and their sibling organisation Tannery Arts. When we began that process in February the country was still in lockdown, which prevented us from visiting the gallery in person. So it was wonderful to get a sense of the physical space.
Drawing Room is the only public, non-profit gallery in the UK and Europe dedicated to the investigation and presentation of contemporary drawing. They have a fantastic programme of exhibitions, a world-leading drawing library, and a varied, well-stocked shop. Their blockbuster event is the Drawing Biennial, an exhibition of contemporary drawing followed by an online auction of works.
The idea behind the Biennial is to send artists an A4 piece of paper in the post, ask them to make a drawing, and see what is returned. The question that immediately arises – what is the definition of drawing?
Drawing is often key to every artist's practice no matter what their medium is. Over the past year, many artists returned to drawing renewing their interest that had previously been neglected or forgotten due to its immediacy and accessibility. As consequence of this, Drawing Room had received over 50 more entries than the previous year.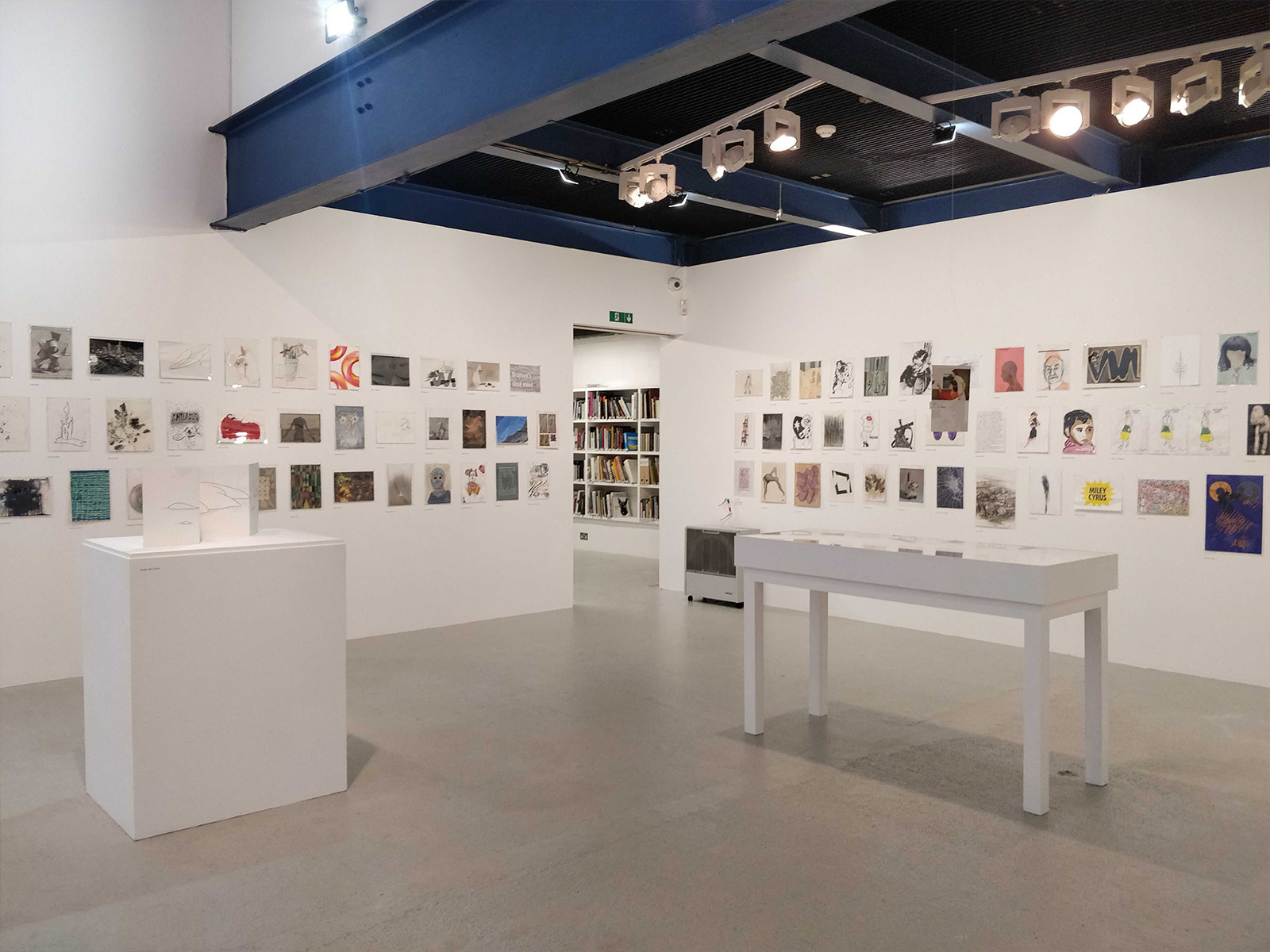 When we visited for our Cog Night we met Drawing Room co-director Mary Doyle. Mary was kind enough to give us an introduction to the exhibition, and point out a few of her selected highlights.
There was some fantastic work in the more 'traditional' medium of graphite pencil drawing: Turner prize winners, Hannah Quinlan & Rosie Hastings used it effectively to create a rubbing of a clowns face. But the Biennial exhibits many mediums beyond pencil on paper. This year it even had its first piece with augmented reality which we had fun engaging with.
The exhibition includes a range of artists, from bigger names to lesser known and upcoming. It's curated democratically. The work is all the same size and is arranged in alphabetical order by artist surname. Mary informed us that every year Rose Wylie's entry has been last in the exhibition – until this year. Joel Wyllie has taken her position.
The show is a real who's who of established and emerging artists. We spotted work by the likes of Michael-Craig Martin, Antony Gormley and Heather Philipson – artist of the current Fourth Plinth in Trafalgar Square, along with friends of Cog such as Dryden Goodwin and Bob & Roberta Smith.
Whilst walking around the room, the team kept asking one another which were our favourites. One piece that came up again and again in that conversation was Layla Curtis' United Kingdom + European Union: we do work in the medium of graphic communication after all. We all agreed that each time we walked round the space we saw something we had missed before. Anna and I were fortunate to visit twice following a meeting and we still kept finding new pieces!
It's definitely worth more than one trip.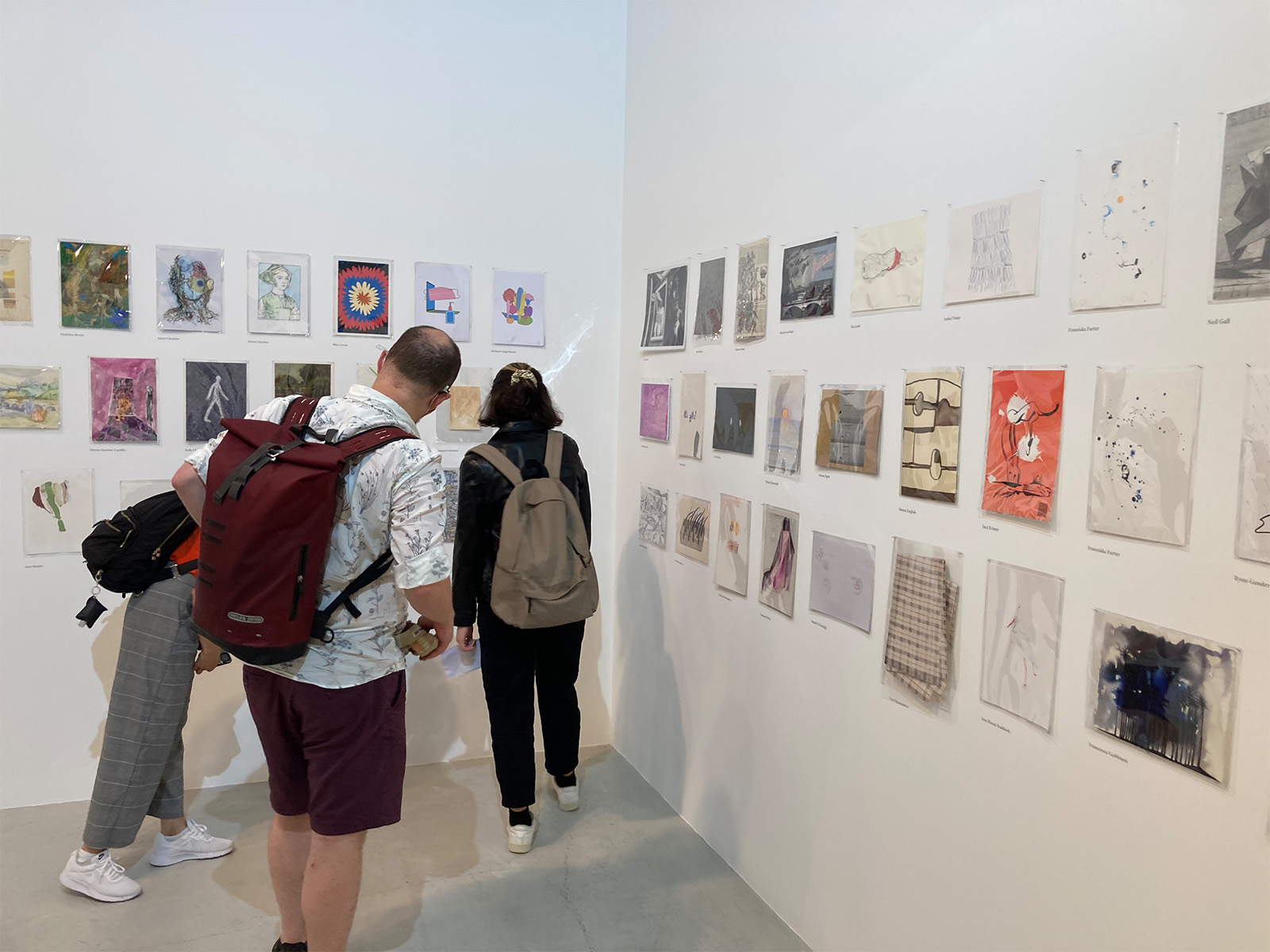 One of my highlights was David Batchelor's collage, Covid Variation for the Drawing Room with bright strips of paper stuck onto gridded paper, it felt nostalgic, like an activity at school. I also thought that the half-tone print by Amelia Barratt, Magnet was gorgeous.
Which would I bid for? I was so pleased to see recent graduate from the RCA, Olivia Sterling – I'd support her.
The exhibition and the auction, closes on the 5th July. There is something for everybody, no matter your interest and knowledge of the art world, so it's well worth a visit.
---
Illustration by Alice Caiado for our Cultural Calendar.