I've just got back from Edinburgh. I'm shattered.
The last time I went to the Festival (actually, I only went to the Fringe but I didn't realise that at the time) was in 1990. I was 21, I'd just left art college, I had very little money, plenty of energy and far too much time on my hands. I remember seeing Norman Lovett riff for an hour about a juice carton, John Hegley reading hilarious poetry, the anarchist circus Archaos juggling chainsaws, and a very intense play about a transsexual crane driver. I was there for a long weekend so I'm guessing that I must have seen more than that but I can't remember.
It's 26 years later and things are very different. For one thing I'm there with my family, including my eldest son, who is exactly the age I was in 1990 (we share a birthday). The Fringe has ballooned in scale but, after 25 years working in the arts, I'm now aware that the Edinburgh International Festival is the main 'arts' event; the sprawling, messy, chaotic Fringe has just overwhelmed popular perceptions.
The other main difference is that it was gloriously sunny this year; I've never known Scotland to be so hot.
To help me remember my trip, I thought I'd write a little about each show I saw. These aren't intended to be balanced reviews more a memory jog for me when I'm in my rocking chair, reminiscing about the good times. You're welcome to read them but there are lots, so feel free to skip through, look at the pics, and just tell me you enjoyed it.
Let's start with day one…
---
Saturday 20th August 2016
We arrived mid-afternoon at the excellent guesthouse 53 Frederick Street on Saturday 20th, unpacked, met up with friends and went in search of dinner. We found an authentic Italian, with a genuine love of food and disdain for customers, just like you find in Rome (I might write a post about that experience sometime). But I couldn't stay for dessert because I had to run to The Lyceum for my first event.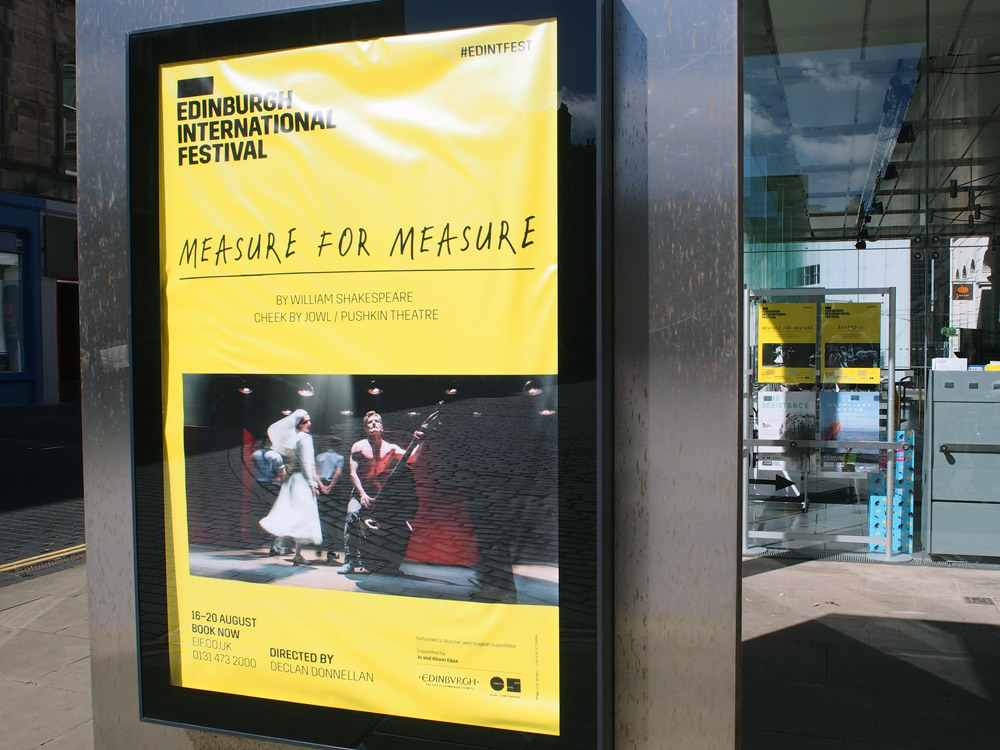 8pm
Cheek by Jowl and Pushkin Theatre, Moscow:
Measure for Measure 
The Lyceum
This production has been touring since 2013, it received amazing reviews at Barbican in 2015. Performed in Russian (with surtitles) it draws parallels with corrupt politicians in Russia and does it at quite a lick – 100 minutes with no interval. The staging is stunning and the direction is impeccable; it's not the easiest play to follow, even in English, but Declan Donnellan's production reveals the contortions of the plot through movement, a bit of circus slapstick and a tight ensemble of actors. Wherever I could I tried not to read the surtitles and just let the acting tell the tale; in that respect it worked brilliantly.
But it somehow didn't seem special enough to me, I felt like the poster image and brochure blurb had sold it as a powerful, physical, dance theatre event. It was very good but it wasn't the spectacle I'd anticipated; maybe I had read far too much into that image. The huge ex-pat Russian contingent in the audience certainly seemed to love it.
---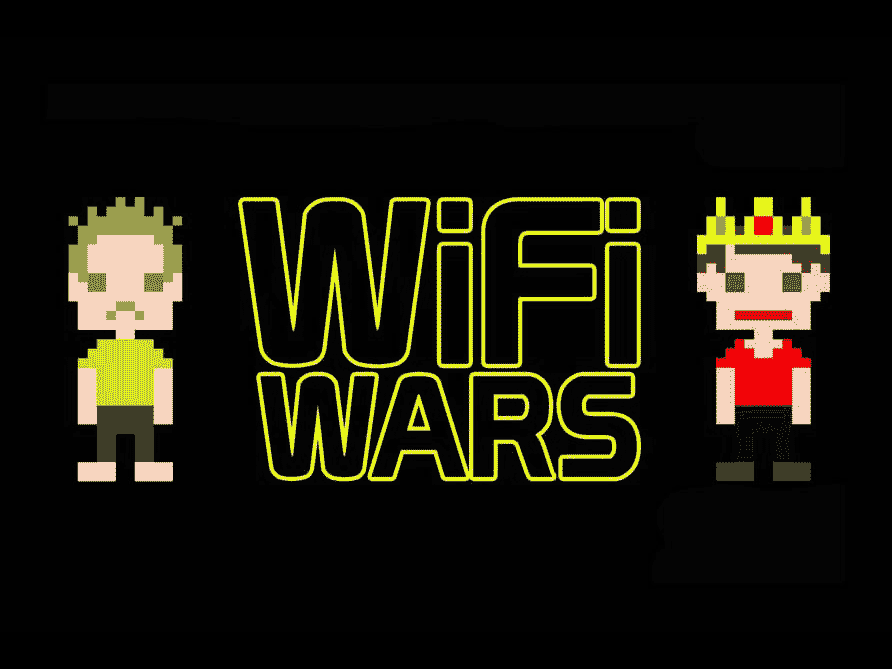 11:20pm
Wi-fi wars
Pleasance Dome, King Dome
From high culture to video games. I met back up with my family and friends (they'd been to the Holmes & Watson Farewell Tour) for an hour of fun on our phones. This was my first trip to the Pleasance Dome (I assume it is more usually the student union building for University of Edinburgh) which became my resting spot of choice during the festival – centrally located with free wi-fi, plenty of seating, clean toilets and a large bar (although prices were London-like not student union levels).
The idea of Wi-fi wars is that the audience logs-in to an intranet to play arcade games on their mobile devices. It's actually a technically amazing feat (delivered by 'King' Rob Sedgebeer) which apparently falls down quite often, so our host Steve McNeil has a box of props to amuse audiences during down-times. It all worked perfectly for us.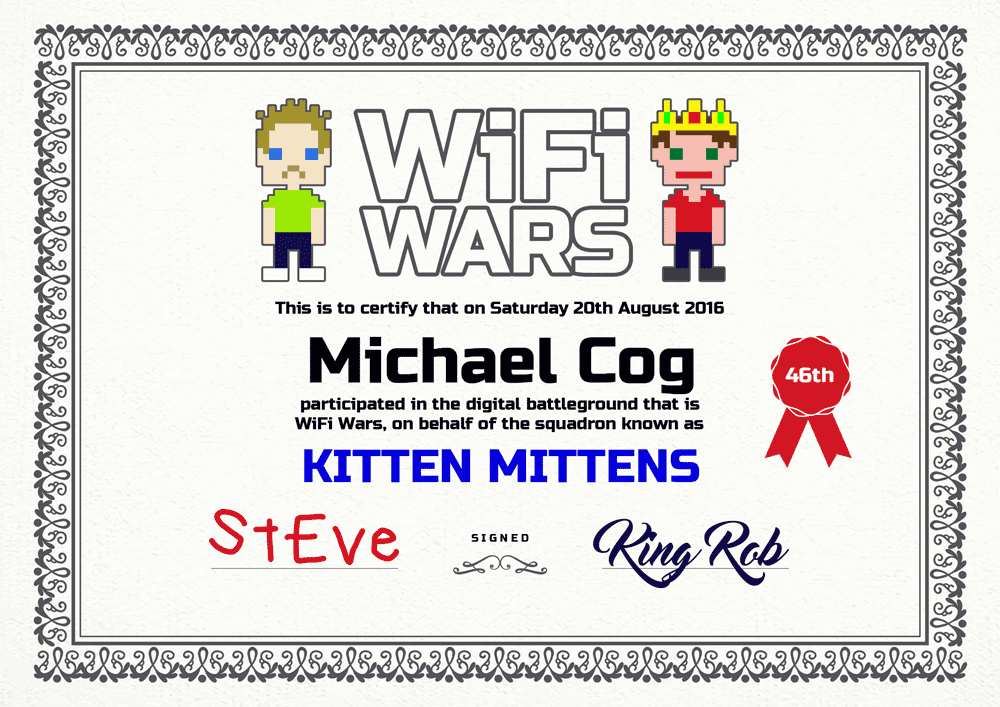 The audience was split into two teams (with amusing names chosen from the crowd, we were Kitten Mittens). Then we battled, as teams and for individual glory, on ever more complex games. We began with Pong and progressed, through many classic arcade-games of my youth, to a 3D VR fly-through, beamed to each of our phones. Amazing.
They even sent us each a certificate and a breakdown of our scores. I was 46th out of 149 (I let myself down with a very poor score in the typing out memorised numbers game).
They tour the show and they've even turned it into a new TV show, on Dave, hosted by Dara O'Brien – Go 8-bit.
We headed back to our guest-house, excited for the days ahead.
---