Day 1
Opening Night Gala – The Personal History of David Copperfield
The opening gala was a retelling of Dickens's rambling classic. At first, this may seem an odd choice as Armando Iannucci's  directorial follow-up to The Death of Stalin but actually he finds a not dissimilar tonal palette. Ridiculous figures bumble through life, being bumped by destiny and hustled by personality and circumstance.
As always, Iannucci has attracted a wealth of recognisable talent – Dev Patel is brilliant in the title role; Peter Capaldi plays the tragically optimistic Mr Micawber; and Ben Whishaw brings a special kind of obsequiousness to his Uriah Heep. Plus Paul Whitehouse, Hugh Laurie, Tilda Swinton and many others.
There are interesting surrealist scene changes and fun with scale and chronology. It's a slick (perhaps too clean and tidy for my taste) modern British retelling of an old-fashioned story.

Day 3
Koko-di Koko-da
It can be tricky to find films that have time-slots to fit around my work and I'd failed to find anything on day 2. But I was back for day 3 with a darkly comic tale about a couple coping with grief.
The film is written, directed, and produced by Johannes Nyholm so it was surprising to see the Swedish film-maker wander on to introduce the UK premiere, dressed in a sweatshirt and raincoat. In his tote bag was a wind-up music box (central to the plot) to be given away to the best post-screening question.
After a well-paced opening that sets the scene and established the tension between the film's central couple, the film switches tack and descends into dada-ist horror. The couple camp in woods and are visited by murderous characters that we recognise from the music box in the opening scenes. Groundhog Day-like, they repeat the claustrophobic horror again and again.
Perhaps I was just tired (I was nursing a cold) but I didn't 'enjoy' the film in the cinema. However, it is probably the film that has most stayed with me. The couple, trapped in their grief, reliving their nightmares, is a compelling story, cleverly told.

Day 4
Headline Gala – Jojo Rabbit
Day 4 was a double-film day, both in the very swankily refurbished ODEON Leicester Square. First up was the lavish red-carpetted Headline Gala – Jojo Rabbit.
Directed by the human dynamo, Taika Waititi, Jojo Rabbit is a comedy about Nazis, told through the eyes of children. What's not to like?
It was fascinating to think of life for the children of the Nazi era. Of course they would have been excited by the military build-up, the training camps, the thought that they were on the side of good. Of course they would look to Hitler as an imaginary friend.
As Jojo finds a (sassy, pretty) Jewish girl hiding in his attic, his world turns on its head. Truths don't seem so certain anymore.
This is a perfectly weighted film. Clever, funny and charming, like its Director (who also somehow makes Hitler a likeable character through his own portrayal).
Roman Griffin Davis is remarkable as the title character in his acting debut. It was great to see him loving the attention as he arrived on the red carpet with his brothers, twins who play Nazi clones.

Cult Gala – The Lighthouse
By the time we'd come out of Jojo Rabbit, Leicester Square had been cleared and replaced by posters and paraphernalia for the black and white, arthouse picture, The Lighthouse.
As I suppose is to be expected, we were ushered away from the heat of the lights and made to queue through the cold of the square.
I'd been in the front row (reclining seats and footrests) in the previous film but for The Lighthouse I was in the penultimate row of the circle. It was a very different perspective on a very different film.
Writer, producer and director Robert Eggars introduced his film (the follow-up to the acclaimed The Witch) which was starting so late that his star, Willem Dafoe wasn't given a chance to say anything before being ushered off the stage.
Dafoe and Robert Pattinson star in this two-hander and look like they had a ball, out-acting each other, out disgusting each other, out drinking each other.
Claustrophobic, dark, mumbling, grim and maddening, The Lighthouse is a classic tale of two men trapped in each other's company with no hope of escape. But is there a monster in the light or is it all in their heads.

Day 5
Joker [not part of the festival]
On day five, a Sunday, I took a day off from the festival but not a day off from film. I travelled to the IMAX screen in Waterloo to see the incredible super-villain origin story, Joker. But it wasn't part of the London Film Festival so I'm not going to write more about that here.

Day 6
Days of the Bagnold Summer
On day six I was in the much more intimate setting of the Prince Charles Cinema for this independent film, an adaptation of the graphic novel about a sulky teenage boy and his dowdy divorcee mother, Sue.
Daniel is looking forward to a summer in Florida with his dad's new family. But when Sue takes the call, that 'postpones' that plan, they both know they are in for a long summer, trapped in suburbia.
This is the directorial debut of Simon Bird (The Inbetweeners) and he's done a great, sensitive job of it. Monica Dolan is, of course, brilliant; and Earl Cave is surprisingly nuanced in what could easily be a two-dimensional character.
It's a beautifully British, low-budget affair with smatterings of recognisable characters –Tamsin Greig, Rob Brydon, Alice Lowe, all make appearances – the only locations shots are from a seaside day trip where Tim Key improvises an hilarious encounter with Daniel in a fudge-making demonstration.
And the Q&A was very revealing afterwards…
How did you come to work with Belle & Sebastian on the soundtrack?
It turns out I don't really know anything about filmmaking so wanted lots of different songs that were really expensive. Apparently it's much cheaper to use a composer so I asked for a Belle & Sebastian style partner. Apparently they had a gap in their schedule.

Day 7
Guest of Honour
Day 7 was my second double-film day.
First up was the moving and cleverly constructed Guest of Honour, at the National Film Theatre on the South Bank.
David Thewlis is Jim, a food inspector trying to clear the name of his daughter Veronica (Laysla De Oliveira) who seems to want to stay in jail, and we're not sure why.
The story is told through a series of flashbacks as Veronica talks to a priest (incongruously played by Luke Wilson) to plan her father's funeral, a man who was not religious and didn't attend that church.
It's a clever, twisty tale, delicately constructed and conveyed by writer, director Atom Egoyan who introduced the film (and held a Q&A that I had to rush away from afterwards, sorry). It was far from perfect but I enjoyed the pacing and storytelling.

The American Express Gala – Knives Out
From the South Bank, I had to scurry across the Thames and over to the temporary cinema at the Embankment. This European premiere was introduced by director Rian Johnson and actor Don Johnson (no relation).
Although this was a big Hollywood blockbuster, there were a lot of similarities to the previous film – it was also a twisty-turny plot with multiple timelines, written and directed by a short white man.
Knives Out sets the tone, from the off, with a series of humorous interviews with the suspects in a tightly plotted 'how done it' set in a stately home. Behind the police, a Holmesesque private detective (played by Daniel Craig) sits almost silent in the shadows.
We learn that Harlan Thrombey (Christopher Plummer) is the patriarch of a new-money aristocratic family. All of his children and grandchildren have reasons to want his inheritance, so who killed him?
The huge cast also includes: Chris Evans, Ana de Armas, Jamie Lee Curtis, Michael Shannon, Don Johnson, Toni Collette as Joni Thrombey and even Frank Oz.
It's a fun, silly, dark, twisted, old-school murder mystery that I'm sure will be well-received when Lionsgate release it later in the year.

Day 8
Headline Gala – Greed
For my first film of day 8, I was back at the back of Empire Leicester Square for Michael Winterbottom's film, Greed.
A thinly disguised comic biopic about Sir Philip Green, the retail magnate who is well known for asset-stripping his retail business, borrowing heavily against them and taking big personal payouts for his family, including his wife who lives on a yacht in Monaco and therefore pays no tax.
Winterbottom was there to introduce this European Premiere, along with a good smattering of the cast. Led by the far from shy Steve Coogan, who was very happy to name Philip Green in his introduction.
I can see why it makes sense to try to tell that story through the satirical tale of Sir Richard 'Greedy' McCreadie (Steve Coogan) trying to organise an ostentatious birthday bash.
The cast were impressive. It was especially nice to see Tim Key in a second film that week, and to hear James Blunt being so self-deprecating.
The series of individually filmed scenes just didn't really hang together as a film to me. It felt like a particular mismatch when figures came up over the credits, telling us how terrible the conditions are in the Asian factories where many high-street clothes are made.

Surprise film – Uncut Gems
We try to get tickets for the Surprise Film each year. It really is a secret, right up to the moments the credits begin (often quite a while after, until the title comes up in my case).
In previous years we'd seen Oscar winner Green Book, and Greta Gerwig's excellent Lady Bird. This year, the hot-tip was Gerwig's version of Little Women, after she'd been spotted at a previous screening.
So when festival director, Tricia Tuttle came on to announce the film, we assumed, well hoped, she was joking when she asked "who likes musicals?… who likes cats?" There were very few of us that liked the idea of sitting through the live action version of the Lloyd Webber musical.
People seemed very excited when they realised we were actually about to watch the Adam Sandler vehicle, Uncut Gems.
It was relentlessly depressing.
An addict, screwing himself and everyone around him for a gambling fix, robbing Peter to pay Saul in the Jewish diamond district of New York. It was grim, violent, misanthropic and misogynistic.
I must have been missing something, maybe I was just tired, because if you look at reviews, you'll find nothing but praise for this apparent black comedy, written and directed by Josh and Benny Safdie.
I would actually have preferred to have watched Cats.

Day 9
Fanny Lye Deliever'd
Written and Directed by Thomas Clay, Fanny Lye Deliever'd is set in a Shropshire village in the 17th Century during the post Civil War government of Cromwell.
Clay has done a great job of recreating the eery, misty landscape and claustrophobic paranoia of this period of English history. It is perhaps telling that, in writing this, I can't even remember if the film was in colour (I think it was but used a muted palette throughout). In many ways it could be seen as a companion piece to Ben Wheatley's exceptional film, A Field in England.
Maxine Peake is the title character who is awakened from her oppressive marriage to John (Charles Dance) by the arrival of two naked Catholics (played by Freddie Fox and Tanya Reynolds) on the run from the witchfinders.
The story is grim and the landscape is bleak but there is something very watchable this tale from a moment of religious zealotry that feels so resonant to the horrors we hear from the worlds of Isis and the Taliban.
It felt a real privilege to be at the world premiere. Maxine Peake was the one cast member who wasn't able to make it but my disappointment was abated by spotting Mike Leigh in the audience at the BFI.

Day 10
Rare Beasts
Billie Piper's directorial debut is a tricky one to define. It's described as an anti-rom-com. The story centres around Mandy (played by Piper) a woman dealing with the crap that life throws at her as a single mother with a complex family (her mum and dad, living separate lives are played by Kerry Fox and David Thewlis).
It avoids the cliches by avoiding linear conversations or conventional story-telling. The film opens with Mandy on a date with Pete (played by the always interesting Leo Bill). It feels like we're being told it's a first date, a Tinder outing gone wrong. They instantly clash about everything, they are mean, spiteful, hateful to each other.
But when they leave, it feels more complex, their relationship is ambiguous. Maybe this is a partnership built on opposites and animosity, maybe they both love to hate.
The film continues like that throughout. It's never conventional, never neat, never conclusive. Like Piper herself, it refuses to be categorised. And that makes for uncomfortable viewing at times.

Day 12
A Beautiful Day in the Neighbourhood
Day 12, the final day of the festival was a three-film-day for me, I think I was making up for taking the day off the day before (I'd seen Forced Entertainment's excellent Out of Order instead).
My day kicked-off back at the Embankment Garden Cinema for a screening of this story about the life of US television icon Fred Rogers.
I was vaguely aware of Rogers through the TV show, Kidding, where Jim Carey plays a similar character. But I had no idea how huge a presence Mr Rogers was on so many American lives.
Directed by Marielle Heller, this is a gentle, authentic and loving homage. The TV show's puppets and sets are recreated in astonishing detail. Even the jerky quality of the TV graphics and broadcast quality is reproduced.

Judy and Punch
Written and directed by Australian actor Mirrah Foulkes, Judy and Punch is a live reimagining of the violent puppet-show.
In the town of Seaside, which is nowhere near the sea (but named in the hopeful expectation that the sea would rise one day, Judy (Mia Wasikowska) tries to save the puppeteering career of her drunken, womanising, violent husband, Punch.
There's a sausage-eating dog, a policeman, a crocodile and a baby that gets thrown out of the window. There's a lot of wife-beating, some executions and even a kind of resurrection.
There's a feel of Terry Gilliam about it all but without the huge budgets. Instead the whole film was shot on location in a medieval theme park.

Closing Gala – The Irishman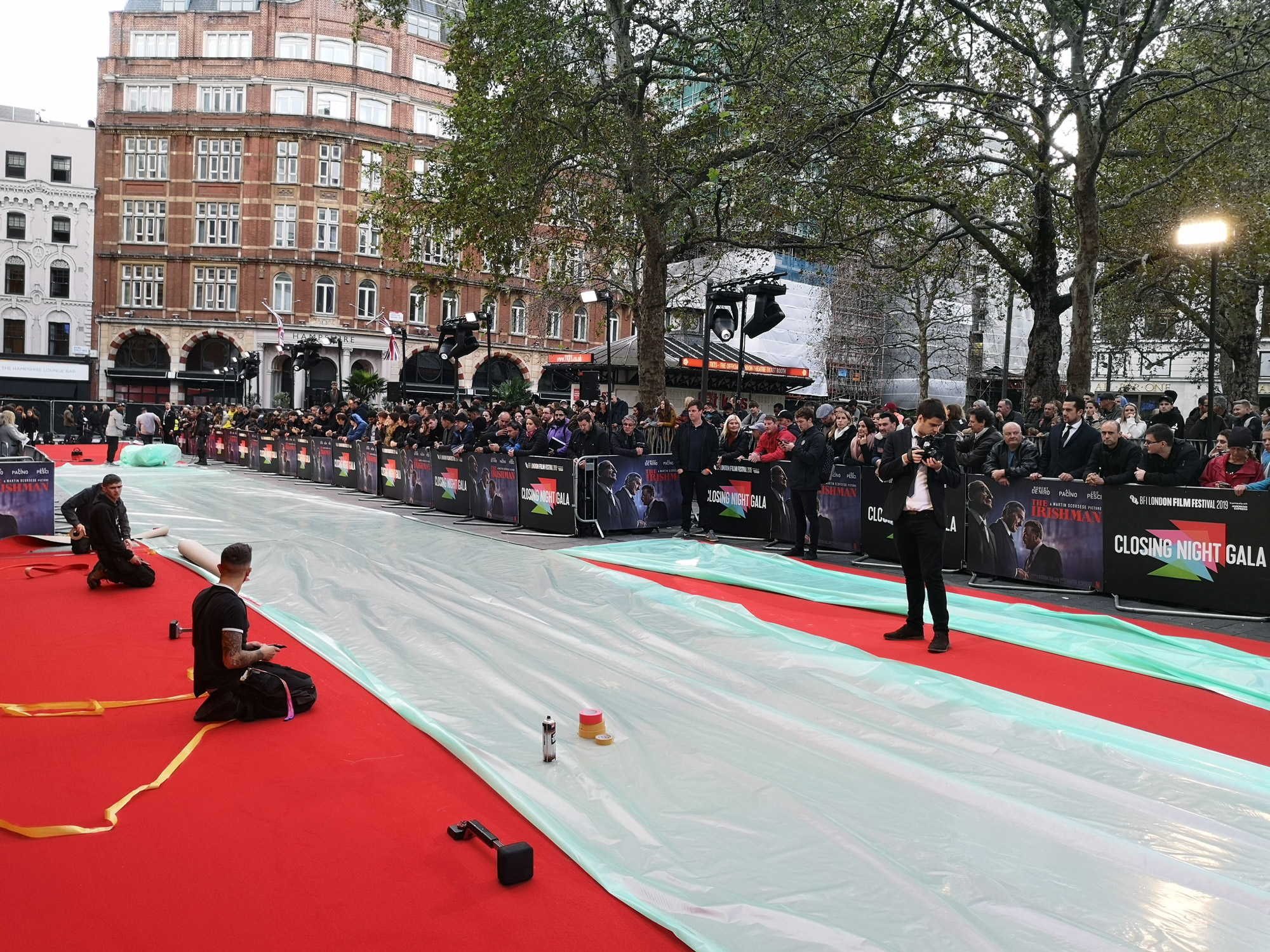 As I came out of Judy and Punch they were already well into the set-up for that evening's closing night gala – The Irishman. As the finishing touches were made to the huge red carpet, people were already pressed against the barriers, waiting for the stars and director to arrive, several hours later. It was going to be a big occasion.
The Leicester Square screening was reserved for the big corporate sponsors but I had a ticket to the Embankment Garden Cinema. We were expecting some stars but weren't sure who would turn up.
With hours to spare, I joined Extinction Rebellion in Trafalgar Square, and went to experience their die-in at the BP Portrait Awards in the National Portrait Gallery. It highlighted, to me, a point that I'd heard others making – where other film festivals take over a city (often creating their own annual cities around them), the London Film Festival happens in the city. Despite its huge size, the festival barely makes an impact on the lives of most of the city's population.
When the time arrived, I took my seat and waited. I wasn't disappointed. Martin Scorsese introduced the film. There were so many of the cast that he had to refer to a list in order to introduce them all.
Of course, we were all most excited to see the big male stars… Robert De Niro, Al Pacino, Harvey Keitel and Scorsese's favourite British actor, Stephen Graham.
There were plenty of quips and anecdotes, including Scorsese admonishing Pacino for working with Brian De Palma before him. But after a while, Scorsese pointed out that they shouldn't hang around for too long because the film is really long and the audience would need to get home afterwards.
The Irishman really is very long. Made by Netflix, they've let the team get away with a 3hrs and 30 minutes edit.
If you've never seen The Godfather, or Goodfellas, or Casino, then you're in for a treat. But most of us have and I can't help feeling that this film was retreading that old ground.
It's the story of old-time gangsters and teamsters, looking back at their heyday, now that all of their friends and colleagues have been murdered or imprisoned.
I think the first 20 minutes put me off a bit. The computerised 'younging' of these veteran actors felt decidedly clunky to me – like the 'deep fake' videos that are cropping up in social media at the moment. I guess they'll get away with it now (as the Star Wars team seemed to in The Last Jedi ) but I can't help thinking that we'll laugh, looking back.
The most obvious discrepancies seem to be in the early fight scenes where punches don't seem to land, and kicks seem a long way from their target. And there are some strange continuity errors where, I'd guess, people are a little timid about asking Al and Bob to redo a scene.
But I soon forgot that silliness and bought into the epic nature of the story, focused around the life and death of Jimmy Hoffa. I'm looking forward to catching it again on Netflix in a couple of weeks.
I'm really looking forward to next year. But maybe I should take some days off work if I'm going to squeeze in even more films in the 12 days.