The arrival of the London Film Festival brochure is an event for me and my family. It thuds onto the metaphorical doormat and we have around a week to navigate the hundreds of pages and draw up a spreadsheet. As members of the BFI we get some kind of advanced booking access (although our level of membership is down the tiered pecking order). It's a ritual for the whole family, involving different coloured pens and post-its.
Even after the strategic planning, nothing is guaranteed. On the morning that our lowly level of booking opens, we sit with laptops open, hitting refresh and cross referencing with each other to fill gaps in our schedules – "I can't book for this so I'm looking at that but if I get tickets then I can't come to the one you want unless we move that to the other date, and that means none of us can make the one we weren't sure about". And then, with tragic inevitability, the site crashes and we're back to a clean sheet. Usually by lunchtime, some hours of frustration later, we're dozens of tickets up and hundreds of pounds down.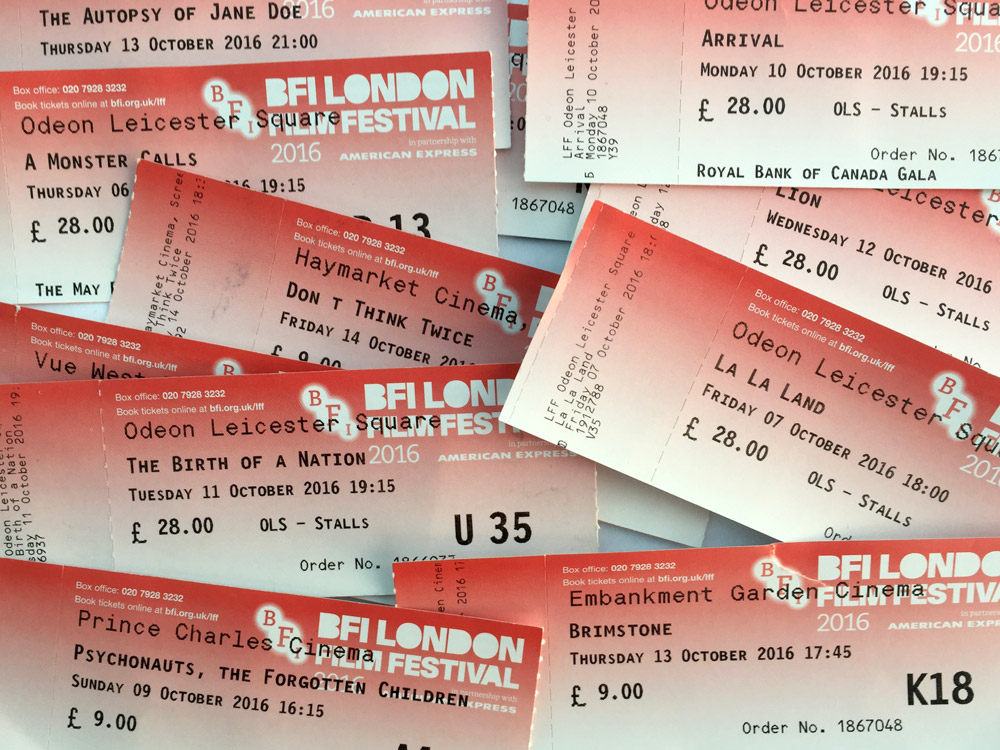 Some of the tickets, especially for the opening and closing galas are allocated via ballot. This year we weren't successful in any of the ballots (it was like the disappointment of London 2012 tickets all over again) but somehow my partner did manage to book later for the closing gala – Ben Wheatley's Free Fire.
The BFI London Film Festival, to give it its current official title spans genres and locations. It really is an impressively eclectic event – and if you have the time (and the money) you can properly immerse yourself. Sadly I have to go to work during the week so I just dip my toe in at the weekends. And, whilst others were diving in to challenging foreign-language documentaries, my experience was at the shallower end of red carpet premieres and galas (the tickets are more expensive but you do usually get a free bar of chocolate from the sponsors).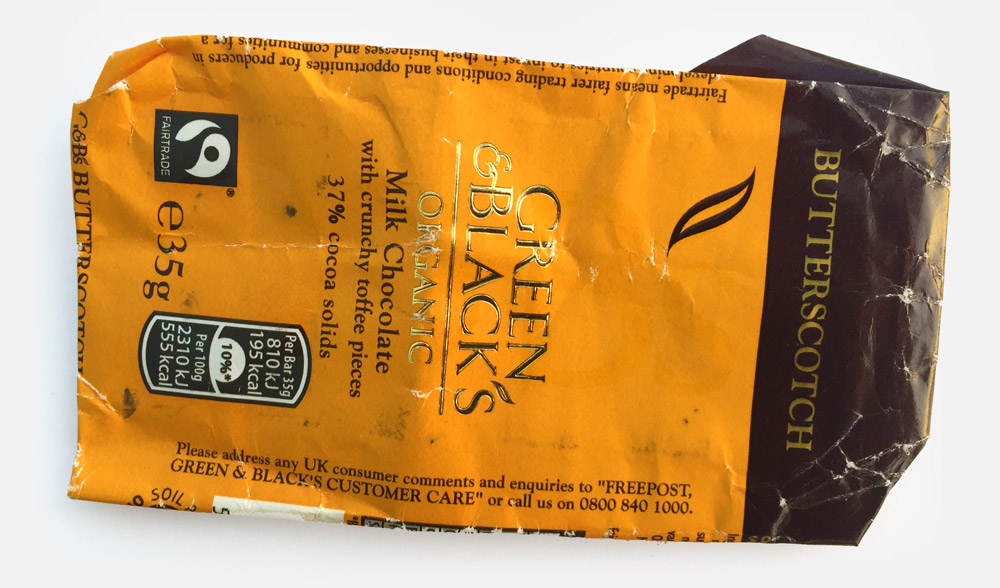 Between us the family saw almost 20 films this year. I was only able to get to squeeze in four but they were all pretty special in their own way…
---
Manchester by the Sea
Directed and written by Kenneth Lonergan
My first film of the Festival was at Odeon Leicester Square. I arrived a little late and had to swerve though the photographers on the red carpet, capturing the impossible glamour of Michelle Williams and the scruffy-hobo chic of Casey Affleck.
Festival Director, Clare Stewart brought Kenneth Lonergan to the stage and he introduced his cast for a couple of unchallenging questions about how great it was to work together. I can see why the 'stars' are there at the beginning but there's rarely much they can say about a film that we haven't yet seen. That's especially true in this case, as the gradual unravelling of the character's history is the theme of the film; no one wants to talk about it.
I'm not going to talk about that plot point, but let's start with a spoiler: the film is set in Massachusetts and not the Northern Powerhouse. Disappointing, I know.
Casey Affleck (Bruce Wayne's underrated younger brother) is Lee Chandler, a housing janitor whose days are spent shovelling snow and unblocking drains. In the evenings he's the lonely guy in bars who drinks himself into simmering aggression.
When his brother dies, Lee is made guardian to his teenage nephew (brilliant played by Lucas Hedges) and returns to his family hometown of Manchester to deal with the funeral and the life he left behind.
With Lonergan's writing and direction, Affleck is astonishingly self-contained and understated. Just below the surface, through the emotional detachment, just out of sight, we can sense the despair, his Irish-Catholic guilt, his sense of duty and responsibility, and his self loathing desire to just get to the end of another day, It's not a comfortable watch but it is hugely compelling.
---
Trespass Against Us
Directed by Adam Smith, Screenplay by Alastair Siddons
As I walked into the Vue cinema on Leicester Square, I spotted a familiar face ahead of me. In the tiniest fraction of a second, my brain began rearranging my features into a face of recognition, I began forming the words I would use as a greeting, my arm began to move up for a handshake or hug. Before the second had elapsed (and before the signals from my brain had reached my face or arm) I realised my mistake. The face wasn't a friend, it was that actor you like, you know, Rory Kinnear. I looked past him and scurried to my seat. I find the asymmetries of celebrity disconcerting. What must it be like to be that person who everyone kind of recognises?
Trespass Against Us is a feature film born out of a documentary that evolved from a newspaper article, based on the true lives of a Gloucestershire traveller family who were said to have committed the majority of all crimes in the police district.
I don't know how they managed to cast such big names as Brendan Gleeson and Michael Fassbender but without them I doubt the film would have been made, or at least not with the budget and distribution deal that they've secured. The two play father (Colby) and son (Chad) Cutler.
The film has been trailed as an 'outlaw movie', perhaps in an attempt to sell it to a US market as a new Lock Stock, which it definitely isn't.
It's a family drama about a son trying to escape the grip of his father. It's about that son who's grown up illiterate and trapped by his upbringing (who has loved the status of his lifestyle but hates the life it has trapped him within). It's about that son being a father to his own children and wanting more for them but not knowing how. It's about a community whose morality is different to the society they rub up against every day. It's about the tragic inevitability of generations condemned to repeat the life they were born into.
There's also lots of cleverly directed car-chases and music by Tom Rowlands from Chemical Brothers.
It's not a great film but it is worth seeing. I've read a couple of reviews from the Toronto Film Festival where people really didn't get it (Owen Gleiberman, Chief Film Critic at Variety described it as "without a doubt the worst film I've seen at this year's Toronto International Film Festival"). I suspect that the subtleties (as much as the thick accents) are untranslatable. People don't understand what makes these people tick, they can't understand the complex history of antagonisms between communities, or the complexity of what that accent means and why 'moving away, to Kent' would be a betrayal of the clan. People want to 'relate' to the characters as a 'band of rogues' with a tellable backstory, but they aren't the usual stereotypes of film, they are real people with all the complexity that come with that condition.
Perhaps the most unusual and compelling attribute of the film (and I suspect its downfall to a global audience) is the use of a strong Gloucestershire dialect. In the Q&A after the film, Alastair Siddons explained that much of the writing 'voice' was taken from his interaction with the real life characters behind the stories in the film. Many of those characters were loving the limelight of being in the audience but a notable few were absent, behind bars. It was their letters, with words spelt out phonetically, that helped Siddons capture the authentic voice of the traveller family.
It was clear by the camaraderie between the cast and entourage that they'd had a blast making the film although I did feel sorry for Rory Kinnear who plays the hapless police chief, hopelessly chasing the Cutlers and never emerging well from the encounters. Perhaps it is telling that he didn't take to the stage.
---
Snowden
Directed by Oliver Stone
There are few people who command the awe and respect of Oliver Stone at a film festival. As he took to the stage, to introduce the film, there was a hushed reverence. And, as he introduced two of his London based cast, they both seemed a little overawed and spoke about the terrifying interview process of auditioning.
Rhys Ifans plays Corbin O'Brian the CIA Director who is in charge of Edward Snowden's recruitment and training after he is medically discharged from the marines (with stress fractures in his legs). Ifans explained that he'd had several screen-tests and interviews, Stone really made him work for the role. I'm not sure if it's endearing or troublesome that Stone still had to check with Ifans that he'd pronounced his name correctly when introducing him.
Also on stage was Joely Richardson who has a very small role as Janine Gibson who headed the American office of The Guardian and ultimately decided to publish Snowden's story. Despite being acting royalty, even she doffed her cap to the greatness of her director.
If you ask Oliver Stone to direct the story of Edward Snowden, you know what to expect. And he's delivered it. It's accomplished, slick, suspenseful and full of human drama.
The problem with it as a film is that Edward Snowden (well played by Joseph Gordon-Levitt) is a bit too dull to be a film hero. He was a civil servant, a clever man who realised that his government was lying to and spying on just about everyone. That is a massive story but it's the story that is interesting not the life of the man that leaked it.
It's a tale that needs to be told and Stone tells it well. I'm just not convinced that it makes a great drama. I think that a documentary would be a better vehicle. However, I've not put my hand in my pocket to see the Citizenfour, the Snowden documentary that was released two years ago. That film made $3M in box office returns whereas Snowden has already taken $20M in the US alone. So it seems like I'm wrong.
---
Free Fire
Directed by Ben Wheatley
My last film of the festival was the Closing Gala. It was on a Sunday night and some weekend train cancellations meant I arrived 15 minutes after the advertised start time. I knew I had a bit of leeway because there are always introductions, especially at the gala events, but that didn't stop me running from Embankment Station to Leicester Square.
I arrived puffing and sweaty and was ushered in through the back door. I couldn't get to my seat because a long line of cast and crew were blocking my way. So I had to stand at the back, next to Cillian Murphy, waiting for a gap in the speeches.
I took my seat as Ben Wheatley came on. He seems chuffed that his film had been chosen for the Closing Gala. He always seems so relaxed and at home at these events (I'd seen him introduce and do a Q&A session for the excellent High-Rise at last year's festival). He brought more or less the entire cast onto the stage and they were in a boisterous mood. I suspect the end of festival party was a riotous affair.
The film is about a gun-buying deal. It's a 70's period-piece, set in an abandoned Boston Warehouse, where Irish republicans, led by (Cillian Murphy's) Chris, are trying to buy a van full of rifles from a Rhodesian dealer, Vernon (Sharlto Copley), in a deal brokered by Justine (Brie Larson) and Ord (Armie Hammer).
Of course the deal goes wrong and, after half an hour, the shooting starts and doesn't stop for an hour. It's an incredibly accomplished genre piece. The editing (and continuity) is amazing, with a dozen people all shooting, hiding, forming alliances, double-crossing and gradually falling apart.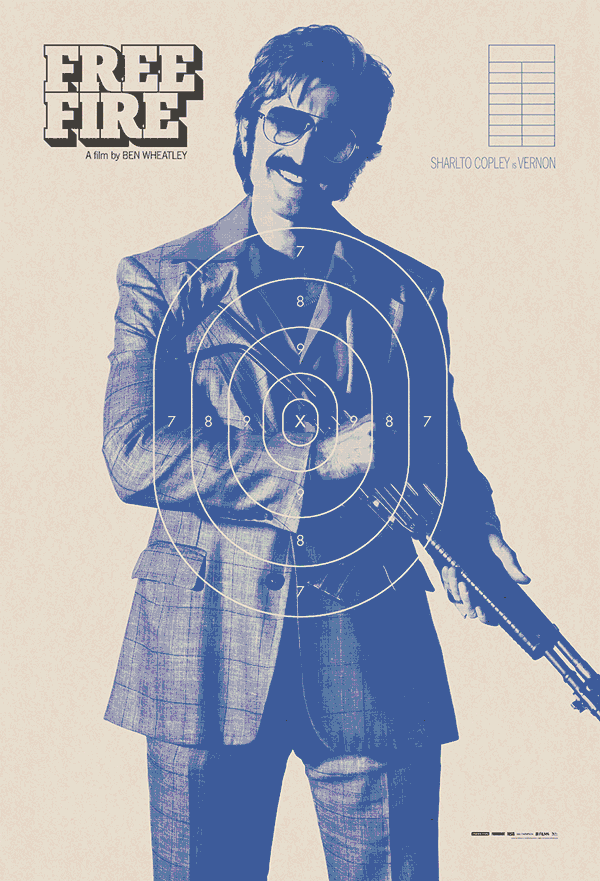 It's hard not to reference Tarantino when talking about Free Fire. This is a big-budget Reservoir Dogs but it's a lot more sophisticated and nuanced and it has even better posters. I think Ben Wheatley might be my favourite Director working today.