Year on year, I've been gradually ramping up my interactions with the BFI London Film Festival.
Last year I wrote about the annual ritual of ticket buying – multiple family members armed with laptops, comparing spreadsheets of free times against rapidly evaporating ticket availability.
But last year I only saw four films. This year I upped my quota to ten (and snuck a non-festival eleventh into a 'day off'). So rather than writing about the festival experience, I thought I'd just give a snapshot of each of those films… Apologies, there are minor spoilers.
---
Day 1
Brigsby Bear
School friends Kyle Mooney, Dave McCary and Kevin Costello grew up making comedy films together before being picked up by Saturday Night Live. Using connections from the show, they've opened up enough doors to make their first feature film (with a cast that includes Claire Danes, Mark Hamill and Greg Kinnear).
This potentially sinister story about a young man coming to terms with his childhood abduction could have been extremely dark, but Mooney and Costello's screenplay and McCary's light-touch direction make for an uplifting, life-affirming film.
James Pope (Mooney) is a man in his early twenties. His life has revolved around a puppet-based, VHS-delivered, educational TV show, created by the people he thought were his parents.
Freed from captivity (what he considered home) and reunited with his birth parents, Pope is understandably overwhelmed, confused and socially awkward. But the film (mostly) veers away from the cheap laughs and tropes of the 'innocent' man-child.
After initial frustration and resistance, Pope gathers a group of friends to make one last episode of the TV show, Brigsby Bear, that will tie up the plotlines and bring some resolution to the conflicts of Pope's own backstory.
Brigsby Bear is due for a UK release on 8 December 2017.
---
Day 2
Ghost Stories
In 2010, friends Andy Nyman (then best known as Derren Brown's off-stage collaborator) and Jeremy Dyson (the off-screen team-member of The League of Gentlemen) were invited to bring their shared love of horror films to the stage.
The Lyric, Hammersmith production of Ghost Stories was a huge success, going on to play at the West End's Duke of York's Theatre for more than a year, and then tour the world.
Now the friends have called in enough favours to reimagine their twisted tales for the big screen.
Nyman plays the seance-busting Professor Goodman who is contacted by one of his former heroes (who he'd presumed dead) to investigate three cases that have convinced him there is credence in the claims of believers.
There are many jump-out-of your-skin and goose-bump moments as the duo squeeze every penny out of their tiny budget. They steer clear of slasher movie jump scares, and couldn't afford lavish post-production trickery. Instead the team relies on intrigue and in-camera sleight-of-hand to build a quiet momentum. The narrative threads entwine and constrict towards a dramatic conclusion.
The pair could not believe their luck when Martin Freeman came on board (and presumably secured the funding and distribution deal they needed). It's clear that they gave him a pretty free rein and he pays them back with a great performance. Amongst other notable performances, Nyman is great and Paul Whitehouse proves again that he's an accomplished straight actor.
Ghost Stories is due for a UK release on 13 April 2018.
---
Day 3
How to Talk to Girls at Parties
How to Talk to Girls at Parties began life as a short story from Neil Gaiman. That story centred on a boy meets alien encounter, on a single night at a club in Croydon. This film's screenplay, by Philippa Goslett and the film's director John Cameron Mitchell, expands the tale across several days but keeps it set in everyone's favourite London borough.
Opening on the night of the Silver Jubilee, in 1977, friends Henry (Enn), Vic and John are finding their way in the world, caught between adulthood and being dependant on their parents. After a local punk gig the friends go looking for the after-show party and stumble into the hideout of an alien cult.
The film has a surprising cast. Nicole Kidman plays Queen Boadicea, an ageing punk figurehead who's been wronged by Vivienne Westwood and the alien cult is populated by Ruth Wilson, Matt Lucas and Tom Brooke.
Alex Sharp and Elle Fanning play the main protagonists, in a new twist on the story of impossible love. At this European premiere, director John Cameron Mitchell (who I'd only previously encountered as an alt-right blogger character in The Good Fight) overwhelmed the post-film Q&A with his infectious energy (and checked, chef trousers). Dozens of the cast and their families were in the audience but as Elle Fanning was on a film shoot, Alex Sharp Facetimed her and brought her to the stage to see us. It was a great fun evening that perfectly matched the feeling of the film.
How to Talk to Girls at Parties doesn't yet have a UK release date.
---
Day 4
Blade Runner 2049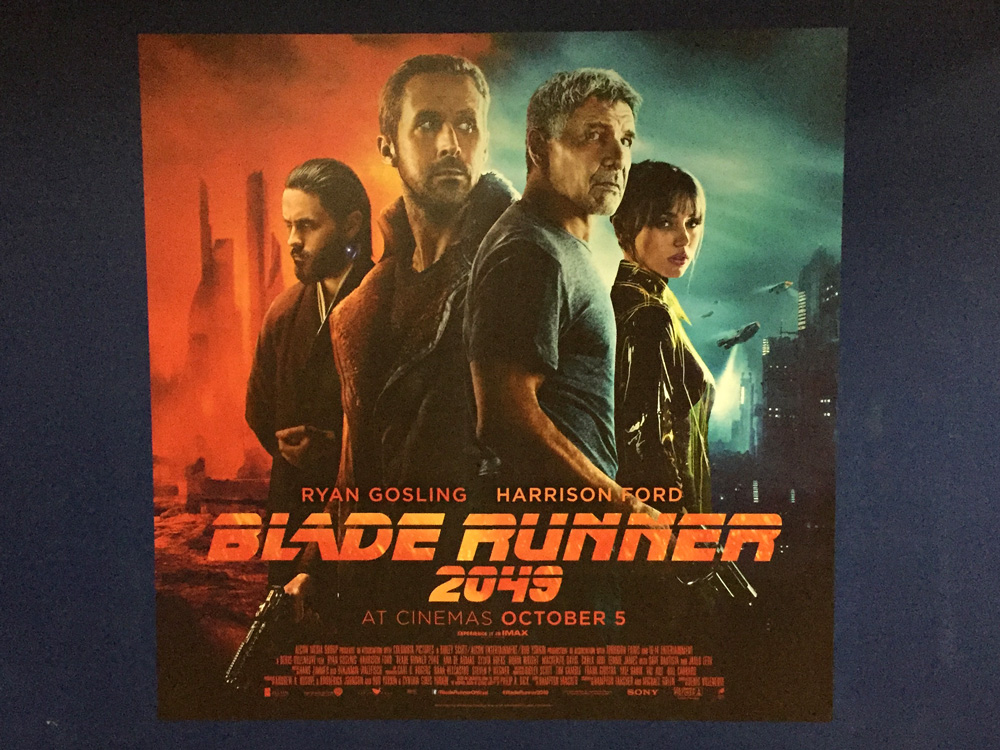 I had a day off on Day 4 of the festival but I really wanted to see the new Blade Runner, which had been released a couple of days before, so I ended up back at the cinema, this time at an IMAX screen. It's an incredible film but this isn't the right place for me to bang on about it.
---
Day 5
On Chesil Beach and Spite Your Face
On Chesil Beach is beautiful. The performances are clipped and contained, like an RP accent, the setting is panoramic, fixed in a fiction of never-ending summers and cricket-whited greens. Beneath the surface there are unattained ambitions, thwarted dreams and lives founded on, or devastated by, chance encounters and pivotal moments.
Centred on the honeymoon night of Edward Mayhew (Billy Howle) and Florence Ponting (Saoirse Ronan), the story is told through a series of flashbacks.
Well respected theatre director, Dominic Cooke has made a visually stunning film; the closing shot is one that students will soon be studying. Each of the actors is hugely accomplished, delivering moving, believable performances, but the story wasn't interesting enough to hold my attention. It's just not as enthralling as Atonement (another McEwan adaptation and one of my favourite films).
And the pop-up cinema at Embankment wasn't a great venue for this quiet film, with a helicopter hovering overhead, sucking out the atmosphere for the first half hour.
On Chesil Beach is due for a UK release on 19 January 2018
---
From the Embankment, I crossed Hungerford Bridge to the South Bank, where Spite Your Face was being shown at the British Film Institute.
Written, directed by and starring (in every role) Scottish artist Rachel Maclean, Spite Your Face is a retelling of the Pinocchio story. The film was a site specific piece at the 2017 Venice Biennale, representing Scotland.
This was the first portrait film ever shown at the London Film Festival, which felt special (as I guess we are heading towards a time when portrait filming will be ever more popular).
I missed it in Venice so was pleased to have the opportunity to see it in London. It's a gawdy, larger-than-life artwork rather than a film, and I loved it for that.
Spite Your Face will be shown at Talbot Rice Gallery in Edinburgh from 24 February – 5 May 2018.
---
Day 6
Funny Cow
Funny Cow is a remarkable film. The action opens on a shot of an ageing female comedian, atop a barstool, ash-stacked cigarette in one hand, microphone in the other. Interspersed between the jokes, she's telling her life story.
We're sent tumbling to the back-to-backs of post-war Manchester, where a cocky young girl uses laughter to shake off the bullying from all around her. Then forward to a young woman in an abusive marriage, and further forward to her defying her husband by entering a comedy talent show – she can't get a single word out but she takes a full punch in the face for her troubles. The film jumps back and forth, each visit revealing a new layer to Maxine Peake's thick-skinned character, only ever referred to as the Funny Cow.
At a post film interview, we heard from Peake that Tony Pitts delivers his scripts in random scenes, with no linear narrative. Director Adrian Shergold explains that he shot every scene as if it could be the first or last in the film, and then he ordered it in the best way he could.
Paddy Considine is brilliant, as always, playing a bookshop owner trying to save Funny Cow through high-brow culture. 'Shakespeare's for everyone' he tells her. She replies with something like 'but it's not though is it? It's been hijacked by you lot' (I'm paraphrasing – I'd love to have a copy of the actual script). And Alun Armstrong is quietly wonderful, as a man who is just so very tired of trying to make people laugh.
This is a very good film, filled with incredible performances, clever cameos and an accomplished mix of pathos and laughter. It doesn't shy away from the misogyny and racism of 70s Britain but it does handle it sensitively and honestly. It is very British so I can't imagine it'll be picked up by a major distributor but I hope I'm wrong.
Funny Cow doesn't yet have a UK release date.
---
Day seven was a day off but I was at big Odeon, Leicester Square galas for day 8 and 9…
Day 8
The Shape of Water
After the tight budgets of Funny Cow and Ghost Stories, Guillermo Del Toro's world feels entirely alien, in every sense of the word.
The director introduced his film by telling us it is the work he is most proud of. His already excited audience literally gasped in anticipation. We weren't to be disappointed.
The Shape of Water is a stunning piece of film making. Del Toro conjures up a world of his own – it pays homage to B-movies like The Creature from the Black Lagoon but this is an A+ movie, with impeccable attention to detail and a masterful mix of cinematography and post-production.
Sally Hawkins plays a mute cleaner in a 1960s military research facility. There she is silent witness to the torture of a powerful sea creature that competing governments consider a vital asset in their war efforts. Instead of being scared by 'the asset' she befriends and falls in love with it, in a way that can only happen in Greek myths or Del Toro films.
Around that central plot we are immersed in an Amélie-esque environment. Hawkins's character, Elisa Esposito, lives above an often empty, velveteen cinema. Her neighbour, Giles (Richard Jenkins) is a gay man who lives with his cats after a life of repression; each day he buys a luminous key-lime pie from the man he fancies in a local diner. But the diner is like the 1950s American dream, a fake-smiled fiction, hiding bigotry and phobias.
In typical Del Toro style, this film doesn't hold back from showing the darker shades of humanity; this is definitely a film for grown-ups.
It's a film for adults who love intelligent fantasy and release. This a modern, moral fairy-tale that ignores boring stuff like physics and biology to create its own beautifully twisted reality.
The Shape of Water is due for a UK release on 16 February 2018.
---
Day 9
The Killing of a Sacred Deer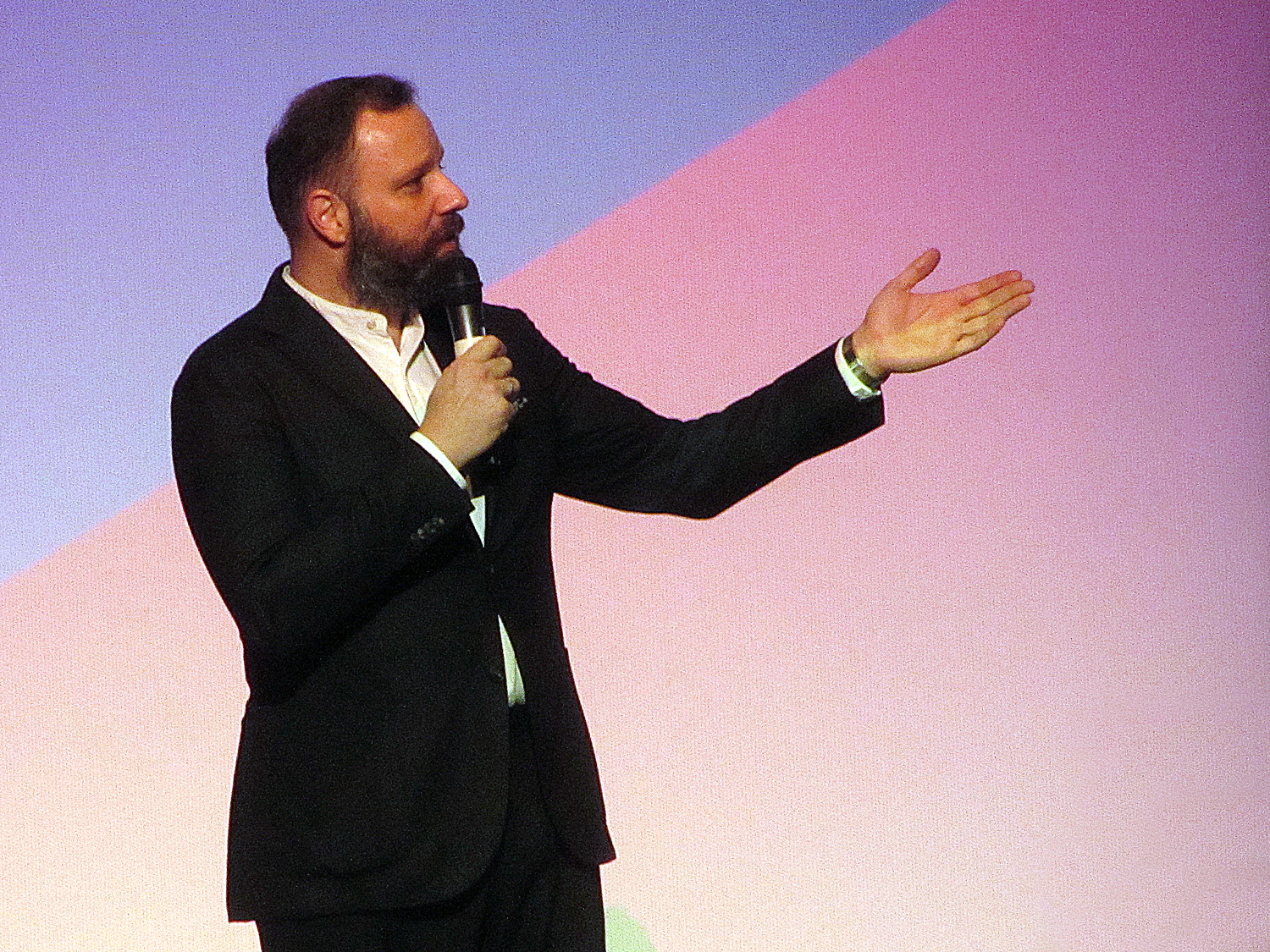 After the huge critical success of The Lobster, actors and studios were queuing up to work with the multi-talented director/producer/screenwriter, Yorgos Lanthimos. Walking down the red carpet of the Odeon in Leicester Square, I was tripping over celebrity actors, there to see the film – Emma Stone, Nicholas Hoult and Olivia Coleman were all there (they all star in the director's next film The Favourite, due for release next year) as were this film's cast, Nicole Kidman, Colin Farrell, Barry Keoghan and Raffey Cassidy.
To say that Lanthimos's directorial style is mannered is to understate the case. He directs actors to speak without emotion, every line has the same dead-pan delivery, whether discussing the water resistance of a diving watch, or threatening to maim and kill a family member. I guess he must also keep the narrative arc a secret until the edit.
This is Farrell's second such outing (he starred in The Lobster) and he entertainingly told us that he took the job in the hope that he could understand what was going on this time around. He said he hopes Lanthimos will call again and it'll be third time lucky because he still has no idea.
I'd find it difficult to say I enjoyed The Killing of a Sacred Deer. I found it compelling, unsettling, mesmerising. I appreciated it. It feels like a film I should like. I can see why actors love the challenge, I can see why it'll be a critical success and why it'll run in arthouse cinemas. I think it's important that this work is being made. But I'd struggle to recommend it to my mum.
The Killing of a Sacred Deer is due for a UK release on 3 November 2017
---
After two days of Hollywood glamour I needed another day off but I rounded off my London Film Festival with another two film day…
Day 11
The Cured and The Surprise Film (Lady Bird)
Is there anything more to say in the zombie genre? Well, yes, according to Irish writer/director David Freyne. Imagine a cure could be found for the majority of the infected population. What if the cure left them with memories and flashbacks to their flesh eating and killing sprees?
Inexplicably starring Ellen Page, The Cured tackles themes of alienation, of a society that is scared of and shuns its second-class citizens. Those societal hatreds are made all the more relevant by the film's setting, in Ireland. As UN peacekeepers begin to move out, mob rule threatens to take hold, and the fragile peace is enforced, through the violence of soldiers on the streets and around the prison camps.
Sam Keeley is great as the main 'cured' actor, returning to the home of his sister in law (Ellen Page), but it's Tom Vaughan-Lawlor who brings real menace, with a psychopathic political ambitions and empathy-free drive, that rings so true in the current climate.
At the Q&A afterwards we got a real insight into the low-budget film-making process. This was actually the third 'Cured' film. Freyne had been working on script treatments for a film then called The Third Wave (it won Best Story Pitch award at the Edinburgh Film Festival, June 2012). He went on to make a prequel short, The First Wave (which you can see below) to help secure funding and Page's involvement.
Even after all that, and the backing of the Irish Film Board, careful decisions had to be made about where to spend the very limited budget. They couldn't afford to blow up their only army jeep, or even (seemingly) throw a molotov cocktail through an actual window. The producers sensibly chose to invest instead in prosthetic make-up (essential for a big-screen zombie film) and sound design – the film is really loud and, if anything, they rely on the quiet to screaming cuts a little too much for my tastes.
The Cured doesn't yet have a UK release date.
---
Each year, the London Film Festival gives a surprise film its UK premiere, during the final weekend. Past films have included Sideways, No Country for Old Men, Silver Linings Playbook and Birdman. This year's offering was closely guarded but there was plenty of speculation on Twitter.
To an excited audience, festival director Clare Stewart came on to explain the thinking behind this year's choice. A female director with a semi autobiographical story – Lady Bird. As the lights went down, the auditorium lit up with the phones of people announcing the news on social media.
Starring the always brilliant Laurie Metcalf and Saoirse Ronan (who I'd seen in On Chesil Beach a few days before) as mother and daughter, Lady Bird is a new take on the coming of age story.
Over the course of a year, we follow Christine 'Lady Bird' McPherson as she begins to carve an adult identity, cutting through her mother's apron strings in the process. There's lots of familiar themes – rebellious teenager at a Catholic school, misfit girl runs for student school office, girl befriends cool people and shuns her close friends, mother and daughter are so similar and stubborn that they turn every encounter into a argument.
But there's something special about this retelling of those stories. There's no single central romance, no perfect reuniting at a prom, no goodies and baddies. It's a tender, quiet story, focused on two complicated female characters, cleverly written, beautifully acted and captured on film by an accomplished film-maker. And it left many of the audience gently sobbing into the dark.
It's not the sort of film I would normally plan to see so I was pleased that circumstances led me to it. Strangely, the trailer (above) works through almost the entire plot, including the brilliant climax to the pivotal opening car trip scene, filmed at the end of the shoot, by which time the actors had firmly bonded. If you like the trailer you'll love the film.
To enthusiastic applause and a smattering of standing audience members, director Greta Gerwig and the film's titular star, Saoirse Ronan, came to the stage for a Q&A with Tricia Tuttle, deputy head of festivals for the BFI.
Tuttle told us that Gerwig had been worried that we'd all be disappointed that the surprise film was Lady Bird "Before we came on, Greta said, 'Are they going to be really disappointed it's not Thor?'"
None of us were disappointed, it's a great film. I'm in awe of anyone who has the tenacity to reach a place where they're even in a position to attempt a full length film. If they're female then we all know that the obstacles are stacked even higher. It's amazing that any first time feature director can make something as complete and moving as Lady Bird.
Lady Bird is due for a UK release on 16 February 2018.
It was a great end to my 11 days of red carpets and darkened rooms. I don't know how I'll be able to squeeze more in next year, maybe I need to take a couple of weeks off work.