With auditoriums, theatres and concert halls remaining shut for the foreseeable future, we've been working with many of our clients to explore new ways of sharing their work and reaching their audiences (and generating some income in the process).
The Bournemouth Symphony Orchestra (BSO) aim to enhance lives through the power of music, a mission that feels more important than ever at the moment.
They usually perform over 140 concerts a year across the South West. And they run the hugely successful BSO Participate programme, which brings music to the youngest and oldest members of local communities. None of that is possible at the moment.
As soon as the lock-down kicked-in, BSO launched a brilliant series of content – BSO@Home.
We designed and built their website last year, so we were proud to see that the site was so flexible that they needed very little help from us to get that up and running.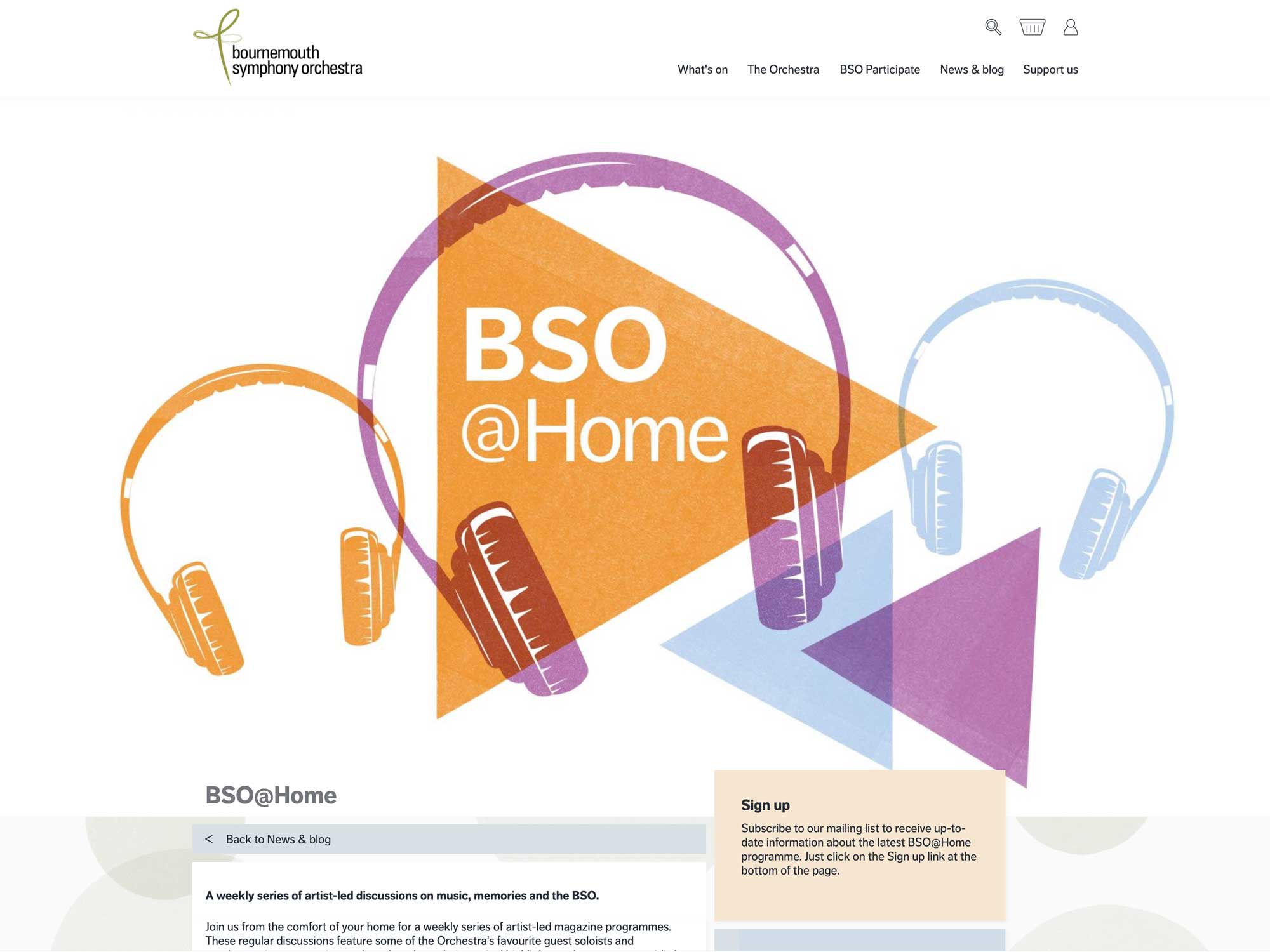 They raided their archives and added free video content, weekly from mid April to the end of July.
But, after the longest period of silence in their 127-year history, they were understandably keen to get back on the stage, performing live as an orchestra, even if the audiences would be online. And to make that happen they needed options to generate income and encourage memberships.
Digital subscriptions
We've been discussing options through the summer. The BSO members are engaged and supportive, so it was important that we found a way to include them, and reward them for sticking by the BSO.
Together we decided that a season of online content (much like a concert season) would provide the most flexibility. Users would buy a 'digital subscription' which would allow them to view concerts live and have access to the pre- and post-show talks.
Bournemouth Symphony Orchestra use Spektrix for their ticketing, membership and donations
Audience data is held in Spektrix, and that is hooked-up to their email partners, DotDigital (for automated emails and marketing campaigns).
We wanted to keep everything running through Spektrix so they could maintain some integrity in the data, and keep the payment process (and collection and reporting) as simple and centralised as possible.
We'd previously designed and built the booking and membership sign-up process. The regular audience were used to that and we were keen to maintain that familiarity and consistent login process.
As many organisation across the arts dip their toe into paid for online content for the first time, there is an understandable cautiousness about how eager audiences will be to take this up. Bearing this in mind, we decided to also allow audiences to buy one-off event 'tickets' so people weren't tied to the full digital subscription.
Development
Armed with these variables and considerations we began building this set-up in the most user friendly way.
After some testing and back and forth, we decided to use two different Spektrix functionalities.
The one-off digital concerts are set-up as events in Spektrix, allowing BSO to use all their usual functionalities of donations and supplementary events within the booking path. This allows for 'upselling' during the purchase. Each customer who purchases one of these events is given an auto-tag through Spektrix.
The 'digital subscription' pass is set-up as a type of membership, allowing BSO to use their existing web component to offer this to users who may be interested. These special memberships are sold in the same way as other memberships, but these ones have an expiry date added.
The paywall
We then set about building a 'paywall'. The paywall is a way for BSO's team to create pages that are only visible to users who are logged in and are tagged with the correct membership or 'ticket' code.
It was important we made this process simple and flexible for the BSO team, so they can manage the whole set-up process easily themselves (without needing to spend money on development each time they add a new event or season). A simple 'Premium content' toggle allows them to select, per page, which Spektrix membership or customer tag should be allowed to view specific pages. The data is updated live from Spektrix so the site is always in sync.
The BSO team can also control the associated messaging for when people aren't logged in, or haven't paid for the content.
That messaging can be edited and tailored on a per-event basis, giving BSO complete flexibility to encourage sales and promote  subscriptions and memberships.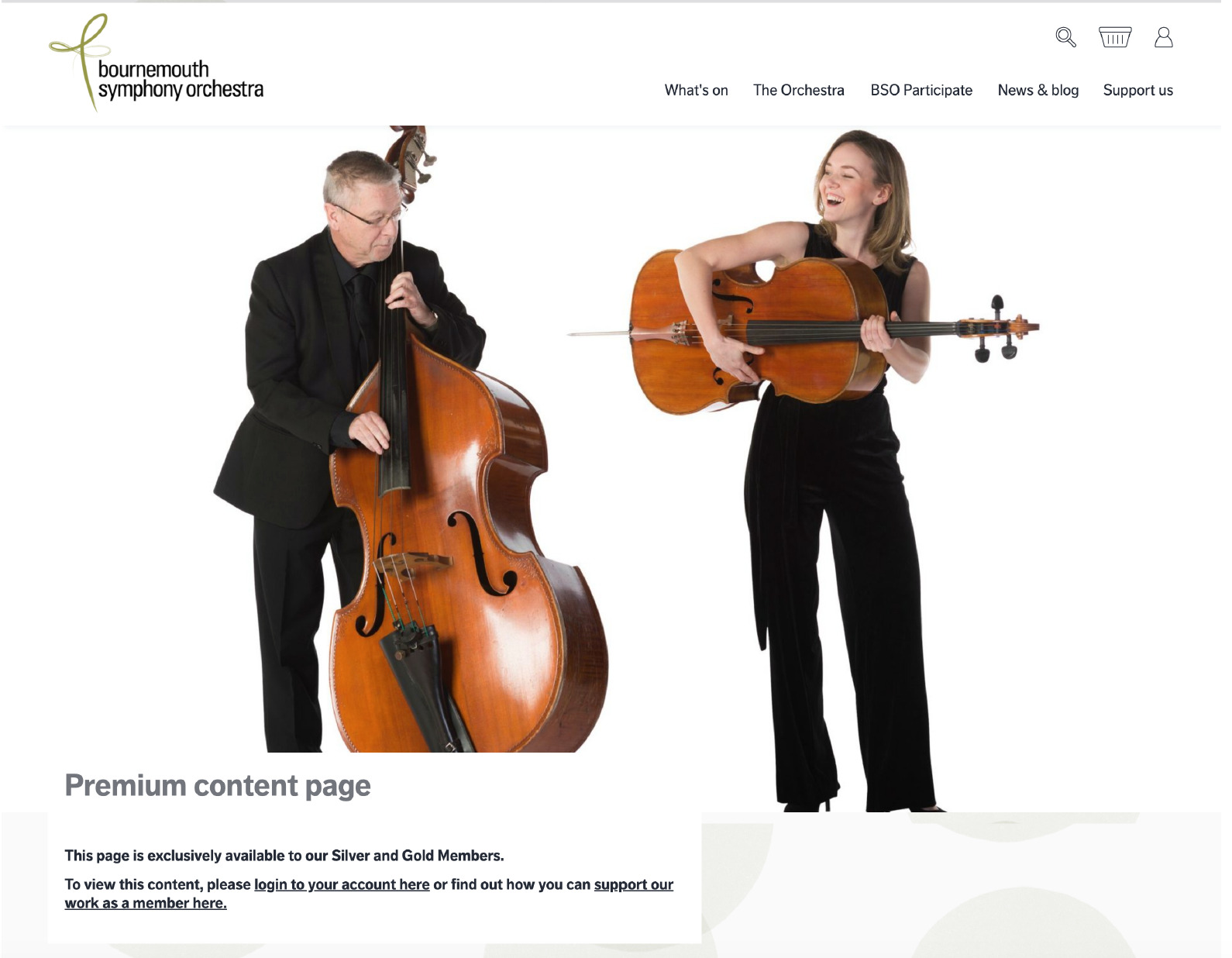 And behind the paywall they can create pages (using our templates) to embed or stream a multitude of content from different platforms: Youtube or Vimeo videos, links to Zoom for Q&As and workshops, and so on.
Outcome
Arts organisations need their audiences (especially older, more traditional audiences) to reach outside their  comfort zones. It's important that we make that process intuitive and pain-free. Audiences want to support our brilliant arts organisations so let's do all we can to make that easy for them.
Arts organisations need, now more than ever, to understand and communicate with their audiences. This Spektrix-based solution keeps the data in one places, allowing for in depth analysis and reporting. The BSO team are thrilled with how simple we've made it for them to collect and use data through their Spektrix system. They can compare data about digital ticket buyers with data about physical ticket buyers, monitor crossover sales, upsell digital subscriptions to those who tried a one-off concert and so much more.
To survive the crisis of the pandemic, and find new ways to perform, we all need to find new ways to generate income and maintain audience loyalty. Paywalled content is one route to doing that. If you'd like to talk about ways we can support your organisation through a similar process, or if you've got other interesting ideas to pursue, we're always happy to talk.